Canary Wharf & Docklands Property Development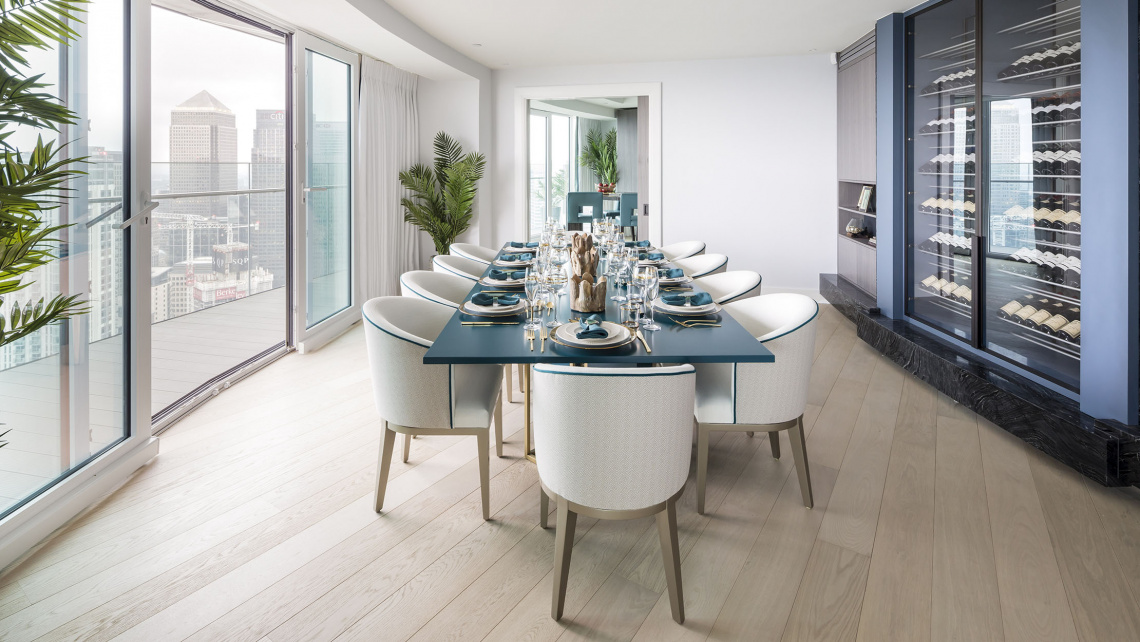 Galliard Homes has a long established history of developing property in leading London locations, which began in the early 1990s at London's Docklands.
We have always regarded the Docklands as a key area for capital growth and believe that this locale will forever attract homeowners and tenants. Read about Galliard's Docklands property development history and discover the investment potential of past and future Docklands developments.
1990 - 1999: Regenerating the London Docklands
In the early 1990s Galliard helped pioneer London's Docklands - once the world's largest shipping port. By the 1980s, following the closure of the shipping Docks, the area was bogged down by part constructed schemes and buildings in receivership. Acquiring these receivership sites and redeveloping, Galliard was able to rejuvenate the area by providing an opportunity to live and invest in this great location, which has since become the capital's epicentre for global commerce and finance.
1993: Papermill Wharf
A former riverside warehouse located in the heart of the Narrow Street conservation area, this historic conversion is just as popular with property owners and tenants today as it was 20 years ago. Buyers who acquired homes at Papermill Wharf have seen their £50,000 investment now valued at £500,000.
1994: Burrells Wharf
The conversion of Victorian riverside warehouses into luxury apartments put Burrells Wharf back on the Docklands map. Originally constructed by the great Victorian engineer Ismard Kingdom Brunel, Burrells Wharf was also the birthplace of his nautical triumph - The Great Eastern. Today an exciting mix of past and present characterises the entire site with historic cobbled streets and red-bricked buildings blending in perfect harmony with modern interiors.
1995: Old Sun Wharf
A development of 36 river-fronting apartments, Old Sun Wharf is situated in the heart of Limehouse and benefits from direct access to the Thames Path. Originally sold from £169,500, re-sales over the past 20 years have ranged between £285,000 and £925,000.
1996: Aegon House
Part of a three-building development arranged around a paved entrance, Aegon House was originally constructed in the 1980s as an office block before Galliard Homes converted the site into 46 fully-refurbished apartments.
1998: Cubitts Wharf
With a choice of views downstream to the O2 Arena or upstream towards Greenwich, the apartments at Cubitts Wharf were originally sold for £195,000 - £320,000. A local agent is currently marketing a two bedroom re-sale apartment at Cubitts Wharf for £500,000.
2000 - 2014: The High-Rise of Ultra-Modern Towers
Following the turn of the 21st century, Galliard's Docklands property development shifted from warehouse and office conversions to large scale new-builds and soaring residential towers. Having become the address of choice, not only for Wharf workers but also commuters from further afield, an increase in demand coupled with high land values prompted developers to turn their attention to high-rise developments. Demand for luxury residences afforded many of the Galliard's newest E14 developments with leisure and health clubs, private residents' facilities and high-security concierge services.
2000: Ocean Wharf
Galliard developed over 100 apartments at this new-build riverside development, with original sale prices commencing from £110,000. Many original buyers who completed in 2000, and have gone on to re-sell their properties within the past five years, have experienced over 100% price growth.
2006: Wharfside Point South
Comprising 171 apartments set over two blocks reaching 13 and 24 floors respectively, Wharfside includes two superior specification duplex penthouse apartments offering impressive panoramic views over London.
2009: Indescon Court
Providing over 360 ultra-sophisticated private residential apartments, Indescon Court was the first phase of Galliard's three-building Millharbour redevelopment scheme. Studio apartments started from £155,000 and are now valued at between £220,000 and £300,000.
2012: Lincoln Plaza
Sitting adjacent to Indescon Court, Lincoln Plaza is fast-approaching completion and buyers who purchased off-plan are already experiencing significant price growth. A one bedroom apartment which was originally purchased for £333,000 in 2012 has recently been re-sold for £450,000 - demonstrating a 35% uplift!
2013: Baltimore Tower
Towering up to the 45th floor, Baltimore Tower is set to become a new E14 landmark when it completes in 2016. With a UK and International sales release, the highly sought-after Baltimore Tower apartments sold out in record time and, since 2013, have already experienced strong re-sell price growth. A two bedroom apartment that sold off-plan at launch for £607,000 has recently re-sold for £800,000; that's a 32% uplift over the space of just two years, and that's before the development has even completed!
2015 - Present: Docklands Re-Development Continues
The Canary Wharf Estate is expanding! Spreading east with 30 new buildings, the extension, coupled with Crossrail, is set to almost double the number of people who live and work in the London Docklands area.
Following on from the great success of Indescon Court and Lincoln Plaza, 2015 marks the sales release of Galliard's latest and most spectacular Millharbour, E14 development, Harbour Central.
2015: Harbour Central
Releasing on 25th June 2015, Harbour Central is a mixed-use development incorporating a 42-storey, all-private residential tower. Residents at Harbour Central will benefit from exceptional interiors, panoramic views and a premier residents' club.
For more information on Harbour Central and the investment potential of properties near Canary Wharf, view our articles 'Get to Know Harbour Central' and '10 Reasons to Invest in Canary Wharf'.
Another of Galliard's Docklands developments is the brand new development - Marine Wharf East.
2015: Marine Wharf East
Set in the coveted district of Surrey Quays, Marine Wharf East will offer contemporary living at its best with its stylish collection of one, two and three bedroom apartments divided between two principal blocks - Canary Point and Harbourside - just one minute from the River Thames Path Walk and less than 10 minutes away from Canary Wharf.
2017: Orchard Wharf
Situated on the west bank of the River Lea, Orchard Wharf will offer the perfect blend of waterside living and city luxury. This mixed-use development will comprise two residential buildings - one principal tower and another containing stepped blocks all linked at ground level by a two-storey podium. Residing within them will be a collection of one, two and three bedroom apartments arranged within a choice of apartment, penthouses and duplexes; with panoramic views of the Docklands from the upper levels.
Edited: 15th November 2022