The Regeneration of Canning Town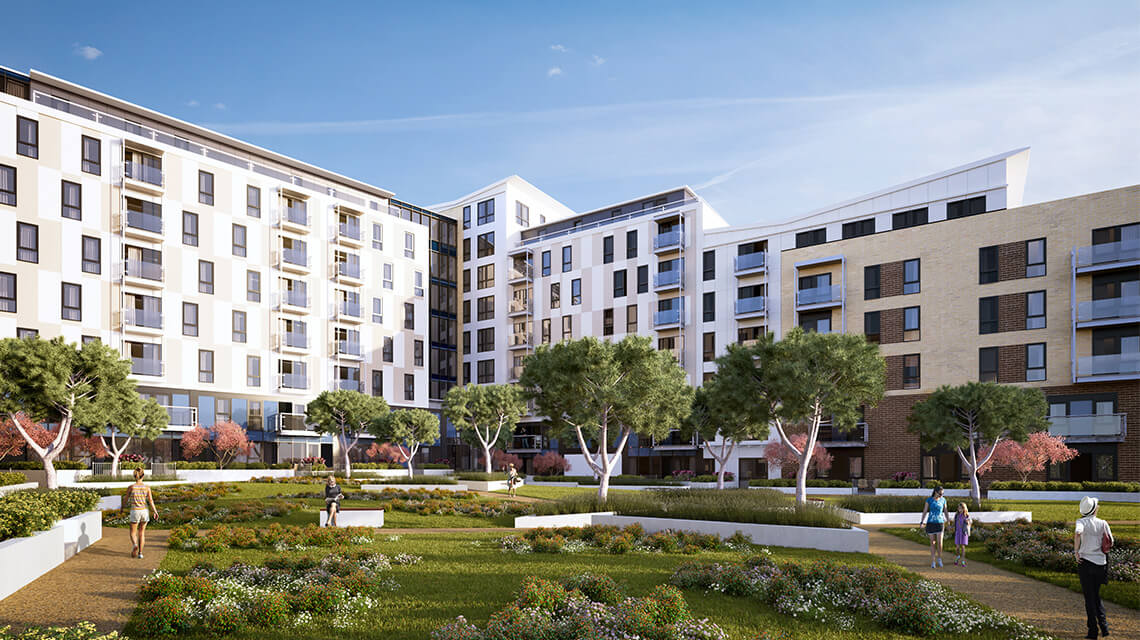 The East London location of Canning Town is anticipated to make a new reputation for itself as a property investment hotspot.
First-time buyers and striving young professionals can reap the benefits of the convenient transport connections into the financial hubs of the capital, Canary Wharf and The Square Mile. The exciting plans to renovate the area are causing quite the stir amongst Londoners, who are enthusiastic about the prospect of an improved transport infrastructure, rejuvenated town centres and construction of new homes.
Current Advantages of Living in Canning Town
Even though the regeneration of Canning Town is a continuous project, there are already huge benefits of living in the area, in particular when it comes to transport. Canning Town is served by the Jubilee line and DLR, meaning that key destinations can be reached quickly and conveniently. City workers can significantly benefit from the short journey time to Bank, which is only a 15 minute commute from Canning Town DLR, while West End goers only need to endure a journey less than half an hour to arrive at Bond Street on the Jubilee line.
Canning Town is also within close vicinity of London City Airport, which is only a nine minute journey on the DLR. Flying to over 25 different destinations and seeing over 1.5 million passengers a year, the excellent links to this airport make Canning Town an unquestionably great investment for jetsetters and businessmen who frequently need to travel internationally.
The Regeneration of Canning Town
The decade of regeneration in and around Canning Town is going to completely transform the area, making it an incredibly desirable London address. The introduction of Crossrail in the neighbouring area of Custom House is going to bring many advantages to the area, making it one of the most expedient places to live in the capital. Crossrail at Custom House will offer passengers reduced travel times into Central London, with Tottenham Court Road due to be reachable in just 15 minutes.
Canning Town itself is planned to see renovations worth an astounding £3.7 million, which Newham Council claims will 'transform the area for the better, physically, socially and economically.' Ultimately the scheme is predicted to complete by 2024, by which time Canning Town will have gained an estimated 10,000 new homes, including housing ideal for families and first-time buyers. There are also plans to improve and replace current housing and construct better-quality homes.
This East London area will gain a new lease of life and will become a popular and more atmospheric location with the creation of vastly improved town centres and more open and green spaces, resulting in a more attractive area in terms of living and investing. Another benefit of the regeneration of the town centres is that it will create more job and employment training opportunities, which will see the area flourish.
The Future of Canning Town
Galliard Homes is proud to be part of Canning Town's thriving future with an exciting development that will be an exceptional investment as it will only be short five minute walk from Canning Town station. St Luke's Square is one of Galliard's previous developments that saw a great success and quickly sold out in 2010. However, permission has been granted for a new phase of construction at St Luke's Square which is due to complete in 2017. This new expansion will comprise an impressive selection of one, two and three bedroom apartments that will reside on the ground floor of the development. The majority of properties will showcase internal patios and charming landscaped garden views, residents will also be able to benefit from a 24-hour concierge and the option for a secure underground parking space, as well as many other advantageous on-site facilities.
These quality homes will be an ideal investment for ambitious professionals who need a comfortable and luxurious hub with convenient transport links into Canary Wharf and the City. First-time buyers and families would also benefit from investing in one of London's most highly anticipated regeneration areas.
Edited: 11th November 2022