Living in Aldgate, London E1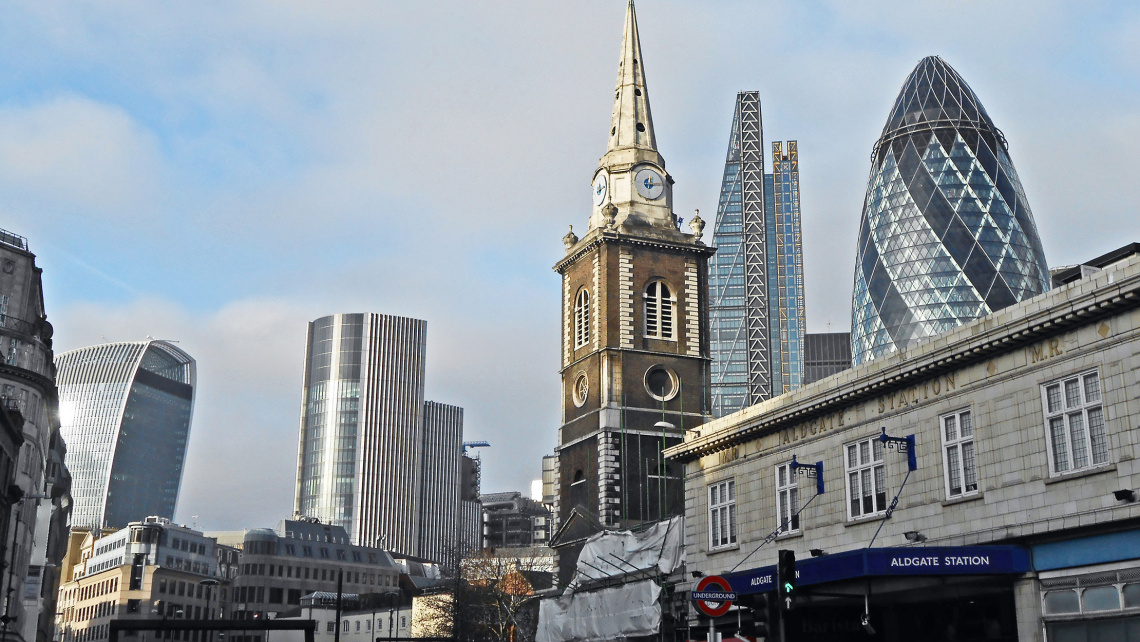 Aldgate is an area of the City of London that is home to an abundance of vibrant bars and restaurants, as well as a number of London's treasured landmarks.
Aldgate is undergoing a number of renovations to develop the area which will eventually include improved pedestrian routes, more green space and more public space which will help create a more exuberant and inviting environment. Boasting incomparable travel connections, Aldgate is an excellent area to invest in.
Property in the Area
Galliard Homes is proud to present a number of different developments in various locations across London. Even though Galliard is yet to venture into the enticing area of Aldgate, there are some impressive developments nearby:
The Stage is an exciting development that is coming soon to the area and is due to be a new East London landmark; this impressive mixed-use development will change the face of Shoreditch as we know it and bring world-class luxury to the area, as well as resurrecting the history of Shoreditch by being located beside the newly discovered remains of the original Curtain Theatre.
The Fusion completed in 2017. This trendy collection of apartments in Shoreditch presents its residents with incomparable views of the City skyline and a generous assortment of luxurious features, including Smeg kitchen appliances and underfloor warming in the bathroom.
History
In the medieval period, Aldgate High Street was a crucial route for those travelling in and out of the City of London; over time, many impressive timber-framed buildings were constructed and developed into inns and pubs for the copious travellers. Miraculously, the Great Fire of London did not affect the area and the majority of the treasured timber buildings were still standing by the Victorian period.
However, the face of Aldgate transformed during the late Victorian times because lots of the old buildings were demolished due to the hindering development of London. Even though many original medieval buildings in the area were destroyed long ago, there are a few that still remain and that preserve the character of the area.
Food and Drink
If you are looking for an exciting and vivacious atmosphere, then look no further than Aldgate because there is a profusion of entertaining bars and restaurants that will most certainly suit everybody's tastes. Lovers of everything Greek should visit Hungry Donkey and experience the authentic flavour of Greece along with the renowned friendly atmosphere that this restaurant has to offer. Another mouth-watering restaurant in the area that is proud to present succulent and exotic food is Kenza; this Middle-Eastern treasure does not only specialise in good food, but also incomparable entertainment as performers including snake charmers and belly dancers are available for hire.
For those wanting a delicious slice of the Far East, Thai Square is the place to be; this elegant yet casual restaurant is part of a popular London chain that showcases fresh and authentic aromas that match the traditional Thai ambiance. Another restaurant that will guarantee an explosion of exotic flavour is Katsuri, an Indian restaurant where the kitchen is run by the celebrated chef Rajendra Balmiki. This restaurant takes pride in its fresh and healthy menu and is most definitely a prized venue in Aldgate.
For some good old British grub, there are many options that will not disappoint; The Sterling is a quintessentially British bar and restaurant that is a firm favourite amongst City workers and the traditional pub menu all keeps them coming back for more. Another popular choice is Abbey Bar because it offers a casual ambience in the day and a more vibrant scene at night; the menu is full to the brim with classic favourites and a tempting selection of season cocktails too. Number 49 is another asset to Aldgate as it boasts great food, a friendly atmosphere and eclectic interiors. This wine bar also opens a quaint outside terrace which is a perfect place to enjoy a glass of wine in the sunshine with friends.
Entertainment and Culture
Amongst the exuberant bars and restaurants, you will find various places to enjoy fine entertainment and rich history; St Botolph's Aldgate is a Church of England parish that plays a significant part in the history of the area as it was one of the medieval churches that was dedicated to St Botolph in devotion to his role as patron saint of travellers. This church was later rebuilt in the mid-18th century after having survived the Great Fire of London and was awarded a title as a Grade 1 listed building in London in the mid-20th century.
For a glimpse of some glitz and glamour, Proud Cabaret will welcome you into an oasis filled with expensive wine, sumptuous food, world-class cabaret and an unforgettable evening.
For all those thrill seekers out there, the Jack the Ripper Tour is definitely worth looking into for a truly atmospheric experience that will guarantee to give you the chills. On this tour, you will begin outside Aldgate East Tube station and walk through various locations where his victims were murdered and explore dark and gloomy alleyways and buildings around the area that will take you back to this sinister time in London's history.
Shopping
A popular shopping destination amongst Londoners and tourists, which is only a three-minute walk from Aldgate Tube station, is Leadenhall Market; a haven for shopaholics because there is a wide choice of retail brands including Barbour, Reiss and Diptyque, not to mention an enticing selection of eateries and cafés.
For further information about places to shop, eat and visit near the area, visit our dedicated page.
Education
The Institute of Marine Engineering, Science and Technology
Find out further information about other universities in London.
Local Authority
London Borough of Tower Hamlets
The City of London Corporation
Getting There
Underground
Aldgate Underground station is served by the Metropolitan and Circle lines which will reach destinations including Kings Cross St Pancras in 12 minutes and Victoria in 16 minutes.
Aldgate East Underground station is served by the Hammersmith and City and District lines which will arrive at destinations including Blackfriars in 12 minutes and Baker Street in 18 minutes.
Edited: 22nd March 2023