Living in Lincoln's Inn Fields, WC2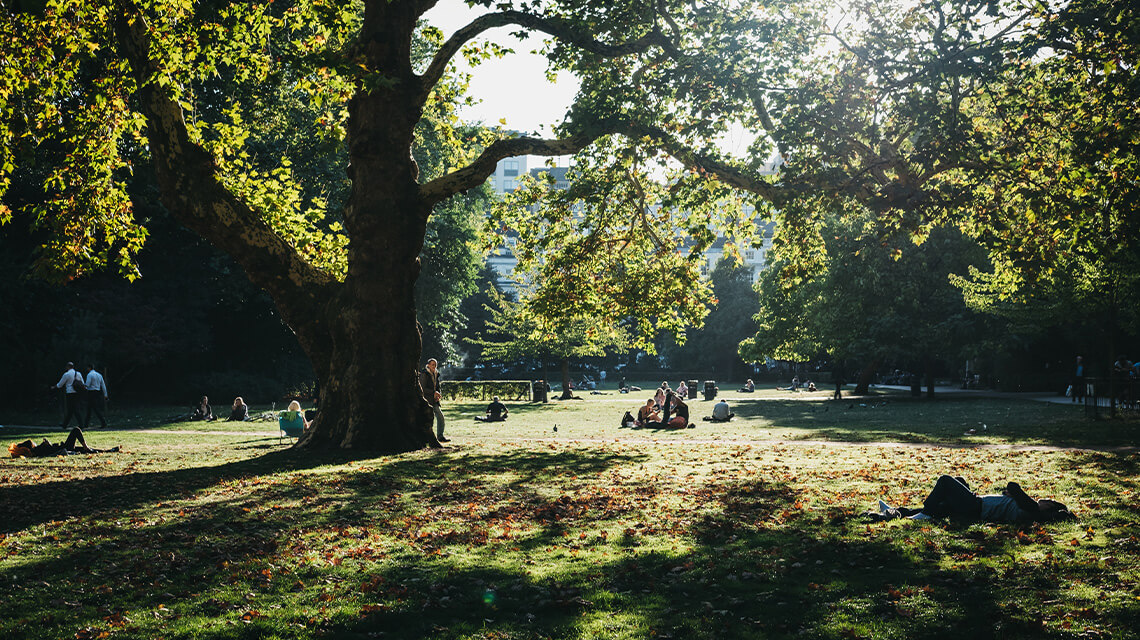 Spanning over 10 acres, Lincoln's Inn Fields is celebrated as London's largest public square, located in Central London between Holborn and Chancery Lane.
It has been said that this charming location nestled in Central London was the inspiration behind New York City's iconic Central Park. Lincoln's Inn Fields is absolutely brimming with picturesque houses, quaint narrow streets and historic buildings, and living within the area is always described as providing nothing but sheer and utter delight.
History of Lincoln's Inn Fields
There has been a public space in this area since the 12th century, but it was developed into the Lincoln's Inn Fields that we know and love today between 1629 and 1638. The renowned English architect, Inigo Jones, intentionally chose this square to lay out Lincoln's Inn Fields as it was a very trendy and popular part of the capital at that point in time, being in such a Central location and so close to 'Theatreland.'
In the late 20th century, Lincoln's Inn Fields suffered a problem with an overcrowding of homeless people, which eventually encouraged a 'No Camping' regulation to be put in place. In 1993, the square was finally reopened to the public after various railings were installed and homeless settlers had finally left; now, it is a favourite amongst Londoners for enjoying the sunshine with a packed lunch and people watching.
Places of Interest
Food and Drink
Coopers Restaurant
Whether you are having a quiet dinner for two or a relaxed lunch, this contemporary European restaurant and bistro will guarantee nothing but a relaxed ambience and a plethora of tasty dishes to choose from.
Thiwanya
For an authentic taste of Thailand amongst the cosmopolitan background of London, Thiwanya will offer nothing but the finest and freshest ingredients. Diners will receive an unforgettable dining experience that will keep them coming back for more of that true taste of Thailand.
Fleet River Bakery
This delightful independent bakery located on the doorstep of Lincoln's Inn Fields offers homemade bakes and fresh coffee; you will want nothing more than to visit over and over again! The lunch menu is also a one of a kind, with delights such as halloumi toasties and spicy frittatas on offer, what could be better than that?
Bars and Nightlife
The Ship Tavern
This rustic pub is a favourite amongst professionals in Central London, especially because of its extensive gin menu, which includes everything from vintage to herbaceous gins, you will be sure to find something that tickles your fancy. Why not visit on a Sunday to join the other 'Shipmates' and enjoy the Gin and Jazz evening?
Scarfes Bar
Just a three minute walk away from Lincoln's Inn Fields in High Holborn in the sophisticated Rosewood Hotel, Scarfes Bar offers live music, innovative cocktails and a vibrant atmosphere. Named after the renowned British caricaturist, Gerald Scarf, this bar features pieces of his famous artwork throughout the venue, giving it character and a unique charm that will keep you coming back for more.
Seven Stars
Having originated in early 1600's, Seven Stars is favoured for its charisma and impressive choice of real ales, and is labelled as a 'little gem' just on the doorstep of Lincoln's Inn Fields. So step right in and enjoy everything that this historic pub has to offer.
Shopping
Being within a 15 minute walk from Covent Garden and less than a 25 minute walk away from Oxford Street, the possibilities are endless when it comes to shopping.
To find out further information about the luxurious shopping options in the West End, read our guide.
Entertainment and Culture
Sir John Soane's Museum
This notable house was once the possession of the celebrated architect, Sir John Soane, who in fact designed this impressive abode himself. Now a popular public museum, this house is completely adorned with famous works of the architect and has been left untouched since his death 180 years ago.
The Royal Courts of Justice
Housing the High Court and the Court of Appeal, this historic building boasts ornamental interiors, complete with marvellous high ceilings and Gothic architecture. Visitors of The Royal Court of Justice can spend a day marvelling at the various exhibitions available, including past legal prints and legal costume displays, providing an authentic taste of the venue's history.
The Hunterian Museum
A visit to The Hunterian Museum will guarantee gruesome medicinal history where visitors will see everything from frightening medical contraptions to actual preserved specimens. This popular historical venue is not for the faint-hearted but it is a truly wonderful place to experience!
'Theatreland'
Some of the city's most iconic musicals are playing less than half a mile away from Lincoln's Inn Fields and they will all offer an absolutely unforgettable theatrical experience. For further information about the magic that lies within the West End of London, please click here to read our article about London's 'Theatreland'.
Education
Lincoln's Inn Fields is surrounded by some of London's prized educational establishments. Founded in the late 19th century, the London School of Economics and Political Science is an extremely accomplished social sciences institute which comprises 24 departments and educates over 9,000 students.
Other dedicated establishments include The Royal College of Surgeons of England and The Francis Crick Institute Lincoln's Inn Fields Laboratory.
Local Council
Transport
Underground
Holborn Underground station is less than a five minute walk away from Lincoln's Inn Fields and provides Central line and Piccadilly line services across the rest of the city. Key destinations such as London Liverpool Street are just an 11 minute journey from Holborn, while Green Park is just nine minutes away. Chancery Lane station is also close by and offers Central line services.
Rail
London Farringdon station is less than a 15 minute walk away, and as well as offering Circle, Metropolitan and Hammersmith and City lines towards Kings Cross St Pancras station, it also provides Thameslink services to London's suburbs, including Brighton and Luton.
Edited: 11th November 2022