Crossrail at Liverpool Street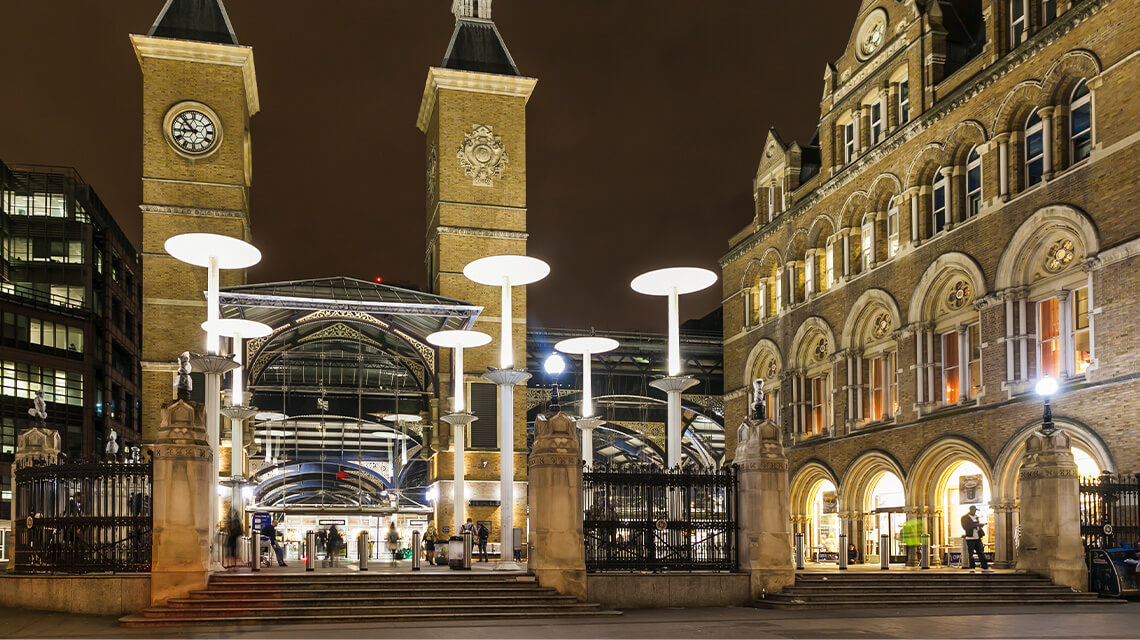 The Crossrail line is set to slash journey times across London, with trains running every 2.5 minutes at peak times and direct services running to Heathrow, Reading, Abbey Wood and Shenfield. Meanwhile, planned station and connection improvements at Liverpool Street are already having a major effects on development in the area.
Liverpool Street Connections
From Liverpool Street, services will interchange with London Underground's Northern, Central, Metropolitan, Circle and Hammersmith & City lines and National Rail services. International travel connections will also be greatly improved, with links to Stansted, Southend and Heathrow airports. Popular with commuters, Crossrail will also, for the first time, provide a direct route between the City and Canary Wharf with a journey time of just six minutes.
Liverpool Street Station
The station itself will house two new entrances and ticket halls at both Liverpool Street and Moorgate, with new longer platforms and interchange routes through the station. The new station and Crossrail's services will allow for more efficient management of passengers, helping to ease overcrowding and increase capacity, improve accessibility and upgrade interchanges.
Unlike more far-flung areas along the route, where the main benefit is reduced, journey times to the centre, in Central London it is all about the changes and improvements to areas close to the stations. At Liverpool Street, there is enormous investment going into the public realm, with pedestrianisation, bicycle docks and seating planned. Public space around the station will be re-modelled to provide wider pavements and dedicated open spaces with the creation of squares, gardens and parks.
Liverpool Street Crossrail Archaeology
Excavations have revealed 2000 years of London's past and the site is providing new insight into ancient Londoners' lifestyles. Finds include the foundations of Broad Street railway station, Moorfields marsh, a Roman road and the 'lost' Walbrook, one of London's lost rivers.
Most exciting however, is the discovery of the former Bedlam burial ground. In use from 1569 to at least 1738, excavation suggests around 30,000 Londoners were buried there during this period. Most recently, on the 350th anniversary of the 1665 Great Plague, a headstone was found near the site marked with the date '1665' and 30 skeletons, thought to be plague victims, were unearthed in a mass grave.
You can watch fascinating footage of the excavation.
Property
Historically, transport links and infrastructure expansions have played a key part in increasing property prices, and Crossrail is no different. The enormous train project is making its presence felt in the property market, boosting house prices and creating property hotspots along the route, four years before its launch.
Crossrail has already triggered development activity and price growth around Liverpool Street, a solidly commercial district where homes are thin on the ground. Taking into account the 'Crossrail effect', regeneration and property price inflation regardless of the new line, the full extent of house price growth (HPG), has been calculated at 44% at Liverpool Street. Now is seemingly the time for investors to get into the market early and benefit from price rises and increased rental demand once Crossrail is up-and-running.
Galliard Developments In and Around the City of London
The Stage will be an outstanding mixed-used development opportunity, comprising a 37-storey residential tower and over 400,000 sq. ft. of office, retail and leisure space, whilst also incorporating a world-class heritage centre - Shakespeare's Curtain Theatre, which will provide a unique international identity for investors, residents and occupiers.
Click to view all flats for sale in Shoreditch.
Edited: 12th December 2022