Living in Clapham, London SW4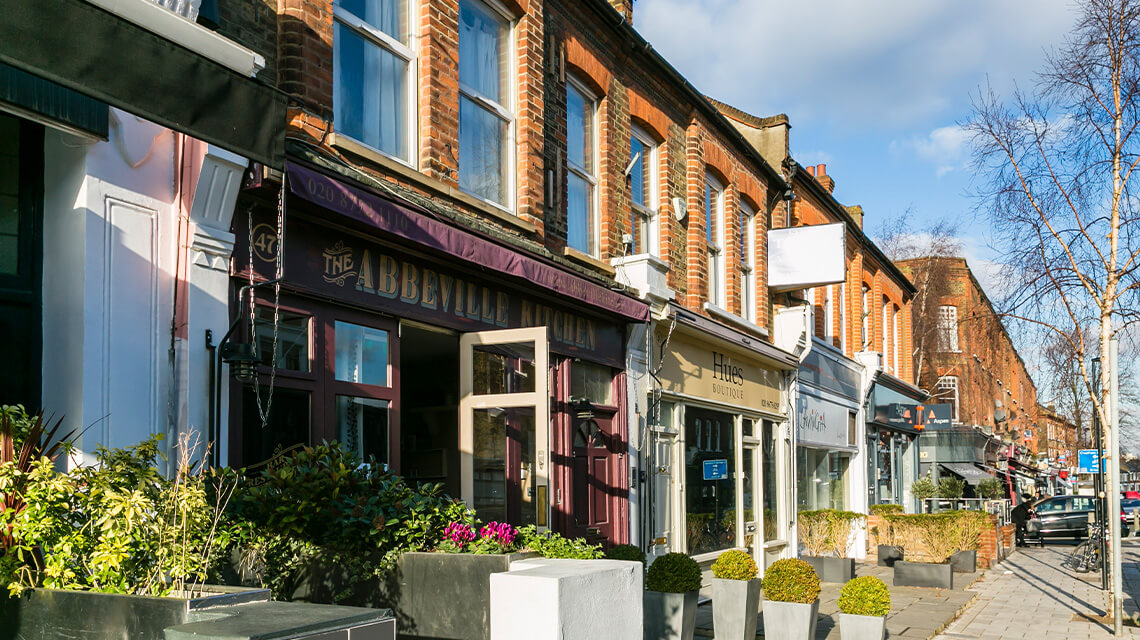 Located in the Southwest, Clapham is certainly one of the most desirable locations to live in London. Booming nightlife and an abundance of restaurants make this the perfect place for social butterflies, whilst at the same time, the feeling of community and luscious greenery of the 220 acre Clapham Common make this a more than suitable option for families too.
Clapham is an area that is rich with character and the various events and festivals that frequently occur here only add to its appeal. In addition, Clapham's accessibility to the rest of London by its convenient tube stations adds to this area's never-ending list of advantages.
Property in Clapham
Crescent House
Just a short walk from Clapham Common underground station and the tranquillity of Clapham Common, Crescent House is the definition of style and elegance. The modern interiors of this development offer a sense of both luxury and class while the gated features will provide a feeling of security for residents. The warm and welcoming atmosphere that this development presents is obvious upon first visit with the addition of communal grounds and gardens for the comfort and enjoyment of each resident.
The Printworks
The charm and character of this development is what make it so unique; renovated from an old warehouse, The Printworks displays a modern flair with a rich history at the same time. The selection of one bedroom and studio apartments are ideal for the flourishing population of young residents who are becoming more and more attracted to living in this area of London. Within walking distance of both Oval and Stockwell station, The Printworks is a clear choice for commuters as Central London is less than fifteen minutes away.
The Printworks is now sold out. For more information, please visit the development page or use our property search tool to find other available properties. Alternatively, call us on 020 3409 2270 to speak with our team.
History of Clapham
While Clapham is known for its trendy and buzzing atmosphere, it does in fact carry an interesting history; this part of London was in fact bombed during World War Two, so a rich story is held within the inconsistency of the design of the houses and buildings and adds to the character of this location furthermore. Unknown to some, there are three of London's deep level air shelters still located underneath, Clapham North, Clapham Common and Clapham South stations. The gentrification of Clapham that occurred in the late 20thcentury has made this the location to be and its popularity still continues to grow.
Close By: The remains of Shakespeare's Curtain Theatre in Shoreditch; dating back to 1577, were discovered in 2012 three metres below the surface of the development. The remains will be meticulously excavated by archaeologists, preserved in-situ and transformed into a local landmark - see The Stage for more information.
Places of Interest
Food and Drink
There is such an array of restaurants in Clapham that it would be fair to say that you are absolutely spoilt for choice! With so many different cuisines available, the decision about where to dine out could be one of the most difficult choices of the day. If widening your culinary horizons is on the agenda, then why not take a trip to Tsunami Restaurant for an authentic taste of Japan or just stick to what you know with a visit to The Windmill where you can enjoy the ambience of their beer garden and choose from a menu which is positively mouth-watering. Clapham has not forgotten about the classic American-style restaurants that everyone loves, with Bodean's BBQ being one of the most popular around, and for good reason too. There are also a multitude of pleasant little cafés which carry such tempting treat displays in the window, that a browse is inevitable. For something a little bit different, imagine this; Japanese combined with Latin American-style food,need we say more? Mommi is one of Clapham's newest additions offering an exciting menu that includes delicacies from the Raw Bar, as well as delicious goodies from the Robabta Grill. Perfect for a late-night bite or a satisfying weekend brunch, this cool and urban restaurant is one to add to your list.
Nightlife
Clapham does not hold back when it comes to nightlife, whether you want a fun night out with friends or just a quiet drink after work, there is something for everyone. Clubs such as Infernos and Adventure Bar never fail to fill up with party-goers and trendy bar Lotus provides a little something different with its cocktail offerings and edible flowers! With plenty of other places to choose from, there is never a dull moment with a night on the tiles in Clapham.
Events and Entertainment
The choice when it comes to entertainment in Clapham is yet another reason why is it such an attractive location. There are a few events that occur during the year which are highly anticipated by residents throughout London with The Foodies Festival being a particular favourite and 2015 will see Clapham holding this event for its third consecutive year. Set on Clapham Common, one can expect lots of food, cocktails, cakes and bakes and the highlight of the day for some - the infamous chilli eating challenge. To keep the little ones occupied, children's cookery classes are also held, so this festival is fun for all of the family.
Another festival that takes place during the summer time is South West Four, a popular music event that is always looked forward to and its musical variety brings Clapham Common to life.
Other aspects of entertainment that Clapham has to offer include The Landor Theatre, a quaint theatre that holds just 60 people and puts on a mixture of musicals, plays and cabaret and is the perfect opportunity for anybody to indulge in some culture and creativity. The Picture House cinema is yet another feature of the area which sets it apart from others. One can enjoy a drink in the bar downstairs first and even have the option to take a bottle of wine into the cinema screen, what more could you ask for on a trip to the cinema?
Shopping
The shops in Clapham add to its charming atmosphere because of the different boutique-style shops dotted around that are all extremely enticing. The unique and popular shop Oliver Bonas can also be found and adds to the trendiness of the area further still. Being only a short commute away from Oxford Circus, there is nothing that Clapham does not have to offer.
Health and Fitness
There are an abundance of health and fitness options available within the area and there is something to suit everybody. Clapham Leisure Centre is a great asset to the area as it has a swimming pool and offers a variety of fitness classes and courses, from tennis lessons to buggy-a-cise. This leisure centre is even a part of the Tom Daley diving academy which offers various classes and courses for children ages 5-16. PureGym offers an impressive selection of equipment to help you on your way to your fitness goals.
Green Space
If exercising outside is more appealing then Clapham Common holds various boot camp classes and is the perfect space for jogging, cycling and dog walking too.
Education
Lambeth College - The Careers College
Council
Lambeth London Borough Council
Transport
Underground
Clapham North, Clapham South and Clapham Common - Travel to destinations including Bank or London Bridge in twenty minutes or less.
Stockwell is only a short distance away and reaches Oxford Circus in less than twenty minutes on the Victoria Line.
Overground
Clapham High Street
Looking for a flat in Clapham? For further information about Galliard Home's development Crescent House, view the development and property availability on the Galliard Homes website.
Edited: 29th November 2023