Fitzrovia Blue Plaque Tour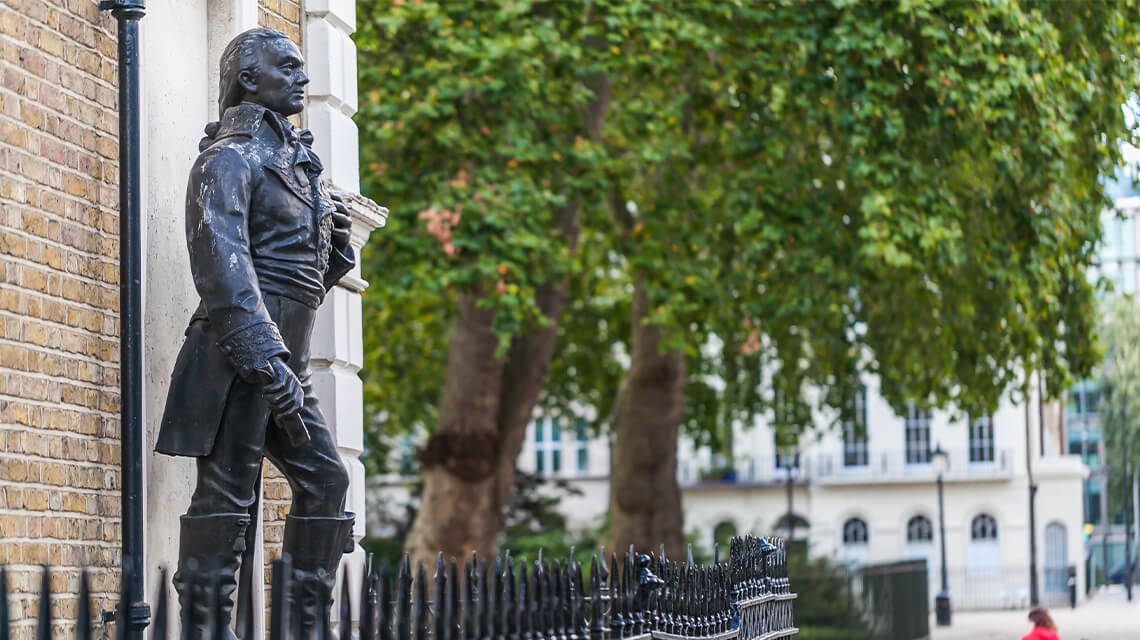 Fitzrovia is situated in the London Borough of Camden and the City of Westminster establishing an ideal location with easy access to the highly popular streets of Fitzrovia Square, Charlotte Street and Tottenham Court Road.
The urban village of Fitzrovia currently remains home to 8,000 residents including many famous blue plaques. Fitzrovia has been home to many historical members of society including British playwrights, musicians and poets and has become known for its bohemian history.
Residents of Fitzroy Square
Fitzroy Square was built in 1794 by Robert Adams; Victorian Prime Minister Lord Salisbury once resided in 21 Fitzroy Square. In particular 29 Fitzroy Square has been home to a collection of famous blue plaques including those of playwright George Orwell and British writer Virginia Woolf.
Lord Salisbury
Victorian Prime Minister Lord Salisbury occupied number 21 Fitzroy Square. Salisbury became Prime Minister in 1885 serving three times for over 13 years and was considered to be a strong and successful leader in foreign affairs.
Robert Louis Stevenson
Scottish novelist and poet Robert Stevenson became well-known after publishing his novels Treasure Island and The Strange Case of Dr Jekyll and Mr Hyde, which are now regarded as classics. Stevenson was often criticised by other Fitzroy Square playwrights including Virginia Woolf; however today his work remains highly popular and intriguing.
George Bernard Shaw
29 Fitzroy Square was once owned by one of Britain's most creative British minds George Bernard Shaw. Originally from Dublin, Shaw moved to London at age 20 in 1887 and become famous for his impressive writing skills. Shaw was given the opportunity to view and experience poverty first-hand and often focused on issues regarding poverty. In 1917 his play Pygmalion became extremely famous to the extent that the play was adapted into the play, My Fair Lady. Shaw left Fitzroy Square in 1898 when he met his wife.
Virginia Woolf
One of Fitzrovia's most famous residents includes British writer Virginia Woolf, one of the female literary figures of the twentieth century, renowned for a variety of novels including Mrs Dalloway and To the Lighthouse. Virginia focused on challenging the traditional roles of women in society. Woolf and her brother became owners of 29 Fitzroy Square in 1907 and filled the second floor with stacks of books and brightly coloured furnishings. Many Thursday nights were spent hosting parties for members of the Bloomsbury Group. The group often met at the Fitzroy Tavern and challenged old Victorian ideals and supported homosexual rights and feminism.The Bloomsbury Group began with 10 members and later expanded including E.M. Forster, John Maynard Keynes and more.
Dylan Thomas
Welsh poet and writer Dylan Thomas first visited London in 1933 and visited the highly popular Fitzroy Tavern on Charlotte Street. Thomas was inspired by Fitzrovia whilst writing and became highly successful after the publication of Deaths and Entrances and completed four US tours presenting his work through lectures and readings. Toady Thomas' work is greatly celebrated and is considered extremely influential. A festival takes place on Thomas' birthday to celebrate his greatest poems, life and work through readings and films. An exciting part of the festival includes the opportunity to visit his famous writing shed where he would often complete his work.
Musicians
American rock and blues legend Jimi Hendrix became the world's top musician of 1969 and 1970 and was widely celebrated as one of the most influential electric guitarists. During one of Jimi Hendrix's UK visits in 1966 he was invited to perform with Eric Clapton and The Cream at The Polytechnic in the students union, Fitzrovia.
During this period London born Pink Floyd often practised and rehearsed at the UFO Club at 31 Tottenham Court Road. The English rock band became most popular during their performances in the 60s for their psychedelic music.
Property
Hanway Gardens is Galliard Homes' impressive development in Fitzrovia offers 18 new luxury apartments and penthouses. Residents can enjoy stylish interiors and private roof terraces. Hanway Gardens is set in a prime location with easy access to the neighbouring areas of Marylebone and Bloomsbury.
Hanway Gardens is now sold out. Browse our available developments in London here.
Edited: 6th December 2022