Things To Do in Fitzrovia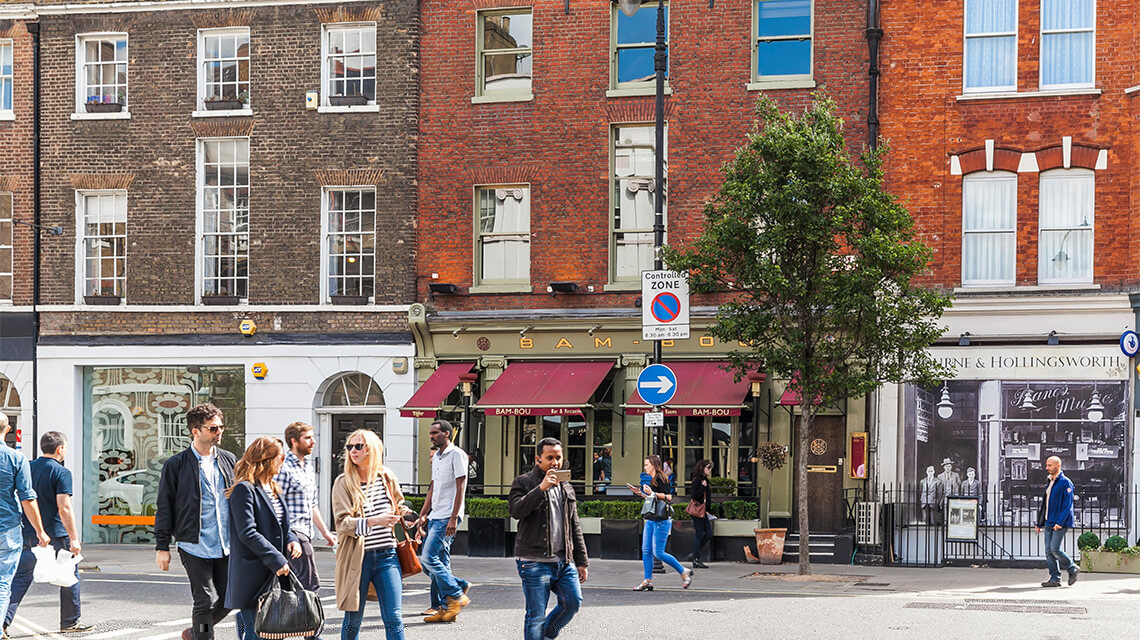 The urban Fitzrovia neighbourhood is situated between Marylebone and Soho. The area is well known for its trendy location with easy access to many West End hotspots such as Oxford Street and Tottenham Court Road.
Fitzrovia has become home to 8,000 residents including many commercial premises, medical and educational facilities. Fitzrovia has a variety of enticing attributes including fantastic shopping, art and the yearly community-driven Fitzrovia Festival.
Shopping
Tottenham Court Road lies in the heart of Fitzrovia and is an extremely popular shopping destination. With an extensive array of shops and department stores; Tottenham Court Road caters for many shoppers needs. Tottenham Court Road was once largely famous for its expertise in electronics and technology; it has now become so diverse that new Homeware and clothing shops have opened. In particular, Heals of London has been a popular choice since 1810, selling home accessories and furniture as well as housing a spa and cafe.
A much loved favourite is Camden Market, which is on the north side of Fitzrovia allowing easy access to the trendy and unique market. The market was established in 1974 and has now become exceptionally popular and diverse including stalls from alternative and vintage fashion to unique arts and crafts. Many parts of the market are open all week, so there is always the opportunity to find something distinctive.
Dining and Bars
Bars and restaurants in the Fitzrovia area are both classic and stylish. Grand pubs and restaurants line the wide streets while unique little eateries are hidden away in the winding alleyways. For a classic Fitzrovian experience head to The Fitzroy Tavern. This famous tavern was once a café known as the Hundred Marks until 1919 as it became an unofficial clubhouse for regulars such as Dylan Thomas, Nina Hamnett, and George Orwell.
The Charlotte Street and Sanderson Hotels' provide excellent cuisine whilst Charlotte Street itself, offers a range of eateries perfect for family dining, relaxing and unwinding. Many highly regarded and popular restaurants are situated on the street including Pied a Terre, Roka and Gaucho which are ideal for those looking for Michelin star food to end their day.
Art Galleries
Fitzrovia has become a hotspot for art enthusiasts and with the opening of 30 new galleries between 2008 and 2012, Fitzrovia has become one of London's key places to visit.
Jaggedart is a unique gallery situated off Marylebone High Street which opened in 2002. The gallery provides exhibitions of up-and-coming artists, featuring paintings, 3D pieces, photography and paper work. The gallery occupies a large space in which artists can create dynamic pieces which need specific gallery installations. The gallery is known for its sophisticated and quirky works of art and is ideal for art-lovers that enjoy unique designs.
Lazarides Rathbone is situated in the heart of Fitzrovia on Rathbone Street and has often been considered to be the international market leader in the urban art category. Lazarides Editions includes fine art prints including graffiti and designs. Lazaride Rathbone has held many exhibitions and events worldwide. The gallery has been involved in one-off shows in New York and Los Angeles in addition to London and Europe. The gallery has been a part of Sotheby's Unauthorised Banksy Retrospective and BRUTAL at The Strand.
Museums
For family fun in Fitzrovia, Pollock's Toy Museum is the place to be to view a range of Victorian toys, dolls and teddies. The museum is home to the world's oldest teddy bear and a 4,000 year-old mouse made by the Ancient Egyptians.
The University of College London has the last remaining university zoology museum in London which was founded in 1823. The museum is home to over 63,000 specimens, including extinct species such as the Dodo and the Tasmanian Tiger. Events such as creature creations are also held here, allowing children to create their own unique artwork with a museum artist.
Fitzrovia Festival
The Fitzrovia Festival is held in June each year to celebrate the history and life of Fitzrovia, which first began in 1973. The festival is organised to raise Fitzrovia's profile and encourage community pride. The Festival takes place over a stretch of June on Tottenham Street. The festival demonstrates the pride that the neighbourhood has for the community; in particular it provides a 'Fitzrovia Women's Community Art Exhibition,' guided musical walks and the highly popular, guided walk and talks.
Hanway Gardens
If you're looking for flats in Fitzrovia Hanway Gardens is one of Galliard Homes' platinum collection developments. The extravagant development consists of 6 floors complete with 18 apartments including two grand penthouses complete with multi-level rooftop gardens.
Edited: 6th December 2022