The Rise of Fitzrovia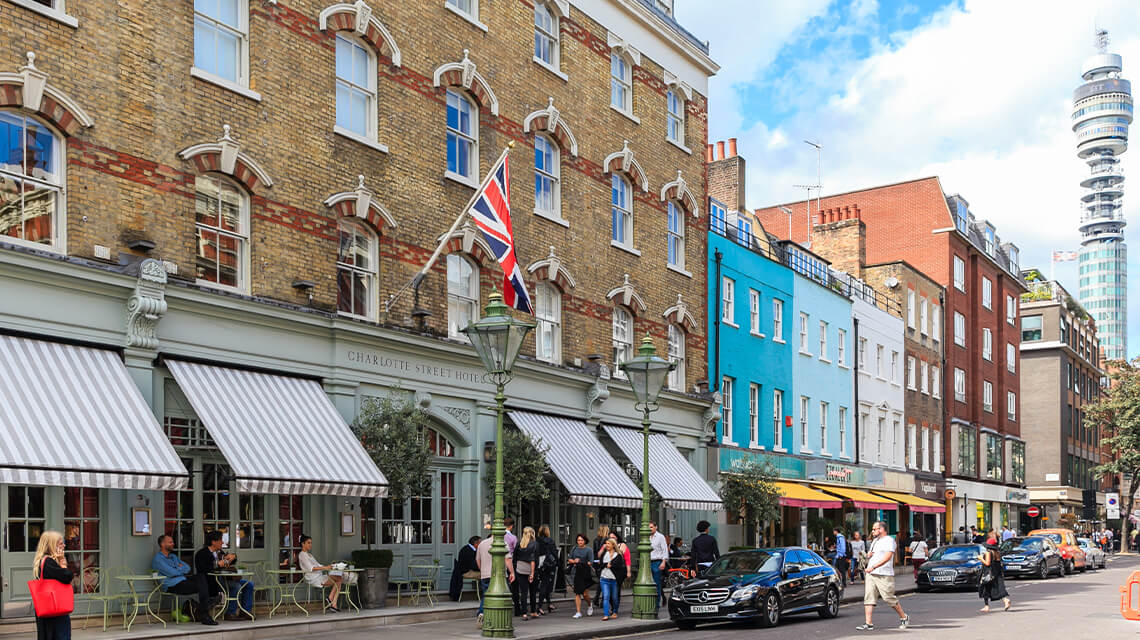 Fitzrovia sits between the classic streets of Marylebone and Soho and is perfectly located with easy access to many West End hotspots including Tottenham Court Road, which along with the introduction of Crossrail is undergoing a huge regeneration.
Fitzrovia has become home to 8,000 residents and its property investment opportunities are on the rise. Fitzrovia has now become famous for its stylish art galleries and artwork enticing many art enthusiasts into the area.
Property Investment In Fitzrovia
Fitzrovia has become a prime location for property investment with increasing value for money. In particular Buy-to-Let has become a popular choice for many investors in the area as Fitzrovia has many residential properties which are perfectly located near universities and colleges. Overseas buyers are purchasing properties for their children whilst they attend university. Although Fitzrovia may share the same prestigious W1 postcode as Mayfair and Marylebone, Fitzrovia properties are considered just as impressive, whilst offering better value for money.
Those living in Fitzrovia are perfectly located for easy commuting to the City as well as benefitting from close proximity to the West End's vast array of dining and entertainment options. The introduction of Crossrail will further improve connections to and from Fitzrovia making it even easier to travel to other parts of the capital. Crossrail and the construction of Fitzroy Place are increasing the popularity of the area; properties at Fitzroy Place purchased at £1,500 - £1,600 per square foot, are now already worth £2,000 per square foot. Currently properties in Fitzrovia are priced on average at £1,400 per square foot which is predicted to rise to £2,000 within the next two years, making Fitzrovia a prime investment opportunity.
Art Galleries
Fitzrovia is well known for its artistic boom and has become the place to be for many devoted art enthusiasts. A large number of 48 galleries were recorded to be open in 2014, just under its peak of 54 galleries in 2013. Fitzrovia has included 'Fitzrovia Lates' in 25 of their galleries. On the last Thursday of each month the galleries are open late for visitors who are unable to attend their usual exhibitions.
The Fitzrovia Gallery is centered in the heart of Fitzrovia amongst the many galleries available. Artists of the gallery aim to provide both artists and art enthusiasts with a cultured experience of raw talent from around the globe. The gallery is elegantly designed with striking white walls and contemporary oak flooring to ensure the artist's work is the focus.
The RIBA Art Deco building is located just at the boundary of Fitzrovia and Marylebone on Portland Place. This classic building was built in the 1930s by architect George Grey Wornum, and is known for its magnificent staircase. The first floor houses a main reception room with grand Art Deco windows and glass panels. The gallery holds many cultural events and exhibitions for art lovers and family day trips, enticing a variety of visitors.
Regeneration of Tottenham Court Road
In 2012 plans were set to regenerate Tottenham Court Road and the east end of Oxford Street. The spectacular regeneration will cost £1bn which will be completed in 2018 alongside the opening of Crossrail. The project will reform Tottenham Court Road; roads will include two-way streets which are predicted to reduce travel time, pollution and traffic by 80%. The pavements will also be made wider with direct pedestrian crossings, making the street safer and more accessible.
The regeneration will include the development of new buildings and properties. The Astoria theatre will be replaced with a new impressive West End theatre which will seat an audience of 350 people. The Crossrail station will have 500,000 sq. ft. of shopping space and residential homes with easy links to other areas in London. Passengers will be able to take a short train journey to the West End and around London, including a 12 minute journey to Canary Wharf. Tottenham Court Road will have a total of four towers, two on Tottenham Court Road and two on the east end of Oxford Street; the towers will be complete with 92 homes.
Hanway Gardens
If you're looking to live and invest in property in Fitzrovia, then take a look at Galliard Homes' Hanway Gardens; this lavish development consists of 18 apartments including two luxurious penthouses. The development is part of Galliard's platinum collection with exclusive and elegantly designed private landscaped roof gardens.
Edited: 15th November 2022