Galliard, London's Docklands and Regeneration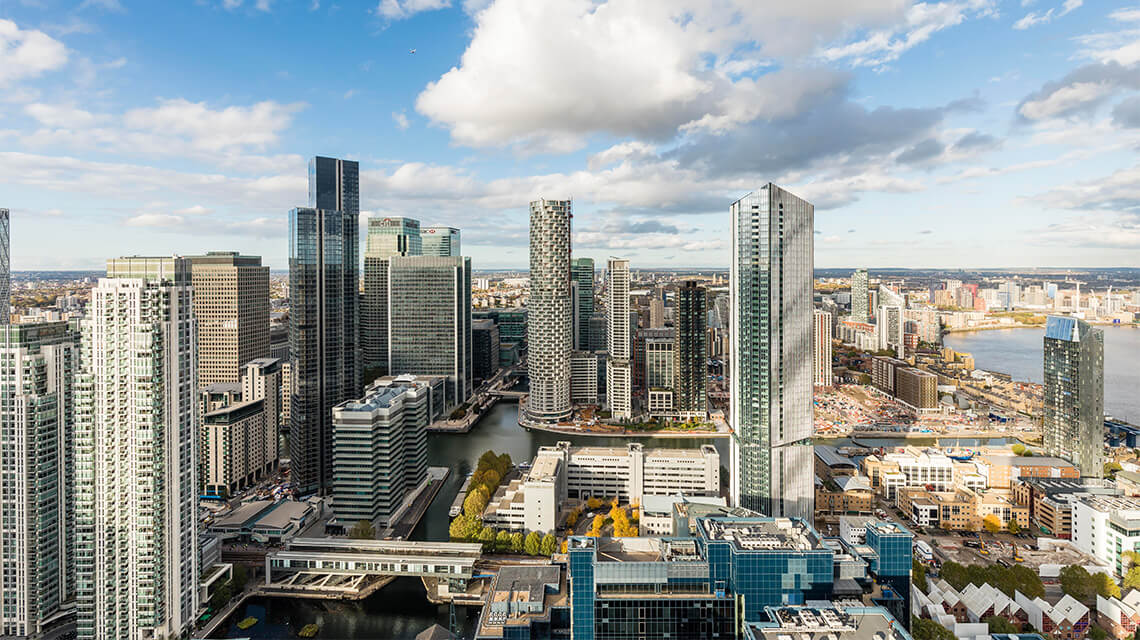 In the early 1990s Galliard Homes helped pioneer the regeneration of London's Docklands, as development was stalled by part-constructed schemes and buildings in receivership. Identifying its potential to be a great place to live and invest, we created landmark developments such as Papermill Wharf, Burrells Wharf, Great Jubilee Wharf and Millennium Quay.
Our innovative designs retained all that was grand, traditional and timeless about these warehouses, whilst also injecting a new lease of life to the area. Consequently, buyers who acquired homes at Papermill Wharf have seen their £50,000 investment now valued at £500,000.
The Future of London's Docklands
Canary Wharf is now spreading east as the owners of the Docklands' banking district want to make Canary Wharf - once notorious for its absence of shops and restaurants - into a vibrant East End "creative quarter." Part of this continuing transformation of the area is a new four-storey shopping centre which opened this year above the new Crossrail terminal at Canary Wharf.
The eastern extension is set to almost double the number of people working and living in the area within the next 10 years. There are plans for 30 buildings at Wood Wharf, including a 57-storey cylindrical residential skyscraper facing the waters of South Dock, designed by Herzog & de Meuron.
The innovative regeneration of East London is on track to become an extension of the Canary Wharf district and will see changes similar to those experienced by the Isle of Dogs over the last 10 years.
Property Available
Baltimore Wharf
Set to become a new landmark for luxury living, The Apartments at 9 Baltimore Wharf will incorporate 14 exclusive residences set within a gracefully curved building surrounded by picturesque communal grounds. Residents will enjoy direct access to "The Club" - a fully-equipped cardio suite with a world championship length 25m pool.
Harbour Central
The impressive Harbour Central will include five residential buildings and a leisure complex, and will be ideally situated less than five minutes from the heart of Canary Wharf. Once complete, this mixed-use development will provide a vast range of highly-specified properties and opulent reception foyers designed by Nicola Fontanella, whilst the leisure complex will include a "Residents' Club" with a proposed library, concierge, gym and spa, business suites and a cinema.
Orchard Wharf
Galliard's latest riverside development, Orchard Wharf, will be a fantastic addition to the Docklands skyline, comprising two buildings - one principal tower and a second building containing stepped blocks all joined by a two-storey podium at ground level. The 338 luxury properties will vary from spacious apartments and duplexes to magnificent penthouses, offering sensational, panoramic views of Canary Wharf and the O2 Arena. Residents will enjoy access to landscaped gardens, rooftop terraces, recreational areas and an on-site café.
Galliard's Previous Developments
Lincoln Plaza
Offering breathtaking views, first-class facilities and superlative living accommodation in a location of international status, Lincoln Plaza provides one of the most prestigious and sophisticated new landmarks on Canary Wharf's iconic skyline.
Marine Wharf East
Comprising an exquisite collection of contemporary one, two and three bedroom apartments between two principal blocks - Canary Point and Harbourside - based in Surrey Quays, Galliard's Marine Wharf East is just mere minutes away from the City and Canary Wharf by Tube. All apartments benefit from either a private balcony or terrace, whilst the development also boasts two gorgeous landscaped communal courtyards.
A Prime Investment
With its dramatic views, plenty of things to do, improved transportation links and close proximity to the main financial and city districts, it is easy to see why Canary Wharf is a highly desirable location and why it attracts vast interest from foreign investors.
In recent times, Canary Wharf has seized the title as the biggest employer of bankers in all of Europe. The increase in working population and the fact that the area is an attractive place to live in has seen more people looking to find a place to live in this part of London.
One of the biggest talking points in London is Crossrail. There are a number of areas in the capital, including E14, which have experienced an increase in market demand due to the fact that these areas will explode in popularity once the new rail link is open.
Edited: 1st February 2023