Where to Eat in Hackney Wick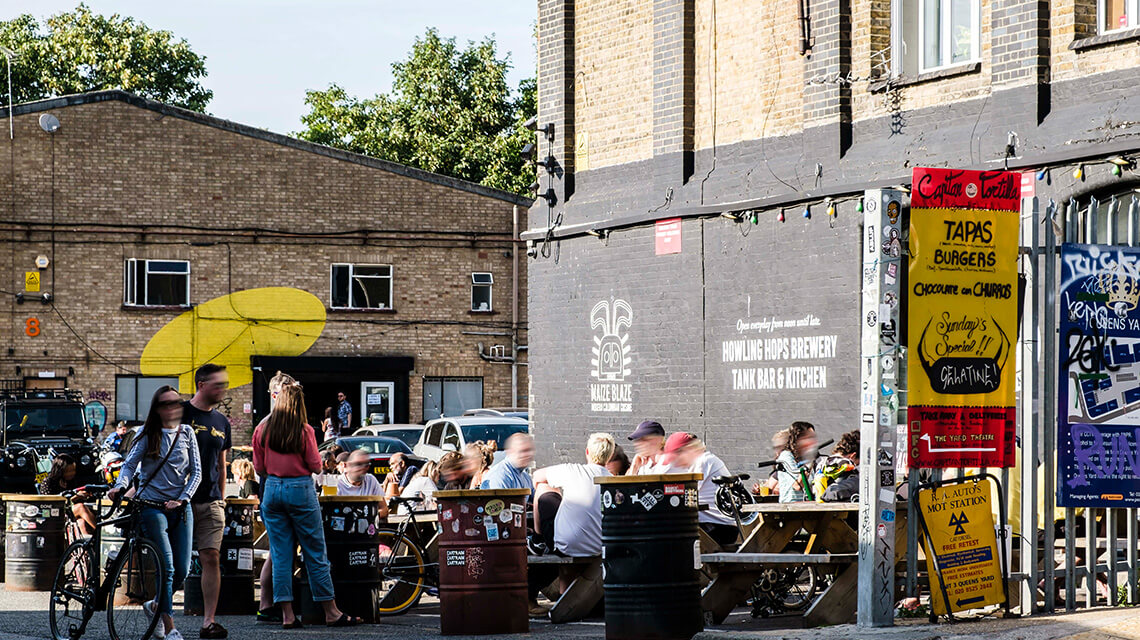 In this vibrant district of London, you'll be spoilt for choice when finding somewhere to eat in Hackney Wick. From classic Italian to street food and loads of vegan eateries, there are places to satisfy all your cravings. Below is a comprehensive list of some of the best spots to visit:
Due to the current circumstances, some of the sites mentioned below may be temporarily closed or have restricted opening hours.
Seafood
Cornerstone
Cornerstone is a Michelin-starred seafood restaurant run by celebrity chef, Tom Brown. With a daily changing menu, these Instagram-worthy dishes are equally as tasty as they are aesthetically pleasing.
KYR Kitchen
KYR Kitchen is a take-away service that offers American and Caribbean inspired flavours. It specialises in seafood and chicken wings, with some great shrimp, salmon, and lobster dishes which each come with southern fried wings, mac and cheese, and waffles.
Italian
The Italian Job Pub
Located opposite Victoria Park, this Hackney Wick branch of the UK's first Italian craft beer pub is their fourth venue in London. On the menu at The Italian Job Pub, you'll find a selection of authentic, homemade pizzas with a carefully curated mix of Italian starters, such as arancini and sharing platters, which can all be washed down with a selection of craft beers.
Crate Brewery and Pizzeria
Also serving the perfect combination of beer and pizza, there's no wonder Crate Brewery and Pizzeria is one of East London's worst kept secrets. All the pizzas are hand-rolled, stone-baked, and made to order using fresh ingredients. There's a few classics on the menu plus a selection of bold, unexpected flavours including the Kashmiri Dhal pizza which includes mango chutney and banana slices!
Natura
Natura brings a taste of Italy to Hackney. With their ingredients sourced straight from Italy, they have a massive range of tasty pizzas as well as classic pasta, salad and dessert dishes.
Gotto Trattoria
Gotto Trattoria is an independent restaurant run by three brothers and a friend who wanted to create a genuine local trattoria reminiscent of the neighbourhood establishments from where they grew up in Northern Italy. The restaurant has a daily-changing menu full of rustic Italian food including hand-rolled pasta, pizza, and seasonal Italian ingredients.
Street Food
Mama's Jerk
Located at the Colour Factory's food court, Mama's Jerk has a mouthwatering menu of Caribbean favourites including jerk chicken, curry goat, rice and peas, and patties as well as some delicious vegan and vegetarian options. Their secret homemade jerk BBQ sauce gives the recipes a distinctive flavour the customers love.
Maize Blaze
Maize Blaze brings modern, authentic Colombian street food to Hackney Wick. Their mission is to make Colombian food accessible for all so every dish is gluten free with lots of vegetarian and vegan options too.
Cafés
Thingy Café
Located in Trowbridge Gardens, Thingy Café provides a great social environment with a cosy indoor space leading out to a hidden garden café. The rotating menu consists of dishes like vegan masala, Caribbean mac and cheese, kimchi toasties and they also provide a great variety of non-dairy milk drinks.
What Katie Did Next Café
This quirky and colourful trailer, situated in White Post Lane car park, came about when owner Katie's catering business was put on hold due to the Coronavirus pandemic. What Katie Did Next Café serves homemade, ethically sourced food and coffee such as toasties, salads, stews, dahls, cakes, and brownies.
Burnt Umber Brasserie & Deli
Burnt Umber Brasserie & Deli is a family-run café which offers tasty breakfast, brunch and lunch menus plus tasty pastries, and a hot drink and alcohol selection. There's also a mini grocery store inside where you can pick up lots of fresh fruit and veg.
Grow
Located by the canalside, Grow calls itself 'an experiment in ethical and sustainable business.' As part of their conscious drive towards sustainability, they work with local independent suppliers and ethical businesses. The menu is predominately plant-based, with some ethically sourced meat options, and you can expect middle eastern and southern Mediterranean inspired street food with punchy flavours and warm spices.
Continental Dishes
Scoffs Grill
At Scoffs Grill you'll find a menu of traditional Turkish plates which you can enjoy in the cosy restaurant or make use of their take-away service and enjoy at home.
Schnitzelland
Schnitzelland is a small, family run German eatery. As the name suggests, they offer a range of schnitzel-based dishes including burgers, curry, schnitzel with mash potato and mushroom sauce and some great side dishes.
Habbot Bar & Lounge
Habbot Bar & Lounge offers a delicious range of African cuisine. Try lots of traditional food such as soups, meat and rice dishes, yam, and plantain.
Sustainable
Silo
Silo is the world's first zero-waste restaurant that creates everything from its whole form, cutting out food miles and over-processing. They have their own flour mill, churn their own butter, make oat milk, roll their own oats and have an on-site brewery creating natural fermented drinks from live cultures. Even the furniture has been upcycled from material that would have otherwise been wasted! Silo has a daily-changing menu of innovative dishes or you can enjoy a five-course tasting menu.
Vegan
Mash and Flip
Mash and Flip deliver delicious, handmade vegan burgers to Hackney Wick. They have three signature burgers – the Flippin' Smokey, the Crunch SPCP ('Super Crunchy Sweet Potato'), and the Chick'n Fillet – plus a range of sides to complement including rosemary salted chips, cauliflower bites and coleslaw. All their food comes in eco-friendly packaging and there's the added bonus of everything being less than £10 on the menu!
The Hogless Roast
Situated in Hackney Wick's first ever food court, The Colour Factory, The Hogless Roast is the UK's only 100% vegan hog roast. This is the traditional hog roast reimagined for a new generation; made from plant-based protein, infused with smoky BBQ flavours, lathered in apple sauce, topped with stuffing and vegan crackling, and all packed into a toasted rustic roll! There's also a great choice of vegan sides including mac and cheese, hash browns, and homemade coleslaw.
The Green Grill
The Green Grill offer plant-based fast food such as burgers, 'vdawgs' and chkn bites. Their burgers and 'vdawgs' are served in fun, colourful buns infused with charcoal, matcha, and beetroot respectively. The Green Grill can also be found at The Colour Factory food court.
Veganushi
Fancy some sushi? Veganushi have you covered with their Japanese-inspired vegan and organic street food, sushi and desserts. There's a fantastic choice on the menu from vegetable gyozas, temaki, sashimi and salted miso brownie or apple gyoza to finish the meal. All the food is served in plant-based, 100% biodegradable packaging.
Chickenish
Chickenish is recreating all the chicken shop classics but making them out of plants instead. Everything on the menu is vegan and gluten free, made with soy and fired in a chickpea flour batter. Secret London claimed that it will fool any meat eater as the food looks like chicken, smells like chicken, and even tastes like chicken!
Mindfoodness
Founded in 2021, Mindfoodness is new to the vegan scene. Their aim is to revolutionise the idea of take-away food by producing sensational and sustainable vegan food. All homemade, using only raw and fresh nutritious ingredients, the menu includes plant-based burgers, mindfoodness bowls, sides and desserts. Mindfoodness are committed to sustainability and only use biodegradable, plant-based packaging.
Edited: 12th December 2022