The Harbour Central Penthouse - Interior Design Concept
Tasked with crafting a bespoke interior concept for arguably one of the capital's most lavish penthouses, London-based interior designer Olivia Alexandra discusses the inspiration behind this magnificent duplex penthouse at Harbour Central.
Olivia takes great pride in her London-based studio's approach to design and tremendous consideration to detail, which has in turn lent itself to a diverse portfolio of works, ranging from private client homes, residential developments, and exciting commercial spaces. Olivia's background, which includes working for some of the most renowned design studios in the industry and on projects in some of the most discerning of locations, has allowed her a great understanding of what truly constitutes a first-class design service.
Where do you get your design inspiration from?
Anywhere from hotels to fashion and travel. Art also inspires me greatly, and I find starting with an abstract piece can encourage your creative direction.
Talk us through the design concept.
We set out to create a multi-layered scheme that reflects the elegance and sophistication of a luxury hotel mixed with all the comforts that 'home' provides. We blended the classic with the contemporary to ultimately create an enduring design concept which encapsulates the epitome of luxury city living.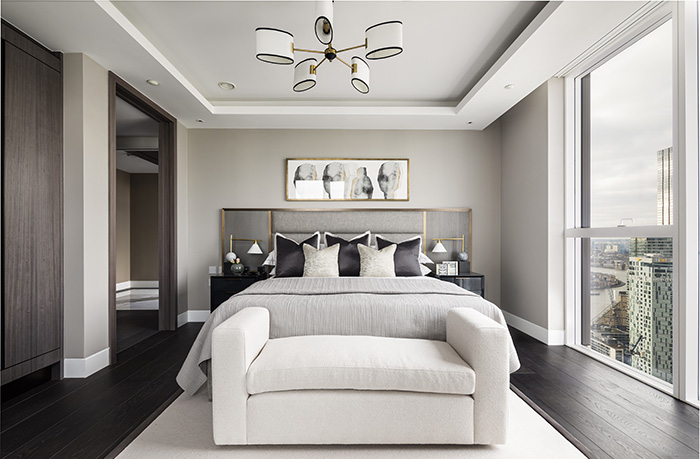 What were the key considerations when designing the penthouse?
It was imperative that the overall design of the penthouse encompassed luxury, optimum comfort and quality without compromising on functionality. This was achieved through the implementation of varying levels of lighting, well designed joinery, and bespoke furniture, along with the use of soft and sumptuous fabrics throughout.
How would you describe the aesthetics of the penthouse?
Sophisticated and luxurious with a hint of eclecticism.
What is the most striking aspect of the penthouse?
One hundred percent the views which are truly breath-taking. Throughout the installation my team and I could not help but take lots of photos of the view at different times of the day as the light changed and reflected off the surrounding buildings. I really don't think you can beat it.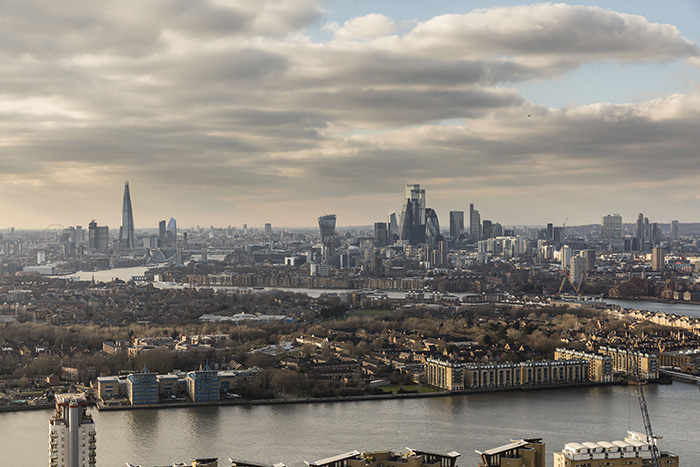 How have you balanced style with functionality?
Mainly through the incorporation of bespoke furniture pieces. We played around with scale to ensure that the furniture we designed was both comfortable and functional but that it also looks great in the space.
Which room are you most proud of?
The living and dining area. The colour palette is elegant and works perfectly with the incredible backdrop view, which we worked hard not to retract from. The pops of crimson red throughout the open-plan living, kitchen and dining areas create a gentle synergy between the spaces, and the bold statement furniture adds intrigue and is a great focal point.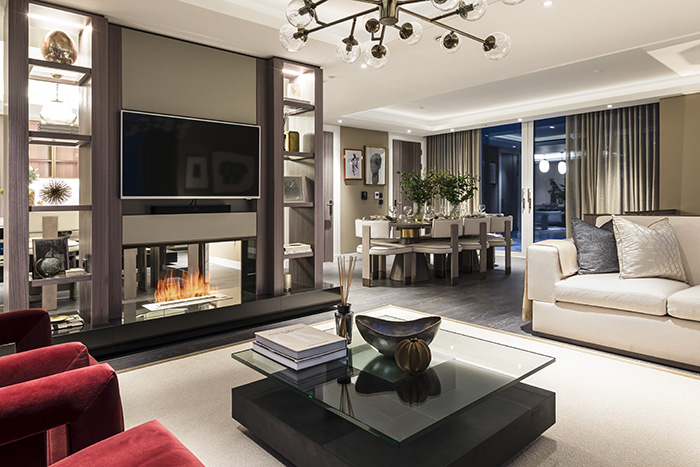 How can a buyer make this penthouse a home?
For me, personally, it's mainly all about the senses. A home should look beautiful, smell lovely and feel comfortable. All of this should be cocooned by a sense of familiarity through the sounds of family, people or music you love. Adding personal touches such as family photographs is a great place to start.
Explore the Penthouse
Situated on the 40th floor of Harbour Central's iconic residential building, Maine Tower, this opulent three bedroom duplex penthouse affords some of the finest views in the Docklands. Boasting elegant interiors, a sensational sky garden and three private balconies, residents of this exceptional home will enjoy a lifestyle like no other. Bespoke furnishings and the highest-quality designs come together to ensure that every inch of this 2,120 sq. ft. penthouse is the epitome of luxury city living.
Take a virtual tour of the penthouse here.
Discover Harbour Central
Just moments from the heart of Canary Wharf, Harbour Central is the height of indulgent living in London Docklands. Home to a wealth of luxury lifestyle amenities that include a fully-equipped gymnasium and spa, a library, a private cinema, a business suite and concierge service, this striking development really is an incredible place to call home. Not only will residents enjoy the convenience of having everything they need at their fingertips, but just a 10 minute walk away residents will be able to explore a fantastic array of shops, restaurants and bars and superb transport connections.
Discover Harbour Central here.
Edited: 17th July 2023