Literary London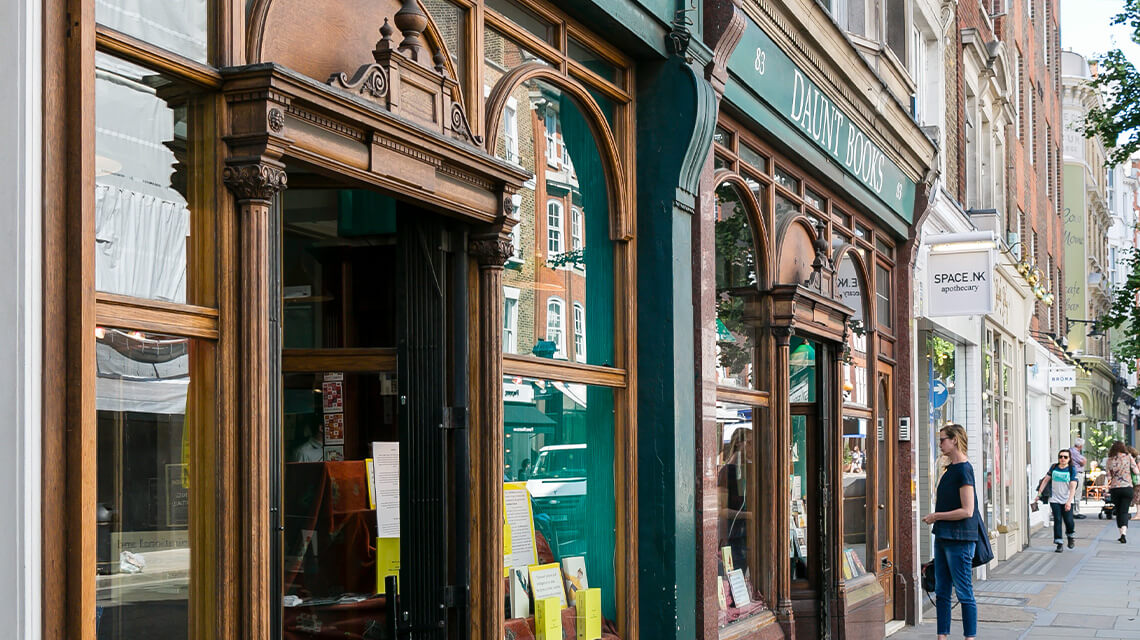 In the words of Dr Samuel Johnson, author of the Dictionary of English Language: 'If a man is tired of London, he is tired of life.' London's beauty and prestige has attracted some of history's most celebrated writers and thinkers, making it, without a doubt, the intellectual capital of the world.
From Shakespeare to Dickens, and Keats to Hardy, the capital is abundant with opportunities to explore its scholarly past.
Take a look at writers' hideouts, age-old watering holes and today's must-see attractions for the dedicated bookworm with this extensive guide to literary London.
Museums
Charles Dickens Museum
The Charles Dickens Museum can be found on Doughty Street in Bloomsbury. It is the only remaining London home of the Victorian author, and now holds the world's most essential collection of writings and artefacts relating to him. Featuring period furniture, rare books and personal objects, visitors will leave with a glimpse into the life of one of Britain's most celebrated novelists. Take a look at Dickens' writing desk and expansive library, or have a peak in the dining room where he entertained guests such as John Forster, the British biographer and critic, and the Vanity Fair author, William Makepeace Thackeray. It was here where Dickens wrote some of his most memorable novels, such as the timeless Oliver Twist - definitely worth paying a visit for anyone wanting to explore the Victorian era and the home of its most illustrious writer.
Sherlock Holmes Museum
Immortalised in British culture, 221b Baker Street was the fictitious home of Sherlock Holmes between 1881 and 1904 and is now the privately-run museum of all things denoting to the famous detective. Recreated by some of the famous stories of Sir Arthur Conan Doyle and featuring waxworks of well-known characters such as Professor Moriarty, this museum is, without a doubt, on the bucket list of literary enthusiasts.
Attractions
Poets' Corner, Westminster Abbey
Whilst also being the home of countless royal weddings and coronations, Westminster Abbey is also known for its Poets' Corner, or as some like to call it: 'the literary hall of fame.' The Father of English Literature, as he is known - Geoffrey Chaucer - was placed here in 1556, which then established the corner, and since then it has been the resting place for Britain's most significant authors and poets. Charles Dickens, Thomas Hardy, Rudyard Kipling and Alfred Tennyson are all entombed here, whilst other notable literary influencers who are buried elsewhere are commemorated with several monuments throughout the Abbey, including William Shakespeare.
A Conversation with Oscar Wilde
Although being an Irish playwright and novelist and educated at Oxford, Oscar Wilde did, in fact, spend much of his time in London, especially during his 'breakthrough' years when the capital's high society was key to literary success and fame. 'A Conversation with Oscar Wilde', designed by the contemporary sculptor, Maggi Hambling, and opened in 1998, is a tribute to the revolutionary writer where visitors can sit and 'converse' with his bronze head in amongst the hustle and bustle surrounding Charing Cross. One of his most famous quotes is inscribed on the monument: 'We are all in the gutter, but some of us are looking at the stars.'
Keats House
Along with Poets' Corner, Keats House is a must-see for any poetry fan, and especially those who love the works of romanticist John Keats, who occupied the house in the late 19th century. Browse original artefacts and manuscripts, or take a walk in the estate's lavish gardens where Keats is said to have found his inspiration for his famous poem, Ode to a Nightingale. Situated in beautiful Hampstead, guests can attend family-friendly events and exhibitions throughout the year.
Dr Johnson's House
Dr Samuel Johnson is most famous for his ground-breaking publication, A Dictionary of the English Language - a defining moment in history for English etymology. Located on Gough Square in Temple, visitors can take a look at the lexicographer's house where he compiled the dictionary. Browse the eloquently-restored 18th century interiors, Johnson's research library and first printings, even down to his personal pink tea set!
Platform 9 ¾ at King's Cross Station
The literary tour of London could not be complete without a visit to Platform 9 ¾ at King's Cross Station, where Harry Potter travelled from London to his wizarding school, Hogwarts. Tourists particularly love the gift shop where they can purchase anything from wands to Quidditch attire and Bertie Bott's Every Flavour Beans.
Theatres
Shakespeare's Globe
A replica of the original Elizabethan theatre, Shakespeare's Globe is one of London's most cherished theatres and exhibition centres. The original Globe was built in 1599 but was destroyed by a fire in 1613; it was rebuilt soon after but eventually demolished in the 1640s. What visitors see today is an approximation based on writings and drawings, built out of oak and thatch, with an expansive open-air theatre accommodating up to 1,400 spectators.
Founded by American actor, Sam Wanamaker, in 1997, fans of Shakespeare have travelled from around the world to marvel at the theatre and watch their favourite plays. The site now also includes the Sam Wanamaker Playhouse, a smaller and more intimate theatre, which opened in 2014. Exhibitions, lectures and demonstrations are held here all-year-round for people of all ages to enjoy.
The Curtain Theatre
Dating back to 1577, The Curtain Theatre was Shakespeare's original playhouse before the Globe and is said to be where Henry V was premiered. The Lord Chamberlain's Men, otherwise known as Shakespeare's company of actors, are said to have performed here in the late 1590s, but it is thought that the theatre was used up until the 1640s. Since then, little has been known about the theatre and it simply sunk into the depths of Shoreditch's cultural history - that was, at least, until the remains were uncovered by the Museum of London Archaeology (MoLA) in 2012, as part of plans to excavate the site on Curtain Road and build a brand new luxury development. The findings are said to provide a huge insight in to Elizabethan history, where hundreds once flocked to see the playwright's latest production.
The remains will now sit centre stage of Galliard's brand new joint venture and mixed-use project, carefully preserved in a heritage centre and sunken amphitheatre, which will act as a meeting space and performance area in London's largest new public piazza. The development, amply named The Stage, is expected to reach completion in late 2021.
Libraries
The British Library
Books, books and more books! Any lover of literature should make this stop in Euston to marvel at the world's largest library - containing more than four million books! Take a look at rare collections and original manuscripts, from the Magna Carta to first-editions of Jane Austen's works.
The London Library
The London Library at St James' Square is yet another of Britain's leading literary institutions, and definitely worth taking a look inside. Since it opened back in 1841, a number of famous authors have walked through its doors as loyal members, including Sir Arthur Conan Doyle, Agatha Christie, George Eliot and Virginia Woolf. Membership to the library is open to everyone and it still retains its age-old rule to 'never discard any book, no matter how unfashionable it becomes'.
Parks and Gardens
The Garden Squares of Bloomsbury
During the 1920s and 1930s, the Bloomsbury Group - London's artistic elite - would conduct a number of meetings in the area, inspired by the surrounding's unblemished beauty and vivaciousness. Enjoy a picnic or sit back and watch the world go by in one of the most significant areas of the capital for literature and the creative scene. Take a look at Gordon Square and you'll find blue plaques immortalising key writers such as John Maynard Keynes and Virginia Woolf, or head over to the fountain plaza at Russell Square where you can see where T.S Eliot once worked at Faber & Faber, one of London's best known publishing houses.
Primrose Hill
Whilst most will never need an excuse to visit the picturesque Primrose Hill, its literary significance also makes it a worthy venue on this list. Located just north of Regent's Park, the Hill is best known for its magnificent city views and, of course, the words by William Blake which are etched on the park's peak: 'I have conversed with the spiritual sun. I saw him on Primrose Hill'. Now a celebrity hotspot, the area was once a thriving hotbed for both aspiring and established writers, including William Butler Yeats, Sylvia Plath, Ted Hughes and Dylan Thomas. For those looking to lose themselves in a book surrounded by outstanding natural beauty with culture permeating the air, this is the place to be.
Shops
The Old Curiosity Shop
The Old Curiosity Shop, situated on Portsmouth Street near Holborn, is a famous survivor of the Great Fire of London and even survived aerial bombings during World War II. The shop, which is also a Dickens novel, is said to be the writer's inspiration for the book, as he lived in nearby Bloomsbury. Due to its rickety appearance, the shop is often overlooked by tourists, but those wanting a well-rounded tour of London's literary history should certainly pay a visit on their way to the majestic Bloomsbury Gardens. Despite its name, it is actually an upmarket unisex shoe boutique, selling unique, handmade footwear!
Pubs
The George Inn
Head down to Borough High Street and enjoy your favourite tipple at London's last remaining coaching inn, The George Inn. Both Shakespeare and Charles Dickens frequented the pub, which dates back to 1676 and is now preserved by the National Trust as a paragon of English history. Delve back in time with the buildings oak beams and low ceilings, and cosy up in front of an open fire as you tuck into an authentic British dish. This is a must-see for those visiting Shakespeare's Globe, which is just a 10 minute walk away.
Ye Olde Cheshire Cheese
Located on Fleet Street, Ye Olde Cheshire Cheese is a treasured London pub that dates back to the 1530s, and is one of just a handful of pubs to have been rebuilt following the Great Fire of 1666. Tucked away in an alley with a labyrinth of staircases and passages leading to different bars and dining rooms, this is as much a tour of archaic London as it is a local hotspot for relaxing and socialising. A number of erudite writers and scholars, including Sir Arthur Conan Doyle, William Butler Yeats and Voltaire passed through these doors, and Dickens even referred to it in his novel, A Tale of Two Cities.
The Fitzroy Tavern
Situated in the luxurious West End, The Fitzroy Tavern actually gave its name to the area it sits in - Fitzrovia. Originally known as London's Artist Quarter, where writers, artists, actors and bohemian socialites would meet in the 1930s and 1940s, The Fitzroy Tavern offered a vibrant scene for a number of London's emerging talents, and stands today as an institution of London's creative scene. Noteworthy regulars included Dylan Thomas and George Orwell, who are featured on the walls of the Writers and Artists Bar; rumour has it that Thomas wrote poetry on beer mats for any woman that asked while drinking here.
The Spaniard's Inn
Sitting on the edge of Hampstead Heath, visitors will come across another renowned pub, The Spaniard's Inn, which was a popular watering hole for highwaymen from the 16th century. Poets John Keats and Lord Byron were amongst some of the pub's famous drinkers, whilst Dickens is found to have mentioned it in The Pickwick Papers, as well as Bram Stoker in Dracula. Sit back and relax in this age-old, country pub whilst sipping on your favourite beverage, or head down on a Sunday when you can feast on their mouth-watering roast dinner.
London Literary Pub Crawl
For those who like the sound of a guided history tour accompanied with a good, old-fashioned pub crawl should definitely take the tour of literary London. Any fictional fanatic will definitely enjoy a look at some of the places their literary heroes frequented.
Edited: 18th November 2022