London's Coveted Primrose Hill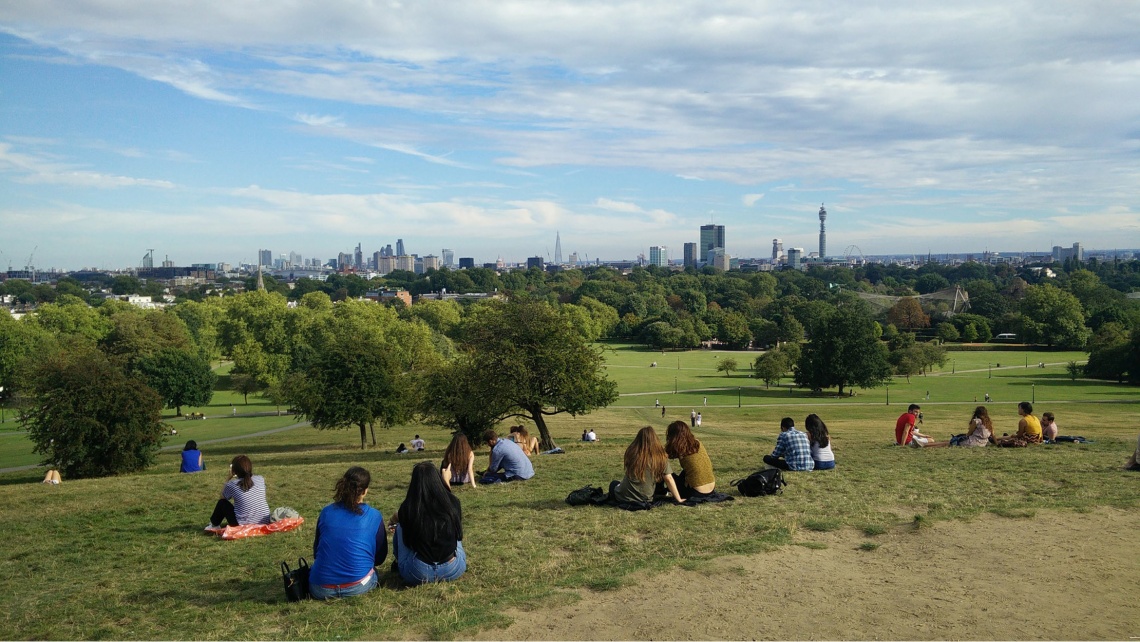 "I have conversed with the spiritual sun. I saw him on Primrose Hill." These were the words uttered by the 18th century poet, William Blake, which are now inscribed in stone on the park's summit, where visitors can stand in awe as they observe magnificent views of London.
Primrose Hill is a charming destination brimming with quaint boutiques and chic restaurants and bars, making it a magnet for media personalities and some of London's most affluent residents.
Located to the north of Regent's Park - one of the Royal Parks of London - Primrose Hill refers to both the park which it inhabits and the surrounding district within the postcode 'NW3'. It is surrounded by some of the capital's most prestigious locations, including Belsize Park and Hampstead to the north, the eclectic cultural district of Camden Town to the east, and St John's Wood to the west.
History
Separated from Regent's Park by Prince Albert Road and the ZSL London Zoo, Primrose Hill is a coveted area of North London with a dynamic history and vibrant character of its own.
Originally, the land was full of woodland and appropriated by Henry VIII who used it as hunting grounds in the 16th century. In the mid-19th century it became Crown Property and was declared an area of public open space for the people of London to utilise and enjoy.
The area's name is said to have derived from Archibald Primrose, the 19th century British Prime Minister who was responsible for much of London's rail infrastructure, including the Primrose Hill Tunnel - London's first railway tunnel.
Today, Primrose Hill is one of London's most fashionable districts and maintains an urban village vibe, attracting some of the biggest names in the celebrity world.
Famous Residents
Primrose Hill has been home to a number of artists, novelists, actors and television personalities over the years, and there are seven English Heritage blue plaques in the area paying tribute to its historic residents.
The area has been particularly popular with poets; from William Butler Yeats to Sylvia Plath, to Ted Hughes and Dylan Thomas, the Hill's bucolic mystique has been an inspiration for generations. Recorded in her last writings before her untimely death in the 1960s, Sylvia Plath said: "When I came to my beloved Primrose Hill, with the golden leaves, I was full of such joy." She is also said to have referred to the area as the "last word in London bohemia" in her autobiographical novel, whilst describing her Chalcot Square residency.
In recent times, model Kate Moss, celebrity chef Jamie Oliver, and actors such as Daniel Craig and Jude Law, have all resided in this luxurious landmark.
Fine Dining
Pastel-coloured Victorian terrace houses framed by wrought iron railings border the tree-lined streets that comprise authentic gastropubs and an assortment of independently-managed restaurants.
Lemonia, located on Regent's Park Road, is a family-run Greek restaurant that has served mouth-watering Mediterranean dishes for more than 30 years. Enjoy an à la carte menu of sizzling meze platters and vegetarian delicacies.
For a fine dining experience and the chance to spot some famous faces, head to Primrose Hill's iconic Odette's restaurant - led by the famous Welsh chef, Bryn Williams - and tuck into their fabulous six course tasting menu.
The Queen's - located less than a five minute walk from Primrose Hill - has a warm and inviting atmosphere with its authentic fireplace and selection of five cask ales and London distilled spirits.
Shopping
Cupcake lovers should, without a doubt, head to Primrose Bakery, which provides a vast array of classic cakes and cocktail-infused cupcakes such as the Espresso Martini, Gin and Tonic and Mojito. The store is incredibly popular with both locals and tourists, having inspired four cookbooks; it even offers master classes so fans can recreate their favourite bakes at home.
Primrose Hill Books is the area's legendary bookstore, stocking everything from the newest bestseller to your favourite heart-warming classic. The store also holds a number of literary events and talks by both established and up-and-coming authors.
Regent's Park Road is also home to a number of boutique clothing stores, including Anna and Studio 8, which feature an array of designer labels to add to your seasonal wardrobe. For vintage finds and personalised gifts, Judith Michael and Daughter is the perfect place to visit, with French and English ornaments from the 18th century through to the 1940s.
Park Life
Primrose Hill's summit is over 60m above sea level and is among only a handful of viewpoints in London which is shielded from any future development, as it offers one of the highest points in the city from which to marvel at Central London landmarks such as The Gherkin, the London Eye and St Paul's Cathedral.
Over the centuries, the park's beauty has been recognised and celebrated in a number of ways. In 1864, the slope of the hill was the chosen location of Shakespeare's Tree - an oak tree planted to mark the 300th anniversary of the Elizabethan playwright's birth - and the lyrics "and the view's so nice" from the 1993 Blur song 'For Tomorrow' were even painted on the path for the park's visitors to admire.
Another perfect green spot to enjoy a picnic and soak up the tranquil atmosphere is Chalcot Square. Situated just a five minute walk to the east of Primrose Hill, it is home to one of the most elite residential districts in the area.
One could certainly not forget about London's famed Regent's Park, comprising nearly 400 acres, including Queen Mary's Gardens, which feature more than 12,000 roses of 400 varieties. It also houses the Open Air Theatre, London's favourite outdoor performance area, plus one of the capital's top tourist attractions - the London Zoo.
Travel
Chalk Farm and Camden Town Tube stations are equidistant to Primrose Hill - just over a 10 minute walk away. On a day's visit, the best way to approach the park is to get off at Camden Town and walk along Regent's Canal for a nautical experience accompanied by impressive views and a refreshing ambience.
Property
Part of Galliard's reputable Platinum Collection, Carlow House offers a superb range of one and two bedroom apartments in a fantastic Zone 1 location, just a 3 minute walk from Mornington Crescent Tube station and a 20 minute walk away from the picturesque Primrose Hill.
Eloquently designed around an impressive four-storey atrium, residents will enjoy stylish designs and exclusive finishes, including modern loft-style interiors, to heighten the luxury London living experience. The development is expected to reach completion in May 2016.
For more information about living in Euston, take a look at our guide.
Edited: 20th March 2023