The Best Markets to Visit in London this Winter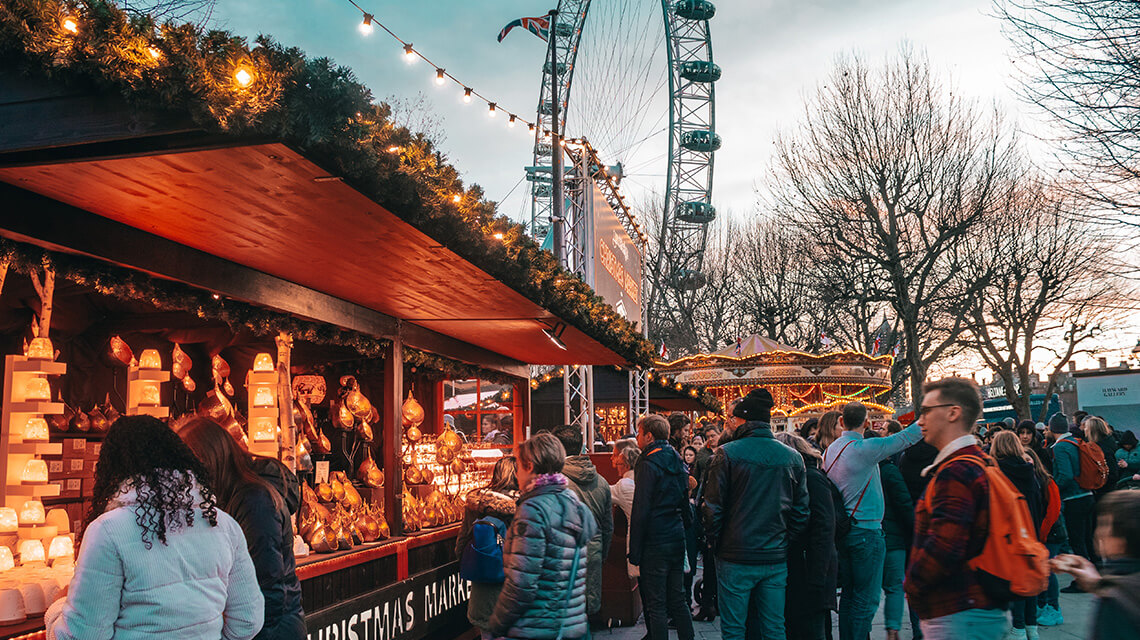 Winter is coming, which can only mean one thing... London's most loved winter markets are back! So grab your coat, fetch your mittens and get yourself down to these lively spots, where you are guaranteed fun, food and lots of festive cheer.
Winter Wonderland
Everyone's favourite wonderland is back! This year, however, things are slightly different; you will need to book tickets in advance.
Once a relatively low-key festive open-air market, Winter Wonderland has come a long way since its humble beginnings. Now, this magical destination is a sprawling wintertime attraction offering everything from live music, thrilling circus acts, an ice skating rink and ice sculpting workshops to an authentic Bavarian village, a crafts market, fairground rides, and even the chance to meet the big man himself in 'Santaland'.
There's certainly plenty of fun to be had for the whole family. Hyde Park's festive wonderland runs from 19th November until 3rd January, giving you plenty of time to pay a visit.
Southbank Centre Winter Market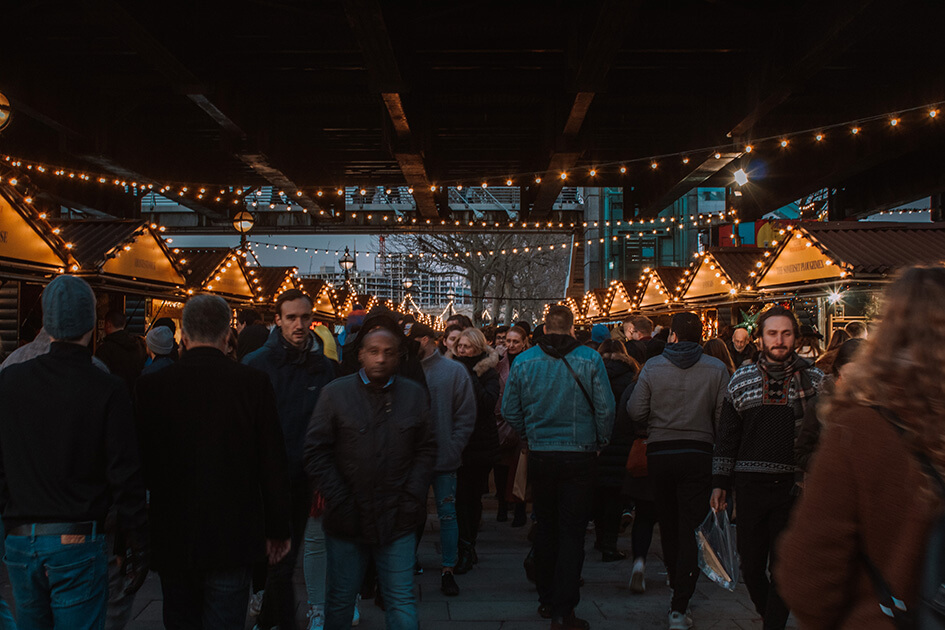 Experience the magic of Christmas at Southbank Centre's enchanting outdoor Winter Market. From 4th December right up to Christmas Eve, authentic Alpine chalets adorned with twinkling fairy lights and festive garlands will line Queen's Walk. As you make your way through the market, you'll be hit with the scents of sizzling street food, cheesy raclette and mulled wine. Each wooden chalet will offer something different, whether you're after some unique hand-crafted gifts for your loved ones, artisanal snacks, a gourmet truffle burger or a new decoration for your tree.
Entry is free and you don't need to book. Get the full detail here.
Covent Garden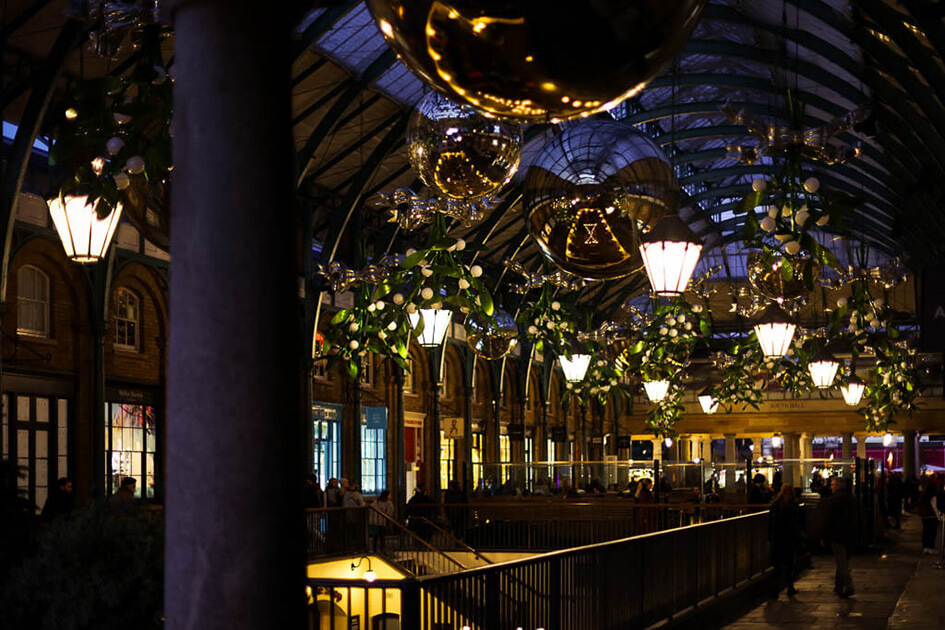 Snow? Check. Magical decorations? Check. Christmas village? Check. Huge Christmas tree? Check. Tons of shops, bars, and restaurants? Check, check, check! Every December, Covent Garden transforms into Central London's very own enchanting Christmas paradise. Pick up everything from small stocking fillers to larger last-minute gifts from shops like Chanel, Jo Malone, Apple, Mulberry, Pandora and Tiffany & Co.
For the kids, there's a whole calendar of free events from an immersive LEGO® installation (running from 1st December 'til 3rd January) to Disney's Frozen extravaganza (taking place between 9th November and 3rd January).
For the adults, the Winter Warmer event runs from 10th until 24th December and gives visitors the chance to try over 25 varieties of mulled wine.
While you're in the neighbourhood, why not pay a visit to one of London's celebrated theatres and enjoy a West End show?
Explore Covent Garden.
Vinegar Yard
Located in Bermondsey, just round the corner from Newham's Yard, Vinegar Yard is a bustling place in the summer months for after-work drinks and live music events. But, come winter, the space becomes SE1's own little alpine village — you'll feel as though you've stepped straight off the street and onto the slopes. If you're coming with a group of friends or colleagues, tuck into a delicious meal from one of the many food traders in the privacy of your own cosy igloo, decked out with comfy seating and decorations. There are heaters and a brand new roof to keep you toasty and dry, whatever the weather.
Vinegar Yard is open all week from 12pm 'til 10pm, while the Flea Market takes place every Saturday and Sunday between 11am and 5pm.
Discover Vinegar Yard.
Borough Market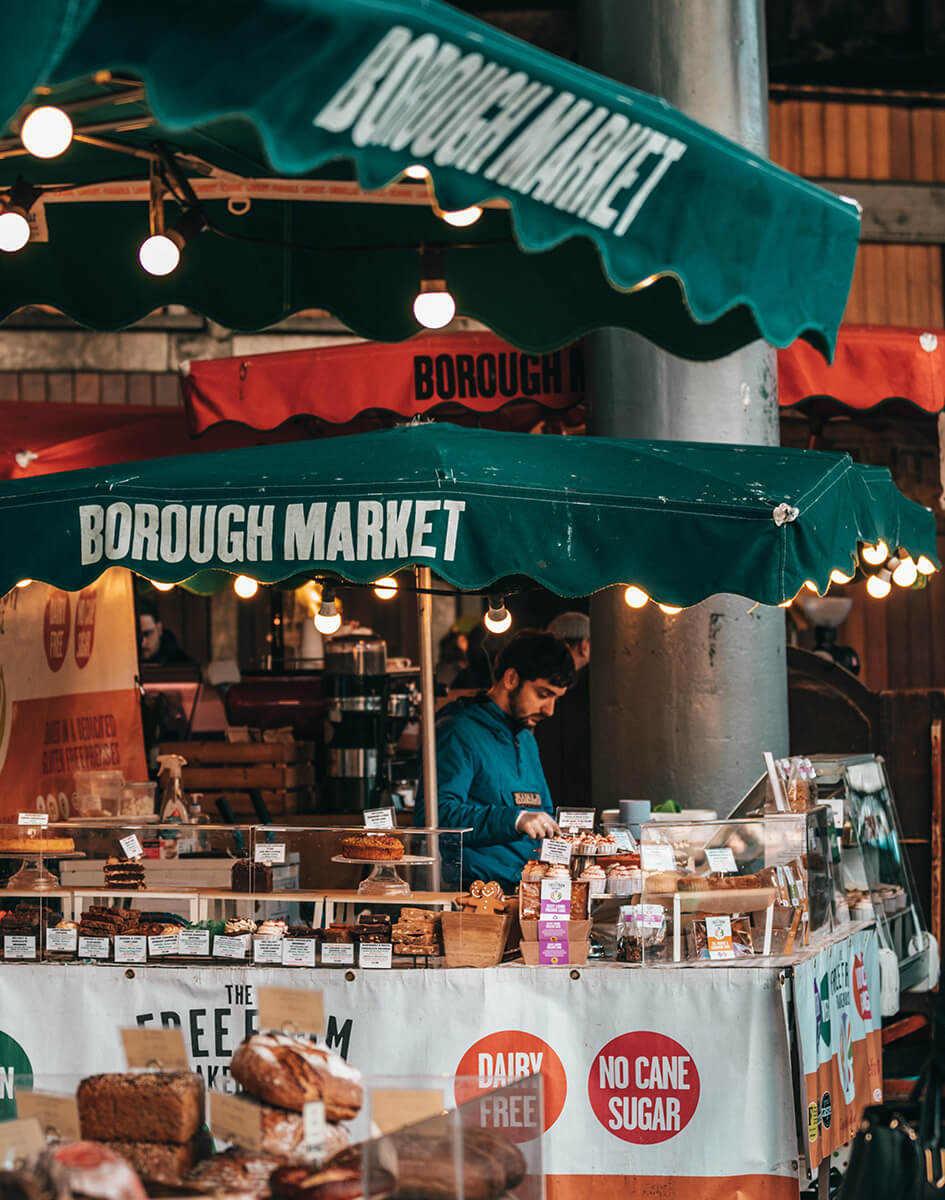 Let's face it, Yuletide is all about indulging in good food, so where better to enjoy this time of year than at London's favourite food market? With so many delectable dishes to sample, quirky foods to try and festive events which involve cheese tasting and singalongs, you'll have plenty on your plate to keep you feeling full and festive on your visit. No need to book; just make sure you turn up with an empty stomach!
The centuries-old market transforms into a sparkly wintery paradise from 22nd November and will stay that way until 9th January.
Greenwich Market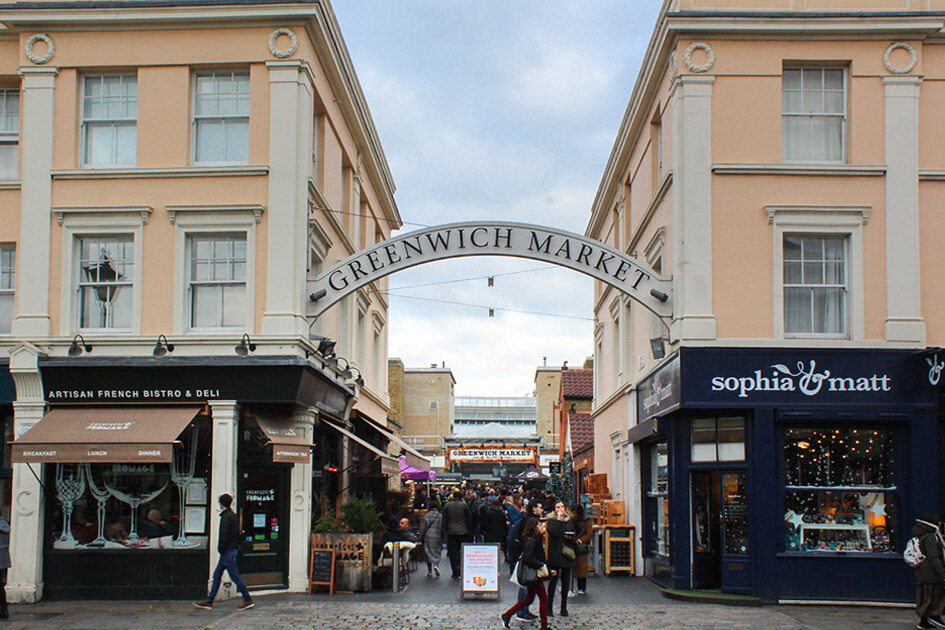 Greenwich Market is the perfect destination for getting into the festive spirit. From jewellery and antiques to crafts and hot street food, this iconic market in South London has got it all going on. While you're in the neighbourhood, make a stop at the Queen's House Ice Rink for more winter fun (open from 18th November until 9th January).
Greenwich Market is open seven days a week. Visit the market's website for information.
Wimbledon Christmas Celebrations
Though slightly smaller in comparison with the attractions mentioned above and perhaps not as widely known, those living in Wimbledon will attest that the community's annual Yuletide celebrations are certainly not to be missed. There's lots happening in Wimbledon in the lead up to 2022:
Christmas Market
Pop down to The Piazza on any Saturday or Sunday in the run up to Christmas Eve anytime from 11am until 6pm, and you'll be able to browse up to 50 market stalls selling clothing, homewares, artwork, delicious treats and all sorts of other goods. No two markets are the same as each weekend is set to host different vendors, so if you've got the time, why not visit twice? The Piazza turns into a Christmas market from 20th November and is a free attraction.
Find out more through Love Wimbledon.
Christmas in the Village
On 5th December, Wimbledon Village will be putting on a day of merriment for locals to enjoy. The festive fun kicks off at 10am with the opening of Santa's Grotto and the Christmas Market, and ends at 5pm with the Christmas lights switch-on and carol singing. Expect elves, rides, complimentary mince pies and mulled wine.
All the information you'll need can be found on Wimbledon Village's website.
Edited: 17th November 2022