Living in Wimbledon, London SW19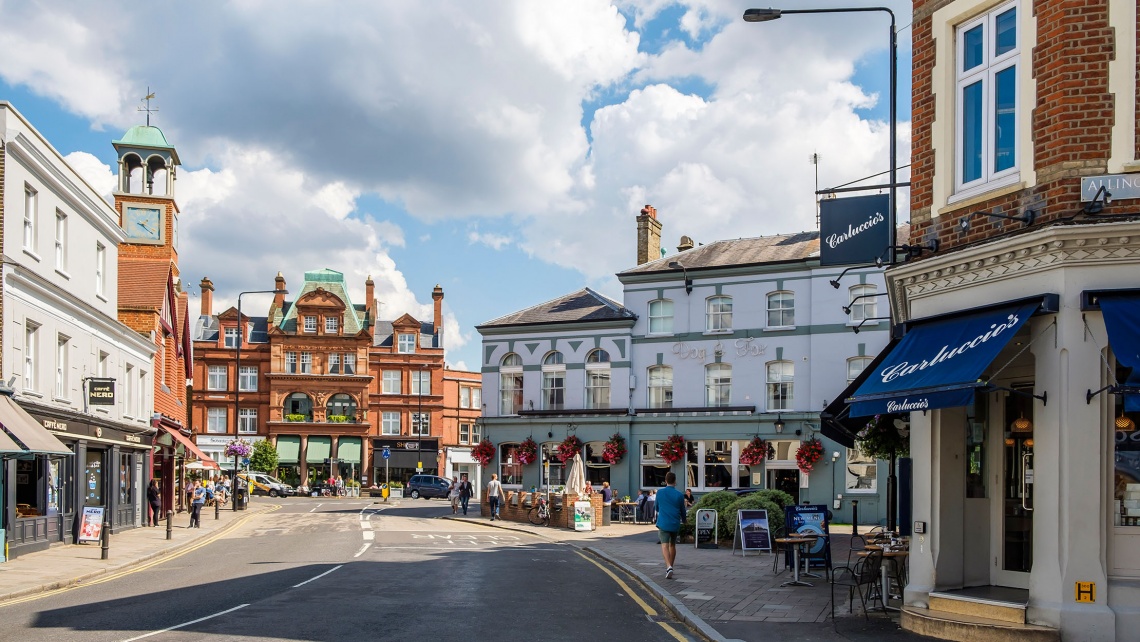 Situated in south west London sits Wimbledon, an idyllic and sought-after area. It is split into two main parts, the village and the town, both of which are filled with historical and contemporary value. From a long history with tennis in the Wimbledon Championships that dates back over 140 years, to a fantastic selection of places to see and eat. Wimbledon attracts visitors from all over the world that wish to indulge in its rich heritage.
Property in Wimbledon
Wimbledon Grounds
Wimbledon Grounds is one of Galliard's latest developments which will comprise two superb new residential buildings. Forming part of the initial phase, Stadia One will present 364 impressive new-build homes, while Stadia Three will offer 114 new apartments. Consisting of one, two and three bedroom apartments all equipped for contemporary life; residents will also benefit from private external space. The overall development will see home to AFC Wimbledon in a brand-new stadium and will also house all-new retail and sports facilities, creating a dynamic landmark for South-West London.
Explore our flats for sale in Wimbledon.
History of Wimbledon
Wimbledon is thought to have been inhabited since the Iron Age which is when the hill fort on Wimbledon Common was constructed. Wimbledon is split into two sections; the village, which dates back to the original medieval village and the town which gradually developed after the railway station was built in 1838. The introduction of the railway station began to shift the focus of growth from the village to the town.
Places of Interest
Historical
Blue Plaque
A blue plaque was put in place in Wimbledon to commemorate the work of Josephine Butler an English feminist who was a social reformer, campaigning for women's rights. The blue plaque can be found at her home which she lived in during her later years.
Wimbledon Lawn Tennis Museum
Take a look back through history and revel in the traditions and key elements of The Wimbledon Championships, and understand how it has developed since 1877. From star player's donations to tennis fashion trends during the Victorian period, this museum has something for everyone. Currently the museum is holding an exhibition called 'On Air: Wimbledon and the BBC 1927-2017', to celebrate Wimbledon's relationship with the BBC, marking its 90th anniversary. The museum has run many other exhibitions over the years including one which was dedicated to tennis at the Olympic Games.
Cultural
New Wimbledon Theatre
Set in a beautiful Grade II listed building, bursting with history having hosted some of the most well-known plays, musicals and performances from around the world, sits the New Wimbledon theatre. Opening their doors to the public in 1910, this theatre was unique for its time, being the only theatre in England to have a Victorian-style Turkish bath in the basement. Throughout history the New Wimbledon Theatre has hosted many major events and shows including the premiere of Oliver! and most recently, hosted Prince Charles' 60th birthday celebrations.
Buddhapadipa Temple
Initially inaugurated in 1966 on the 1st August by the King and Queen of Thailand, the Buddhapadipa Temple moved premises in November 1976 to where it still stands today in Wimbledon. This Buddhist centre welcomes everyone in an attempt to spread the teaching of Buddha in the Theravada tradition. The temple offers meditation classes and one day retreats, as well as overnight stays for both experienced and new meditators. As well as visiting the captivating temple in all its beauty, visitors can take time to explore the garden and take in its tranquil atmosphere.
Polka Children's Theatre
Dedicated to children, this theatre has been based in Wimbledon since 1979, creating world-class theatre for young people. The Polka Theatre sees over 90,000 children visit every year to engage with these exciting performances. The theatre also provides holiday workshops, term-time groups and free storytelling - which are just a few of the activities the community benefits from. More than just a theatre - Polka also has a café, playground and garden for visitors to enjoy.
Shopping
Centre Court Shopping
With over 65 shops located close to Wimbledon station, Centre Court Shopping has a selection of high-street brands easily accessible for a relaxed shopping experience. Shops include high-street favourites Boots and H&M, as well as well-known department store, Debenhams. From jewellers to health and beauty stores, this shopping centre has it covered. For a light lunch, CAFÉ MOKA serves fresh Italian dishes, or for those after something on the go there is an M&S simply food.
Elys of Wimbledon
For over 125 years, Elys has been the leading independent department store in Wimbledon. Elys is the pinnacle of luxury shopping, from high-end brands - including Hugo Boss and Tommy Hilfiger - to unique services, this department store has every aspect sorted. Services available at Elys include an alterations service and a beauty room for those wanting to unwind after a hard days shopping with their trained specialists.
Food and Drink
San Lorenzo
With over 48 years of experience, San Lorenzo offers superb dining with authentic Italian food. This family-run restaurant was proud to be runner-up for the 'Local Restaurant of the Year' in 2017. This local feel is reflected in their homemade dishes which will leave you feeling as though you are in Italy! Classic dishes include 'Linguine Nere Allo Scoglio' - all the flavours of the sea infused with traditional spices and herbs.
Buenos Aires
If you're looking for melt-in-the-mouth steaks then look no further! Top quality beef that is tender like no other, mixed with Argentinian passion ensures this restaurant will leave a lasting impression. Being Argentinian to the very core - Buenos Aires work alongside the best suppliers, with meat sourced from farmers whose cattle reside on Las Pampas grass, providing ideal living conditions.
GAIL's Bakery
Their first bakery opened over 10 years ago and soon became a favourite in its local area. From fresh handmade bread, pastries and cakes to aromatic coffees, GAIL's bakery is great on the go or for a place to catch-up with friends and unwind.
SMASH
For Olympic-grade ping pong tables, over 60 craft beers and tasty cocktails topped off with freshly made Italian Pizza, SMASH is the place to go! For a unique day out, get a team together and reveal your competitive side, play alongside their retro playlist for an all-round fun experience like no other.
The Dog and Fox
Situated in the heart of Wimbledon village, dating back to the 1800s, sits this locally loved, iconic pub. With an extensive drinks list - from premium bourbon to crisp and fruity wines - paired with quiz nights and live music, this pub has all the factors needed for a great evening. The Dog and Fox offer delicious drinks and lively entertainment in a setting enriched with their history as it is decorated with a nod to their roots as a coaching inn.
Green Space
Wimbledon Common
Covering a total of 460 hectares and boasting the largest expanse of heathland in London, Wimbledon Common is an ideal place for locals or visitors to relax in the open space, taking in the tranquil nature of the Common. There are also various volunteering groups available for locals to get involved in, including conservation work on the Commons.
Cannizaro Park
Cannizaro Park is a Grade II listed park located off Westside Wimbledon Common. It was initially part of the Duke of Cannizaro's estate but became a public park in 1949 when Merton Borough Council adopted it. Visitors can find rare and exquisite plants around the park - perfect scenery for an afternoon stroll.
Tourist Attractions
The Championships, Wimbledon
The oldest tennis tournament in the world, dating back to 1877 and commonly known simply as Wimbledon, is a significant annual event held at The All England Lawn Tennis and Croquet Club. It consists of Gentlemen's singles and doubles, Ladies' singles and doubles and mixed doubles and is one of four Grand Slam tennis tournaments, the only major still played on grass. It is now held early in July, lasting for two weeks in total, the event is televised all over the world. The popularity of the event has grown considerably over the years with spectators visiting from all over the globe. Each year at Wimbledon, strawberries and cream are served as an annual tradition amongst other great tasting food which uses the freshest of ingredients.
Fun Facts about Wimbledon
The Wombles are fictional furry creatures created by author Elisabeth Beresford which were based on Wimbledon Common. Initially, the Wombles started as characters in a children's book and it wasn't until the mid-1970s that the BBC authorised the television show. The Wombles reflected the environmental movement of the 1970s in their motto of "Make Good Use of Bad Rubbish".
Wimbledon has seen home to numerous famous people including the likes of Oliver Reed, best known for his role in Oliver! and comedian Michael McIntyre.
Education
Kingston University - Roehampton Vale Campus
The Roehampton Vale campus is tailored for engineering students, providing teaching rooms and laboratories exclusively for these students.
Wimbledon College of the Arts
With around 800 students on their Fine Art, Theatre and Screen courses, students have access to specialist workshops, studios, an on-site professional theatre and teaching from industry-level professionals.
Getting There
By Tube
Wimbledon Underground station, located in Zone 3, serves the District line.
South Wimbledon, located in Zone's 3 and 4, serves the Northern line.
Southfields, located in Zone 3, serves the District line.
By Train
Wimbledon Overground station is served by South Western Railway, for connections to London Waterloo in 17 minutes, Portsmouth in two hours and Reading in 95 minutes.
By Car
The A3 borders part of Wimbledon, starting in the City of London, ending in Portsmouth and is 67 miles long.
Edited: 24th October 2023