The Ultimate Guide to London's Chinatown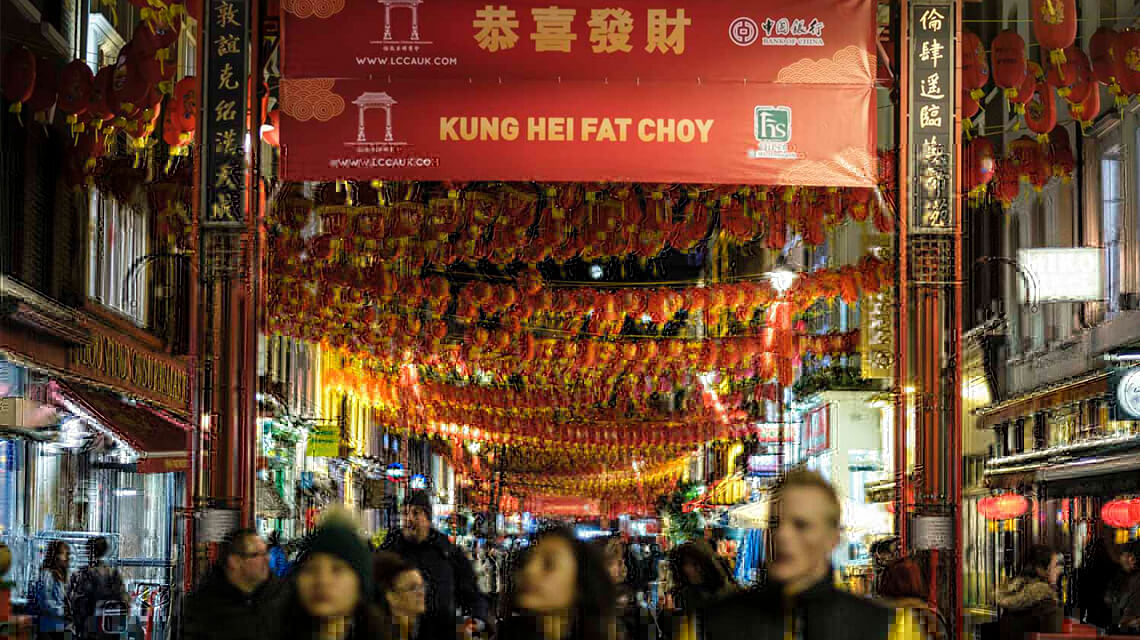 Set in the middle of the West End, with Soho to the north and Covent Garden to the east, London's Chinatown is an explosion of colour and flavour in the city centre. Enter and you'll feel transported - the streets are adorned with swaying red paper lanterns, Chinese symbols and dragons and Mandarin street signs, and filled with the heady fragrances of curries and fresh dumplings.
Chinatown began to take shape in the 1950s when a handful of Cantonese restaurants opened. By the 60s and 70s it had become the hub of Chinese culture in London with other businesses and services moving in. Now it's a diverse medley of age-old Cantonese establishments and newer restaurants offering cuisine from all over China and Asia, as well as Chinese bakeries, supermarkets, shops, beauty salons and traditional Chinese medicine clinics. Even as it embraces new trends, there remains a traditional thread running through the area, where you can still find family-run restaurants cooking authentic dishes or enjoy a plate of expertly crafted dim sum.
Chinatown isn't just about its food either. It's announced by its four gates at each entryway - make sure to see the magnificent, shimmering new fourth gate on Wardour Street, built in 2016 in the traditional Quing dynasty style. The two lion statues on Gerrard Street and the 1888 Mural in Horse and Dolphin Yard also make for unique photo opportunities. There are Chinese supermarkets where you can find almost every ingredient from China and East Asia, such as The New Loon Moon supermarket that stocks over 35,000 products.
The area enjoys a celebration too, with its famous annual Chinese New Year festival running from mid-January to February, one of the biggest Chinese New Year celebrations outside of Asia. It kicks off with a fantastical parade of floats and dragon and lion dances down Charing Cross Road. Throughout the month there are food stalls, craft stalls, music concerts, martial art displays and workshops. The restaurants and bars of Chinatown run celebratory menus and host special events.
Whether you find yourself in Chinatown for New Year or a special night out, we've put together some further recommendations, so you know where to find the best food and drink in London's most vibrant neighbourhood.
Places to Eat
BaoziInn
You probably wouldn't notice it from the outside, but BaoziInn is one of Chinatown's top stops for Sichuanese street food. It's cheap, cheerful but the flavours are firecracking. Prepare for spice with zingy Sichuan spicy beef noodles, spicy skewered meats and vegetables and perfectly puffed steamed buns packing a punch.
Cafe TPT
Cafe TPT might be as small as the inside of a dim sum bun, but the menu is vast and known for its reasonably priced Cantonese staples. Highlights include the roast duck on rice, beef flank curry and their hot stone sizzling pots with such fillings as spicy aubergine and minced pork or stuffed tofu with garlic. As it's a cafe you can also pick up a traditional bubble tea in various creative flavours including Watermelon with Pearl Tapioca and Black Tea with Milk and Pearl Tapioca.
Xu
For a more upmarket dining experience book a table at Xu, which sets the scene with its opulent vintage decor. From the team behind London bun sensation BAO, its refined menu devises an artisan take on Taiwanese cuisine including the delicate collaborations of spicy lamb sweetbreads with tung ho leaves, smoked tea duck with wild sweet flowers, silken tofu with Sichuan peppercorns and charcoal roasted Shou Pa chicken succulently glazed with ginger and spring onions. Alongside there's a decadent cocktail list and an old-fashioned tea bar served by a Taiwanese Tea Master.
Four Seasons
When it comes to roast duck in Chinatown there are plenty of options but Four Seasons holds the mantle. It claims to be a roast duck specialist and has certainly put in the preparatory hours, sourcing its duck from Ireland, drying it before marinating the meat in secret herbs and spices and then firing it in a specially-built furnished to produce the perfect buttery-crispy skin. Ordered with friends and smothered in sauce alongside rice and snappy Chinese broccoli, it is divine. The barbecued pork and roast pork belly are also worth ordering.
Olle
Olle is one of the newest Korean BBQ places in Chinatown, but its food is impeccable. Set amid chic, contemporary decor, it's a DIY BBQ concept - gather with friends around a big table, receive a selection of raw meat or vegetables and then sizzle them to perfection on hotplates built into the table. Offerings include Bulgogi (thinly sliced rib eye), Wagyu beef, Iberia pork, globally sourced seafood and British free-range chicken.
Leong's Legend
You only need to bite into one of Leong's Legend's xiao long bao - broth-filled dumplings - to know what's so legendary about this rustic Taiwanese eaterie. Made behind their open-plan, glass-walled kitchen, the buns come in all shapes and sizes, with plenty of unique fillings and various set menus to keep you entertained. Alongside there's also a vast menu of pan-Asian dishes, a sushi bar and a hotpot table.
Shuang Shuang
Hotpot - a bubbling pot of rich broth filled with various ingredients - is a Chinatown special, but Shuang Shuang offers a fun, social twist on the classic. You pick the broth, inspired by the different regions of China, choose a dipping sauce and then select raw ingredients from a conveyor belt. Pop them in your hotpot and let them cook away before enjoying your own uniquely blended creation. For more traditional hotpot restaurants try Joy Luck Hotpot or Shu Xiangge.
Viet Food
For Vietnamese food, you can find the aptly named Viet Food at the entrance to Chinatown. It's one of the area's trendier offerings with Asian interiors meets industrial chic set to pumping dance music. The expertly crafted menu combines fresh ingredients, handmade sauces and Vietnamese flavours into beautifully presented dishes. Try the Vietnamese tapas plates including a Vietnamese pancake stuffed with herbs and fresh seafood or smoky spiced quail and, if you've got room, there are also five innovative kinds of Pho.
Rasa Sayang
It wouldn't be right to leave the feast of Chinatown's food without a trip to Malaysia. The no-frills Rasa Sayang gathers all the flavours of Penang into an enticing street food menu, think lashings of satay, fresh rotis, fall-apart beef Rendang curry and the classic Nasi Lemak - coconut rice with tender curried chicken.
Places to Snack
Jen Cafe
This infamous jade green Chinatown cafe is the place to head to for a quick snack of authentic dumplings - so authentic you can watch them being handmade through the window. Inside, the interiors are basic but it really doesn't matter when the focus is on your five pound plate of eight Beijing dumplings filled with spicy pork and vegetables, succulently parcelled and anointed with chilli oil. There's also a wide range of oriental teas to wash them down.
Golden Gate Cake Shop
The Golden Gate Cake Shop might stock an attention-attracting range of occasion cakes, but it's a great place for grab-and-go Chinese sweet treats too. Its freshly baked, light-as-air buns with both savoury and sweet fillings are the most popular, but make sure to try the cream filled Pandan cake and custard tarts too.
Bake
Bake is Chinatown's most adorable snack spot, famous for its Instagrammable taiyaki - Japanese fish-shaped waffle cones filled with soft serve ice cream in vanilla, chocolate or matcha tea flavours. For those chillier days there are also a collection of other sweet delights from across Asia including mini waffle fish filled with custard, cartoon character themed cakes, Chinese Pandan Lotus pastries and their savoury Char Siu Bao, barbecue pork stuffed steamed buns.
Bubblewrap Waffle
Bubble waffles have taken London by storm and Bubblewrap is where it all began. The traditional waffle has been ditched for a bubbly version which is filled to the brim with delicious ice cream, from vanilla to strawberry cheesecake, drowned in Nutella, salted caramel or white chocolate cream sauce and piled high with toppings. It really is unbelievabubble.
Places to Drink
Opium Dim Sum and Cocktail Parlour
Any evening that starts with a secret door promises to be a good one. Opium Cocktail Parlour hides its treasures behind an unmarked jade green door on Gerrard Street. If you make it inside, this Shanghai speakeasy is a hidden den of decadent theatrics with themed bars, smoky cocktails, midnight Dim Sum, retro armchairs and funky music. Their cocktails are the star of the show, with such jewels as Opium Cocktail No.1 containing a blend of rum, absinthe, mandarin juice, kaffir lime syrup and a mini-shot of liquid ginseng. Other equally entertaining speakeasy bars include the Tea Room at Bun House and the Experimental Cocktail Club.
Tsujiri Matcha House
The contemporary Tsujiri Matcha House specialises in authentic Japanese matcha, matcha and more matcha. Their matcha lattes are of exceptional quality, they have a range of matcha tea up to ceremonial grade and also serve matcha desserts and ice-cream.
Biju Bubble Tea Room
Biju Bubble Tea Room is lauded as the best Bubble Tea in London for a reason. They use freshly brewed tea, organic British milk (or vegan options) and fruit nectar rather than artificial sweeteners or flavourings with plenty of mouth-popping bubbles. Fresh, fun and (almost) guilt free.
Property Nearby
TCRW SOHO
Residents of Galliard Homes' latest new-build development to hit the streets of Soho will be just a short walk away from the buzzing Chinatown action. The impressive TCRW SOHO is positioned on Dean Street directly above the brand new Crossrail station and will comprise an outstanding collection of luxury studio apartments, apartments and penthouses in Soho.
Get in touch with our sales team on 020 3409 2270 to find out more about TCRW SOHO or explore all of our available London property using the property search.
Edited: 5th September 2023