Living in Soho, London W1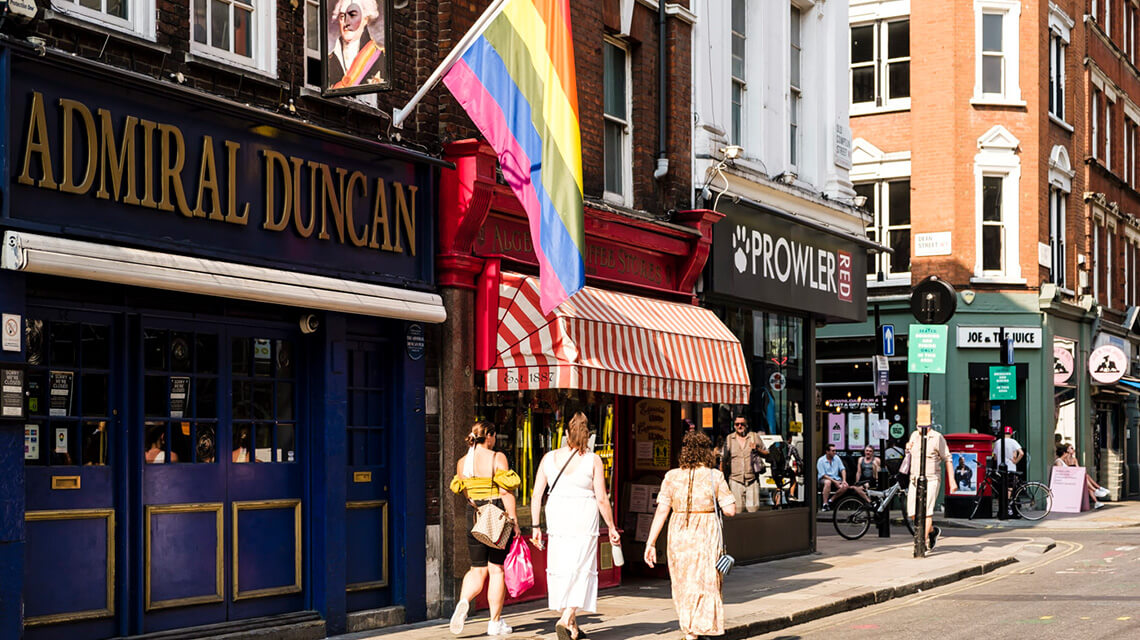 Favoured by fun-loving Londoners and high-spirited tourists, Soho's vibrant atmosphere has something to suit everyone's needs.
From luxury boutique shops to delectable dining options and creative outlets, Soho is known as Central London's multicultural oasis which never grows boring and always has something new and exciting on offer.
Property in Soho
TCRW SOHO
Occupying a prominent position on the West End's historic Dean Street above the new Crossrail entrance, TCRW SOHO will no doubt catch the eye with its distinctively striking modern architecture. Within the development will sit 92 elegantly appointed residences, ranging from studio apartments to three bedroom penthouses.
Each home will boast sumptuous décor, accompanied by a range of premium integrated appliances by Miele, a bespoke entertainment unit complete with a Smart TV, a smart keyless security system and Geberit AquaClean bathroom technology. The majority of residences at TCRW SOHO will also enjoy external space, in the form of a winter garden, a balcony or a terrace.
To find out more about TCRW SOHO and discuss availability, please feel free to give us a ring on 020 7620 1500 or explore our flats for sale in Soho.
History in Soho
Would you believe that this eclectic pocket in London's West End used to be farmland? In fact, its name originated from the hunting call 'soho', since then this area of London was referred to by this name.
Fast forward to the 1700s and Soho was the London location of choice for artists, writers and was even the dwelling of choice for many of the city's immigrants; in fact, immigrants were responsible for some of Soho's street names such as 'Greek Street.' Soho was immensely popular with French immigrants and was known as London's 'French Quarter', with around 40% of residents being native French speakers
By the time the 1900s came around, Soho was known for its entertainment and musical culture with many famous American jazz musicians featuring in some of the biggest venues in town in the 1930s, including The Hippodrome and Café de Paris. One of Soho's most established musical hotspots, Ronnie Scott's, was later opened in the last 1950s and still continues to be one of the area's most favoured entertainment spots.
Places of Interest
Food and Drink
Ceviche Soho
Following the motto 'aqui se cocina con cariño (here we cook with love)' each dish exudes Peruvian passion that bursts with flavour. The décor and the menu at Ceviche Soho display nothing but rustic allure and allow diners to get lost in South American charm.
Nopi
This Yotam Ottolenghi restaurant radiates sheer culinary genius, offering diners a refined Middle Eastern dining experience. With the décor as decadent as the food, customers will be guaranteed an evening of luxury, especially with dishes such as sea bream with rose harissa, coconut and currents on the menu at Nopi.
Mildreds
Described as a 'home away from home', Mildreds is a sumptuous vegetarian restaurant that gives veggies an array of exciting dining options. Various delights include Sri Lankan Sweet Potato Curries and Halloumi and Tahini Burgers. With gluten free options also available, forget your dietary troubles and enjoy a lip-smacking meal out with no worries.
Pix
Serving fresh tapas and pinchos, this cool and quirky eatery tucked away on Bateman Street in Soho offers a fresh and lively atmosphere that is perfect for date nights or simply catching up with friends over a glass of Spanish wine.
Bao
This Taiwanese restaurant is known for packing a punch when it comes to flavour and is a favoured dining choice for many Londoners. The chefs at Bao promise nothing but sensational flavour combinations with a side of authentic Japanese flair.
Bars and Nightlife
The London Gin Club
Cocktail, casual and cosy are three words that belong together and The London Gin Club is the place to go to get this trifecta. Take a seat and enjoy the vivacious atmosphere while sampling an array of gin concoctions, from herbaceous to floral flavours. If you still cannot get enough of it, why not try one of the gin tasting evenings?
Milk and Honey
Spanning across three floors, this exclusive member's club and bar is the place to be for an intimate and unforgettable tipple with friends and/or colleagues. Since opening in 2002, Milk and Honey has won many awards, including 'World's Best Bar' and 'Bar of the Year.'
The Light Lounge
Tucked away not far from Leicester Square station, this boutique cocktail bar offers nothing but unique character, serving up contemporary tipples in an ornate surrounding. The bespoke drinks menu and opulent chandeliered interiors are enough to make anyone get that Friday feeling.
Entertainment and Tourist Attractions
National Gallery
Located in Trafalgar Square, this exceptional gallery is one of the most visited art galleries for both tourists and locals. Home to over 2,300 paintings, the National Gallery is said to house some of the greatest works of art in the world. As well as exploring an array of different exhibitions, you can also participate in cultural talks and observe exclusive concerts.
Ripley's Believe It or Not! Museum
This is not just an ordinary museum, this is a museum full of weird and wonderful widgets that will surprise, maybe even scare, you. With 700 astonishing artefacts and 19 themed galleries to explore, there is never a dull moment on a trip to this fascinating museum. Take a look at Henry VIII's genuine shoe or marvel over the extraordinary two-headed calf, the possibilities are endless.
Leicester Square
Discover the bright lights and uninterrupted entertainment that Leicester Square has to offer. From 'Theatreland' to buzzing clubs and casinos, and of course Chinatown, you cannot go wrong with a night out in this effervescent corner of Central London.
Shopping
Fashionistas from around the globe do what it takes to get the chance to shop in Soho; luxurious boutique department store Liberty and Kingly Court are a shopaholic's heaven, while independent vintage shops and boutiques are great spots to try out a different look or simply for some window shopping.
Green Space
Amongst the hubbub of Soho, there are a few pockets of green that are perfect spaces to get away from it all and enjoy nature. Soho Square Gardens and Leicester Square Gardens are top choices for taking some time out on your lunch break and enjoying a stroll.
Fun Facts about Soho
This vivacious pocket in Central London holds a fascinating history which is responsible for its quirky reputation. Did you know that in the 1950s there were so many popular coffee shops in the area that 'Frith Street' was known amongst the locals as 'Froth Street'?
Soho's status as London's entertainment hub was well underway in the 1900s, but during The Blitz in World War 2 all of Soho's theatres closed their doors, all except one. The Windmill Theatre in Soho remained to feed London's need for entertainment, hosting a variety of acts including comedy and nude theatre!
Located on Dean Street, Quo Vadis restaurant happens to be below the apartment where German Philosopher Karl Marx lived in the 1850s.
Education
Condé Nast College of Fashion and Design
Local Authority
Westminster City Council
Getting There
By Tube
Tottenham Court Road is one of Soho's main stations and is served by the Central and Northern line where passengers can reach key destinations such as Liverpool Street in approximately 12 minutes, plus Tottenham Court Road is due to introduce Crossrail in the near future. Leicester Square and Piccadilly Circus are also some of Soho's main stations and are served by the Piccadilly line.
By Rail
Charing Cross Railway Station reaches many main commuter areas such as Canterbury in just over 30 minutes and Bexleyheath in a convenient 35 minutes.
Edited: 21st November 2022