Tech Companies at Old Street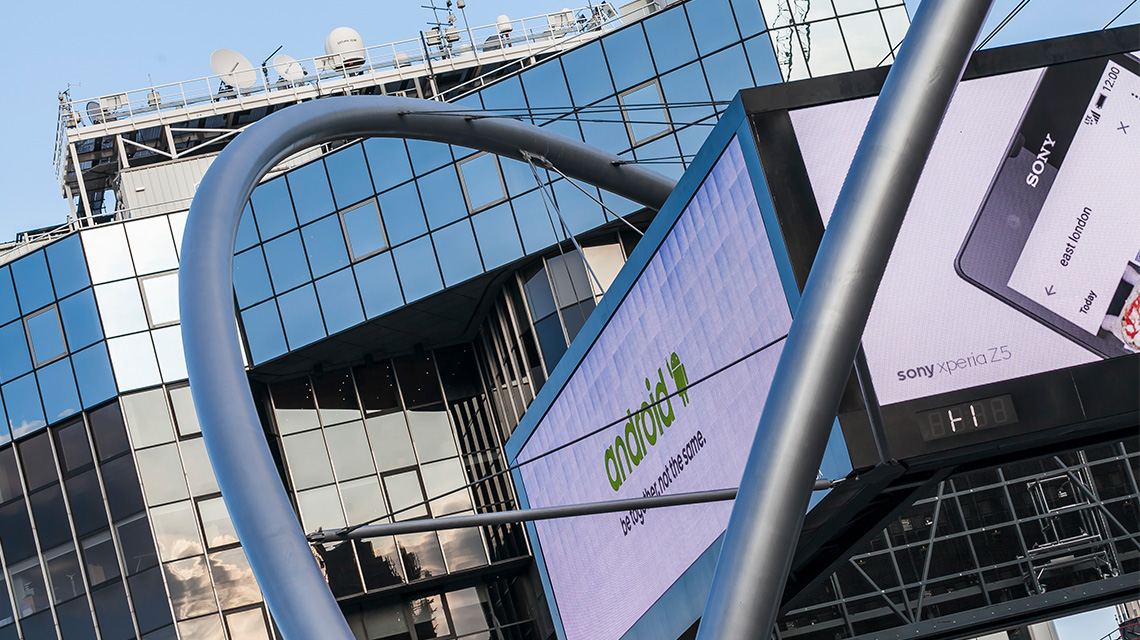 East London's Tech City is a cluster of technology companies stretching from Old Street roundabout, also known as Silicon Roundabout, to the Olympic Village in Stratford. It is the third largest technology start-up cluster in the world after San Francisco and New York City.
Government Initiatives
Cost-conscious companies and start-ups were initially encouraged into the area by the low rents after the 2008-2009 recession, and as the area developed, both local and national governments offered more support and encouragement toward its growth, with the Silicon Roundabout being the epicentre of innovation.
In 2012, David Cameron announced that the Government would put £50m towards a project to regenerate Old Street Roundabout through the creation of a large indoor "civic space" dedicated to start-ups. Mr Cameron stated that:
"This area of London produces more job opportunities than anywhere else in the country, primarily in the digital economy and is absolutely vital that we have an infrastructure set up that enables us to compete with the rest of the world."
To coincide with the announcement, a number of corporate commitments to the area were also revealed including Microsoft's Technology Development Centre, an innovation centre called IDEA London by Cisco, DC Thomson and UCL, KMPG's first office in Shoreditch and the launch of IBM's entrepreneur programme.
Property Prices
However, the number of people setting up start-ups around Shoreditch's Silicon Roundabout has fallen by more than a third in just 12 months, leading to speculation that companies are being priced out by rising rent costs. According to research from UHY Hacker Young, new companies in the area dropped from a total of 15,620 to just 10,280 between March 2014 and March 2015, marking the second year running that a decrease has been recorded.
A victim of its own success, the area has attracted larger firms, resulting in increased rental prices, and as available space decreases, smaller start-ups that were initially attracted to the area are being forced out into neighbouring areas. As a result, City Road and the surrounding area saw the fastest growth in new businesses increasing by 479 per cent (1,450 to 8,400) since last year.
Here East is a new 1.2 million sq. ft. business and technology campus in the former media centre at the Olympic Park in Stratford, and Richard Moross, founder and CEO of business card and print company, Moo, only last month settled its production arm into a new space in Stratford:
"Stratford is a good option; the rent is about half what it is in Shoreditch. We will have to think about our headquarters and Stratford might be a contender. It has fairly attractive rents and there is a good infrastructure there for transport."
World City
Despite the falling numbers of start-ups, Silicon Roundabout remains the epicentre of the UK's technology industry and the powerhouse of techno-creativity is one of the reasons that London was voted a 'World City' in a Boston Consulting Group survey.
Silicon Roundabout has a high concentration of some of the world's largest tech-based companies, with Google investing in the area and global giant Amazon planning to open an office, creating 3,000 more jobs in the UK technology sector. Facebook, Intel, Last.fm, SoundCloud and TweetDeck (which was recently bought by Twitter for £25m) are also based here.
Looking for Flats for Sale in Shoreditch?
Take a look at our list of apartments for sale in Shoreditch, or see below for a summary of two distinct Galliard developments:
The Stage
Set to offer 412 luxurious apartments in a fantastic mixed-use development, comprised in a magnificent 37-storey tower, The Stage will be a brand new landmark in the heart of London's cultural nerve centre - Shoreditch.
Situated on the grounds of Shakespeare's original Curtain Theatre, this development will be a modern showpiece, whilst also celebrating the area's history as proud home of the arts dating back to the Elizabethan era.
Residents will benefit from luxury specifications on an unprecedented scale, access to the on-site retail and leisure space - including a health spa and cinema - and the convenience of the City's central railway station, Liverpool Street, just a five minute walk away.
To find out more about The Stage, view our dedicated microsite.
The Fusion
This exemplary Shoreditch development offers a remarkable selection of one, two and three bedroom apartments; each boasting access to a balcony or terrace for an enhanced residential experience with an abundance of natural light and space.
As its name suggests, this development fuses together the best of contemporary city living whilst conveying a feeling of tranquillity with its landscaped roof garden offering the perfect space to sit back and take in the outstanding City views.
Residents are a mere two minute walk away from Shoreditch High Street Overground station, or 15 minutes from Liverpool Street station, which is expected to benefit from faster connections with Crossrail services commencing from 2021.
To find out more about The Fusion, view the development on our website.
Edited: 16th March 2023