Orchard Wharf Is Officially Open for Viewings!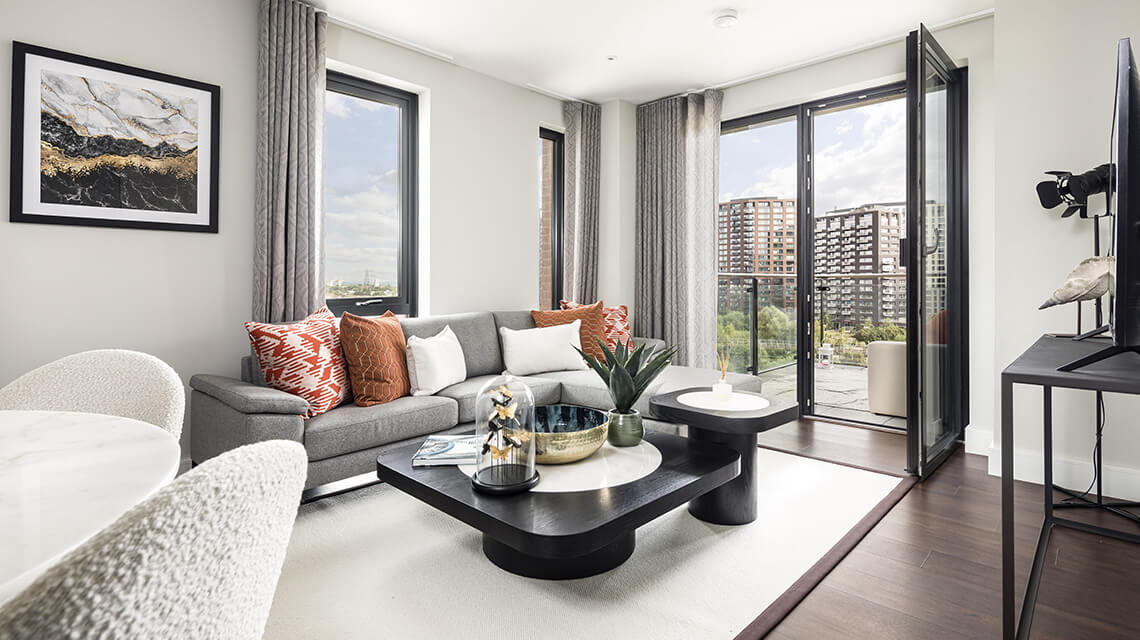 It's official — Orchard Wharf is open! We are excited to announce that our highly-anticipated residential development in the Docklands now has two new show apartments that have been expertly furnished, and we can't wait to welcome you into them.
It can be hard to visualise how you would go about designing your new home when you have only seen the inside of an empty show flat. To give you a taste of what your future Orchard Wharf home could look like, we have not one but two wonderful show apartments available to view.
Each property has been decorated with a unique colour palette and carefully considered furniture to demonstrate how versatile the beautiful new-build apartments are at Orchard Wharf.
Apartment 702: Two Bedroom Property
Apartment 702 is a classic example of where cosy meets contemporary, with the furniture and decorative items selected and assembled by the design experts at New Concept Furnishings (NCF).
One of the first things you'll notice when stepping inside this home is how spacious it feels. Residents of this seventh floor apartment will enjoy a sheltered private balcony, with a phenomenal panoramic city view stretching from north to east.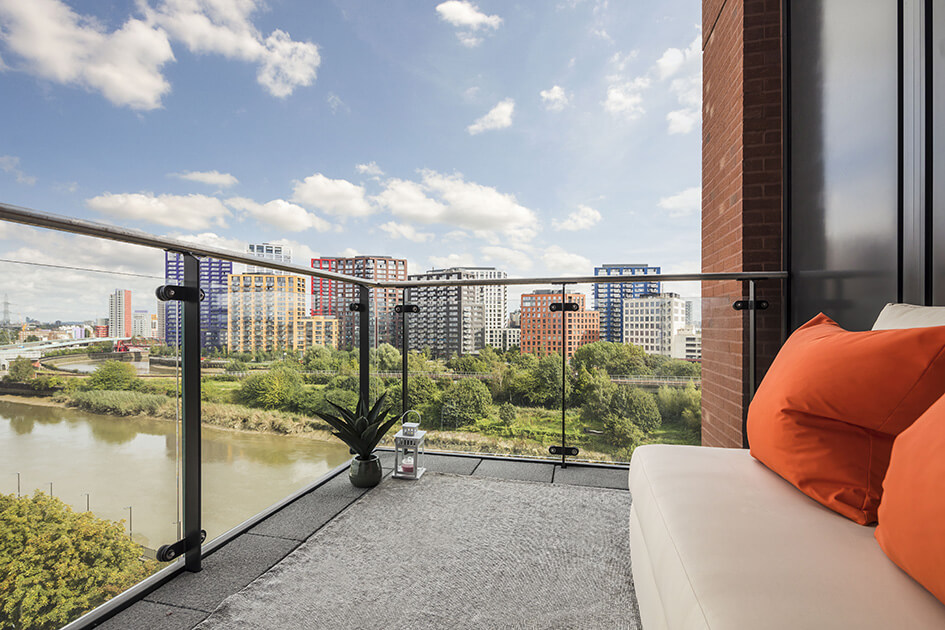 The colour palette has been kept very soft and neutral, with various greys and creams visible throughout the apartment, but in the living area, orange scatter cushions have been selected to add a pop of colour and bring some fun to the space.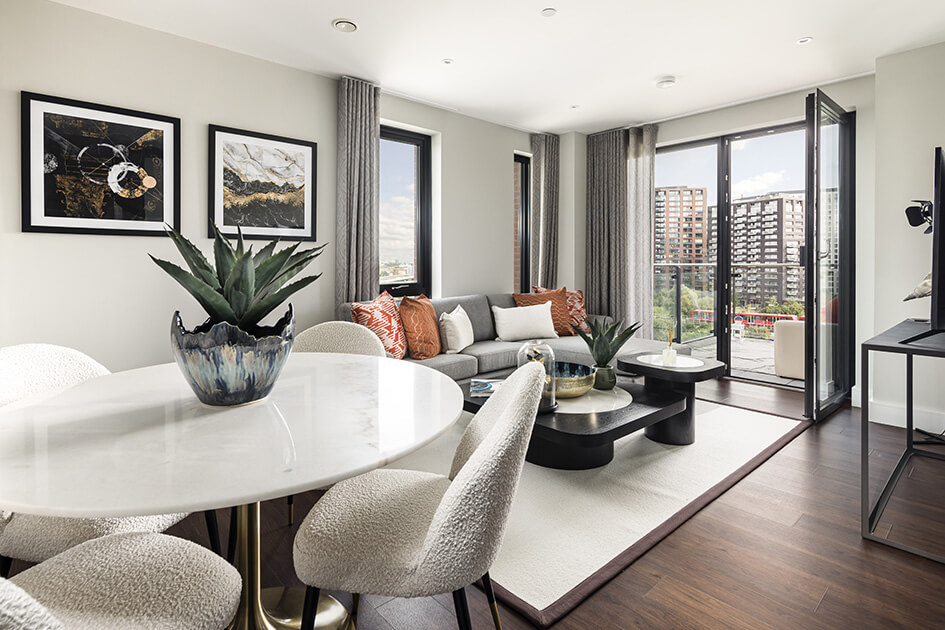 At Galliard Homes, we want to make the buying and moving-in process as smooth and as easy as possible for our customers. That's why we are offering to completely furnish every apartment at Orchard Wharf at no extra cost. Should the buyer choose to purchase their new home with this option, the furniture and design concept will be similar to what is represented in this show home.
View our video tour to get a closer look inside this fabulous show home, led by your very own tour guide, Elise.
Apartment 1802: One Bedroom Property
Apartment 1802 has been thoughtfully designed like all of our other homes, but this particular apartment is special as it was the first show home to be designed by one of the talented members of our Elevate Graduate Scheme.
We caught up with the interior design graduate, Tahmina, who has been part of the Galliard Homes family for just under a year, to get an insight into the process and the overall concept for this show flat.
For Tahmina, the task of designing 1802 was all about incorporating the latest trends, whilst simultaneously putting her own mark on the apartment. Placing an equal amount of importance on creating a home that feels warm and welcoming but also elegant and contemporary, our Elevate graduate opted for a visual balance that involved easy-on-the-eye furnishings teamed with striking, bold decorative elements. The colour palette — a combination of dark greens and greys — was selected to provide comfort and a connection to nature, while brass elements were added to offset this slightly and create drama and sophistication.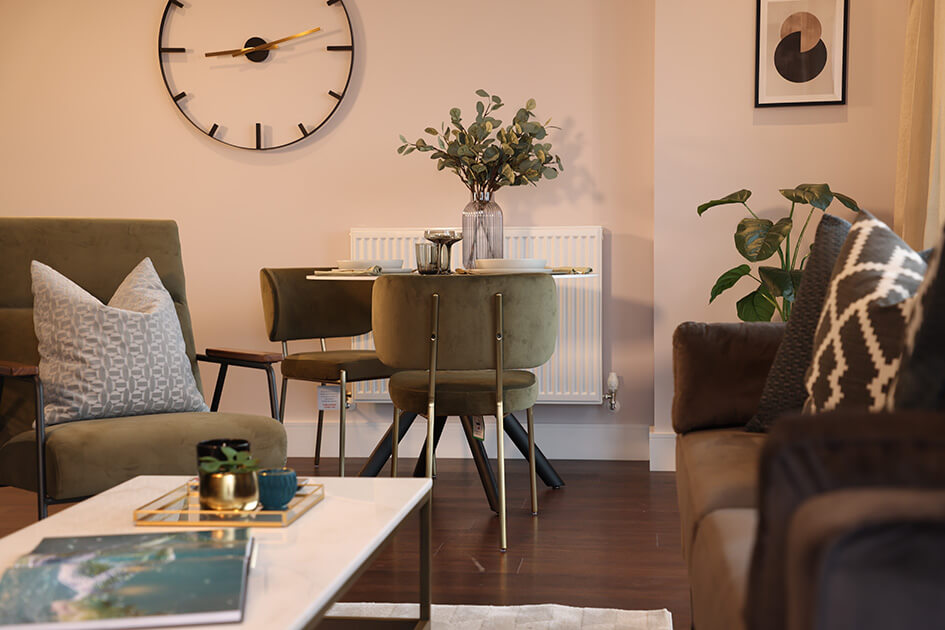 "When it came to choosing the layout and style of this beautiful modern apartment, I had a young couple with a busy lifestyle in mind. I wanted to fill the empty, unfurnished space with feelings of warmth, comfort and nostalgia. Now more than ever before, there is a real sense of importance in being 'at home', and so it was vital to me to create a place where the occupiers could ultimately enjoy life in their home to the fullest, whether relaxing, dining, exercising, working or cooking."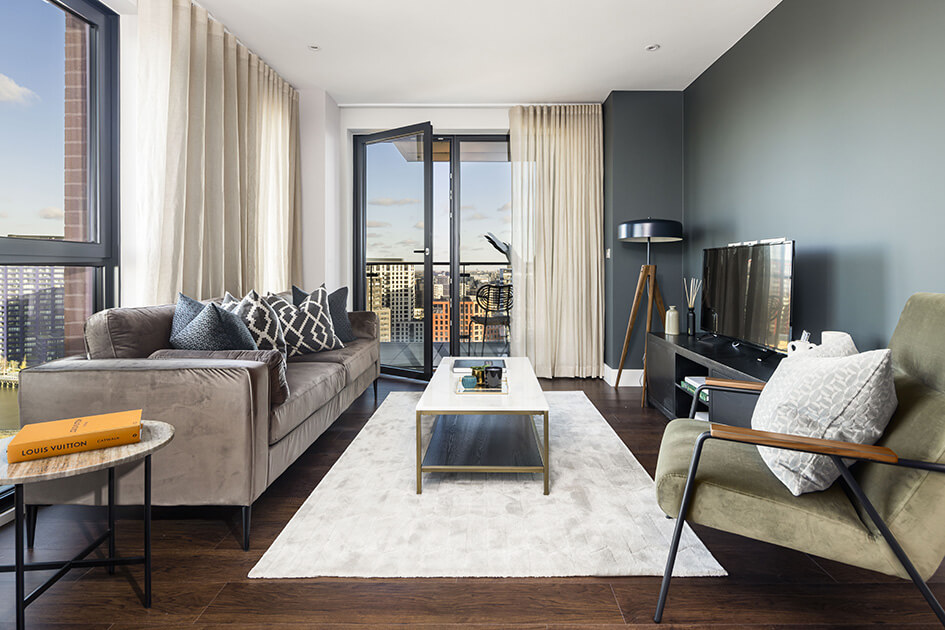 Perched high above the Docklands, apartment 1802 (like all of the other properties available to buy at Orchard Wharf) is a peaceful city retreat providing an escape from the fast-paced streets below. Be it a morning yoga session or a sun-soaked breakfast, a romantic date night or a dinner party with friends, the balcony is versatile and large enough to accommodate any al fresco activity and the colourful views of London provide the ultimate backdrop.
Want to see more? View our video tour of apartment 1802.
Living at Orchard Wharf
The Properties
All homes at Orchard Wharf are stylish, spacious and have been designed with residents' safety and comfort in mind. We've made sure to include ample space in each apartment for storing goods, clothing and household items, while principal rooms, bedrooms and bathrooms feel open and airy, allowing residents room to breathe and relax.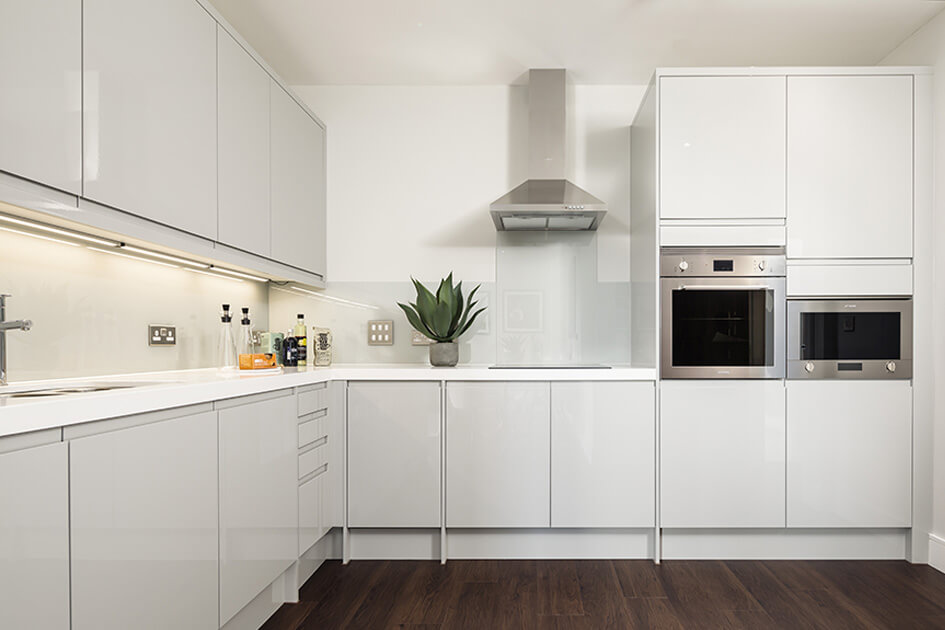 The kitchens at Orchard Wharf combine functionality and elegance to ease cooking and food preparation, with the highest-quality integrated appliances by Smeg enhancing residents' kitchen experience and high-gloss units keeping the apartments à la mode.
No matter how big or small, every last detail of the typical 21st-century lifestyle has been accounted for in the design of each apartment. Even the little features — USB sockets throughout the home, double glazing, underfloor warming in the bathroom — make all the difference. To keep those living at Orchard Wharf feeling secure and connected, each apartment comes with its own video intercom system which is linked to the on-site concierge.
For the full specification, please download the brochure.
The Neighbourhood
Perched on the bank of the River Lea, just a stone's throw from Canary Wharf — London's booming financial district — Orchard Wharf is an all-new residential development rising to 23 storeys high. The development sits proudly within the sought-after E14 postcode, along with some of the most iconic landmarks on London's skyline, including One Canada Square and Baltimore Tower. This part of London is a desirable choice for property investors, and Orchard Wharf offers those who wish to live in this part of the capital luxurious Docklands homes without the Docklands prices.​​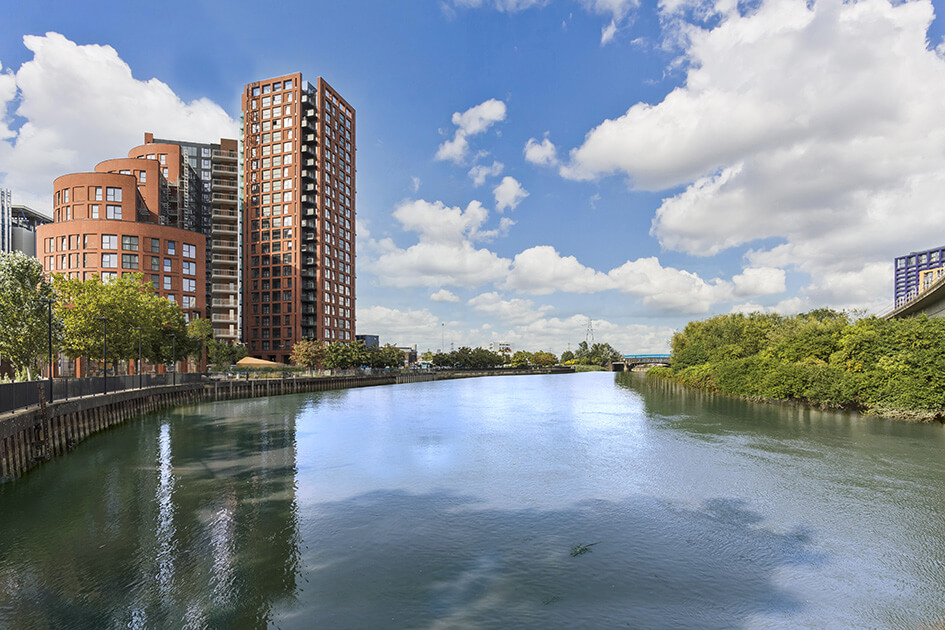 A choice of Underground and ​​Crossrail stations can be found in the area, placing residents of Orchard Wharf in a convenient position for getting around. For international travel, London City Airport is a short and easy commute, as is Canary Wharf's central shopping hub. The surrounding area is home to many buzzing bars and eateries. Here's our guide on where to eat, drink and shop in the Docklands.
The Lifestyle
While each individual apartment at Orchard Wharf may feel worlds away from the busy surroundings and have high standards of privacy and security, the development itself will have a real community feel, with exclusive lifestyle facilities giving residents plenty of opportunities to connect with their neighbours.
You'll immediately know you're in good hands upon entering the building, with the concierge ready to greet and assist you in the lobby. For the team on the desk, no demand is too big nor too small — they are there to ensure everyday life runs smoothly for Orchard Wharf residents.
The pandemic has left most people who live or work in the city with a strong need for involving outdoor activities in their daily routine. While the majority of homes at Orchard Wharf enjoy their own private external space, if residents have a desire to stretch their legs and have a stroll within the safety of the development, they have a choice of not one but two luscious roof-top gardens and a peaceful communal courtyard at ground level.
Meanwhile, the communal lounge will provide the perfect indoor setting for residents to socialise and meet their neighbours. Those who are required to work from home but are after a change of scenery from their own apartment or a livelier setting can also come and use the communal lounge to get their work done.
Buying Your Home
Our properties for sale at Orchard Wharf are poised to be not just homes, but rewarding investments too. We are always looking for ways to give our customers extra support on their journey to becoming homeowners and are therefore proud to offer some fantastic incentives.
We'll have our in-house design department and NCF expertly furnish your new home at no extra cost.
You could save potentially life-changing amounts on your property purchase with our limited-time stamp duty holiday.
Help to Buy is also available to those who are eligible for the government-backed scheme (which helps young buyers become owners without the need to save up for a large deposit). Many homes at Orchard Wharf are available to purchase with a 5% deposit with the Help to Buy: Equity Loan (subject to eligibility, terms and conditions apply). Find your Help to Buy agent.
We're gifting buyers with a complimentary one-year local gym membership with their purchase.
We invite you to come down, meet the team and see this spectacular new residential landmark in person. Call 020 3409 2270 to arrange your visit and find out more about Orchard Wharf.
Edited: 24th August 2023