The Best Restaurants in Shoreditch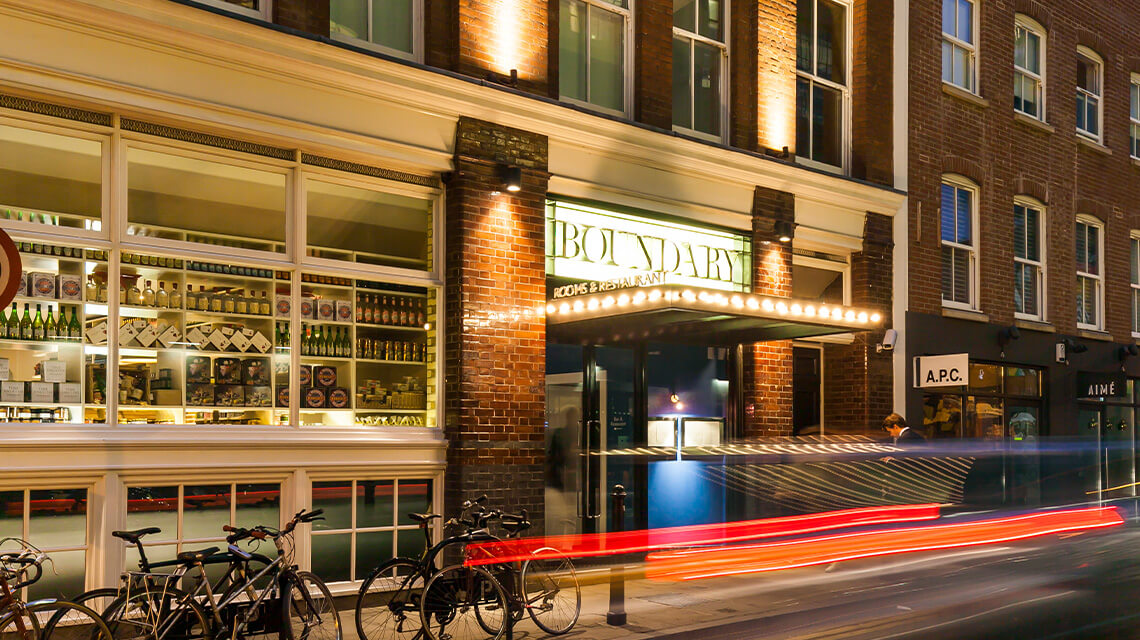 A go-to spot for foodies, Shoreditch is home to a wide range of eateries, from upmarket restaurants to cheap bites and trendy pop-ups. Here's our restaurant guide to the best places to eat in Shoreditch.
If you're looking for cheap restaurants in Shoreditch - Pizza East is the place to go for decent grub on a budget. The restaurant sits on the former site of the much-loved Tea Rooms on the corner of Shoreditch High Street and Bethnal Green Road, serving up, as you would expect, great pizza as well as fresh antipasti and daily-changing specials. The building basement is also home to Concrete - one of the more popular nightclubs in Shoreditch.
Hawksmoor is often referred to as one of the best steak restaurants in London, beating off contenders with prime cuts of beef and a great Sunday roast. The restaurant has a laidback atmosphere, whilst the downstairs plays host to a great cocktail bar with a speakeasy vibe. The original establishment is in Spitalfields, close to where architect Nicholas Hawksmoor built Christ Church on Commerical Street.
Tramshed
Situated in a disused tramshed dating back to 1905, Tramshed is a trendy Shoreditch restaurant by revered restaurateur Mark Hix and the idea is simple 'chicken or steak to share', served amidst lofty interiors and art pieces by none other than Damian Hurst. There's also Mini Mark's Bar serving cocktails until 1am and Mark's Kitchen Library where he and his team of chefs practice new dishes.
Open from morning until late at night, Hoxton Grill is a grill, bar and lounge in the heart of Shoreditch on Great Eastern Street. A contemporary restaurant with an open kitchen, it serves American-inspired breakfasts, brunch and an all-day menu with daily specials, whilst the bar serves classic cocktails, wines and bites. With guest DJs on every weekend, this is one of Shoreditch's most popular late-night destinations.
Voted one of the top 100 restaurants in the UK, The Boundary serves authentic French dining in a converted Victorian warehouse. Offering 'restaurant, rooms and rooftop', The Boundary is also a hotel and has a highly sought-after and often fully-booked weather-proof rooftop bar. One of the best places for lunch in Shoreditch, the menu features such classics as foie gras and steak tartare.
When looking for fun restaurants in Shoreditch, a visit to the Shoreditch Grind is a must. The day-to-night espresso and cocktail bar, with a recording studio upstairs perched on the corner of Old Street roundabout, was the first of the chain of Grinds, opening in 2011, serving up light bites for breakfast, lunch and dinner.
Formerly known as Eyre brothers, this Iberian gastronomy specialises in traditional Portuguese and Spanish cuisine. Offering a range of dishes from snacks and small plates to a selection of shellfish and hearty dishes that will leave a lasting impression. The restaurant also offers a brunch menu which features the popular heritage grain bowl which is finished with raddish, whipped feta, peas and celtuce.
Shoreditch really does have something for everyone. Read our handy guide for further information on things to do in Shoreditch.
Looking for Flats for Sale in Shoreditch?
The Stage will comprise over 400 luxury Shoreditch apartments within a showcase 37-storey tower, over 400,000 sq. ft. of office, retail and leisure space, whilst also incorporating a world-class heritage centre - Shakespeare's Curtain Theatre, providing a unique international identity for investors, residents and occupiers.
Now sold-out, this impressive development comprised 26 luxurious apartments arranged from first to fifth floor level. The Fusion provided a choice of one, two and three bedroom residences in Shoreditch, with many boasting outstanding views across the City skyline. Residents have access to the private landscaped roof garden offering over 1,250 sq. ft. of communal space.
Click here to view all flats for sale in Shoreditch.
Edited: 6th December 2022