The Best Restaurants in Shoreditch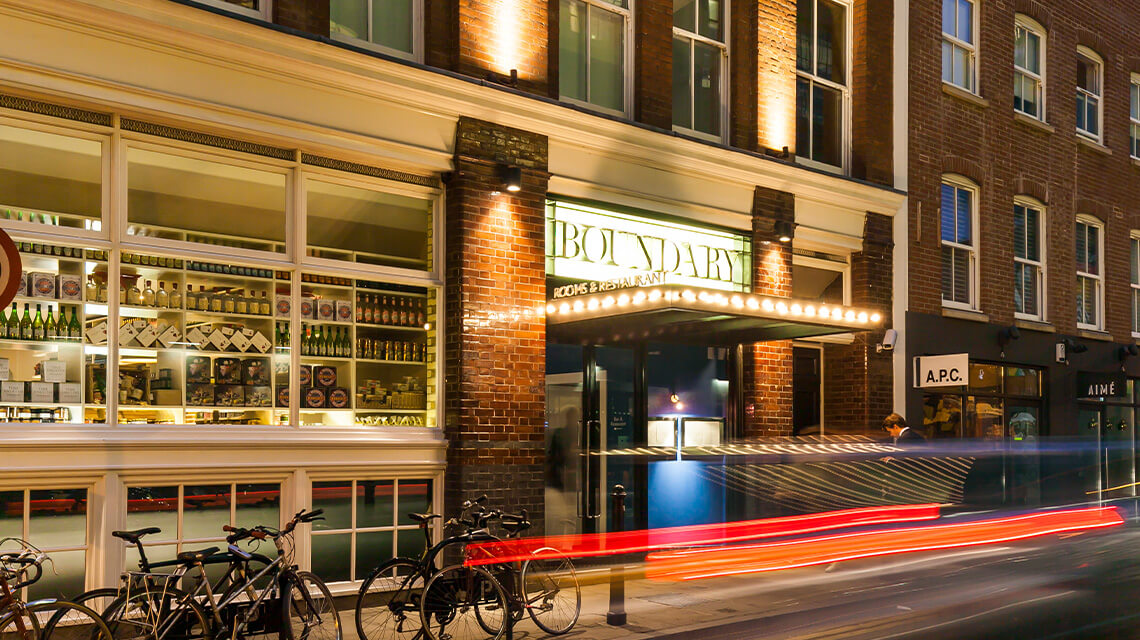 A go-to spot for foodies, Shoreditch is home to a wide range of eateries, from upmarket restaurants to cheap bites and trendy pop-ups. Here's our restaurant guide to the best places to eat in Shoreditch.
Daffodil Mulligan
For Irish-themed entertainment and food in comfortable surroundings, Daffodil Mulligan fits the bill. Expect sharing plates, oysters and a basement bar as you dine in the heart of Shoreditch at an establishment described as the "ultimate destination for dining, drinking and live music."
Hawksmoor
Hawksmoor is often referred to as one of the best steak restaurants in London, beating off contenders with prime cuts of beef and a great Sunday roast. The restaurant has a laidback atmosphere, whilst the downstairs plays host to a great cocktail bar with a speakeasy vibe. The original establishment is in Spitalfields, close to where architect Nicholas Hawksmoor built Christ Church on Commercial Street.
Hoxton Grill
Open from morning until late at night, Hoxton Grill is a grill, bar and lounge in the heart of Shoreditch on Great Eastern Street. A contemporary restaurant with an open kitchen, it serves American-inspired breakfasts, brunch and an all-day menu with daily specials, whilst the bar serves classic cocktails, wines and bites. With guest DJs on every weekend, this is one of Shoreditch's most popular late-night destinations.
The Boundary
Voted one of the top 100 restaurants in the UK, The Boundary serves authentic French dining in a converted Victorian warehouse. Offering 'restaurant, rooms and rooftop', The Boundary is also a hotel and has a highly sought-after and often fully-booked weather-proof rooftop bar. One of the best places for lunch in Shoreditch, the menu features such classics as foie gras and steak tartare.
Shoreditch Grind
When looking for fun restaurants in Shoreditch, a visit to the Shoreditch Grind is a must. The day-to-night espresso and cocktail bar, with a recording studio upstairs perched on the corner of Old Street roundabout, was the first of the chain of Grinds, opening in 2011, serving up light bites for breakfast, lunch and dinner with their all-day menu.
Campania
For homely Italian food in a cosy setting, Campania's rustic restaurant, located just off Columbia Road, delivers. Serving handmade pasta alongside quality seasonal produce, this popular Southern Italian eatery even has a resident cat which you can usually find nestled asleep somewhere when it's not overseeing the waiting staff.
BRAT
Situated on Redchurch Street, BRAT's menu showcases influence from the Basque region within an unpretentious vibe. Holding a Michelin star, the interior is cosy and intimate, almost as if you're in the kitchen itself, the food is rustic and cooked over an open wood fire, and the atmosphere will ensure you feel right at home.
Gunpowder
This Indian restaurant in Spitalfields brings a whole new meaning to the word 'intimate'. Offering just 20 covers, you'll be lucky to get a seat in this buzzy restaurant, but if you do, you'll experience a variety of outstanding small and sharing plates bursting with authentic flavours at Gunpowder.
Shoreditch really does have something for everyone. Read our handy guide for further information on things to do in Shoreditch.
Property in Shoreditch
The Stage
The Stage will comprise over 400 luxury Shoreditch apartments within a showcase 37-storey tower, over 400,000 sq. ft. of office, retail and leisure space, whilst also incorporating a world-class heritage centre - Shakespeare's Curtain Theatre, providing a unique international identity for investors, residents and occupiers. Click here to view all flats for sale in Shoreditch.
Edited: 8th March 2023