Things to Do in Shoreditch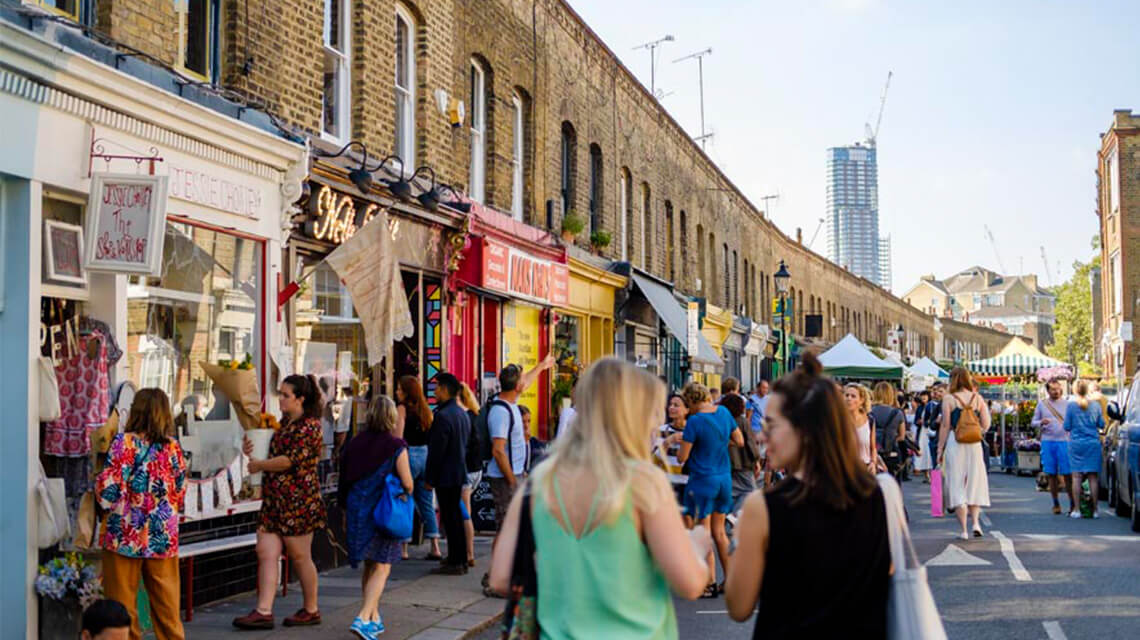 What is the first thing that comes to mind when you think of Shoreditch? Culture, food and fun?
With so much to choose from, it can be hard to pick! Our guide will let you in on the best and most popular locations in the area so you can make the most out of your time there and enjoy the whole host of exciting and enjoyable things there are to do in Shoreditch.
Places to Eat in Shoreditch
manteca
For unpretentious Italian-inspired cuisine, head to manteca. With a 'whole animal' ethos, manteca celebrate the use of fresh ingredients, homemade pasta and even has its own salumeria, that's Italian for 'delicatessen' to the rest of us, where delicious Italian meats are cured and prepped for use in the restaurant.
Sen Viet
For plant-based rolls, curry and pho, Sen Viet is the place to go. Having turned fully vegan in 2022, the restaurant has grown even more in popularity and is London's only 100% vegan Vietnamese restaurant. With a huge menu offering everything from 'fish' cakes to 'pork belly', even if you're not a vegan, you'll be amazed by the food on offer and certainly won't miss the meat.
Rochelle Canteen
It's impossible to talk about places to eat in Shoreditch without mentioning Rochelle Canteen. Serving seasonal food on a daily changing menu, Rochelle Canteen presents a small yet memorable offering of British and European-influenced cuisine. With a fabulous outside dining area, sit back on a sunny day and enjoy some delicious food and wine or head inside to sit amidst the hustle and bustle of the busy kitchen.
Boundary
The Boundary brings a little je ne sais quoi to the area of Shoreditch as it offers a selection of tasty French food. Described by some as 'an oasis in Shoreditch' this venue brings its own flair to the area as it is set within a converted Victorian warehouse.
Hoxton Grill
Culinary delights from day to night, the Hoxton Grill is a modern restaurant where diners can observe the chefs in all of their glory in the open kitchen. Serving an all-day menu with American-inspired breakfasts, lunches and late night bites, not to mention a whole host of classic drinks and cocktails, this restaurant is a firm favourite amongst regular Shoreditch-goers.
Bars in Shoreditch
The Book Club
The Book Club transforms day-to-night from a quaint café where you can sip coffee and dig into a good book into a trendy nighttime venue where you can expect everything from crafty workshops during the week and an assortment of DJs at the weekend during the popular club nights.
Shoreditch Grind
This cool bar in Shoreditch is the place to go if you want to experience the taste of Melbourne in East London. The Shoreditch Grind is an espresso bar by day and a cocktail bar by night, so you can swap that flat white into a banana bread martini and make the most out of your coffee break.
Check out our more comprehensive guide to the best bars in Shoreditch.
Places to Go in Shoreditch
Q Shoreditch
Step inside Q Shoreditch, and you might think you have suddenly been transported to Las Vegas. Enjoy the thrill of a night in Sin City without the airfare, with gaming tables manned by professional croupiers; practise your poker face or try your luck at Roulette or hire a pool table for a tournament with your mates.
Electric Cinema
A trip to the cinema is not complete without luxury velvet seats with a bar that serves cocktails, beer, coffee and snacks and the Electric Cinema offers just that. Showing an array of mainstream and indie films, this venue is a top place to visit in Shoreditch.
Shoreditch Park
Amongst the hustle and bustle of the exuberant Shoreditch atmosphere sits Shoreditch Park; covering 19 hectares in the South of Hackney, this park proudly holds a Green Flag award which is no surprise considering it is home to an adventure playground, sports fields, rock climbing facilities and much more. For a spot of fresh air in the city then Shoreditch Park is the place to be.
Markets
The collection of markets is perhaps one of Shoreditch's best assets because they bring so much life and culture to the area. Old Spitalfields Market is amongst one of the favourites in the area; an indoor market that is full of energy and bargains, you can expect all sorts of vintage handbags, clothes, home accessories and even organic food stalls. Old Spitalfields Market is heaven on earth for bargain hunters. For a market that is alive with flowers, Colombia Road Flower Market is quite a sight; Each Sunday, this setting transforms into a vision of flower power as well as a selection of plants and shrubs. Do not be fooled by the name of the market, though, because there is also a selection of bread, cheese, soap and more available.
Shoreditch House
Only a mere 11 minute walk from Old Street Tube Station sits Shoreditch House; an exclusive members-only venue that is a trendy boutique hotel with bars, restaurants, a gym and more. The Cowshed Spa offers an assortment of treatments so clients can get pampered to their heart's content, while the fifth-floor restaurant boasts wood-fired pizzas and a mix of contemporary British dishes. Shoreditch House is an excellent addition to the trendy Shoreditch atmosphere and brings an essence of luxury to East London.
Property in Shoreditch
If you are looking for flats for sale in Shoreditch then Galliard Homes' exciting development, The Stage, could be just what you're looking for. This exclusive scheme will change the face of Shoreditch as we know it and give the area an element of luxury which will consist of residential, office and retail space. Set to be an unbeatable investment opportunity, particularly because of the proximity to Crossrail at Liverpool Street, once complete, The Stage will be the ultimate destination to live, work and play. Find out more about The Stage on our dedicated microsite.
Edited: 8th March 2023