Things to Do in Shoreditch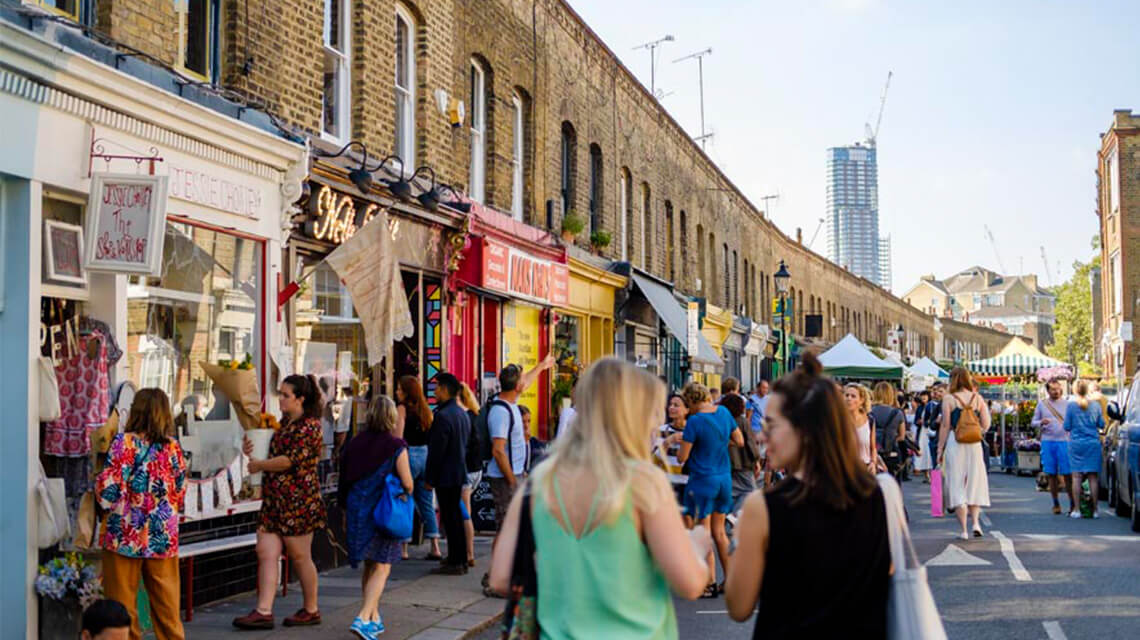 What is the first thing that comes to mind when you think of Shoreditch? Culture, food and fun?
With so much to choose from, it can be hard to pick! Our guide will let you in on the best and most popular locations in the area so you can make the most out of your time there and enjoy the whole host of exciting and enjoyable things there are to do in Shoreditch.
Places to Eat in Shoreditch
Pizza East
If you are looking for the best place to have pizza in Shoreditch then look no further than Pizza East. Located in a charismatic former tea warehouse this restaurant offers all of your classic favourites from freshly cooked oven-wood pizzas, antipasti and an array of delicious
Mcqueen
Fancy some classy cocktails and a fine meal? Then Mcqueen is an excellent restaurant in Shoreditch that in fact won the London Bar and Club award in 2012. This stylish yet quality restaurant offers a selection of themed nights, a favourite amongst locals understandably being the offer for a burger, beer and film for £10 every Tuesday.
Boundary
The Boundary brings a little je ne sais quoi to the area of Shoreditch as it offers a selection of tasty French food from escargot to foie gras. If traditional and authentic French cuisine is up your street then this restaurant is definitely one to add to your list. Described by some as 'an oasis in Shoreditch' this venue brings its own flair to the area as it is set within a converted Victorian warehouse.
Hoxton Grill
Culinary delights from day to night, the Hoxton Grill is a modern restaurant where diners can observe the chefs in all of their glory in the open kitchen. Serving an all-day menu with American-inspired breakfasts, lunches and late night bites, not to mention a whole host of classic drinks and cocktails, this restaurant is a firm favourite amongst regular Shoreditch-goers.
Bars in Shoreditch
The Bookclub
The Bookclub transforms day-to-night from a quaint café where you can sip coffee and dig into a good book, into a trendy night time venue where you can expect everything from crafty workshops during the week and an assortment of DJs at the weekend during the popular club nights.
Shoreditch Grind
This cool bar in Shoreditch is the place to go if you want to experience the taste of Melbourne in East London. The Shoreditch Grind is an espresso bar by day and a cocktail bar by night so you can swap that flat white into a banana bread martini and make the most out of your coffee break.
Cargo
From the outside, the appearance of Cargo is underrated as is set within an unused railway yard, but on the inside it is a dynamic venue full of atmosphere that hosts bands and DJs and is favoured for its vibrant themed nights. Cargo is one of the most popular places in Shoreditch where a night full of vibrancy and fun is guaranteed.
Concrete
Concrete is an exciting and quirky club in Shoreditch that offers an array of different themes including open mic night and musical bingo, what more could you want on a night out with friends? This club is actually just below Pizza East restaurant and there is no better combination on a night on the town than pizza and clubbing.
Places to Go in Shoreditch
Electric Cinema
A trip to the cinema is not complete without luxury velvet seats with a bar that serves cocktails, beer, coffee and snacks and the Electric Cinema offers just that. Showing an array of mainstream and indie films, this venue is a top place to visit in Shoreditch.
Shoreditch Park
Amongst the hustle and bustle of the exuberant Shoreditch atmosphere sits Shoreditch Park; covering 19 hectares in the South of Hackney, this park proudly holds a Green Flag award which is no surprise considering it is home to an adventure playground, sports fields, rock climbing facilities and much more. For a spot of fresh air in the city then Shoreditch Park is the place to be.
Markets
The collection of markets is perhaps one of Shoreditch's best assets because they bring so much life and culture to the area. Old Spitalfields Market is amongst one of the favourites in the area; an indoor market that is full of energy and bargains, you can expect all sorts from vintage handbags, clothes, home accessories and even organic food stalls. Old Spitalfields market is heaven on earth for bargain hunters. For a market that is alive with flowers, Colombia Road Flower Market is quite a sight; Each Sunday this setting transforms into a vision of flower power as well as a selection of plants and shrubs. Do not be fooled by the name of the market though because there is also a selection of bread, cheese, soap and more available.
Shoreditch House
Only a mere 11 minute walk from Old Street Tube Station sits Shoreditch House; an exclusive members-only club that is a trendy boutique hotel with bars, restaurants, a gym and more. The Cowshed Spa offers an assortment of treatments so clients can get pampered to their heart's content while the restaurant comprises delicious choices such as an Italian rooftop restaurant and a Chicago/Italian restaurant with an extremely tempting deli-style menu. Shoreditch is an excellent addition to the trendy Shoreditch atmosphere and brings an essence of luxury to East London.
If you are looking for flats for sale in Shoreditch then Galliard Homes have some exciting projects in the area that are the definition of luxury and chic.
The Fusion comprises 26 luxury apartments that showcase spectacular views of the City skyline and would make an ideal investment for anybody who is looking to work in the City.
Galliard Homes is also excited about the highly anticipated launch of The Stage; an exclusive development that will change the face of Shoreditch as we know it and give the area an element of luxury which will consist of residential, office and retail space. This development will be an unbeatable investment opportunity, especially because it will be incredibly close to the introduction of Crossrail at Liverpool Street. To look at the availability of all of our properties in Shoreditch click here.
Edited: 21st November 2022