The History of Dean Street, Soho by Cari Thomas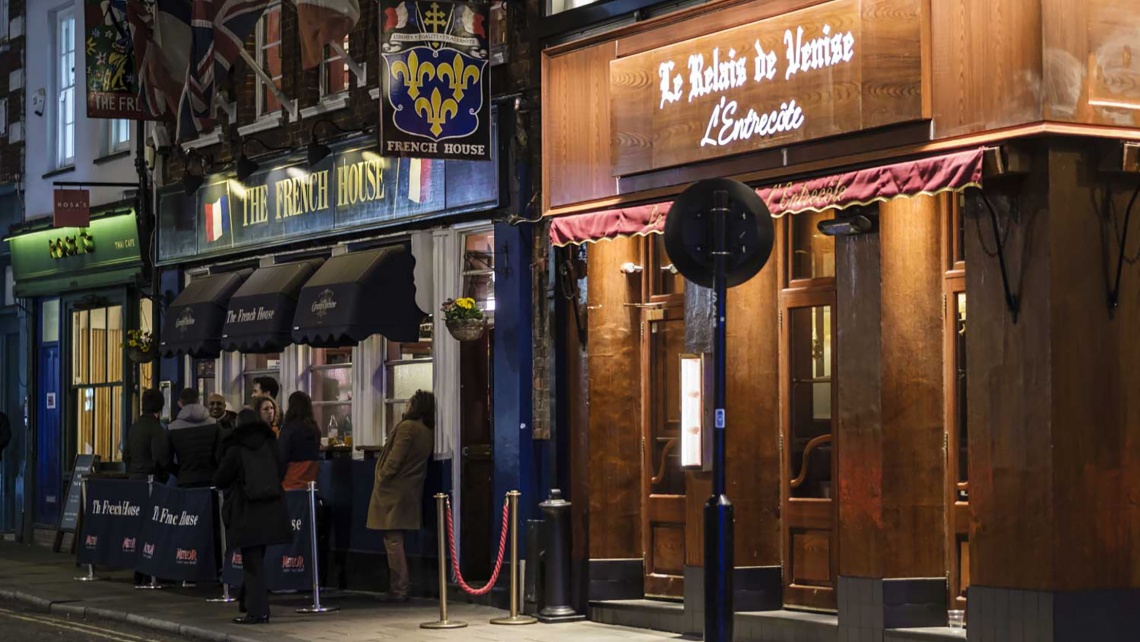 Tracking the history of any street in Soho is a difficult task. As the epicentre of London's cultural zeitgeist, Soho is ever-changing, a shifting seismograph of the latest trends and innovations. Dean Street, which runs north to south through Soho, connecting Shaftesbury Avenue and Oxford Street, is one of its most pioneering streets.
Dean Street first came into being in the 1690s, built by Henry Compton who also built Compton Street, the 'Dean' name coming from his role as the Bishop of London and Dean of the Chapel Royal. Today, the street is known for its film, advertising and media studios, sumptuous hotels, private members' clubs, fine-dining restaurants, down-to-earth pubs and trendsetting theatre. This energetic combination of the arts, culture and hospitality has its roots in the street's long and fascinating history...
Notable Residents
Many of the streets earliest residents were French immigrants and by the 18th century there was an influx of artists and craftsmen. It grew into a cosmopolitan destination that continued to attract a medley of artists, writers and philosophers, as well as a few other notable characters.
No. 21 Dean Street was erected in 1746 as the Venetian ambassador's chapel and later became Caldwell's Assembly Rooms, where in 1763 a 7-year-old Mozart gave a recital on the harpsichord. The site is now home to the Soho Theatre.
Admiral Nelson stayed in Dean Street the night before setting off for the Battle of Trafalgar. His night was spent drawing up battleplans and he was said to have spent the evening at the nearby undertakers deciding which coffin he would be buried in if the battle did not go his way. A fortuitous move considering that he did in fact die during the battle, despite leading the British fleet to victory.
Back when he was a young actor, Charles Dickens was a Dean Street regular, taking on parts in several amateur productions at Fanny Kelly's Royalty Theatre at No. 73-74. One of his contemporaries, the artist and caricaturist George Cruickshank, was also a Dean Street resident. It was while living there that he created the illustrations for Dickens's early works.
The German philosopher Karl Marx lived at No. 20 Dean Street between 1851 and 1856 above what is now the restaurant Quo Vadis. His abode was said to be less than desirous, Marx himself describing his rooms as 'an old hovel' without running water or a toilet. At that time he was calling himself Charles Mark, Doctor and signing letters as A. Williams in case the authorities opened his mail.
Healthcare
The street has long been associated with healthcare, home to various hospitals, including pioneering establishments for the prevention and cure of diseases. An early maternity hospital was located there, while No. 10 used to be the Royal Ear Hospital. One of the earliest VD clinics, The Lock Hospital, was also in Dean Street while the world's first VD clinic for men opened at No. 91. Today, No. 56 Dean Street remains a leading sexual health clinic.
Nightlife
Dean Street has long been known for its nightlife, touted as the birthplace of UK's club culture. No. 69 Dean Street used to be home to the decadent Gargoyle Club founded in 1928 by the socialist aristocrat David Tennant. It quickly became a lavish hideout for politicians, intellectuals, artists and entertainers, popular with the likes of Noël Coward, Tallulah Bankhead and Fred Astaire. By the 1950s it had begun to decline from its heights as one of the most prestigious nightspots in Soho, becoming a drinking den visited by such artists as Francis Bacon and Lucian Freud. In 1979 it was taken over by the Comedy Store. Today it's home to the luxurious hotel and restaurant, Dean Street Townhouse.
The private members Groucho Club, still standing proud today, has always been a hot spot for the literari, journalists, media celebrities and artists. It was opened in 1985 as an alternative to the stuffy Gentlemen's clubs of the capital - a bohemian hangout, for arts and media types at the forefront of the latest trends. By the 1990s it was home to the likes of Salman Rushdie, Ben Elton, Julie Burchill and Damien Hirst (who once put his entire Turner Prize winnings behind the bar). Today it remains just as exclusive with members including Stephen Fry, Noel Gallagher and Rachel Weisz.
The Grade II listed The French House has a long history as an enclave for writers, artists and actors. Dylan Thomas once left the manuscript of Under Milk Wood there under his chair, Brendan Behan wrote large portions of The Quare Fellow within its walls and visitors have included Francis Bacon, Tom Baker, Daniel Garson and Sylvia Plath. During the Second World War, it was also a meeting place of the French Resistance where General Charles De Gaulle is said to have written his rallying Free French call to arms after lunch upstairs. Today, the pub has kept up its bohemian character with Soho photographers invited to exhibit on its walls and an ethos that encourages conversation, with a no music, machines, televisions or phones rule.
Theatre
Dean Street had always been a place of expression for artists and actors and The Royalty Theatre at No. 73 provided the street with a hundred years of theatrical performances, until it was closed in 1938.
It was originally built by the actress Frances Maria "Fanny" Kelly who used her fortune to open a dramatic academy with a small theatre attached. The opening week did not quite go to plan. Her friend, engineer Rowan Macdonald Stephenson, had convinced her to build machinery into the theatre to move the stage and sets. The machinery ended up being so heavy a horse was necessary to work it and only after a week after opening the theatre had to close - the tramping of the horse and roar of machinery drowned out the plays, while vibrating the entire audience!
Fortunately the theatre went on to be rebuilt and enjoyed many waves of success at the hands of different owners. Today, Dean Street is home to the thriving theatrical hub that is the Soho Theatre. Known for hosting buzzworthy theatre, cabaret and comedy, it offers an eclectic, experimental programme, late night shows and an always busy bar.
Restaurants
Today Dean Street is a foodie haven with restaurants spanning from fine dining to the latest dining trends.
The street's most famed restaurant is the historic Quo Vadis, which has been running since Italian Peppino Leoni opened it in 1926. So the story goes, he worked for fourteen long years to build it into one of London's finest eateries but when Italy joined the war against the Allies, Leoni was imprisoned as an enemy alien. His time under lock and key left him feeling betrayed by the police and British government. On his release at the end of the war, he was determined to re-establish his reputation and restaurant to prove his place once and for all. He did just that. To this day Quo Vadis maintains its impeccable preeminence, having passed through several owners since Leoni including Marco Pierre White. It is now owned by the Hart brothers and serves modern British plates.
Aside from Quo Vadis, there are plenty of other Dean Street cuisines to try out. The street's French heritage remains prominent with fine French dining at Le Relais de Venise l'Entrecôte, Prix Fixe and Pierre Victoire. You can find the famed combination that is Burger and Lobster, or savour authentic Vietnamese at Cay Tre, legendary ramen at Tokostu and seasonal European fare with an emphasis on wine at Ducksoup.
The Future
TCRW SOHO and the new Crossrail station that will sit just below the development will mark a new phase in Dean Street's life - an exciting chapter that will invite even more innovation to this famed street, while continuing to celebrate its long-standing vibrant and avant-garde character.
Dreaming of owning a home on Dean Street? We have a number of luxury properties for sale in Soho.
Edited: 7th November 2022