An Afternoon Tea in Soho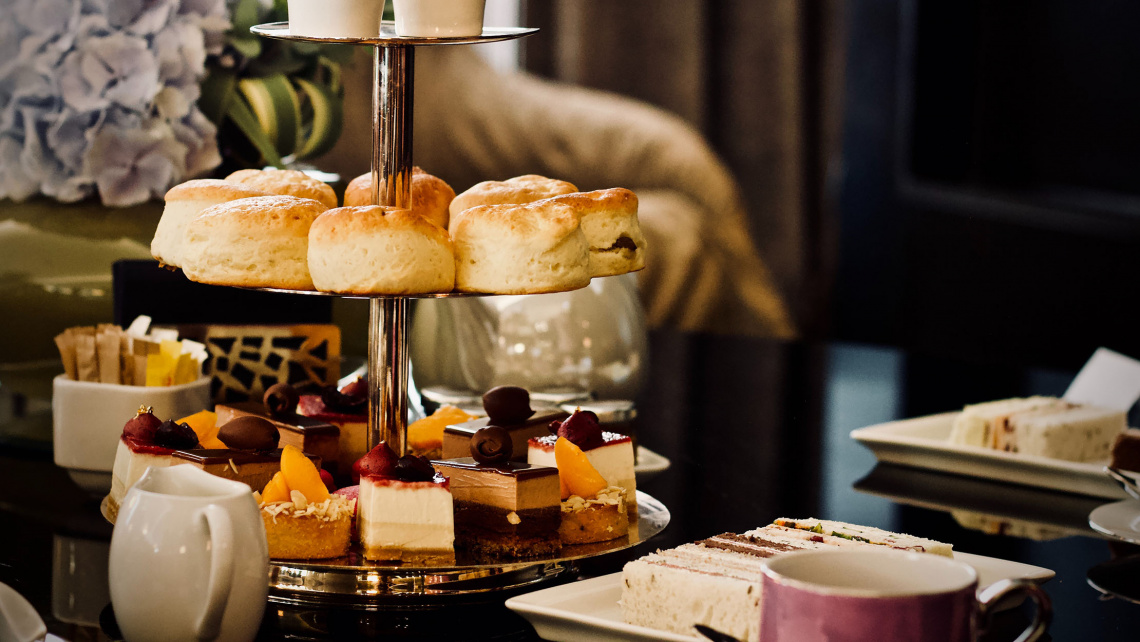 A British tradition dating back to the early 1840s, afternoon tea has become a ritual within our society. Soho has plenty to offer, from a traditional cream tea to a luxury champagne experience, to an afternoon tea with a twist… and everything in between.
Sketch
Located just off Regent Street, Sketch is a stylish art gallery housing several fashionable restaurants, including 'the Gallery' which hosts a luxury afternoon tea. The décor certainly makes this impressive dining room unforgettable: blush tinted walls combined with lavish rose cushioned interiors make for a pink lover's paradise, while the walls are emblazoned with original drawings in keeping with the venue's quirky and artistic theme.
The French-inspired menu offers an elegant twist on the traditional assortment of sumptuous finger sandwiches, with highlights including truffle croque accompanied by delightful treats such as Mont Blanc tart showcasing the exquisite skills of the pâtissière chefs, and of course not leaving out the iconic Victoria sponge to finish. The fine details don't stop at the food; Sketch serves up a diverse array of luxury teas ranging from Royal Breakfast tea to rosebud-infused Ceylon and Rose tea. For extra indulgence, there is the option to upgrade your experience to 'Tea with Bubbles' with a choice of champagne or sparkling wine.
The Diamond Jubilee Tea Salon at Fortnum & Mason
Producing tea for over 300 years, Fortnum & Mason presents an exquisite, quintessentially British Afternoon Tea. In the Diamond Jubilee Tea Salon, everything from the iconic pale green teaware (made from the finest china) to the gleaming silverware has been expertly designed to complement the grand Edwardian parlour. The Tea Salon even has its very own resident pianist as the afternoon tea experience wouldn't be complete without guests being accompanied by some soft, scene-setting piano music. The theme is continued throughout the scrumptious menu with traditional coronation chicken sandwiches and the famous Fortnum's scones - which are made in the thousands daily - paired with the customary clotted cream and strawberry jam. With hundreds of teas to choose from, one of the charming waiters will be able to advise the best tea blend depending on your likes and dislikes… and no need to worry if you are left with an empty plate or pot because it is quickly replenished.
Oscar Wilde Lounge
Known as the 'Queen of Afternoon Teas' it's no surprise the Café Royal Hotel hosts an award-winning Afternoon Tea within the famous Oscar Wilde Lounge. With a remarkable history of romance, the beautifully ornate room features golden architecture coupled with ruby-red leather chairs sending you back in time to the original establishment in 1825 - it's apparent to see why the likes of The Beatles, Mick Jagger and Elizabeth Taylor have all been residents here. Offering a seasonal menu to highlight the very best ingredients, a tower of carefully chosen finger sandwiches are presented alongside delicate cakes and pastries, without forgetting, of course, the fluffiest scones. Living up to their name, a choice of over 25 unique teas and the option to indulge in a glass of fine champagne, along with the impeccable services, makes this a truly 'Royal' experience.
The Perception Bar at W London
Not your typical afternoon tea, The Perception Bar offers a playful twist on the British custom and provides a sneak peek into the diverse, colourful side of Soho. Firstly, there is not a tea stand in sight. Instead, a sparkling make-up box is presented which, when opened, unveils a choice of edible cosmetics; all based on the contents of a drag queens make-up bag. The sweet treats consist of 'Bronze Up', an Oreo mousse topped with bronzed chocolate pearls and a 'Karamel Kiss' which is a lip-gloss that tastes of salted-caramel. Together with the fabulously designed desserts, an assortment of sandwiches are served and keeping with the glamorous theme, scones are paired with 'Clotted Night Cream' and 'Strawberry Lip Jam'. If the food isn't tantalising enough then it's possible to add a Kiki Cocktail to spice things up.
Edited: 5th December 2022