Top Secret Bars in Soho by Cari Thomas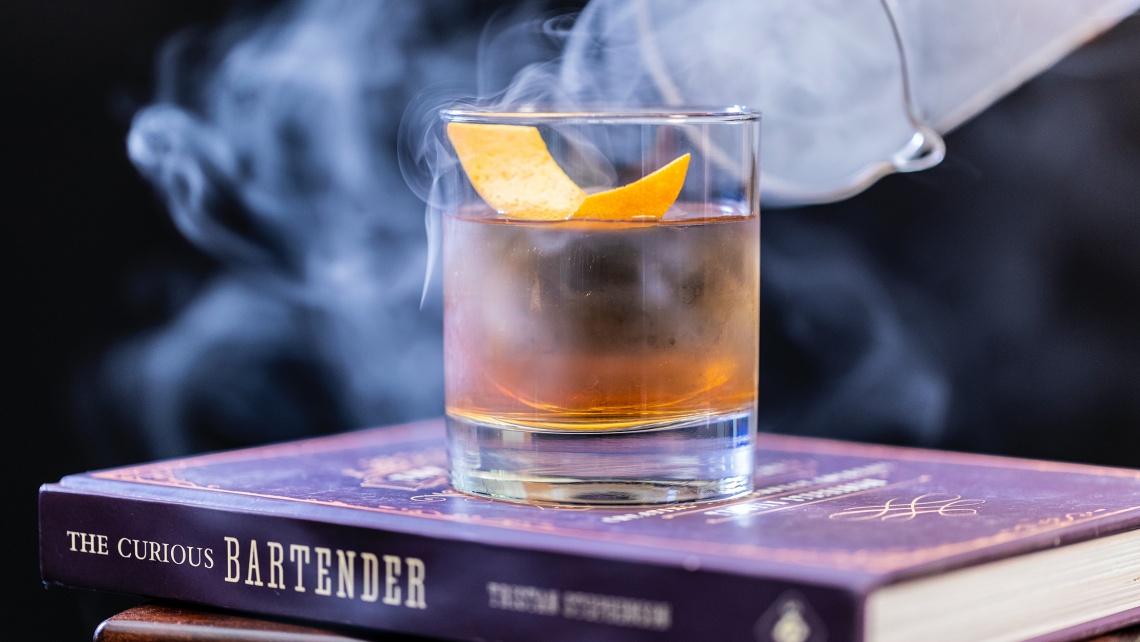 With its location smack bang in the middle of London and a history as London's most rebellious, mischievous and alternative district, Soho has always been a place of bohemian hideouts, smoky clubs and hidden dens. Today it continues the trend with a distilled concentration of London's most secret bars tucked away behind nondescript doors and down candlelit staircases. From a bar that once welcomed the likes of Marilyn Monroe, to a secret bookcase, to an underground tube stop, we've chosen the area's most covert watering holes. But shhhh, if anyone asks, we didn't tell you anything.
Due to the current circumstances, some of the sites mentioned below may be temporarily closed or have restricted opening hours.
The Vault
A secret passageway through a bookcase - how intriguing, how mysterious, how very Scooby Doo. It's what you'll find at the rear of London's oldest whisky shop and establishment, Milroy's of Soho. Slip through the bookcase, tread lightly along the neon-lit hallway and down the stairs to the basement where you'll arrive at brooding, candlelit speakeasy, The Vault. Take a cosy seat among bare brick walls, deep chesterfield sofas and wooden tables, and you might even be paid a visit by the resident dog, Chester. With the vast range of whiskies upstairs, the spirit features heavily on The Vault's cocktail menu, served straight or smokily swirled into innovative cocktails, as well as other spirit options. The soundtrack is always on point and keep an eye out for live music nights too when things get especially busy.
Basement Sate
Basement Sate is a hidden bar that unites two of life's greatest indulgences: cocktails and desserts. It's not the easiest of dimly-lit hideouts to locate - from Broadwick Street you'll find an unmarked door with a gold plaque, go down the stairs, along a dark corridor and then a final unmarked door opens up into a Parisian den of decadence. Dark woods, exposed brick and comfortable couches combine chic and comfort, but the detail is really in the desserts. The menu contains such whimsical delights as smoked chocolate cigar - smoked dark chocolate, popping candy, chocolate whisky mousse and hazelnut praline crispy flakes served in a box of 'San Cristobal de La Habana' - or popsicle cheesecake with biscoff mousse and strawberry meringue. Pair with their elegant cocktails and your sweet tooth will be well and truly sated.
Milk and Honey
Milk and Honey is the original secret speakeasy bar in London, serving up impeccable cocktails in a sultry atmosphere for the last seventeen years. The quality remains high, with classic cocktails and their own creations made with alchemical perfection - the fruit pressed by hand, extracts made in house, hand-cut mineral water ice and cocktails shaken or stirred a specific number of times for the perfect flavour. It's in fact a members' bar but two of its three floors are open to non-members up until 11pm if you book. To get in just find the tiny sign next to the buzzer on Poland Street. Thanks to its list of club rules, the ambience is always calm and refined, but not stuffy, with the classic prohibition decor of mahogany furniture, leather seating and flickering candlelight.
Cahoots
After a day of commuting, the last thing you might feel like is anything tube related, but Cahoots transforms the underground into a whimsically retro and charming experience. Nestled beneath Soho's Kingly Court, the vintage bar is themed around a post-war underground station and it goes the full distance. Find the underground sign saying 'To the Trains' and be met at the door by a cockney train guard who'll promptly take you down to the platform and, guess what, you're just in time for cocktail hour! The experience is delightfully immersive with vintage tube signs, retro luggage, sandbags, Blitz memorabilia, menus served on old fashioned newspapers and even an old tube carriage you can sit inside. The long cocktail list is plenty of fun with drinks served up in all manner of kitsch containers alongside the option of pies, crumpets and cheese toasties delivered in ration trays. The queue can get busier than a tube carriage in rush hour so make sure to book a slot in advance and you'll be reserved two hours of jolly good revelry.
Blind Pig
The award-winning Blind Pig bar is not hidden below but nestled above the Michelin-starred restaurant, Social Eating House - just look for the vintage 'Optician' sign on Poland Street and open the door beneath it with the cheeky hog-shaped knocker. It takes its name from the US prohibition era slang word for a 'den of iniquity', but inside it's a pleasingly sleek and polished speakeasy with stylish decor - dark leather seating, antique wood furniture, a mirrored ceiling and copper-topped bar. The drinks themselves are not half as grounded with cocktails inspired by your favourite childhood books, such as Pooh's Honey Pot combining dark rum, mead, cider brandy, orange blossom and honeycomb, Paddington's Lost and Found with a side of marmalade sandwiches and their take on Harry Potter's butter beer, 'Butter Bitter'. For added luxury, you can even order food up from the restaurant below.
Click here to take a look at TCRW SOHO — Galliard's exciting brand new development on Dean Street, just moments away from the buzzing streets of Soho or explore our guide to London's best rooftop bars.
Edited: 1st February 2023