Something to Do in Soho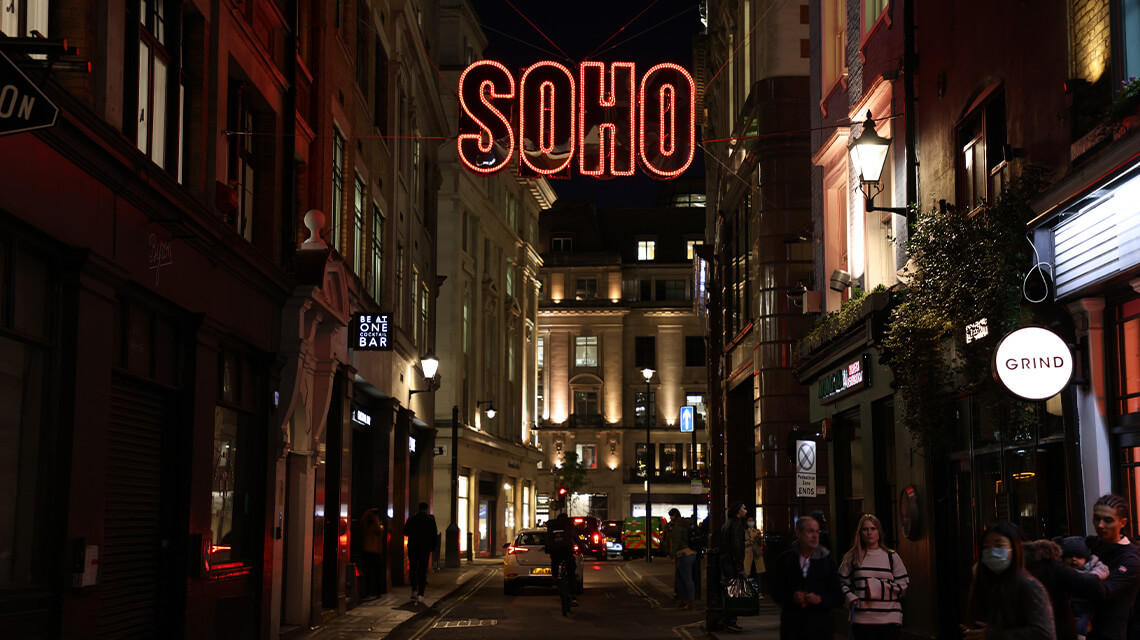 Situated in the heart of the West End, the eclectic Soho is full of vibrant streets with everything from boutique shops to secret bars - and it's got some of the best places to go out in London.
Below are some of our favourite spots in the area.
Due to the current circumstances, some of the sites mentioned below may be temporarily closed or have restricted opening hours.
Carnaby Street
An iconic symbol of the swinging sixties, Carnaby Street is home to an exceptional array of boutique shops and flagship stores. With over 150 brands to browse including Levi's and Paul Smith, as well as, of course, the world-famous Liberty London, shoppers will have plenty to explore. There's also a variety of energetic bars and trendy restaurants to indulge in.
Theatreland
London's theatre district — or 'Theatreland' as it is more commonly known — is renowned for its many dazzling theatres showcasing musicals, plays and comedies which are not to be missed. At the south of Soho, located on Shaftesbury Avenue, the Sondheim Theatre is home to the award-winning musical, Les Miserables. With its debut dating back to 1985, this famous production is the longest-running musical in the world. For something more upbeat and fun, head to Soho Theatre where you can find some of the best upcoming stand-up comedy for a night full of laughter.
The Photographers' Gallery
The first of its kind in the UK, The Photographers' Gallery is purely dedicated to photographers and their photography, displaying captivating images from 1971 with a focus on cultural heritage and society. Many international photographers, such as Robert Capa and Juergen Teller, have had their work featured here. This six-storey gallery has recently undergone a complete renovation which has added an extra two floors as well as a basement for a bookshop and print sales room. For a small fee, visitors can buy a day pass from 10am; from 5pm onwards, admission is free.
Curzon Soho
Known as London's 'best-loved' movie theatre, the Curzon Soho is one of the most popular luxury cinemas in the West End. With an impressive 474 seats spread across three screens, avid filmgoers will have a mixture of new releases and fascinating documentaries to choose from. Visitors can relax at the Café and enjoy a cup of coffee or glass of wine before or after each showing.
Ronnie Scott's Jazz Club
This is where it all started for British jazz and, since 1959, Ronnie Scott's has hosted many talented musicians over the years. The club has even seen the likes of musical legends Jimi Hendrix and Jeff Beck perform. From the appetizing cocktails and mouth-watering dinners to the outstanding performances every evening, this world-renowned jazz club offers everything in one place for an unforgettable evening of entertainment. The plush red chairs and mood lighting add to the 1920's décor creating a very cosy and intimate atmosphere. The club offers a table service throughout the night that is second to none which means there is no need to worry about missing any of the show, so sit back and enjoy the music!
The Perception Bar at W London
Forget your traditional scones and finger sandwiches, The Perception Bar takes afternoon tea to a new extreme showcasing all the glitz and glam Soho has to offer. Inspired the fabulous Globe Girls, the treats are based on make-up. Inside you will find edible cosmetics, including 'Ageless Queen' which is a cinnamon and lemon custard crème and 'Glitter Ball', a popsicle made up of lemon and blueberry cake covered in sparkly white chocolate. Sandwiches and scones are also available — or should we say 'Strawberry Lip Jam' and 'Clotted Night Cream'. If you're feeling thirsty, The Perception Bar also serves an afternoon tea with Prosecco or a Kiki cocktail.
On the hunt for a luxurious property in Soho? Check out TCRW SOHO, an iconic new residential development by Galliard Homes, located just off Oxford Street.
Edited: 22nd November 2022