Something to Do in Soho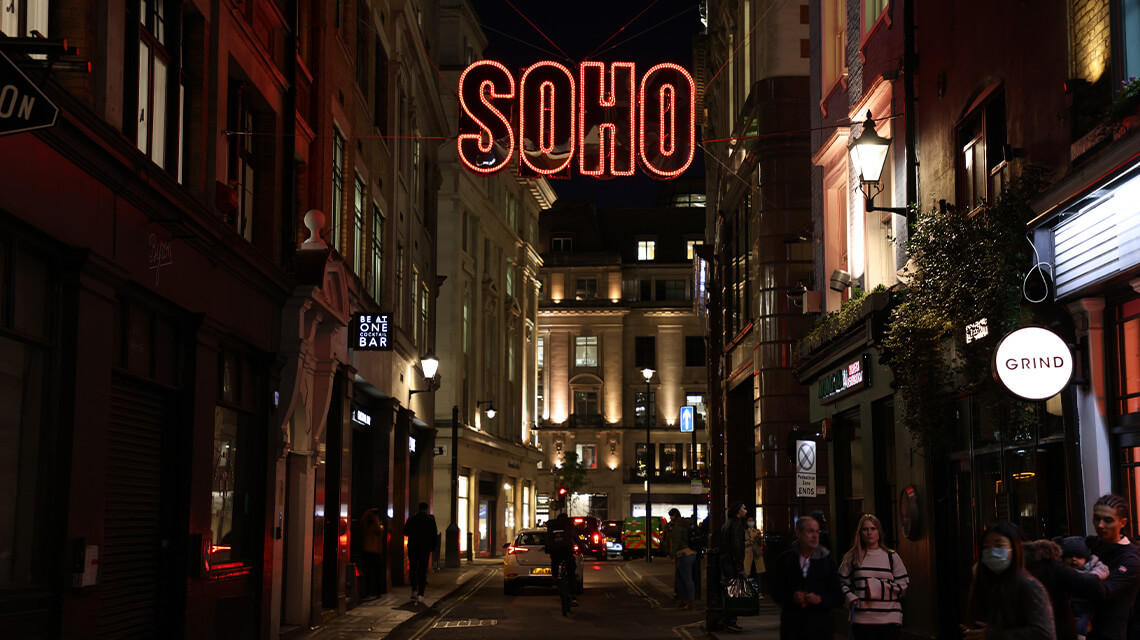 Situated in the heart of the West End, eclectic Soho is full of vibrant streets with everything from boutique shops to secret bars - and it's got some of the best places to go out in London.
Below are some of our favourite spots in the area.
Explore Carnaby Street
An iconic symbol of the swinging sixties, Carnaby Street is home to an exceptional array of boutique shops and flagship stores. With over 150 brands to browse, including Levi's and Paul Smith, and, of course, the world-famous Liberty London, shoppers will have plenty to explore. There's also a variety of energetic bars and trendy restaurants to indulge in.
Delve into Soho's Theatreland
London's theatre district — or 'Theatreland' as it is more commonly known — is renowned for its many dazzling theatres showcasing musicals, plays and comedies which are not to be missed. At the south of Soho, located on Shaftesbury Avenue, the Sondheim Theatre is home to the award-winning musical Les Miserables. With its debut dating back to 1985, this famous production is the longest-running musical in the world. For something more upbeat and fun, head to Soho Theatre, where you can find some of the best upcoming stand-up comedies for a night full of laughter.
Soho's Art Galleries
The first of its kind in the UK, The Photographers' Gallery is purely dedicated to photographers and their photography, displaying captivating images from 1971 with a focus on cultural heritage and society. Many international photographers, such as Robert Capa and Juergen Teller, have featured their work here, and it is well worth a visit. Alternatively, visit Frith Street Gallery, renowned for being an 'innovative exhibition programme of leading contemporary artists' during its 30-year history.
Explore Soho's Architecture
Soho is known for its diverse architecture, reflecting the area's rich history and cultural mix. Take a walk around Soho and you can expect to see traditional Georgian architecture on Greek Street, modern-day glass-fronted offices on Soho Street and the art deco-inspired residential splendour of TCRW SOHO on Oxford Street.
Browse Berwick Street Market
Famous for its vibrant and eclectic mix of independent shops, boutiques, cafes and restaurants, Berwick Street is one of Soho's most well-known destinations. Home to one of London's oldest markets - dating back to 1778 - Berwick Street Market is a must-try for any foodie, offering street food from across the world as well as staple fruits, vegetables and bakery goods. Berwick Street is also particularly famous for its role in the London music scene, and you will notice several record and music shops located along the street.
Dine at One of Soho's Famous Restaurants
Known for its diverse and vibrant culinary scene, with many restaurants offering cuisine from all over the world, you will not be short of places to eat whilst out and about in Soho. Whether it's a light lunch or a fine dining experience that you're seeking, you'll find an abundance of choices to suit your taste in and around Soho. Check out our guide to eating out in Soho for a comprehensive list.
Soak-Up Soho's Nightlife
Soho's nightlife is as lively as its history. From some of London's most famous pubs, such as The Coach & Horses, to the energetic dancefloor of Freedom Bar, a night out in Soho is unforgettable. For a more relaxed slice of Soho nightlife, take in some classic British jazz at world-famous Ronnie Scott's where the likes of Jimi Hendrix and Jeff Beck were once known to grace the stage. Explore our guide to West End nightlife for a more detailed look.
Experience Afternoon Tea in Soho
This British tradition is a must-do when visiting the capital, and Soho is certainly not short of places to enjoy afternoon tea. Try the esteemed Sketch afternoon tea for a truly unique experience. Their French-inspired take on the British classics has been raved about for years, and the setting is truly unforgettable. Or, why not visit The Diamond Jubilee Tea Salon at Fortnum & Mason? Their superb offering is quintessentially British in every way. Read our guide to afternoon tea in Soho for more information.
On the hunt for a luxurious property in Soho? Check out TCRW SOHO, an iconic new residential development by Galliard Homes.
Edited: 24th October 2023