Living in Whitechapel, London E1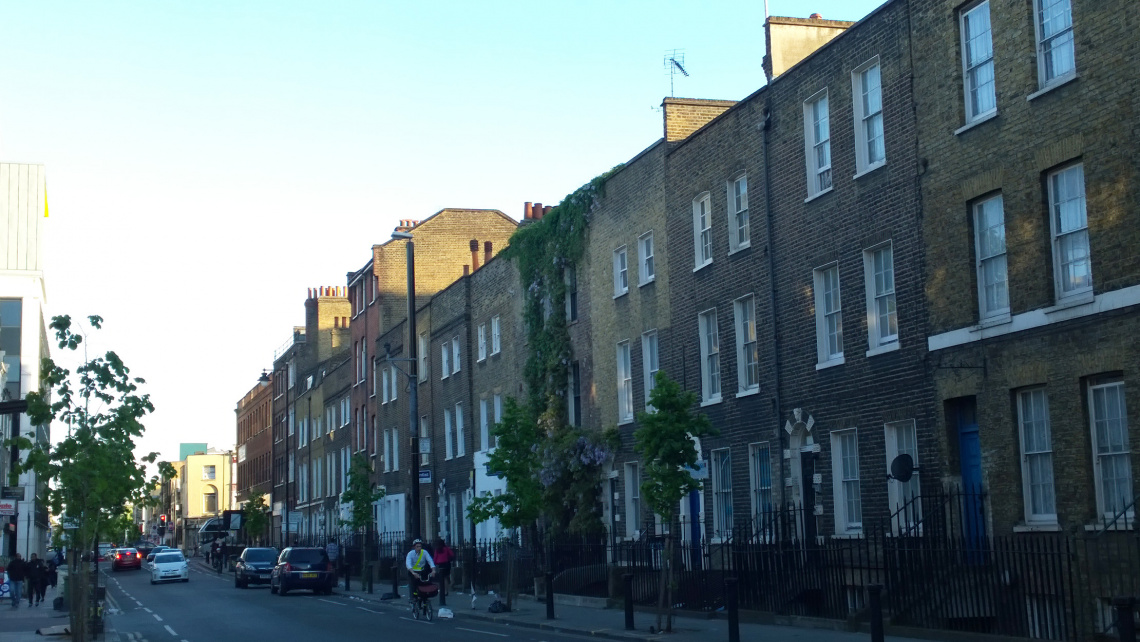 Whitechapel is an East London district that is full of culture, character and good food. The culturally diverse community is a large part of the history of the area and adds to its appeal.
The demand to live in Whitechapel is due to increase with the introduction of Crossrail and it is said to be one of the areas in London that will benefit the most from this regeneration.
Property
Galliard Homes is proud to be developing a number of outstanding properties throughout London and has a couple of remarkable projects near Whitechapel in the trendy area of Shoreditch:
Now sold out, this development showcases the ultimate in style with quality specifications and sleek design; consisting of 26 apartments that boast an excellent view of the City skyline and offers the convenience of being only a short distance away from the financial district of the City and Liverpool Street station.
This development is one of Galliard Homes' most anticipated projects, which is due to launch in the near future. The 37-storey residential tower will be the focal point of the development and will guarantee residents the ultimate luxury living experience.
Find out further information about property availability in Shoreditch.
History
This area of East London has a famous history full of turmoil and culture which makes it an incredibly interesting place to live or visit. Whitechapel could quite possibly be most well-known for the notorious Jack the Ripper murders in the 19th century that caused great terror throughout the city and have never been solved. In the late 19th century and early 20th century Whitechapel was a hub for the Jewish community in the city, which explains the abundance of popular and delicious Jewish bakeries and cafés in the area.
World War Two caused great destruction to the area during the Blitz which shook the public but was later revived when the British-Bangladeshi community settled here, making up around 40% of the population in Whitechapel. The markets and restaurants in the area reflect this multiculturalism and give it the charm and character that it is famous for.
Food and Drink
Restaurants
If you are ever in need of a good curry then you can never go wrong with a trip to Whitechapel, especially a visit to Tayyabs, a culinary asset to the area serving delicious Punjabi cuisine. This restaurant is a family-run business which makes for a better experience because you can really taste the passion in every single bite. Another restaurant to visit for guaranteed explosions of flavour is Zaza's Grill situated on Whitechapel Road; it has an impressive loyal following for never failing to produce exquisite plates of mouth-watering food. Serving traditional dishes from Pakistan and displaying interior décor that has as much character as the food, sets this place apart from the rest. Maedah Grill is also another excellent choice if you want to sample the culinary delights from the Middle East; the quality fresh food showcases the flavours of Turkey at its finest and will most certainly keep you coming back for more.
Bars
The Urban Bar, located on the doorstep of Whitechapel Tube station, is a lively place where you can expect intimate gigs, quizzes and even salsa classes, which always seem to be a popular choice. The energy gets amped up at the weekend when DJs play until the early hours of the morning.
For an innovative cocktail experience, Discount Suit Company is the place to go to; the classic cocktails and interiors which display a real New York style, give this bar unforgettable pizzazz which make it a great place to catch up with friends and release your inner Carrie Bradshaw.
Entertainment and Culture
Whitechapel is famous for its diverse culture and heritage and Whitechapel Gallery is a popular and well-loved attraction that showcases this. This art gallery is always bringing something new and fresh to the table as it does not have a permanent collection so there is always something different and exciting to look at. David Hockney held his first art show here and this gallery has maintained its reputation for displaying some of the most beautiful and creative pieces around. Another popular gallery in the area, located close to Spitalfields, is Leydon Gallery because as well as showcasing traditional and modern art, it also hosts various screenings and community events.
When in this part of East London, it is an absolute must to pay a visit to Whitechapel Market because it showcases the exuberant culture that Whitechapel has to offer, not to mention that it sells every Asian spice and ingredient you could ever think of.
After a long day of bargain hunting at the market and art spotting in the galleries, why not kick back and enjoy a good film at the Genesis Cinema which is one of the oldest cinemas in East London, not far from Whitechapel Tube station. The extremely affordable tickets could be one of the cinema's most alluring features, along with 'studio 5' in the cinema which is a plush screening room complete with comfy armchairs, blankets and beverages.
Shopping
For some one-of-a-kind fashion finds, Beyond Retro will not disappoint: this large warehouse has amazing vintage clothes and accessories by the boatload and with the constant replenishment of stock everyday, there will always be something new to get your mitts on. An aspect of this shop that sets it apart from the rest are the local bands and live music that play and surprise the shoppers whilst they search the shelves.
Another popular shop that graces the pavements of Whitechapel is Labour and Wait, selling an array of classic home accessories that are impossible to say no to. Speaking of being impossible to refuse, The Urban Chocolatier will allure you left, right and centre with the assortment of home-made chocolates and sweet treats that you can enjoy in-store or take away in a charming gift box.
Markets in this part of London are such a huge part of the community culture and are popular with Londoners and tourists for a good reason. As well as Whitechapel Market, there are an abundance of lively markets to visit nearby.
Green Space
Altab Ali Park is a space that is well-loved by the community because it holds great sentimental value in the area; the original park on this site was actually destructed during The Blitz in World War Two and was not officially named Altab Ali Park until 1998, in remembrance of the murder of Altab Ali that occurred on a nearby street in Whitechapel in 1978. This park showcases an arch at the entrance that displays a Bengali-style design and is said to represent the widely celebrated multiculturalism in East London today.
Education
Find out more information about the top universities in London.
Local Authority
London Borough of Tower Hamlets
Getting There
Underground
Whitechapel Tube station serves the District line which will arrive to Embankment in just 17 minutes and the Hammersmith& City line which reaches Kings Cross St Pancras in a short 13 minutes from Whitechapel.
Overground
The Overground line is another way that makes the rest of London easily accessible from Whitechapel as you can reach the other side of the city in an impressive amount of time; for example, you can arrive at Clapham Junction in only 33 minutes.
Crossrail
It is predicted that Whitechapel is going to be one of the locations in London that will benefit the most from Crossrail as it will increase the demand to live within the area. Crossrail at Whitechapel will offer journeys to Heathrow in just 39 minutes and Canary Wharf in an impressive three minutes.
Read more about Crossrail at Liverpool Street station nearby to Whitechapel.
Edited: 23rd October 2023