Entrepreneurs of Wimbledon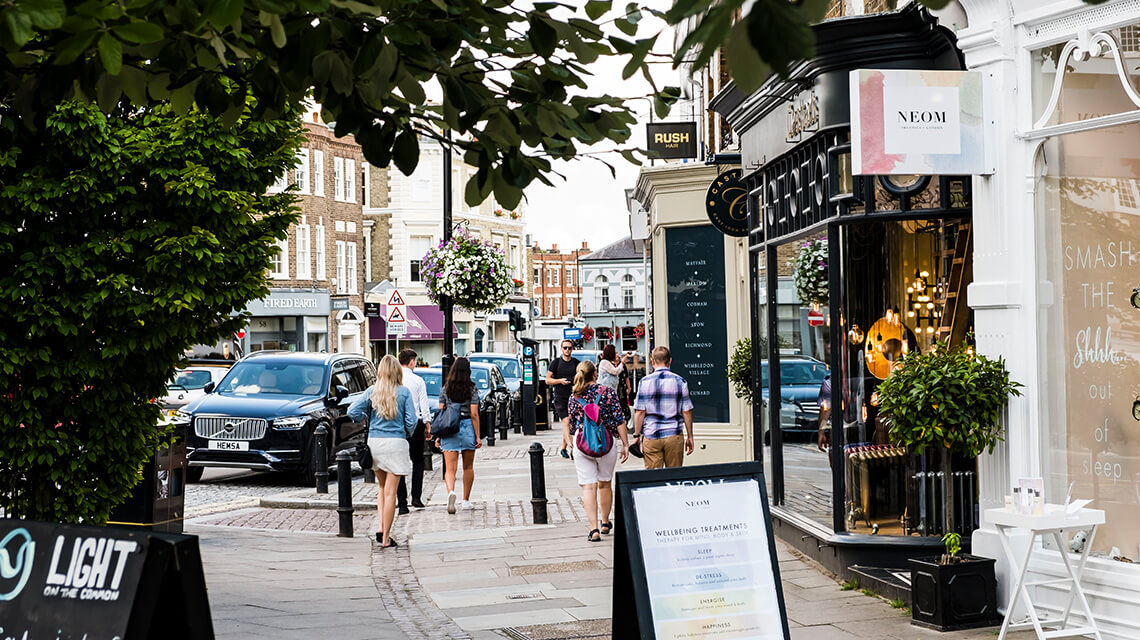 The rise of entrepreneurship in the modern business world has been essential to contributing to the global economy and Wimbledon has by no means been left behind. With its ideal location for development within easy reach of Central London and the surrounding area acting as an organic springboard for original ideas, small and international businesses alike have sprung up from Wimbledon.
Love Wimbledon BID
Love Wimbledon was set up in 2012 as a Business Improvement District to promote and organise events, and invest in the future of Wimbledon. Helen Clark Bell has been the CEO of the BID since 2012 and believes strongly in the power of supporting and building the community and identity of Wimbledon with a master plan, incorporating everything from lobbying Thames Water to creating Dementia Friends (a programme to train people in understanding the difficulties of dementia). The not for profit organisation is owned and funded by local businesses within Wimbledon Town Centre and is dedicated to improving the area based on requests and votes from the public as well as the local businesses. Helen Clark Bell is also a judge for the Merton Best Business Awards.
Clownfish Events LTD.
Leaving school in 2009 at age 18, Matt Turner raised enough money to buy a van, driving lessons and some basic equipment, and Clownfish Events was born. It has since grown into a full-service events specialist now boasting Virgin, Google and Sky amongst its clients list whose revenues double year by year. Turner believes Clownfish has been successful due to their longevity and flexibility as a brand as well as their determination to invest heavily in the brand itself, creating a strong identity which sticks with clients. Turner himself is the ideal example of an entrepreneur and looks up to Richard Branson for becoming his own brand, and Richard Reed for his forward thinking, drive and determination to hit the market with great impact.
Lady Wimbledon
Having worked in PR and as a primary school teacher, Sandra Nardi took to founding her own businesses in a bid to spend more time with her three children, outside of the restraints of the bureaucracy. Bombshell Consultancy Ltd (a PR firm), Parent Education Consultancy and Lady Wimbledon are Sandra's three extremely successful companies and she runs each with passion and precision. The Lady Wimbledon brand has grown from a Twitter hashtag to a digital magazine with a team of journalists working through fashion, lifestyle and news focuses. She was a finalist for Merton's Best Business Awards and has featured in Darling Magazine Wimbledon as an 'Inspiring Woman'.
Darling Magazine
Darling Magazine began with Karine Torr in Wimbledon in 2010 with the design to provide a seasonal magazine for driven and sociable women living in the suburbs. Its content focuses on inspirational women, local businesses and everything the community has to offer, with Darling now producing magazines in Richmond, North Surrey and Kingston as well as the original, Wimbledon. Karine has also written pieces as one of the 'eyes of Lady Wimbledon' for the latter's blog and is now co-editing the North Surrey Darling magazine. Proving highly successful, Karine was voted runner up Entrepreneur of the Year 2017 and winner of the Andrew Wakefield award in the Merton Best Business Awards, as well as having been nominated as a finalist for Entrepreneur of the Year 2018.
Other Businesses
Wimbledon has also triggered many other start-up businesses and continues to present people with the opportunity to branch out on their own. Diary Dolls was created by former tennis player Annabel Croft and TV presenter Carol Smillie to provide peace of mind and comfort when it came to travelling or staying away from home. Kiko Matthews, a Wimbledon local, has a particularly inspirational personal story, most recently resulting in her challenge to row across the Atlantic at a world record pace and become the seventh woman to have ever crossed the Atlantic solo. Aside from that, she co-founded The Big Stand in 2015, a charity which aims to empower and educate through adventure; in 2015 she founded SUPKiko, a stand up paddle-boarding programme in Richmond and Hackney.
Development
Galliard Homes, along with Peabody New Homes, are delighted to be working on Wimbledon Grounds, a brand new mixed-use development set to boast commercial and residential space as well as the new AFC Wimbledon stadium. Stadia Three, Galliard's first phase of properties located on the site, will be home to 114 apartments featuring the highest specifications and modern finishes for a comfortable lifestyle within easy reach of Central London.
Edited: 4th April 2023