Galliard Homes Unveil London's Largest Winter Garden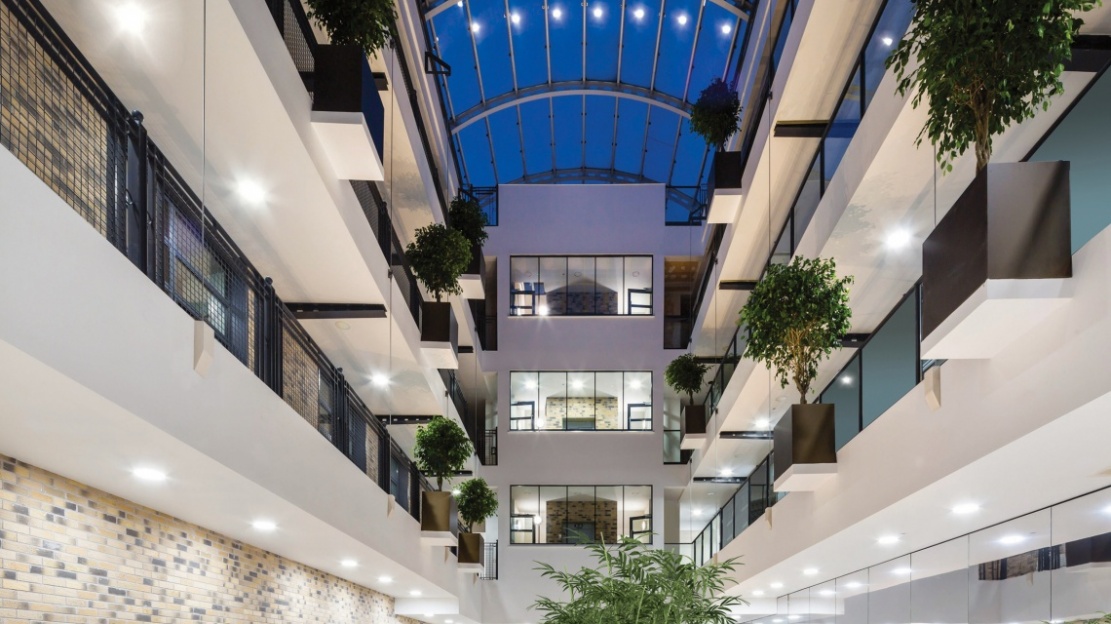 Galliard Homes has unveiled London's largest Winter Garden at the launch of their exclusive and stylish new development, Carlow House. Situated in the heart of NW1, one of London's most sought-after postcodes and skirting Regent's Park, Carlow House will redefine elevated, luxury living in the city.
London's Response
Inspired by innovative New York developments that seamlessly integrate winter gardens with cutting-edge designs, such as One57 and the Diane Von Furstenberg Studio, Galliard Homes presents London's response; trendy, Manhattan-style lofts positioned around a magnificent, four-storey atrium that will boast a surreal, 'floating forest.'
An Urban Woodland
Set behind an impressive Edwardian warehouse façade, Carlow House has been transformed into an outstanding example of 1930s Art Deco architecture. Created by award-winning international designer Rabih Hage, the grand centrepiece of this building will be a vast, communal courtyard, bursting with a wonderful variety of lush plants. Paved pathways and strategically-placed seating areas will border this charming, urban woodland. Elegant trees in oversized planters will adorn the rising levels on the walls of the atrium, creating spatial variety and an intriguing blend of natural beauty and industrial design.
Rough Meets Luxurious
The multi-faceted glass atrium will serve as a colossal chandelier, illuminating all 85 apartments within Carlow House with an abundance of natural light. Emphasising the distinction between the new and the old, the lofts will feature what designer Rabih Hage calls the "roughlux" look; a funky combination of the rough and the luxurious in the form of lavish interiors with polished finishes that contrast with classic warehouse features, such as exposed brickwork and brushed metal.
Largest in a London Housing Project
David Galman, Sales Director at Galliard Homes is very proud of the prestigious new development and says,
"In New York at present the most fashionable pads are loft schemes with greenery and glass-roofed atrium gardens. Carlow House is London's response, with its huge central garden - the largest in a London housing project - and lofts that offer the very best of the historic and the new, with a grand period façade, behind which will be brand new homes."
The Finest Specifications
The one and two bedroom lofts will all have a spacious living and dining area with an open-plan, slate grey kitchen, complete with Smeg integrated appliances. Bedrooms will include full height, built-in wardrobes, ambient dimmer lighting and some will even have luxurious en-suite facilities. Bathrooms will provide the ultimate in decadence and style, with high-gloss white wall tiles, a steel bath, vintage-style shower and underfloor heating.
Captivating History
Carlow House was originally built in the 1930s and served as a railway ticket exchange and supplies warehouse, for the newly-formed London Passenger Transport Board (known today as the London Underground). Bomb damage during World War II led to a substantial refurbishment during the 1950s when the building was converted into offices. Now Galliard Homes is restoring this neglected site back to its former glory with a striking façade and opulent entrance foyer that will include a daytime concierge for residents.
London Living Made Easy
Commenting on this significant new development, Nina Coulter, Sales and Marketing Director at Savills says, "Galliard Homes has a well-established reputation for creating bold, vibrant new spaces. With St Pancras, Euston and the new Crossrail line all within strolling distance - and the underground right around the corner - this is London living at its easiest. Investors and owner occupiers have been starved of good, new-build schemes in the area and we think demand will be high."
Enviable Location
Carlow House is located on Carlow Street in Camden and is minutes away from the colourful Camden High Street; a thriving, cosmopolitan area, awash with boutique shops, fabulous restaurants and the coolest bars. Situated around three minutes' walk from Mornington Crescent tube station, with direct Northern Line services to key destinations, including Euston, Tottenham Court Road and Charing Cross; travel will be both fast and convenient. Residents will have the added bonus of being a short walk away from the splendour that is Regent's Park.
Carlow House is now sold out. For further luxury apartments for sale in London use our property search tool.
Edited: 22nd November 2022