Breaking Ground at Belgrave Village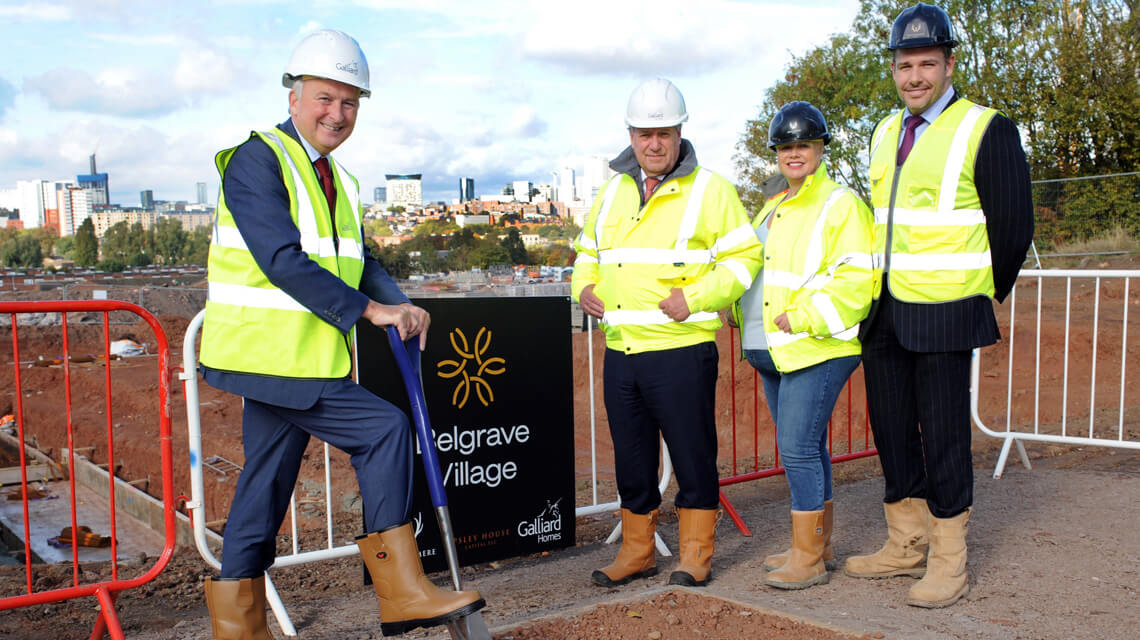 Wavensmere Homes, with joint venture partners The Galliard Apsley Partnership, have officially broken ground at Belgrave Village, Birmingham.
Cllr Ian Ward, leader of Birmingham City Council, joined members of the joint venture partnership at the site for a ground-breaking ceremony on 18 October 2022 to mark the milestone.
Belgrave Village
The new development, on Belgrave Middleway and Haden Way, close to Highgate and Digbeth, comprises 438 homes, including 264 one and two-bedroom apartments and 174 two, three and four-bedroom houses.
Wavensmere Homes and The Galliard Apsley Partnership are regenerating the 12-acre site, which has been vacant for more than 20 years. It was previously occupied by Joseph Chamberlain Sixth Form College and Birmingham Sports Centre.
The Scheme
The homes at Belgrave Village will be set around courtyard gardens, landscaped public realm and a linear park, with additional private gardens to all houses. The development will include 263 parking spaces and additional cycle spaces. Belgrave Village will also boast a range of onsite shared amenities for residents, including a fully equipped gym, co-working space, a screening room, and a concierge for the apartments.
Cllr Ian Ward said: 'Birmingham needs more homes to cater for the city's growing population and it's great to see developers such as Wavensmere Homes and The Galliard Apsley Partnership answering the call … Belgrave Village isn't just another housing development; it's a new neighbourhood that will regenerate and breathe life into this up-and-coming area of the city, delivering much needed homes for the people of Birmingham.'
The Joint Venture Group
Wavensmere Homes is a Midlands based property developer which specialises in unique renovation projects; restoring historic buildings to their former glory and transforming them into extraordinary developments, alongside creating high quality newly built homes.
Belgrave Village is the fourth joint venture development in Birmingham for Galliard Homes as part of the Galliard Apsley Partnership with Apsley House Capital.
James Dickens, managing director of Wavensmere Homes, said: 'The ground-breaking represents a significant milestone in the construction of Belgrave Village, which will provide high-quality homes with a range of amenities and green spaces for residents to enjoy.'
Stephen Conway, executive chairman of Galliard Homes, said: 'We understand the challenges faced by Birmingham City Council to deliver the new homes needed for the city and together with our joint venture partners, we're proud to be playing our part in helping the council achieve its goals.'
Gerard Nock, chairman at Apsley House Capital, said: 'We're delighted to be working with Wavensmere Homes on this exemplar scheme. As well as regenerating a large brownfield site, Belgrave Village will raise the bar for housing in this part of the city, providing a mix of high-quality homes for a range of occupiers.'
Homes for sale at Belgrave Village
Belgrave Village is scheduled for completion in 2025, with Phase 1 residents moving in from Q4 2023.
Prices range from £187,500 for a one-bed apartment to £430,000 for a four-bed house.
For more information or to request an appointment, contact Belgrave Village.
Edited: 28th November 2022