Living in Birmingham, West Midlands B15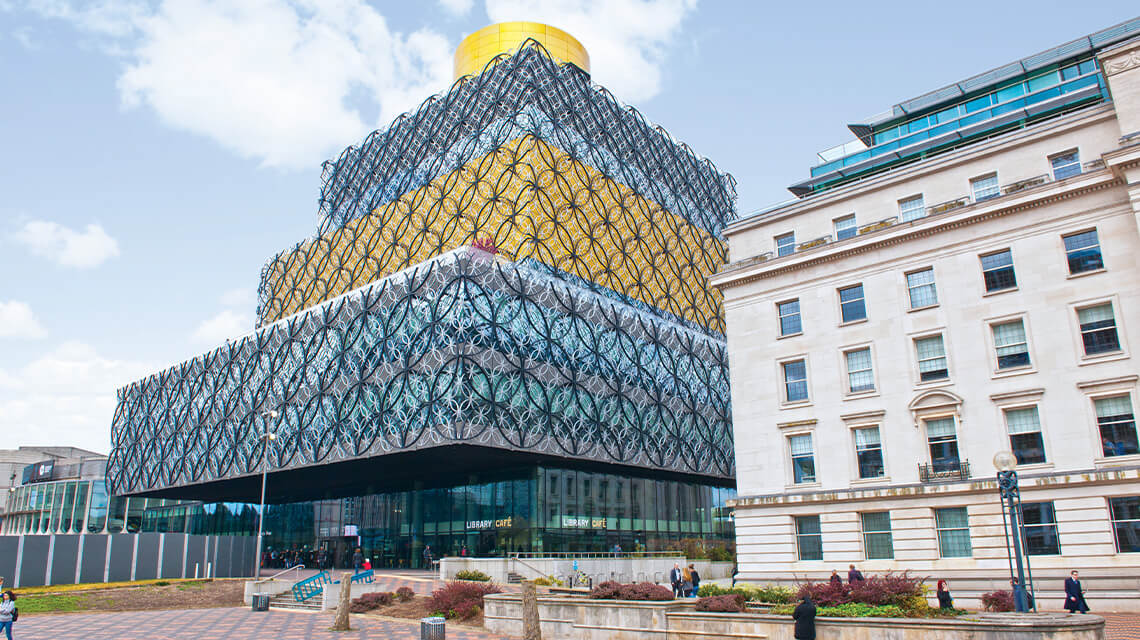 Located in the West Midlands, Birmingham is a top 10 world city, the youngest European city and the largest city in the UK outside of London.
With numerous accolades pertaining to its elite business status, regenerative potential and eminent selection of entertainment hubs, Birmingham has a bright future ahead as the one of Britain's most powerful and desirable locations.
Property in Birmingham
Timber Yard
Fantastically situated in Birmingham's dynamic Southside district, Timber Yard is Galliard Homes and Apsley House Capital's latest development.
Timber Yard will comprise a mixture of contemporary studio, one, two and three bedroom flats in Birmingham, many of which have been designed to include balconies, terraces or winter gardens. Occupants of upper level apartments will be provided with spectacular views of the city's iconic skyline. Meanwhile, all residents will enjoy access to communal landscaped courtyard gardens and exclusive leisure facilities, such as an on-site gym and a club lounge. Additionally, the mixed-use site will include 10,000 sq. ft. of retail and leisure space. The vibrant Chinese Quarter is only a three minute walk from the development, while both the Bullring and New Street station are just eight minutes' walk away.
Timber Yard is now sold out. For more information, please visit the development page or use our property search tool to find other available properties. Alternatively, call us on 020 3409 2270 to speak with our team.
History of Birmingham
Starting out as a medieval market town, it wasn't until the 18th century that Birmingham's potential was realised during the Industrial Revolution, which saw the town lead the way in science, technology and industry. It was here that the industrial steam engine was invented, leading to the town's recognition as the "first manufacturing town in the world".
During the 18th century, the city's intricate canal network meant that Birmingham had a key role in the global export markets. Today, Birmingham is one of Britain's most lucrative financial centres, whilst expansive regeneration projects across the city are transforming areas into brand new public realms for commercial, cultural, retail and leisure use.
Places of Interest
Due to the current circumstances, some of the sites mentioned below may be temporarily closed or have restricted opening hours.
Historical
From museums and monuments to churches and cathedrals - Birmingham offers both residents and visitors a complete blend of historical experiences.
Aston Halls
One of the last great Jacobean houses, Aston Halls is a Grade I listed mansion and a must-see for any history fan looking for a day out amongst grand architecture and luscious green parkland. Heritage open days and family-friendly events are held here all-year-round.
The Jewellery Quarter
Amply described as a 'national treasure', Birmingham's Jewellery Quarter dates back more than 250 years and is where more than 40% of British jewellery is made. Take a tour to indulge in the Quarter's rick history or browse the boutiques where bespoke craftsmanship is all the rage; when you're done, there are a plethora of bars and restaurants to choose from.
St. Martin in the Bull Ring
Birmingham's oldest church, St. Martin, was founded in 1290 and still serves as the city's parish church, plus it is the only British church to have a dedicated clergy for market traders. Guests are invited to explore tombs from the original Lords of Birmingham and to take a look at the treasures in the Chapter House.
Cultural
Birmingham serves the UK as a vibrant cultural melting pot where art galleries, music venues and cinemas convene.
Town Hall and Symphony Hall
Revered as the city's most iconic concert halls, these colourful venues have had some of the world's best performers and musicians grace their stages in the heart of Birmingham, including David Bowie and Led Zeppelin. More than half a million people make their way to over 800 events every year; be it a jazz show or a stand-up comedy gig.
Library of Birmingham
This futuristic building is as much an architectural spectacle as it is the city's central hub of knowledge. It's described as the largest public library in the UK, and the largest cultural space and regional library in Europe. Only four years old, the building was intended as Birmingham's flagship project as part of the city's extensive development, and with nearly 2.5m annual visitors it's not difficult to see why it was considered the UK's 10th most popular visitor attraction.
Birmingham Museum and Art Gallery
Home to the largest collection of pre-Raphaelite artwork in the world, Birmingham Museum and Art Gallery enjoys showcasing its impressive collections of sculptures and ceramics. Perched right in the lively atmosphere of Chamberlain Square, the museum and art gallery is an unmissable cultural attraction in Birmingham.
Birmingham Hippodrome
Selling more seats than any other British theatre each year, the Birmingham Hippodrome dazzles its audiences with both local talent and touring shows from the West End. The Welsh National Opera and Birmingham Royal Ballet have long been acclaimed and admired by audiences at the Hippodrome, whilst the line-up of dazzling performances is never-ending.
Shopping
Birmingham certainly does not hold back with its retail wonderland of boutiques, department stores, designer brands and high-street favourites.
Grand Central
Only two years old, Grand Central is home to the biggest John Lewis store outside of London, as well as more than 40 fashion and lifestyle stores, attracting as much as 50m visitors each year. Home to names such as Jo Malone and Jacques Vert, this is definitely Birmingham's retail gem.
The Mailbox
The Mailbox invites guests to indulge in shopping, dining, nightlife and entertainment all within the same realm. Home to famed fashion department store, Harvey Nichols, The Mailbox showcases 200 of the world's most desired designer brands, including Armani and Paul Smith. Between shops, fashionistas can pamper themselves at the Malmaison Spa or head to the Everyman Cinema for a laid-back viewing of the latest blockbuster.
Bullring Shopping Centre
Characterised as the 'Midlands premier shopping destination', the Bullring offers shoppers 160 stylish stores and boutiques with more than 2,000 leading brands, including Selfridges. Ranging from luxury shops such as AllSaints to big designer labels such as Michael Kors, shoppers will not be short of options to indulge in a spot of retail therapy.
Bull Ring Markets
The Bull Ring Markets serve more than six million shoppers every year. Head to the Rag Market for fashions past and present, haberdashery and gifts galore; the perfect place for thrifty shoppers and vintage lovers. The Wholesale Market - the largest in the UK - is the place to head to for top-quality meat and poultry, whilst the Indoor Market is home to one of Britain's largest fish markets. Fans of fresh produce will also love the Open Market for its huge range of home-grown fruit and vegetables.
Food and Drink
Foodies that find themselves in the bustling streets of Birmingham will be amongst a multitude of restaurants, pubs and bars to satisfy their cravings. Here are just a few that are sure to tickle your fancy.
Adam's Restaurant
For those looking for the pinnacle of fine dining should make their way over to the Michelin-starred Adam's Restaurant on Waterloo Street. Offering the very best of British cuisine, this renowned eatery was awarded the 'Traveller's Choice' award for three consecutive years, and offers a sensationally modern ambience for foodies seeking a more upmarket experience.
The Spotted Dog
One of Birmingham's most popular pubs, this is the spot to head to if you're looking for some live music to accompany a traditional English dinner and a pint of their finest. From jazz performances to live blues and Irish-folk bands, there's always something to look forward to at The Spotted Dog.
Green Space
Take pleasure in the beautiful fresh air and spacious green outdoors Birmingham has to offer. The city has more than 571 parks and 14 miles of public open space, surpassing any other equivalently sized city in all of Europe. What's more, Birmingham has more miles of canal than Venice, so there's are plenty of opportunities to enjoy activities such as boat rides, water sports, fishing or simply just taking a waterside stroll.
Cannon Hill Park
Cannon Hill Park is an expansive park with five tennis courts, a bowling green, a mini-golf course, a boating lake and extensive walking paths, making for the perfect day out with the family or a leisurely walk out in the fresh air.
Birmingham's Botanical Gardens
Deemed one of Birmingham's best attractions, Birmingham's Botanical Gardens offers something for everyone with more than 15 acres of luscious gardens, playgrounds and glasshouses to explore.
Edgbaston Golf Club
Just a mile out from Central Birmingham, the Edgbaston Golf Club is described as one of the 'best private member golf clubs in the Midlands' and boasts an 18-hole course permeating through vast manicured gardens, woodland and an ornamental lake. Whether you're a regular golfer or are looking for a new pastime, this one's a real favourite.
Tourist Attractions
Completely immerse yourself in all that Birmingham has to offer with its exciting attractions.
Cadbury World
Discover Cadbury World, also known as every kid's dream come true. Delve into the delicious world of chocolatey delights with so much to see and do. Visitors can see how their favourite treats are made and learn the fascinating history behind Britain's favourite chocolate, whilst getting their hands on some, of course!
National Sea Life Centre
Head to the National Sea Life Centre for some unforgettable sights from under the sea; from sharks to penguins, giant sea turtles and rainforest creatures, the kids are bound to enjoy a trip to this much-loved tourist destination.
Utilita Arena Birmingham
One of Birmingham's biggest and best concert and sporting venues, the Utilita Arena Birmingham is a focal attraction, with visitors flocking from all over the country to see their favourite musician take to its magnificent stage. With tours, theatrical shows, comedy gigs and sports matches taking place all year, there's always something going on to look forward to.
O2 Academy
At the heart of Birmingham's nightlife scene, the O2 Academy is known for having the biggest music gigs and club nights; featuring established musicians, newbie artists and unrivalled DJs. For Indie and alternative fans, the O2 Institute stages live gigs within one of the city's most treasured historic buildings.
Fun Facts about Birmingham
'Lord of the Rings' author, J. R. R. Tolkein, spent much of his childhood in Sarehole, Birmingham, which is said to have been the model for the fictional home of the hobbits, the 'Shire'.
Famous native Brummies include Black Sabbath's Ozzy Osbourne, Duran Duran's Stephen Duffy, British actor Adrian Lester and professional advisor to Lord Alan Sugar on The Apprentice, Karren Brady.
Education
Birmingham is home to three universities, as well as more than 450 schools and colleges, making it the educational hub of the Midlands. The University of Birmingham is a world top 100 university and part of the elite Russell Group, whilst Aston University is the UK's leading university for business and industry.
Local Authority
Transport
By Road
Birmingham is excellently located for motorway travel with the M5, M6, M40 and M42 interconnecting in and around the city. Driving to London takes roughly two hours, whilst Coventry is just a 30 minute drive away. Leicester and Nottingham are also accessible by car in under an hour.
By Rail
Rail stations in Central Birmingham include Five Ways, Snow Hill, Moor Street and the newly renovated Birmingham New Street. Destinations accessible from New Street include Edinburgh, Stansted Airport, London Euston and Plymouth, providing extensive cross-country travel.
By Tram
The Midland Metro tram system serves as Birmingham's underground line. The tram system runs from Snow Hill north-west to Wolverhampton with multiple stops connecting with the National Rail service.
By Air
For those looking to take advantage of the air travel, Birmingham International Airport serves guests both domestically and internationally to destinations across Europe, the Middle East, the Indian subcontinent, North America and the Caribbean.
Edited: 31st October 2023