Birmingham: One of the UK's Greenest Cities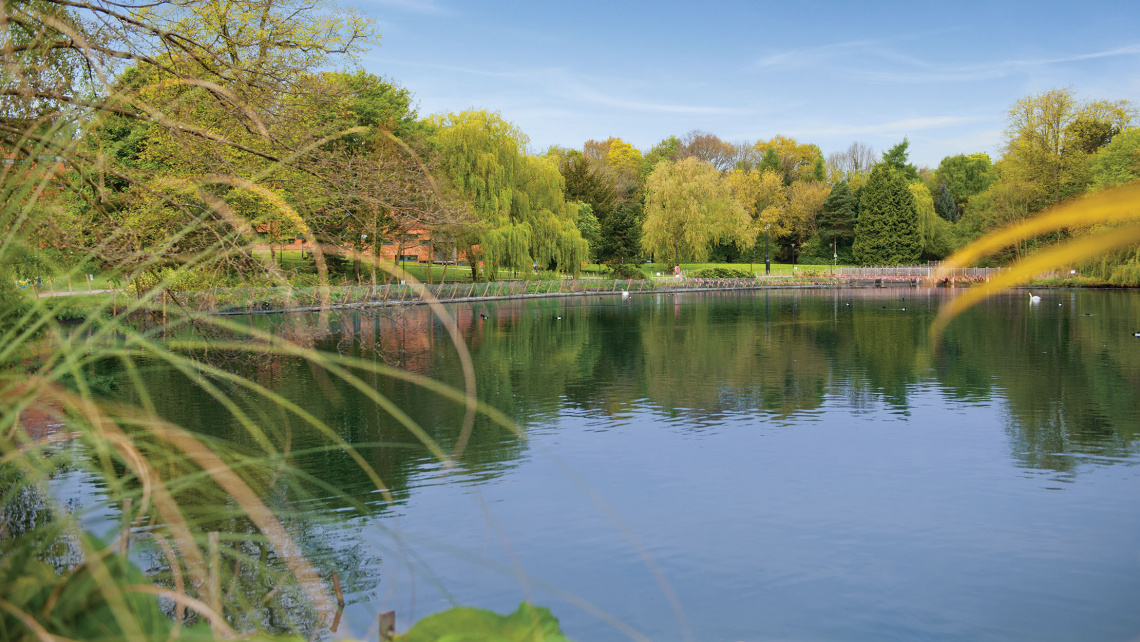 Birmingham, often referred to as the UK's second capital, is a part of the country that is renowned for its industry, infrastructure and bustling metropolitan areas, but what many people are unaware of is its green and biophilic reputation.
Birmingham boasts over 8,000 acres of green space and features 571 parks - 15 of which have been awarded Green Flag status. Around 25% of the dynamic city is green space according to Esri UK's analysis of Landsat 8 satellite images, making it the UK's fourth greenest city.
Research from BBC suggests that living in an urban area that possesses plenty of green space has "a long-lasting positive impact on people's mental well-being". As well as this, there are a plethora of physical health benefits in living in an area surrounded by nature; over 80 of Birmingham's parks and green spaces host free outdoor activities as part of the Active Wellbeing Society programme.
Birmingham's Green Spaces
From city and country parks to botanical gardens and golf courses, Birmingham is home to a diverse range of places to enjoy nature:
East Side City Park
Located on the edge of Millenium Point, this 6.75 acre urban park provides the perfect space to enjoy fresh air in the centre of the city. Along with a 190m long canal water feature and 21 jet fountains, this city park is also home to the Birmingham Science Garden - a popular outdoor space created by Thinktank Birmingham dedicated to learning. Here children and adults can engage with over 30 interactive exhibitions based on engineering, mechanics and transportation. In the winter, the West Midlands' largest ice rink - Ice Skate Birmingham - is located in this park. All in all, this is a wonderful place for people of any age to take part in a fun activity, learn something new or simply relax and enjoy where nature meets the urban landscape.
Cannon Hill
Proclaiming itself as "Birmingham's most beautiful green space" Cannon Hill provides an array of entertainment options and space for activities, making this park suitable for an enjoyable family day out. From the fun park (which is kitted out with games and rides designed for young children) to Golden Putter mini golf, there is something for everyone. If you prefer more laid-back activities, why not take a relaxing ride in a swan pedalo on the boating lake, or perhaps partake in a spot of fishing? There are also tennis courts and planned walking routes for those who are more active. In addition, Cannon Hill is home to MAC Birmingham - a dynamic arts venue featuring shows, galleries, exhibitions and workshops throughout the year. What's more, these attractions can be reached on the Land Train whose route circles the park.
Birmingham Wildlife Conservation Park can be found on the edge of Cannon Hill Park. Here, visitors have the chance to meet a variety of animals including lynx, monkeys, lizards and red pandas.
Edgbaston Reservoir
This local nature reserve, located to the west of Birmingham City Centre, is home to Edgbaston Reservoir; a large body of water that was extended by Scottish engineer Thomas Telford in 1827 in order to supply water to the city's canal system. Visitors of Edgbaston Reservoir can participate in a plethora of water sports such as sailing, rowing, canoeing and windsurfing. Along with extensive woodland and grassland, there is a 2.8km path route encircling the reservoir which proves to be popular for strolls or taking in the birdlife and wildlife.
The Birmingham Botanical Gardens
With four glasshouses to explore and beautiful gardens to promenade around, visitors of the Birmingham Botanical Gardens will never get bored.
The tropical rainforest glasshouse was built in 1852 to exhibit the Victoria Amazonica - a famous tropical water lily. Here, visitors can expect to be greeted with a warm, humid atmosphere. The second hottest glasshouse - and largest at 8m tall - is the subtropical house which exhibits cycads, ferns, orchids, carnivorous plants and a variety of tall plants. The subtropical house is also home to a unique hybrid tree called Dicksonia x Lathamii, so unique that it is the only one that exists on our planet! Meanwhile, the plant beds in the Mediterranean glasshouse are adorned with citrus varieties such as lemons and satsumas, and there are cacti and carrion flowers in the Arid glasshouse.
Woodgate Valley Country Park
Woodgate Valley Country Park spans 450 acres of countryside and presents visitors with three waymarked routes and an eight mile long walking path. With the Bourn Brook running through the park alongside a mixture of hedgerows, meadows and woodland, this is a spectacular spot for wildlife enthusiasts. The park also has a picnic area and a playground for young children, a café and a visitor centre.
Woodgate Valley Country Park is also home to an urban farm; here, rare breed sheep, Limousin cattle and Vietnamese pot-bellied pigs are just a few of the animals visitors can visit. Another popular attraction in this country park is Hole Farm Riding Centre, where children and adults can go trekking through the valley on ponies and horses.
Moonlit and Sunset Park
Moonlit and Sunset Park opened respectively in 2005 and 2006 as part of a local regeneration project in the southern district of Ladywood. This awarded space has a children's play area and an outdoor events space, as well as an attractive wildflower meadow. This is a nice place to relax and enjoy some fresh air in the centre of the city or take part in a fun activity hosted by the Active Wellbeing Society, such as Zumba.
Sheldon Country Park
Sheldon Country Park is located in the south east of the city, bordering Birmingham International Airport. Here, visitors have access to an airport viewing area at the north end of the runway where they can enjoy excellent close-up views of aircrafts arriving and departing. One of the main attractions at this 300 acre park is The Old Rectory Farm - a farm from the 17th century which is home to animals such as Jersey cattle, ponies and goats. Admission is free and this farm is open throughout the year. Additionally, there are numerous sporting areas and spaces for activity which include three marked football pitches, a five kilometre nature trail, a playground and an 18-hole golf course located adjacent to the park.
Sutton Park
Spanning 2,400 acres, Sutton Park is one of the largest urban parks in Europe. This green space is classed as a National Nature Reserve, a designated Site of Special Scientific Interest, a Scheduled Ancient Monument and a Site of Importance for Nature Conservation. The park's terrain comprises heathland, woodland, wetlands and marshes where cattle and wild ponies graze, while there are also seven lakes to be enjoyed.
Since the Neolithic age, Sutton Park has been a popular location for fishing. The park allows for plenty to do; from sailing and kayaking to cycling and horse-riding. There are children's playgrounds and a model aeroplane flying area (for members of the Sutton Park Model Aero Club), a visitor's centre, a donkey sanctuary and an 18-hole golf course situated on the banks of Powell's Pool. In addition, a handful of restaurants and eateries are scattered around the park, including Miller and Carter steakhouse, The Boathouse brasserie and Blackroot Bistro café.
Edited: 30th September 2021