Birmingham Market Insight 2021 by David Spittles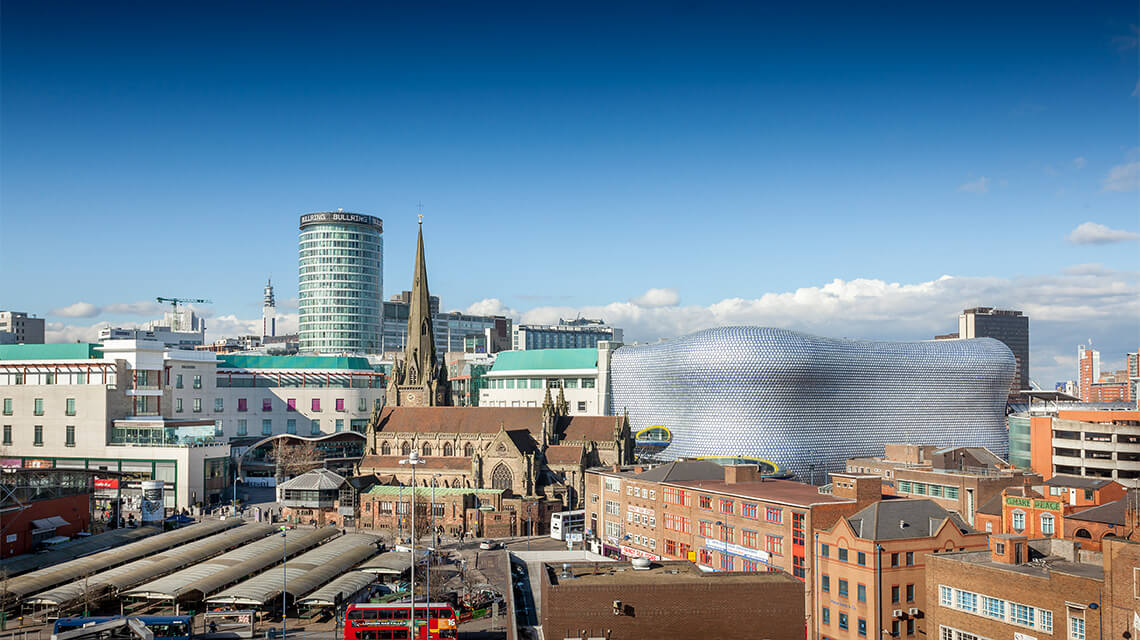 Vroom Vroom, Brum Brum
In keeping with its famous car and motorbike manufacturing heritage, Birmingham is driving ahead.
The West Midlands city has become an engine of UK growth, propelled by the government's plan for a revitalised north, whose emblem is HS2, the new £106bn high speed rail link that will slash journey times to central London to 45 minutes.
HS2 is the icing on the cake for buoyant Birmingham, which is on the rise after decades of industrial decline. Ambitious regeneration - the biggest transformation since the 1960s - has expanded the city's central metropolitan area, encouraged record investment and corporate relocations.
HSBC has moved its UK headquarters to Birmingham; professional services firm PwC has bagged a new tower block on the site of the former Brutalist central library. HMRC is setting up shop there too, alongside KPMG, Deutsche Bank and BBC Three. Knight Frank reports that the tech sector is booming, while Birmingham has moved from 27th to 18th in the league table of European investment hotspots.
Already the wider West Midlands region is home to more than 10m people and 800,000 businesses. Eight enterprise zones have been created since 2012 and its economy is worth £220 billion. Wage levels have risen faster than in any other UK region.
Andy Street, Birmingham's popular mayor, says one of the most telling trends is the flow of people from London.
Prior to 2019, more people left the West Midlands for the bright lights of the capital, but that trend has reversed as Londoners, especially millennials, aged 25 to 34, vote with their feet.
HS2 is certain to accelerate this population flow. Phase one between London and Birmingham is well underway, with 240 sites active along the route. The project employs more than 13,000 people, including 400 apprenticeships and tens of thousands more jobs through the supply chain. Passenger services are expected to start in 2026, with six high-speed services per hour.
Phase two from Birmingham to Crewe has been given the parliamentary green light, with connections to Manchester and Leeds coming later.
Birmingham is getting not one but two new HS2 stations that will connect London in 38/47 minutes. Journey times to Heathrow will be cut to one hour, quicker than from many London locations.
There's a local transport boost as well, with a £1.3bn Metro expansion and 50 more trams by 2026.
While employment growth is underpinning housing demand, the Millennial exodus from London is fuelling rental growth. Birmingham's vibrant university student market is another draw for yield-driven buy-to-let landlords.
Property prices jumped 4.3pc last year, despite the pandemic, according to data analyst Hometrack. Yet prices are still markedly less than London, with promising growth for the medium and long term. Indeed, according to property consultant JLL, Birmingham will enjoy the strongest house price growth over the next five years, mainly due to a housing shortfall. More than 51,000 new homes are required by 2031, says the city council.
As new pockets of the city are opened up and the veil lifted on others, the pace of regeneration is a surprise to even born-and-bred Brummies. But there is no mistaking the city's new confidence and swagger.
Next year, the international spotlight will fall on Birmingham when it hosts the 2022 Commonwealth Games, which is likely to increase the flow of foreign investment.
Galliard is a Birmingham trailblazer, bringing designer homes with hotel-style amenities at much lower prices.
Timber Yard, with 379 apartments around a central landscaped garden in one of the city's liveliest districts, launched in late 2018.
Boasting swish apartments with floor-to-ceiling glazing reflecting the site's past as a timber yard and joinery factory, the development has been an unqualified success, with 80pc of the homes sold off-plan. Galliard's customary package of lifestyle extras for residents includes concierge, gym club lounge and screening room. Prices start at £210,000, with completion due later this year.
Several other central sites have been acquired by Galliard.
Coming soon is Soho Wharf, a new canalside address with an upgraded public realm and waterfront. The site looms over Birmingham's impressive Main Line Canal, and is strategically located between the exclusive inner suburb of Edgbaston and Birmingham's historic Jewellery Quarter, where another Galliard development, St Paul's Quarter, is set to rise.
Described by English Heritage as "a national treasure", Jewellery Quarter boasts Europe's most extensive collection of 19th- and 20th-century buildings devoted to the manufacture of jewellery and small metal goods.
Now a conservation area, it still has the world's largest assay office and hundreds of jewellery-related businesses. But local manufacturing has waned and city planners have succeeded in revitalising the enclave as an authentic urban village with splendid St Paul's Church and St Paul's Square, an ancient gem that is Birmingham's only surviving Georgian square, at its heart.
Consisting mainly of warehouses, factories and terraces divided into small workshops, the streetscape has remained largely unchanged since the industry's heyday, with an intimate scale that appeals to new-generation tech and design companies and many of Birmingham's architects.
So it is not only Peaky Blinders, the hit BBC drama series, that is helping to raise Birmingham's profile and cachet. Britain's "second city" is giving London a run for its money.
Edited: 15th November 2022