Regeneration to See Birmingham Rival London by 2026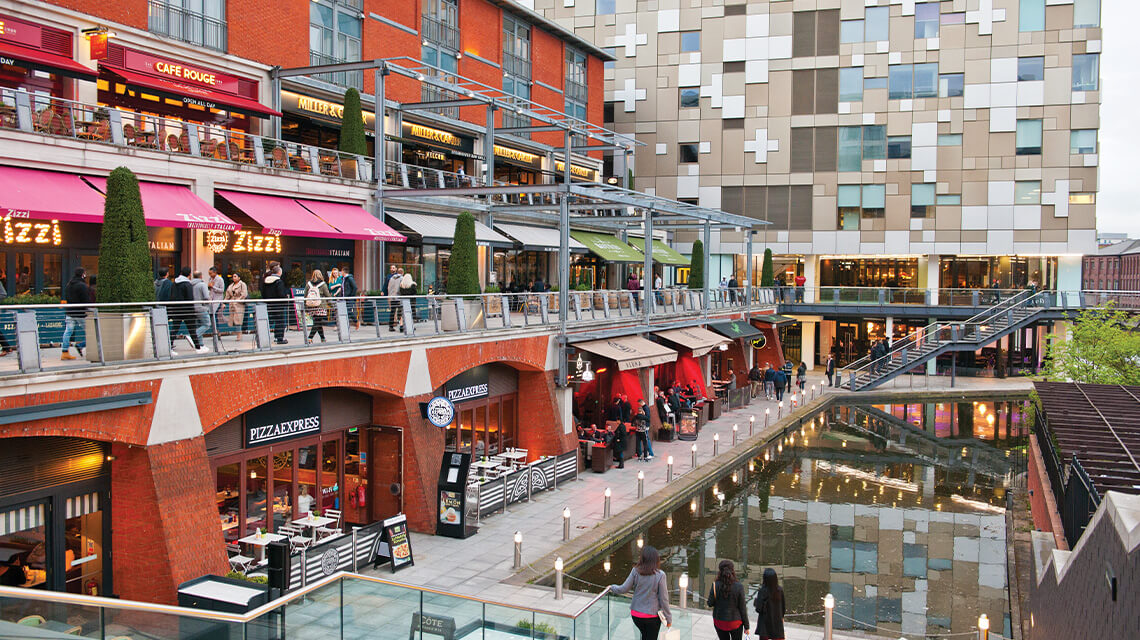 Europe's youngest city has seen impressive redevelopment in recent years, cementing Birmingham's status as a cultural hub, business centre and investment hotspot. The next 10 years show even greater promise for this world-class city with the creation of brand new public realms, commercial space, residential quarters and, of course, the anticipated high-speed railway network, HS2.
With more foreign investment schemes than any other English city in the region, Birmingham is a throbbing economic centre on the rise and certainly the number one destination right now for investing outside of London.
According to the 2017 Crane Survey, Birmingham is seeing the highest level of development for 15 years, with a huge focus on creating office, retail, leisure and residential areas in major city hubs including Digbeth, Jewellery Quarter and Edgbaston. In 2016, around 1.45m sq. ft. of office space was under construction, compared to 969,000 sq. ft. back in 2015, whilst residential schemes have seen a ten-fold increase.
Partner at Deloitte Real Estate, Edwin Bray, confidently posed: "Developer confidence is reinforced by the growth in financial services business choosing to headquarter here," as well as activity stimulated by the excitement for a new high-speed railway.
No doubt these regenerative plans tie in well with the city's ever-increasing population. In total, the West Midlands houses roughly 5.6m residents, making it one of the biggest and most densely populated counties in the UK, losing out only to Greater London and coming in ahead of Greater Manchester.
The Midlands' Focal Financial Centre
One of the world's biggest banks, HSBC, is relocating out of the UK capital to Birmingham in what's considered the 'biggest inward investment deal for a generation'. By 2018, HSBC's new headquarters will sit in one of Birmingham's largest mixed-use schemes, Arena Central. The new 'Paradise' development in Birmingham City Centre is also set to welcome a prestigious financial services company, PwC, to the neighbourhood by 2018.
It is thought that this move represents a transgression from London in both power and possibility, with more investors and financiers seeking out the UK's next enterprise zone. Greater Birmingham currently is the UK's leading centre for financial services outside of London, with this sector alone contributing approximately £15bn each year to the local economy; however, what we're starting to see is a move away from the desire to have both a London and a Birmingham office, towards a central headquarters in what's now the Midlands' focal financial centre.
A £900m Renewal for HS2 at Curzon Street
Curzon Street station is at the centre of one of the largest regeneration projects in Britain, whereby the Grade I listed building will be rejuvenated to house the new HS2 station. From here commuters will be able to reach London in just 49 minutes in 2026 when the line fully opens, compared to the current journey time of one hour and 21 minutes.
Birmingham City Council's director of planning and regeneration, Waheed Nazir, stated: "The former Curzon Street station building is one of the oldest railway terminus buildings in the world and a monumental piece of architecture. Sitting in the heart of Birmingham Eastside, which will be home to HS2, this building symbolises an exciting future, as well as celebrating the city's important rail heritage."
A Regeneration Domino-Effect
The transformation of Curzon Street will also incorporate the expansion of the Midland Metro network, whilst aesthetic facelifts are trickling into the surrounding areas in anticipation of the high-speed railway, creating a city-wide domino-effect. It is also expected than in line with the revolutionary network, by 2026 we could also see Birmingham Airport become more of an international gateway. The airport currently sits at number seven on the list of the UK's busiest airports, but the next 10 years could see it being bumped up the list as more destinations are added and the success of HS2 flourishes.
If that wasn't enough, Birmingham joined the bid to host the 2026 British Commonwealth Games last year, which if won, would drive further regeneration, investment and growth to the area; similar to the transformational effect it had on Stratford during the 2012 Olympic Games.
The Melrose Apartments at Park Central
Park Central, the largest urban renewal scheme of anywhere in the UK outside of London. This award-winning project totals more than 61 acres and is set to comprise 1,300 homes skirting around eight acres of landscaped parkland, creating an outstanding new residential village in the heart of Birmingham.
The Melrose Apartments at Park Central present a range of 41 contemporary one, two and three bedroom apartments, just a 15 minute walk from the city centre and Birmingham New Street station.
Park Central is now sold out. For more information, please visit the development page or use our property search tool to find other available properties. Alternatively, call us on 020 3409 2270 to speak with our team.
Edited: 31st October 2023