Living in Bloomsbury, London W1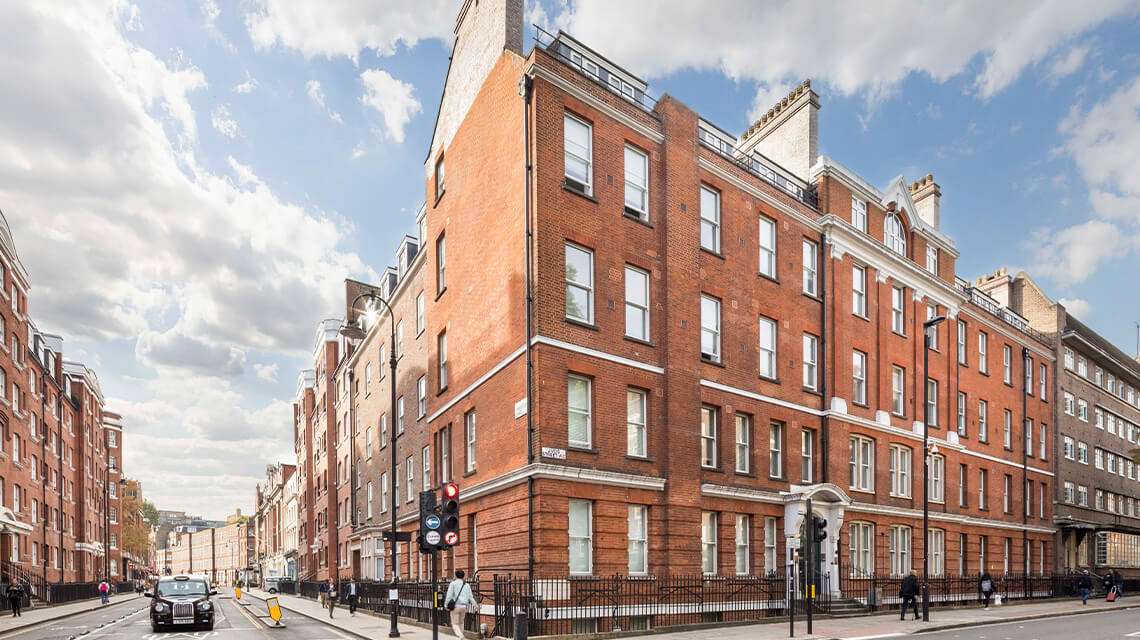 Boasting an array of garden parks and world-renowned educational establishments, Bloomsbury's reputation precedes itself as one of London's most fashionable residential areas, with culture, history and artistry radiating from every street corner.
Property
Completed in 2012, Albany House features a fantastic collection of bespoke studio apartments in Bloomsbury's prime Zone 1 location, within walking distance of the City and the opulent West End.
Built to a high specification to optimise the luxury and comfort of contemporary living, residents can enjoy the premium quality interiors and furnishings of this fully-refurbished Edwardian building, plus access to an on-site gymnasium.
To find out about Galliard Homes' prestigious past development, Albany House, please click here to view the development on our website.
History
Based in the London Borough of Camden and home to some of London's finest parks and buildings, Bloomsbury is a Prime location of sophistication and luxury indulgence.
Famed for its magnificent garden squares, Bloomsbury was one of London's most fashionable and desirable residential areas in the 17th and 18th centuries. Some of the world's greatest thinkers and influencers resided here, including evolutionary theorist Charles Darwin, novelists Charles Dickens and Virginia Woolf, and poet William Butler Yeats. Today, Bloomsbury's reputation exceeds itself as London's nucleus for cultural, educational and healthcare institutions such as Great Ormond Street Hospital, the British Museum and the Royal Academy of Dramatic Art to name but a few.
The earliest record of Bloomsbury dates back to 1086 in the Domesday Book, where the area was described as overflowing with vineyards and woods. However, it took over a hundred years until the name Bloomsbury established itself when Norman landowner, William de Blemond, attained ownership of the area. Thus, Bloomsbury's name derived from 'Blemondisberi' or the 'Manor of Blemond'.
Over the centuries, the area was acquired by numerous stately and regal landowners, including King Henry VIII and the Earl of Southampton, who constructed what was to later become Bloomsbury Square. Today, Bloomsbury Square is the oldest square in London and is visited by local residents and tourists alike.
Places of Interest
Historical and Cultural
Immerse yourself in Bloomsbury's plethora of historical attractions, including the leading visitor attraction in the UK, the British Museum, the world-famous British Library and St Pancras Church - the most expensive church constructed since St Paul's Cathedral was rebuilt after the Great Fire of London.
Take a step back to the Victorian era at the Charles Dickens Museum and explore the author's own original artefacts and manuscripts - a must-see for any literary lover.
Head to the Bloomsbury Theatre, owned by University College London, for your favourite stage productions performed by students and professionals, or take a trip to the Dominion Theatre for an unforgettable West End experience.
Art enthusiasts can immerse themselves in Bloomsbury's annual fairs, such as The Other Art Fair, known for shining a light on London's fresh artistic talent. Another favourite is the Bloomsbury Festival, a creative feast of music, performance, art and heritage events, attracting over 50,000 people each year.
Shopping
Bloomsbury's Brunswick Shopping Centre, a Grade II listed residential and shopping centre, offers a variety of high street retailers, cafes and restaurants, plus the Renoir Cinema, one of London's leading art house cinemas offers a treasure trove of independent and international films for local movie buffs.
Regarded as one of London's 'top five little shopping streets', Lamb's Conduit Street in Bloomsbury is full of modern handmade craft shops, home interior designers and bespoke tailors - a hidden gem for the creative and those with a soft spot for the original and unique.
The dream retail experience available at the renowned Oxford Street boasts stores such as Selfridges, voted best department store in the world, and countless designer outlets to suit every taste. If that wasn't enough, nearby Regent Street offers more than 75 leading international stores, giving shoppers an unlimited amount of choice and access to the very best London has to offer.
Food and Drink
Due to the history of the area, whether you're sipping merlot outside a chic West End bar or enjoying a sumptuous meal at a Michelin star restaurant, you'll have endless opportunities to soak up Bloomsbury's charm and character with its authentic architecture lining the streets. Bloomsbury offers the perfect idyllic backdrop for a truly memorable dining experience.
Fitzrovia's Charlotte Street is just minutes away and features a delectable selection of high-end bars, restaurants and gastro-eateries. For a mouth-watering Michelin-star experience, indulge in the exceptional French cuisine available at Pied a Terre, or head to Pescatori for a delicious Italian take on some of your favourite seafood dishes.
Ale lovers will no doubt frequent The Lamb, a traditional 19th century pub on Lambs Conduit Street, whilst wine connoisseurs will head to The Lady Ottoline on Northington Street for its extensive choice of over 100 world wines.
Green Space
One of Bloomsbury's greatest features is its vast amount of green space, boasting no less than nine parks, each with its own character and history such as Russell Square - the largest square in London - and, of course, the area's namesake Bloomsbury Square.
Head north and you'll find Regent's Park, covering 410 acres with breathtaking rose gardens and carefully manicured pastures for an impressive regal experience.
Education
Bloomsbury is an educational powerhouse, hosting some of the most sough-after institutions such as University College London, Birkbeck, the London School of Hygiene and Tropical Medicine, The Institute of Education and the London School of Economics.
The Royal Academy of Dramatic Art, also in the heart of Bloomsbury, is a world-class performing arts institution with notable alumni such as Game of Thrones star Sean Bean, 'the Doctor' David Tennant and national treasure Joan Collins.
The Senate House Library, formerly known as the University of London Library, is famed for its imposing architecture as well as its educational significance, and has been a popular venue in recent times for films such as Nineteen Eighty-Four, Batman Begins and The Dark Knight Rises.
Whilst over 12 publishing houses declined to give the wizarding world a look-in, it was Bloomsbury Publishing house that saw the potential of J.K Rowling's Harry Potter series, which later become the most profitable book deal ever, with Rowling becoming the first author in the world to achieve a net worth of billion.
Getting There
Rail
Euston, King's Cross and St. Pancras are the closest mainline stations accessible by foot and provide high-speed services to destinations across the UK and beyond.
Underground
The nearest underground stations are Russell Square, Holborn, Tottenham Court Road, and Goodge Street.
Tottenham Court Road station is currently undergoing a £1 billion transformation, the biggest transport investment in the West End in recent times. After the implementation of Crossrail, journey times from this station are expected to nearly halve:
London Liverpool Street 5 minutes
Canary Wharf 12 minutes
Stratford 13 minutes
Heathrow 28 minutes
Nearby Developments
Bordering Bloomsbury's majestic gardens is the prestigious residential district of Fitzrovia, home to Galliard Homes' distinct collection of 18 luxurious apartments available at Hanway Gardens.
Designed to incorporate classic architecture with a modern twist, Hanway Gardens will offer an exclusive range of one, two and three bedroom homes in one of London's most fashionable hotspots.
Part of Galliard's platinum collection, Hanway Gardens will be an urban oasis of peace and sublimity within the buzz of the West End.
Hanway Gardens is a residential project undertaken by Frogmore, marketed by Galliard Homes.
To find out more about Hanway Gardens, please click here to visit our dedicated microsite.
Galliard Homes' highly anticipated collection of 44 luxury apartments in London's illustrious Marylebone will offer an elite standard of living and promises to be a lucrative investment opportunity for those looking for five-star indulgence in one of London's most opulent postcodes, W1.
Neighbouring the esteemed cultural districts of Bloomsbury and Fitzrovia, The Chilterns will feature interior specifications built to the highest standards, with designs from award-winning Rabih Hage. Residents will also enjoy access to an on-site spa and fitness centre, plus a private cinema room.
Find out more about The Chilterns here.
Edited: 12th December 2022