Shoreditch: The New Prime London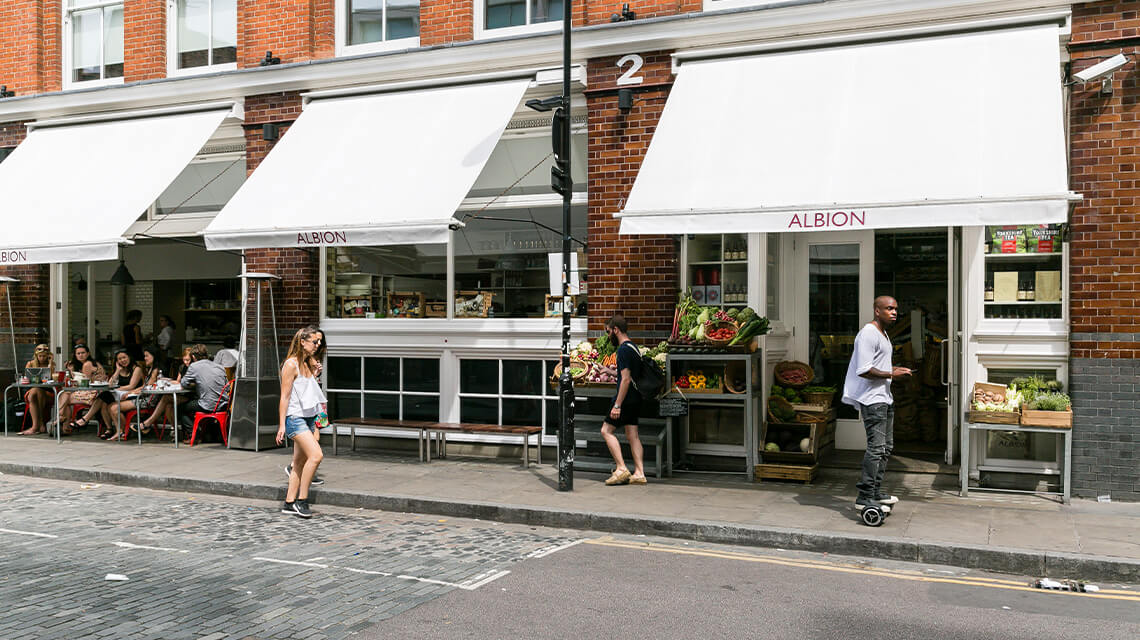 London's Prime Location has long been an ideal and utilised area to develop luxury living, given those active in the business world the opportunity to work, live and play within the same realms. This luxurious location has long been enviable and understandably, extremely valuable to anyone desiring to live lavishly.
Shoreditch: The New Kid on the Block
While Prime London property traditionally referred to estates within the City of Westminster and the Royal Borough of Kensington and Chelsea, there is a new Prime location making way, grabbing homeowners and investors' attention: Shoreditch. The now vibrant and colourful Shoreditch owes much of its rebirth to the influx of various aspiring and successful trendy artists and designers of all sorts and trades.
Situated in the historic East End of London and contemporary Central London, within the London Borough of Hackney, Shoreditch sits directly north of the City of London. Perfect for those leading a fast-paced lifestyle and desiring a short commute to and from the business sectors of the City of London, Shoreditch does not disappoint. Those residing in Shoreditch are within walking distance of such corporate streets as Liverpool Street and Moorgate, truly giving those who live in Shoreditch the luxury of no hassle commuting. For those looking to go further than Liverpool Street, Shoreditch High Street station connects to the London Overground and offers service to London Bridge, the fourth busiest station in London.
Attractive to young professionals, Shoreditch is a trendy hub where many affluent homeowners and investors are choosing to spend their money. Over the past 20 years, developers have regenerated the area from a formerly rundown community to one of London's most fashionable and sought-after neighbourhoods. Shoreditch has quickly transformed into an urban melting pot, both leading the way and setting the pace.
Exclusive yet Convenient Living in Shoreditch
This regeneration of Shoreditch has invited and drawn in an array of individuals, corporations, and shops. Beginning with an edgy art appeal and lively nightlife and entertainment, Shoreditch has seen the redevelopment of warehouses, converted to luxurious, swanky apartments, as well as the creation of brand new homes for the new generation of business people. The Stage is an exciting new development located in the centre of Shoreditch, situated within a short walk from the urban cuisine and lavish nightlife that Shoreditch has to offer. The development will offer a ritzy and refined opportunity that will set a precedence for anyone looking for the indulgent lifestyle of exclusivity.
Read more about Galliard's brand new East London residential and cultural landmark, The Stage.
Urban Cool: The New Must Have of any London Homeowner, Investor, and Business Operative
Along with plush, upscale apartments and extravagant nightlife, there is growing room and occupancy for companies leaving the likes of such locations as the City of Westminster and Chelsea for the opportunist streets of Shoreditch.
The Eats and Treats of Shoreditch - Pioneering the Way
Hotspots such as Boxpark, Old Spitalfields Market, The Brick Lane Beigel and Hoxton Square are some of the cultural highlights Shoreditch is known for. Shoreditch's distinctive yet glamorous venues perfectly complement the modern and lavish apartments, office space and retail spots currently under development, making this an unmissable opportunity to invest and purchase in Shoreditch.
Shoreditch Surge over the Past Decade
Described as a once rundown corner of London, property in Shoreditch has seen an impressive hike in value since the 1990s. A two bedroom converted warehouse flat off of Shoreditch High Street, sold for £60,000 in 1998. Just 12 years later in 2014, this same flat sold for an astonishing £836,000. Shoreditch has the mainstream market to thank for this; attracted by the fashionable haven of artsy, carefree attitudes the appeal of the Shoreditch community has grown, having a knock-on effect on property values.
Old Street Roundabout Expected to Boost the Value of Shoreditch
Set between the edge of the London Borough of Hackney and the London Borough of Islington, Old Street Roundabout has gained massive attention in recent years for being home to the booming tech industry. Old Street Roundabout is often referred to as Silicon Roundabout, due to its eminence of many stationed British web-based companies. In fact, since 2011 the UK has taken the lead in Europe with technology investments, drawing in an astounding £28 billion (over £17 billion than its competitors). In 2018, the capital's tech sector attracted £1.8 billion, nearly double the amount of European rivals. With digital technology jobs in London expected to grow from 40,000 to 50,000 in the next decade, the Silicon Roundabout will soon become the suitable hub for growth and prosperity for the technology industry. There is no doubt that Old Street Roundabout will deliver tremendous commerce and value to the area of Shoreditch.
With London expansion heading east, London's economic and cultural soul is certainly moving outwards from the City to East London, and bringing with it a favourable and cultured following call our sales team on 020 3409 2270 to find out how you can make the most of this investment opportunity.
Edited: 5th September 2023