Virtual - The New Reality by David Spittles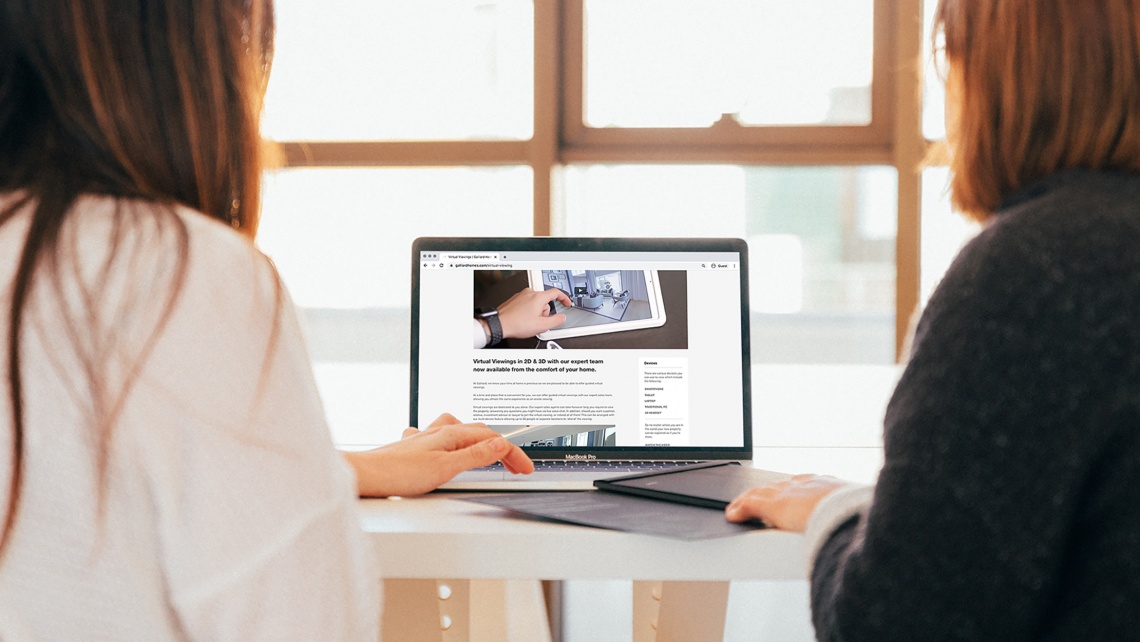 Covid-19 has kyboshed one of social media's favourite phrases. "Going viral" has a chilling new context, but nobody can dispute the liberating use of the internet as we strive to introduce a semblance of normality into our daily lives.
Online technology has become a sort of "virtual vaccine", allowing us to survive, carry on and even prosper during isolation.
And when the dust has settled after the coronavirus crisis, the "new normal" will be shaped by the embrace of the internet.
There is no going back. Lifestyle and employment trends that were evolving prior to the pandemic are likely to be turbo-charged - from internet shopping and Zoom calls to home-working and home gyms. All will be part of the lockdown legacy.
The property sector is in the forefront of this change. Virtual is the new reality. Virtual viewings, virtual valuations and virtual planning meetings are cementing already established business practices such as online conveyancing and online mortgage applications.
According to fintech company Twenty7Tec, property searches and loans are up more than 20pc compared to a fortnight ago as lenders and lawyers get to grips with the new situation.
"The data tells us that we are gently on the up again, and have been since Easter. Across the board, we are seeing higher search volumes, higher levels of documentation prepared and higher total levels of loans requested. Buy-to-Let is the highlight, representing around one fifth more of the total market than the long-term average."
For some time, tech-savyy overseas property investors have been using virtual viewing to make online, off-plan purchases. Sodichan, a Chinese property portal, recorded a 300pc increase in enquiries during the first six weeks of the lockdown in that country.
Now mainstream UK buyers are following suit, especially given the uncertainty around post-lockdown protocols for face-to-face property visits.
Agents and developers report a surge in virtual viewings - tens of thousands since the lockdown started. This is fuelling investment in 3-D imaging technology to make the process slicker and more user-friendly.
Potential buyers can navigate their way through a home, from the comfort of their own home, anywhere in the world, using a mobile phone, tablet or computer.
Galliard is partnering with technology firm Reevo 360 to offer virtual tours at a dozen London developments and discovering that buyers like the convenience of state-of-the-art interactive walk-throughs with 360-degree interior and exterior views.
You are sent a digital link, along with a unique access code, connecting your screen to that of a Galliard sales agent, who talks to you online, explains the property's features and benefits and answers any questions. Up to 50 other people - say, family members or professional advisers - can join in the virtual viewing at the same time.
FaceTime viewings are also popular, and expect more virtual tours being launched on Instagram and the use of drones to show properties in their true neighbourhood context.
Clearly buyers have to exercise due diligence, and responsible developers always encourage this.
Radical as virtual viewing appears, it is only the beginning of a technology revolution that will transform not just the way property is transacted but the way we live in our homes.
Get ready for the advanced digital home.
Alexa-type voice recognition technology is in its infancy, and we already have "smart home" systems and phone apps controlling heating, lighting, security, air filtration and an array of audio-visual creature comforts.
There is much more to come, what with the so-called "internet of things" connecting phones to fridges and all manner of stuff.
The boffins' dream of a connected world where all products talk to each other and everything becomes more efficient and seamless is closer than you think.
It's not so hard to imagine pushing a button in the bathroom when you are running low on toilet tissue and waking up the next day to an Amazon delivery. Or shouting at the fridge to order more milk.
Life More Automated, a report by King's College London university professor Mischa Dohler and futurologist Dr Ian Pearson shows that by 2040, 90pc of routine household chores will be automated - done by robots, "virtual butlers" and multi-function drones.
Of course there is a dark side to all of this - the dystopian danger of the "spy-in-the-home", with manufacturers harvesting our most intimate data.
And how many people really want door locks controlled by an app that a teenager can hack from his or her bedroom?
Click here to book your virtual viewing today.
Edited: 14th November 2022