Are Mixed-Use Developments the Future?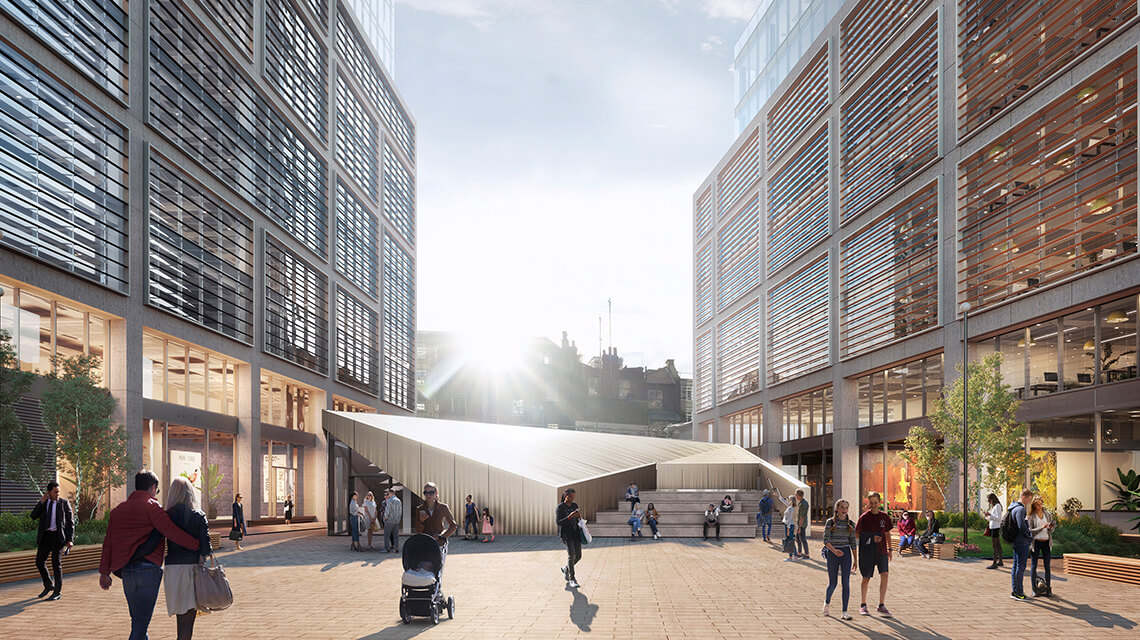 Galliard Homes has been building mixed-use schemes for a number of years and, as our way of life continues to adapt, it's likely that these multi-purpose community hubs are here to stay.
What Is a Mixed-Use Development?
Mixed-use developments are growing in popularity in both inner city and suburban locations. Typically comprising residential and commercial space, these types of schemes have become increasingly desirable as they create a space where people actually want to be. They also help provide a solution to the recent struggles of the retail sector; their 'doorstep' location for residents and local communities are ideal for those no longer wishing to travel into town centres for provisions.
The commercial aspect of a mixed-use development is usually located on the ground floor with the residential aspect being on upper levels. It will vary from development to development, but the commercial space can be host to anything from a convenience store to a supermarket, a restaurant to a bank.
What Are the Advantages of Living in a Mixed-Use Development?
Community Hub
Living at a mixed-use development is a very enriching way of life. Not only do these schemes provide convenience to local residents but they also help to provide a real sense of community. It's not always big name retailers occupying these spaces on the high-street either; local business owners such as grocers and restaurateurs can set-up shop in the heart of the community and build great relationships with their local customer base. Imagine being able to pop downstairs for a pint of milk or meet a neighbour for a coffee without worrying about having to drive to the nearest high street.
An All-Encompassing Living Experience
Without doubt, these schemes create a nicer living environment. Having local amenities in such close proximity to your home is certainly appealing to property purchasers, but they can also help to add value to your property. Modern day homebuyers are looking for all-encompassing living experiences - they want to be able to work, shop and play within walking or cycling distance of their home. The appeal of unique work spaces and the social aspect of 'café culture' will also attract millennials and young professionals to mixed-use schemes.
Local Regeneration
Mixed-use developments can also really aid the regeneration of a neighbourhood. Our retail habits are certainly evolving, and the increased footfall that comes with a brand-new residential development will boost the rebirth of previously worn-down communities and ultimately strengthen the local economy.
Galliard Mixed-Use Developments
Newham's Yard
Located on Tower Bridge Road in Bermondsey, Newham's Yard is a mixed-use development comprising luxury residential properties with a variety of commercial units on the ground floor to accommodate retailers, restaurants and offices. With a Planet Organic supermarket set to open in the near future, local residents will benefit from easy access to fresh and healthy foods whilst enjoying shopping for unpackaged groceries using their own containers to 'refill' their stock at home. An independently operated gymnasium is also anticipated to open on the ground floor of Newham's Yard, so residents won't have far to go for a work-out!
Newham's Yard aims to create a communal hub in the local area. The artisan culture of neighbouring Bermondsey Street will undoubtedly impact the type of businesses who choose to locate themselves on Tower Bridge Road.
Explore Newham's Yard.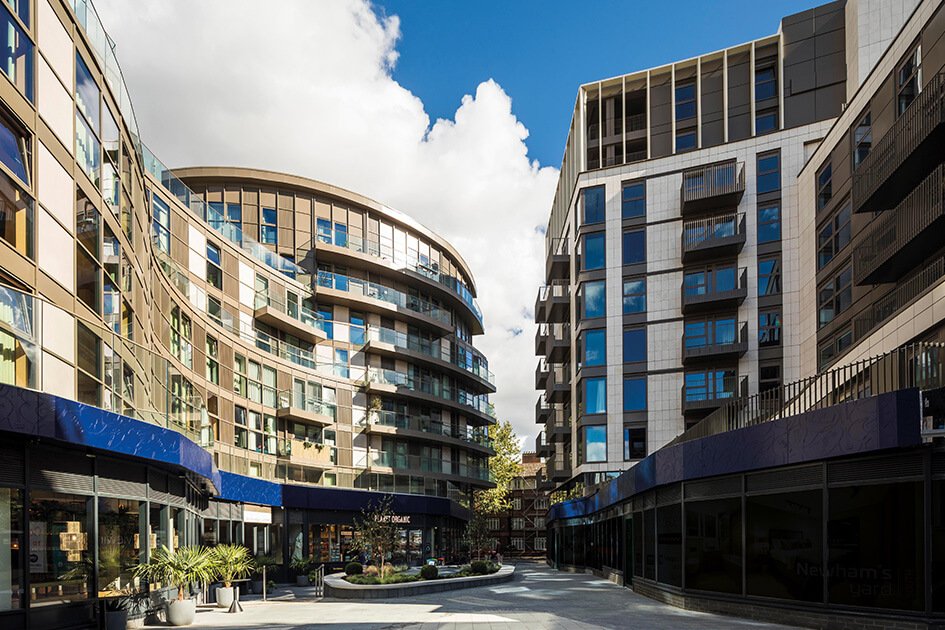 The Stage
The Stage is set to be a prime example of an all-encompassing mixed-use development. Centred around the remains of Shakespeare's Curtain Theatre, this exciting new scheme will comprise 60,000 sq. ft. of retail and leisure space. This will include 16 retail units, a 9,000 sq. ft. pavilion for both restaurant and leisure use that will include a spectacular roof terrace, as well as two buildings made up of 215,000 sq. ft. of office space named The Hewett and The Bard.
This vibrant new neighbourhood in Shoreditch will offer residents of The Stage a wealth of amenities within minutes of their luxurious home. The 2.3 acre site will boast a Victorian viaduct and a sunken Shakespearian visitor centre as a nod to the site's heritage.
Find out all you need to know about The Stage. Wickside
Set to be one of London's most exciting new canal-side quarters, Wickside will be a spectacular mixed-use community providing trendy new-build apartments, co-working spaces, creative commercial units, and studios. A food quarter, an art gallery and even a brewery are also expected to occupy Wickside once complete. This major regeneration landmark will span 8.4 acres of space incorporative of the site's historic legacy. Located adjacent to the Hertford Union Canal, residents of Wickside will enjoy the tranquillity of waterside living.
Having recently experienced vast regeneration thanks to its proximity to the 2012 London Olympics, Hackney Wick continues to thrive and remains a hot bed for entrepreneurialism, attracting creatives, musicians, performers and designers.
Explore Wickside.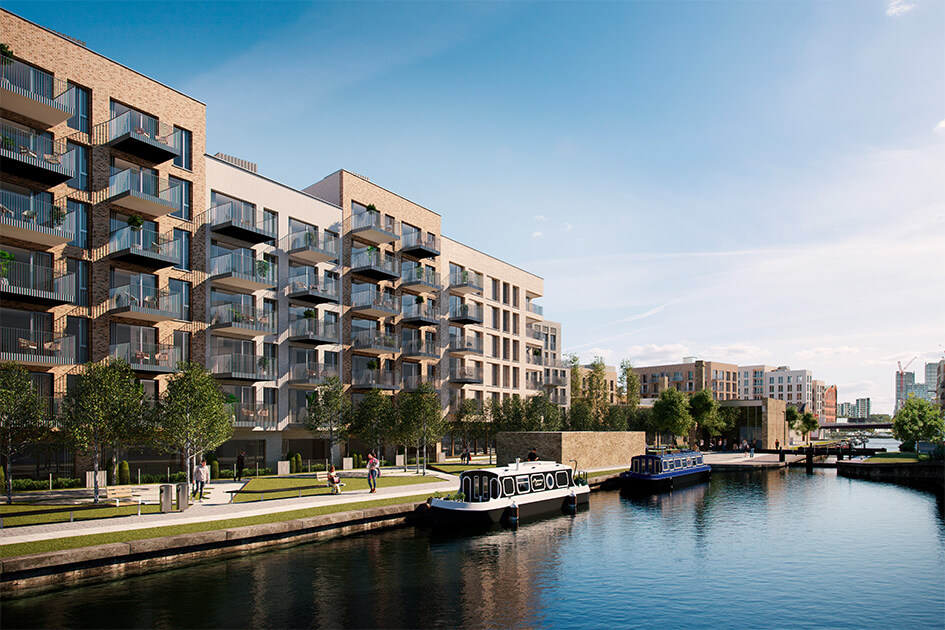 To find out more about available property in any of the above schemes, please use our property search tool or call our expert sales team on 020 3409 2270.
Edited: 29th August 2023