Bermondsey Street: A Foodie's Guide by Cari Thomas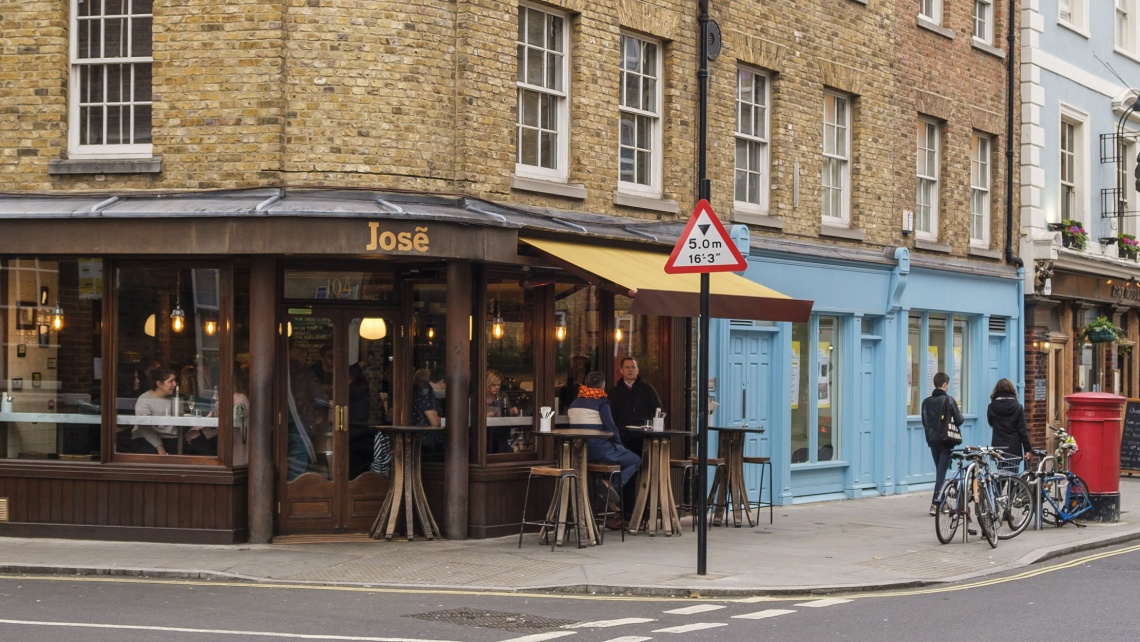 Voted last year as the city's best place to live, Bermondsey Street retains all the eclectic, congenial spirit of its past, but with more artisan coffee houses, craft beer pubs, converted warehouse galleries and swanky restaurants.
Here's where to eat, drink and chill on Bermondsey Street:
Where to Eat
British Small Plates at Donnelly's at The Bermondsey Bar and Kitchen
Having run some of London's leading kitchens, hot-to-trot chef James Donnelly has now taken up residency at the industrial-chic Bermondsey Bar and Kitchen. Passionate about championing seasonal, sustainable British produce, his home-grown tapas menu makes the most of our fair isle's offerings, from Isle of Wight padron peppers to Galloway aged steak and Cornish venison stew. With plenty of space and a short-but-sweet cocktail menu, it's a great place to gather with friends for dinner, brunch, their weekly steak night and wonky veg Sunday roast.
Spanish Tapas at José or Pizarro
José is as close as you'll come to a real Spanish tapas bar in London. Appropriately crowded, you might have to settle for standing room, but it's worth it to savour the tapas menu which is tweaked daily depending on what's fresh in the market. The prawn fritter with chilli and garlic alongside one of their signature Spanish sherries is a life-changing experience. If you're looking for the same level of quality but a more substantial meal size then head down the block to Pizarro. Opened by the same owner, José Pizarro, you can order your meal as tapas or a main.
All-Day-Dining at Tanner and Co
Tanner and Co is an all-day-dining restaurant that does it all: breakfast, bottomless brunch, lunch, dinner, roasts, bar cocktails and drinks, and events for up to 450 guests in their warehouse. The expansive space is inspired by an old-school gym with pommel-horse benches, climbing bars and a ping pong table. Ideal if you're looking to host a large gathering and want somewhere easy with a satisfying menu - sharing boards, burgers, hearty British mains and a lengthy cocktail list.
Date Night at Casse-Croûte
Casse-Croûte is as French as they come, as French as snails in garlic which is probably served on their limited, authentic, daily-changing menu - strictly written en Français, of course. Charming and rustic, you could have easily stumbled on a tiny restaurant in rural France. It takes no reservations so get there early to bag a sought-after spot for a romantic date.
Flour and Grape
Bermondsey Street's answer to London Bridge's Padella, Flour and Grape's relaxed and pleasingly-priced pasta joint keeps things simple: home-made pasta paired with Italian wines. Think fresh linguine smothered in ricotta, plump ravioli parcels, and fettuccine with slow-cooked beef ragu. It doesn't take bookings so just add your name to the waitlist and grab a drink while you prepare yourself for the carb sensation ahead.
Where to Drink
Beer Garden Drinks at The Woolpack
The Woolpack Young's pub is Bermondsey Street's local, down-to-earth watering hole. A big space with faded grandeur that has an easy vibe and a sizeable ivy-covered beer garden that's open all-year round. Head there for classic British fare or a Sunday roast, alongside their range of craft beers on tap.
Gin at 214 Bermondsey
You can head to 214 Bermondsey for your after-work G&T, but honestly, there's a lot more to it. With over 100 gins on offer plus their own-made 'Bermondsey tonic', the sleek basement bar is an entire gin experience. You can select from the lengthy cocktail list or order a gin flight - you'll be given three distinctive spirits mixed alongside an envelope revealing which is which. You might not be able to guess but after your third gin it won't really matter.
Draught Cocktails at The Hide Bar
Impressive, hyper-local cocktails are served on tap at The Hide Bar. With almost all of their ingredients distilled, brewed, fermented or produced in London, there's the likes of their Grapefruit Negroni with Portobello Road gin or a Nitro Espresso Martini with north-west London Bimber vodka. There's also 12 draught beer lines with a revolving selection of London beers.
Where to Chill
A Cosy Espresso at The Watchhouse
This coffee house was once the former hangout for 19th century guards looking out over the graveyard of the St Mary Magdalen Church at night, hence the name. If only they'd had single origin filter coffee and legendary in-house espresso to keep them fuelled. Today, you can sit with a drink and an artisan sandwich still enjoying the atmosphere of old, with traditional Victorian materials and finishings and a cosy fort iron fire roaring in winter.
Black Swan Yard Coffee
Hidden away at the top of Bermondsey Street, this sustainably-minded coffee shop stands alone with a hatch window where you can grab your coffee and go - or take a seat inside, it's part coffee hangout, part electric bike shop. Creating as little waste as possible they serve up exceptional espressos and single origin coffees, alongside very pretty desserts as displayed on their Instagram.
Nearby Property
Newham's Yard
Presenting a selection of deluxe studio, one, two and three bedroom apartments - the majority set to feature a private balcony and/or terrace - Newham's Yard is a brand new development positioned adjacent to Bermondsey Street.
Discover the apartments here.
Edited: 30th November 2023