Joint Ownership Explained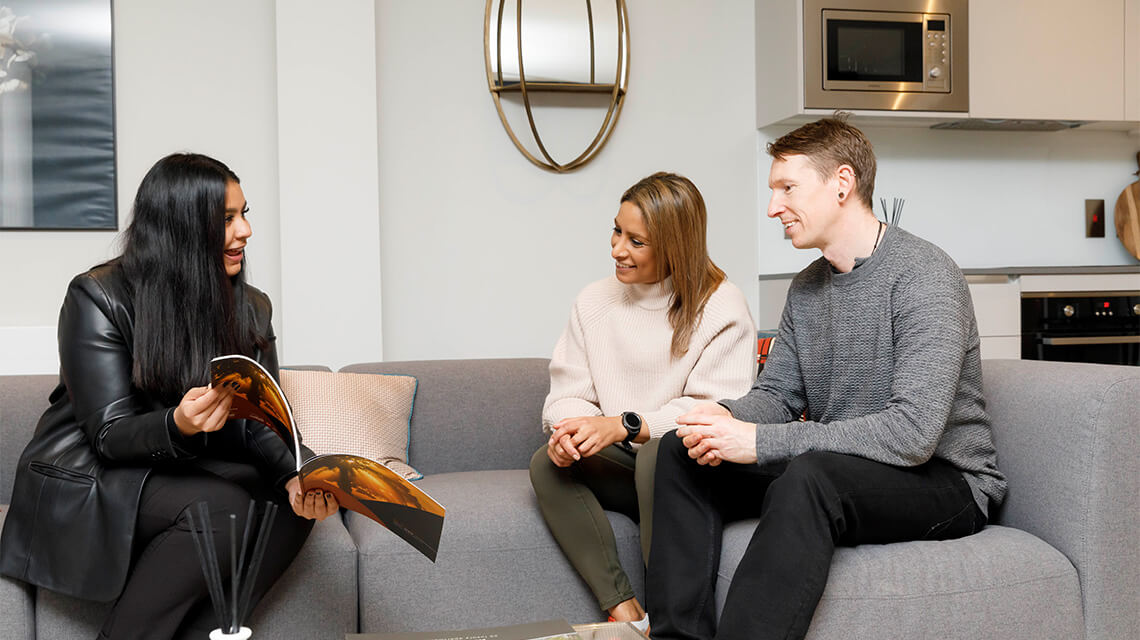 Owning a home is something that most of us will aspire to do in our lifetime. While it is an exciting milestone, getting there can be a daunting prospect for many, with hurdles to overcome like saving up enough for a deposit and getting a mortgage. Partnering up with a friend, partner or relative to purchase a property can make homeownership more accessible and affordable for many prospective homebuyers, especially those taking their first step on the property ladder.
We're here to bring some clarity to the questions commonly asked about joint ownership, but it is strongly recommended that those seeking personal advice on their individual circumstances should speak to a joint mortgage advisor or legal expert.
So, What Is 'Joint Ownership'?
It is possible to legally have more than one person's name on a property's deeds, whether it's the name of a partner, friend, parent, sibling, or business associate. It is most common for two people to buy together, however, up to four people can legally co-own a property in the UK.
There are two types of ownership you can choose from when buying together: 'joint tenants' or 'tenants in common'. With both types of contract, all owners of the property will have the same rights but the amount of equity the individuals have can differ, and each ownership type can have various implications depending on the buyers' situation; for example, the type of ownership affects what you can do with the property if your relationship with a joint owner breaks down, or if one owner dies.
Definition of Joint Tenants
Put simply, as joint tenants, each party will own an equal share of the property by default. This is most commonly used among married couples.
It's important to note that if one owner wishes to sell the property, they cannot without the other's consent. Owners are not allowed to pass on their ownership of the property in their will; if one of the owners dies, the property automatically goes to the surviving owner.
Read more about joint tenants here.
Definition of Tenants in Common
If you buy a property with another person and you are not married to each other, your ownership title will most likely be 'tenants in common' by default, but you will be given the choice during the conveyancing process.
As tenants in common, all parties can own different shares of the property.
If the owners are going their separate ways and one person wants to sell but the other does not, it is easier to do so with a tenants in common arrangement than joint tenants. Each parties' initial share is also protected. If one of the owners dies, their share of the property can be passed on in their will.
Read more about tenants in common here.
Changing the Ownership Type
It is important to make sure you opt for the right ownership type to suit your circumstance but rest assured that it can be changed should your situation change further down the line.
Severance
You may wish to change the type of ownership to tenants in common, for example, if you get divorced from the other owner. If you're changing the title from joint tenants to tenants in common, you won't require consent from the other proprietor, but you will need to send Land Registry a 'severance of joint tenancy' as well as register a 'Form A restriction'. This is free, and you can have a solicitor, conveyancer or legal executive apply on your behalf.
Become Joint Tenants
You can switch the ownership type from tenants in common to joint tenants for free, but all parties must provide written consent. You would perhaps want to do this if you get married and want to own equal shares of the property. A solicitor, conveyancer or legal executive can make the application on your behalf.
Transferring Ownership
If just one person owns the property and they wish to add another person as a joint owner, this can be done too but it requires a fee.
Why Do People Co-Own Property?
For many young people, buying together is becoming an increasingly popular way to get on the ladder, and it's easy to understand why — it's an attractive option for multiple reasons.
One of the greatest advantages of buying a property with another person is that you can get a larger mortgage together.
Owning a property comes with its fair share of financial commitments. Joint ownership can alleviate the stress and cut down some of the financial responsibilities that come with having your own property. There will always be costs to cover monthly, whether it's mortgage repayments, service charges, or general living expenses and maintenance costs. But when there is more than one owner, the financial and physical burdens of homeownership are shared.
For a real-life example of how successful joint ownership can be, watch our full interview with two friends who bought together at Wimbledon Grounds.
Things to Consider
While there are numerous benefits to buying together, there are certain things to consider and be aware of before making your decision.
First and foremost, it is vital that you are compatible when entering property ownership together. This applies whether you are married, friends, family members, or have recently been introduced. Buying a property with another person requires a lot of trust and a large level of commitment. You must be certain that the person you are buying with is someone you will be able to rely on for repayments, upkeep of the property and keeping to their part of the agreement. If one person cannot pay their share of the mortgage repayments or service charges, the other party will have to cover them.
For full advice on joint ownership, visit gov.uk.
Whether you are opting for joint ownership or would rather go it solo, buying a property is a big step, but you will never be alone when you buy with Galliard Homes — our sales team will be there every step of the way to guide you through the process, and when you finally complete, our completions and aftercare teams will help you settle into your new pad.
Start your property search today with Galliard.
Edited: 7th December 2022