The Premium Potential of London's Penthouses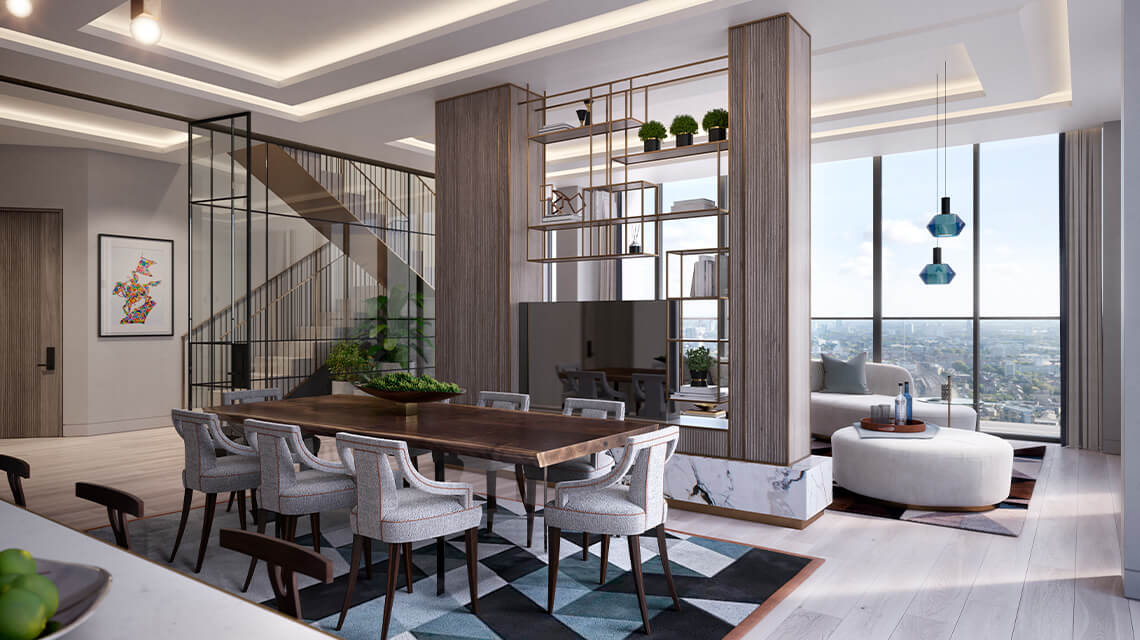 London penthouses truly are in a league of their own. Boasting five-star hotel-esque reception foyers, bespoke designs, incredible vista views and private terraces, these lavish properties proudly exhibit the 'wow' factor.
Then & Now
The birth of the 'penthouse' occurred in the roaring 1920s in New York when the economy and construction industry were booming, and urban residents were looking for a glitzy new alternative to define luxury living.
The expansive rooftop apartments were a complete hit; one of the earliest penthouses in New York City was owned by Conde Nast, publishers of Vogue magazine, and once the idea took off in the property market, celebrities and America's wealthy elite all wanted a slice of the 'Gatsby' lifestyle on offer.
Across the Atlantic, tower blocks were more often associated with housing the less wealthy, but as London's architectural infrastructure started to elevate with skyscrapers being looked upon as impressive high-risers for the rich instead of impoverished eyesores, penthouses became increasingly popular and regarded as a prospective buyer's dream purchase.
In the finest hotels, penthouses have always been eloquently designed to offer a taste of the champagne lifestyle, and property developers and estate agents worldwide have applied this prestige to promote these luxury residential units as trophy properties with great success.
According to CBRE Group, the world's leading commercial property and real estate advisers, the average price of a London penthouse now sits at an eye-watering £13.3 million, with Central London penthouses worth more than £1 billion combined. Penthouses can sell for a 60% premium over the rest of a development and account for over 20% of the Gross Development Value; this is great news for investors looking for a lucrative buy with insurmountable potential.
The Embodiment of Luxury
Residential towers are now regarded as the big players of the London property market, offering an unrivalled living experience centring on exclusivity, demonstrated by first-class facilities such as private gyms, spas and cinemas, combined with extensive rooftop space exquisitely framed by panoramic city views.
Whilst penthouses are a magnet for the world's wealthiest, just like anything highly coveted and desirable, they are scarce in number. Out of an approximate 5,500 residential units under construction in inner London, a mere 2% of these are classed as penthouses. Arguably, this is what is making them increasingly desirable; with some pushing £4,000 per square foot in Prime Central London, the penthouse is not your everyday residential purchase.
Grandiose Views
Whilst penthouses are famed for offering vast amounts of space, including open-plan living and entertainment areas, it is the views which fortify the penthouse's coveted reputation, making it a colossal buy on the property Richter scale.
London is a city rich with architectural heritage mingled amongst a plethora of striking contemporary buildings, but whether it is a period property or a modern showpiece, views have and will continue to be the focal selling point of these luxury units. The layout, size and design of an apartment can all be imitated; impressive vistas cannot be replaced. This goes hand in hand with the location; developers no doubt choose thriving urban expanses or enviable riverside locations to anchor these avant-garde apartments on the rooftops of highly sought-after residential towers. Indeed, most penthouses today are purposely-built original creations, however many top-floor flats are now being converted and marketed as penthouses, and it is the location that decides what has the potential to progress to penthouse standard or not.
The Future of Opulent Living
In today's London property market, it is impossible to find a penthouse in London for less than £1 million; they are the symbol of opulent living and have huge investment potential as their popularity continues to skyrocket.
According to recent figures released by Knight Frank, London has surpassed New York and Hong Kong in the global prime property league and is now the first choice for the world's wealthy. With London standing centre-stage, and penthouses taking permanent residence at the top of everyone's property wish list, it is expected that penthouses will continue to rise as the leading luxury property. In the words of Mark Collins, the Chairman of Residential for CBRE: "We anticipate that the penthouse market will continue to be a very exciting and elusive space going forward."
Property with Penthouses
Baltimore Tower
Boasting sweeping views of Canary Wharf, this outstanding development comprises two impressive triplex penthouse apartments set over floors 43-45. Residents of these plush penthouses enjoy over 4450 sq. ft. of lavish living space and breathtaking opulent design, which includes a grand island kitchen and piano lounge. Occupants of Baltimore Tower are subject to copious space from the two master suites with walk-in dressing areas, ensuring incomparable comfort and an enviable lifestyle.
To find out more about Baltimore Tower, please click here to view the development on the Galliard Homes website.
The Stage
Declared as East London's new and exclusive landmark, The Stage in Shoreditch will offer everything you could possibly dream of for the ultimate lavish lifestyle. The Stage will comprise four impeccable duplex penthouse apartments that will provide nothing but a five-star specification which will boast a remarkable design showcasing space, style and luxury, not to mention enviable views of the iconic City skyline. Residents of these penthouses will be able to indulge in an array of development features including a private cinema room and a sky lounge located on the 32nd floor. If a hotel-style living experience is what you are after, then look no further than a penthouse at The Stage.
To find out more about The Stage, visit our dedicated microsite.
Edited: 7th December 2022