Living in Chelmsford, Essex CM1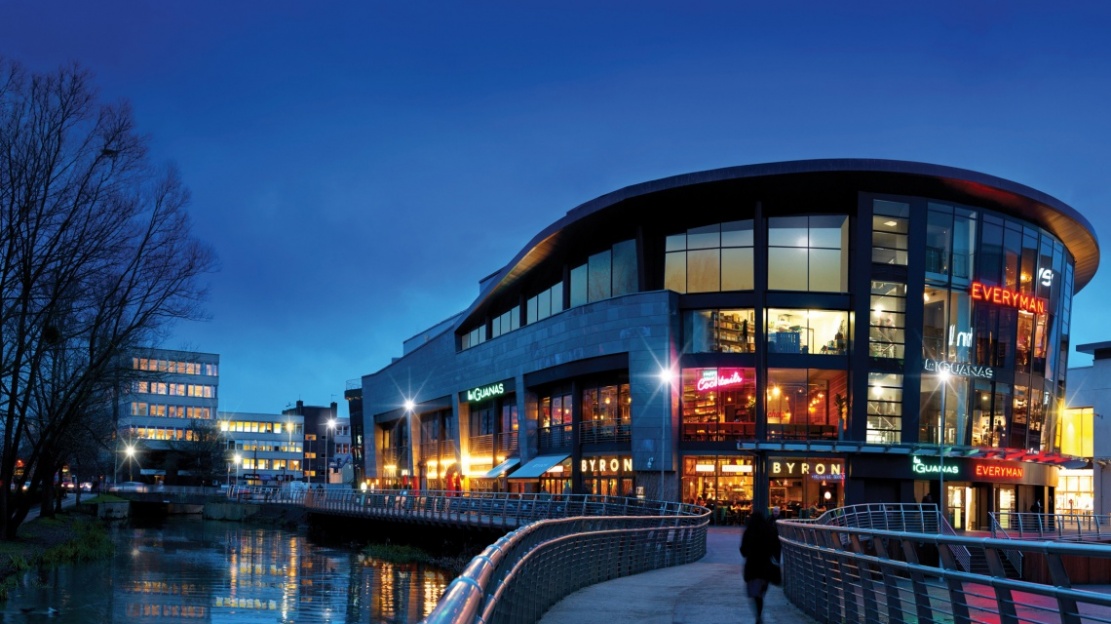 Situated in the heart of Essex, just 32 miles north east of Charing Cross, Chelmsford enjoys both country perks and city convenience, dominating the league tables as one of the most desirable locations to live in the South East.
If there were a capital of Essex it would most certainly be Chelmsford. Granted city status in 2012, Chelmsford is currently the only city in the County, having gone from a quaint market town to a thriving and progressive metropolis, catching the eye of both families and first-time buyers looking for a home within 45 minutes' commute of the capital.
Property in Chelmsford
Rosebery House
Superb in both location and design, residents of Rosebery House will enjoy a mere 10 minute walk to Chelmsford station, making this a prime choice for commuters. Comprising an exquisite selection of one and two bedroom apartments in an expertly converted office building - all of which will come fully-furnished - this will ideally suit first-time buyers or downsizers looking for a city centre location on the peripheries of London.
Rosebery House is now sold out. For more information, please visit the development page or use our property search tool to find other available properties. Alternatively, call us on 020 3409 2270 to speak with our team.
History of Chelmsford
Chelmsford was granted a market charter in 1199 and 800 years on, modern day Chelmsford still hosts a weekly market. During the Peasant's Revolt in 1381, Chelmsford was very involved; Richard II spent some time trying to quell the revolts there and it has even been said that Chelmsford became the acting capital of England temporarily as so much power was being held there. After the reign of Richard II, Chelmsford remained popular with the royal family and in 1516 Henry VIII built the Beaulieu Palace - now New Hall School - for his then mistress and later wife, Anne Boleyn. Later in 1899, Chelmsford welcomed the world's first wireless factory, opened by Italian inventor Guglielmo Marconi, and it was from a factory in New Street where Britain's first radio programmes were broadcast in 1920, cementing its reputation as the 'birthplace of radio'.
Places of Interest
Historical
The Chelmsford Museum
The Chelmsford Museum and The Essex Regiment Museum is located in the centre of Oaklands Park and displays the development of the town into a city. Following a £5m extension in 2010, the museum now offers exhibits and interactive displays, as well as a live beehive and a set of 18th century glasses featured on the BBC show 'Flog it!'
Chelmsford Cathedral
Chelmsford is home to the second smallest cathedral in England - the first being Derby Cathedral - and is thought to have originated more than 800 years ago when the town was first built. Despite this, Chelmsford Cathedral is said to be one of the country's youngest cathedrals, and is a fine example of Gothic architecture and masonry dating back to the Norman times. The cathedral is without a doubt one of Chelmsford's most treasured pieces of history; even as the city transforms and its skyline evolves, this building will continue to hold precedence generations into the future.
Essex Police Museum
Visit the Essex Police Museum to explore the history of the police force from the Victorians through to the modern day, with a number of fascinating and macabre objects on display, from the death mask of Frederick Browne who murdered PC Gutteridge in the 1920s to a 1960s Noddy Bike. Step inside a Victorian prison cell, and even have your fingerprints taken. This'll make a great day out for history buffs, kids and adults!
Cultural
Chelmsford Civic Theatre
Located on Fairfield Road in an area that's been dubbed Chelmsford's very own 'West End', Chelmsford Civic Theatre hosts a number of performances, from dramatic productions and musicals to comedy shows, film screenings and live music, seating up to 500 people. From amateur events to professional tours, the theatre is a prized anchor of the community, and is the perfect place to visit for families and fans of the arts.
Chelmsford Beer Festival
Chelmsford Beer Festival takes place in either the winter or the summer every year, offering a variety of different beers, bitters, ales and stouts from across the UK and beyond, in addition to live music and entertainment.
Shopping
Chelmsford is home to two shopping centres, The Meadows and High Chelmer, as well as a large high street with popular retailers including Debenhams and Marks & Spencer. A brand new John Lewis department store is also set to open here from September 2016. From everyday essentials to fashion sprees, Chelmsford is full of choice, with more than 40 stores available at The Meadows and 80 shops and eateries at High Chelmer.
For a more eclectic and less fast-paced shopping experience, head down to Moulsham Street, which is home to a variety of independent stores and specialty shops, where you can browse vintage fashion, treat yourself to a trinket or enjoy home-baked delicacies at one of the street's quaint little cafés.
For those who love fresh produce and a bit of a bargain, Chelmsford's High Street Market - held every Saturday - provides a plethora of food, crafts, jewellery and gift stalls, whilst beneath the High Chelmer multi-storey you'll find an extensive market with more than 100 stalls open five days a week.
Food and Drink
From popular high street chains such as Café Rouge, Las Iguanas and Pizza Express to family-run independent eateries, Chelmsford has it all. Here are a few local restaurants and pubs we have selected that will make the perfect spot for socialising or enjoying a candlelit dinner: Chop Bloc
Originally an 18th century brewery and spread across three floors, this American-style steakhouse provides a quality menu of locally-sourced steaks and burgers as well as original Bloc Bar cocktails.
Zorba Greek Taverna
Awarded the Good Food Award in 2016, Zorba has a well-earnt reputation as one of the best authentic Greek eating experiences in the city. With a small, yet welcoming atmosphere, Zorba can only seat up to 40 people so make sure to book in advance to avoid disappointment. Describing themselves as a 'down-to-earth, village-style taverna', the freshly cooked, award-winning dishes definitely make this place worth a visit.
Olio
Dubbed 'Chelmsford and Essex's favourite Italian', Olio is a family-run restaurant offering an elegant dining experience and outstanding food that will no doubt have you coming back for seconds.
Galvin Green Man
Best known for their award-winning restaurants found across London, such as the famous Galvin La Chapelle, the Michelin star Galvin brothers bring the Galvin Green Man to their home city in Essex. A rustic inn serving classic British pub grub with a side of sophistication, all food is locally sourced with the seasonal menu offering the freshest ingredients.
Green Space
Hylands House and Estate
Dating back to 1730, this estate is a Grade II listed property boasting over 570 acres of landscaped parkland. The park is made up of woodland, rolling grassland and lakes surrounding a large play area for children with a car park nearby, making it a favourite for family days out and celebratory events. Hylands House and Estate is open to the public on Sundays and Mondays, but once a year it is the host of one of the UK's most notable music festivals, the V Festival; since 1996, V Fest has seen the likes of Blur, Red Hot Chili Peppers, Eminem, Beyoncé and Justin Timberlake grace its stages.
RHS Garden Hyde Hall
Run by the Royal Horticultural Society, Hyde Hall has a public display garden that's said to be one of the 'finest gardens in the East of England' with more than 360 acres of beautiful greenery amidst a vibrant array of flowers, trees and hedgerows. The themes of the garden change depending on the season, and a number of events are held all year round, welcoming families and those who love immersing themselves in nature.
Central Park
Running along the River Can with its very own lake and an enchanting leafy expanse, Central Park is a favourite spot in the centre of Chelmsford, particularly for long walks and picnicking.
Tourist Attractions
Chelmsford City Racecourse
The first brand new racecourse to open in the UK since 1927 and the only one to exist in Essex, the Chelmsford City Racecourse opened in April 2008 to much anticipation. Races run throughout the high season, whilst non-race events located here include concerts and murder mystery nights, as well as wedding and antique fairs.
Riverside Ice and Leisure Centre
Riverside is Chelmsford's largest leisure centre and is cherished by the local community, offering a state-of-the-art gym, a 33m, six-lane swimming pool and the 'number one ice skating rink in Essex'.
Papermill Lock
A popular haven for tourists in the heart of the Essex countryside, Papermill Lock offers canal cruises along the river, and their Old Stable Tea Rooms are the perfect place to enjoy traditional English tea and a slice of homemade cake.
Fun Facts about Chelmsford
Back in 2007, the Channel 4 property programme 'Location, Location, Location' named Chelmsford as the UK's 8th best place to live.
Chelmsford is home to a number of notable past and present residents, including John Dee, the notable Elizabethan philosopher, magician and scientist, who was educated at the King Edward VI Grammar School in Chelmsford. Anne Knight, who was known for pioneering feminism and campaigning fiercely against slavery in the 19th century, was born in Chelmsford. Nigel Spink was also born in the city and is Chelmsford's football hero, winning the European Cup, Super Cup and Football League Cup for Aton Villa in 1982, 1983 and 1994 respectively.
Education
Chelmsford is home to two of the country's most reputable grammar schools, King Edward VI Grammar School and Chelmsford County High School for Girls, both of which educate students from the age of 11 to 18. As well as this, Chelmsford College offers a variety of vocational courses and apprenticeships, whilst Anglia Ruskin University is an esteemed local institution and is the only UK university to be named a global 'rising star'.
Local Authority
Getting There
Roads
Chelmsford is within close reach of a number of major A roads, including the A12 which links Norfolk with London, the A131 which leads up to Braintree, and the A414 linking Danbury with the M11 in Harlow.
By car, you can reach destinations such as Brentwood in 20 minutes, Braintree in approximately 25 minutes and Southend in roughly 40 minutes.
Rail
Chelmsford railway station, situated in the city centre, offers direct journeys to London Liverpool Street within 35 minutes. It is also just 10 minutes away by train from Shenfield - the East's new Crossrail terminus - which will offer fast, direct services into the centre of London once operational.
From Chelmsford railway station, passengers can also reach destinations such as Clacton-on-Sea, Colchester, Ipswich and Norwich.
Edited: 28th November 2023