How Outdoor Space Can Add to Property Value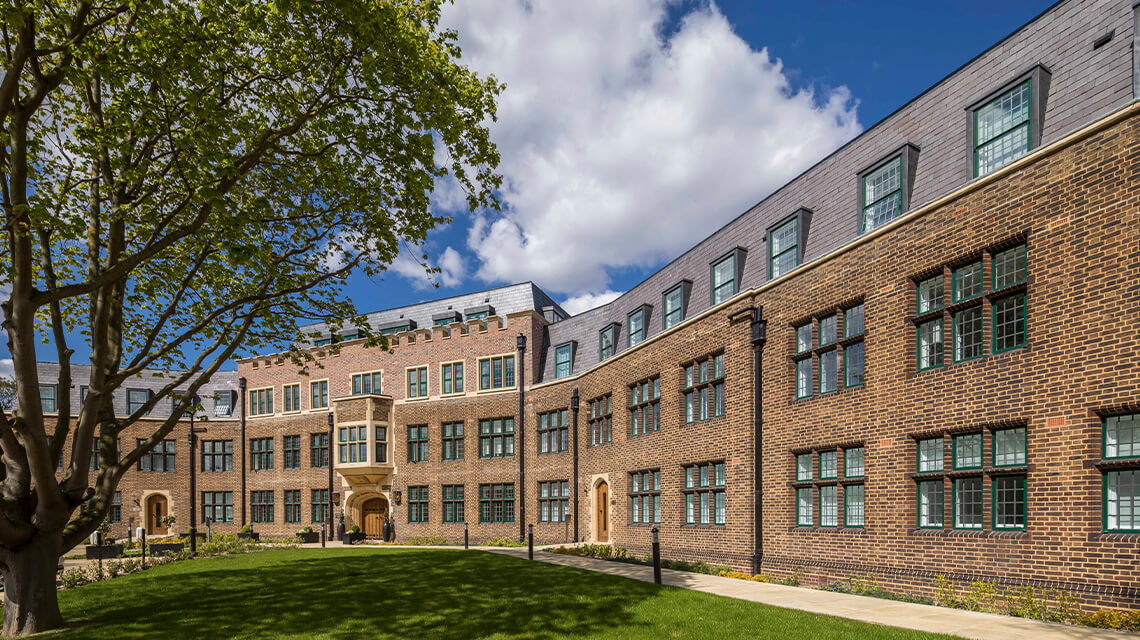 Whether it's a city apartment, a waterside home or a gated property in the country, homeowners and developers alike have embraced the rewarding benefits of outdoor space, making it a must-have feature in modern new-builds.
Be it in the form of a private balcony, terrace or garden, outdoor space brings with it lifestyle perks and a lucrative advantage when it comes to capital growth; as demonstrated by the growing price gap between homes with and without external living space.
Lifestyle Benefits of Outdoor Space
Soak up the Impressive Views
The desire to have a home where the inside living space meets with the outside is certainly not a new concept. Balconies, for instance, date back to ancient Rome when they were seen as an ostentatious architectural facet in the design of palaces. Today, the inclusion of these outdoor spaces is still seen as a prestigious feature; especially in high-rises and waterside locations where outside space not only promises an additional living area to socialise and unwind, but breathtaking panoramic views. For example, many of the investors and owner-occupiers who purchase luxurious penthouses define the calibre of these homes by the exterior space they inhabit and the views they offer.
Enjoy a Versatile Living Space
Whether it's a one bedroom apartment or an expansive duplex, having outdoor space allows residents to enjoy a more versatile living area; instantly adding more room, flexibility, light and air within the home. For high-rise apartments, having this space gives even the most compact of properties that extra flair, whilst allowing residents to enjoy the outdoors amidst a bustling city scene. For some residents, this could provide a supplementary living area, for others an extra dining room, or even a miniature garden for green-fingered city dwellers looking for the best of both worlds.
Indulge in a Healthier Lifestyle
By blurring the lines between inside and outside living, residents are free to enjoy a more integrated, comfort-inducing environment. Instead of a 'greenhouse effect' where residents would have to crack open a window or turn on the air-conditioning to feel like they're getting a bit of fresh air, they can enjoy the 'green space effect' where they would just have to slide open the patio door to walk out into their own personal oasis. Outdoor space welcomes more light into the home, and offers more room to socialise and relax, giving residents with fast-paced lifestyles a peaceful hub to come back to after a long day at the office; thus promoting a stress-free, happier and healthier ambience.
The Appeal of Communal Outdoor Spaces
Many developments nowadays benefit from private balconies, terraces or gardens, in addition to a communal courtyard or rooftop terrace, providing even more scope for relaxing, socialising and entertaining. Beautifully manicured gardens can provide a sanctuary for residents without having the hassle of tending to it themselves, whilst families can enjoy recreational areas for kids to run around freely and safely. Again, as with private outdoor spaces, communal gardens are an eye-catching feature of today's developments; particularly in densely populated, city locations where it's often hard to find vast green spaces and a little peace and quiet.
Reaping Investment Rewards
London and cities across Europe are experiencing a new wave of architectural prowess with regards to energy-efficiency and maximising space. If we go back a couple of decades, if you wanted a garden you would have had to move further out towards the suburbs for more spacious homes, or if you wanted a sizeable terrace you would have to refine your search to a more upmarket development or neighbourhood. Today, developers acknowledge the changing times, attitudes and demands, and are now crafting homes that offer open-plan living with access to plentiful outdoor space. However, despite this increasing prevalence of homes with outdoor spaces, these properties often still come with hefty premiums, making them a valuable asset to investors.
According to London estate agents Marsh & Parsons, having a balcony or roof terrace adds an average of 12% to the value of a flat (2015 figures), whilst a survey by Chestertons discovered similar findings with outdoor space said to add around an 8% premium to a property's value (2016 figures). Chestertons also found that outdoor space is becoming more of a deal breaker for buyers; having a garden, balcony or terrace came second in a ranking of a property's must-have features, only losing out to the overall size of the property.
Galliard Developments
The below developments offer properties with generously sized outdoor spaces and communal areas for maximum flexibility, choice and comfort:
To Bask in Nautical Living, Opt for Orchard Wharf
A little further out from Canary Wharf, Orchard Wharf enjoys a waterside location adjacent to the River Lea - perfect for those who want more of a suburban vibe without sacrificing convenience to city hubs. The 338 one, two and three bedroom apartments will sit within a 23-storey tower and stepped blocks of varying heights, creating a waterfall effect. Each home will enjoy access to a private balcony or terrace, whilst many of the ground-level properties will have access to plush gardens. If that wasn't enough, residents can bask in the green beauty of the development's courtyard gardens and rooftop terraces.
For Village-Style Vibes, Pick Crescent House
Nestled in Clapham's treasured conservation area, Crescent House is a charming period development boasting a charming Edwardian exterior, whilst housing contemporary apartments with the sleekest of interiors and the smartest of appliances. Many of the ground and lower-ground level apartments benefit from access to private terraces and gardens, whilst the penthouse apartments step out onto extensive private terraces, with views overlooking the whole development and its landscaped courtyard. Applauded for its incorporation of green space, this gated development was awarded the Green Plaque accolade by the Clapham Society.
Edited: 18th November 2022