The Perks of Waterside Living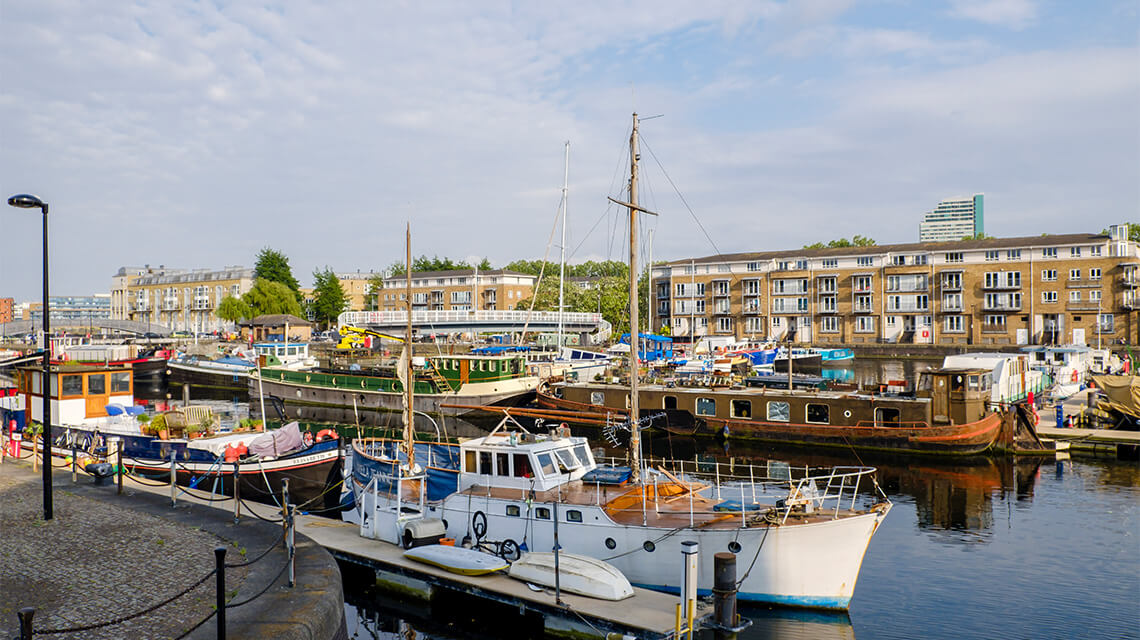 Waterside living has become one of the hottest trends on the property market; with improved transport connections and vibrant areas of regeneration blossoming across the Docklands, more and more people are looking to claim their portion of the 215-mile-long River Thames as the backdrop to their luxury nautical home.
When people think of London, the bright lights of the West End and impressive skyscrapers such as the Shard and Canary Wharf immediately spring to mind; rarely do they picture the River Thames and the charming micro-villages skirting its periphery. With London's reputation as a business and financial powerhouse now surpassing the likes of New York and Hong Kong, it is hard to believe that peaceful pockets of the capital adorned by natural maritime beauty even exist; but they do, and demand to live in these areas is constantly on the rise.
Investment
Areas such as Surrey Quays and Wapping are now thriving rejuvenated areas of the Docklands, offering fantastic new-build properties amidst an inviting cultural vibe for an unforgettable residential experience.
Knight Frank has said that the "Riverside postcode" is experiencing some of the best growth rates in London, and Savills' research shows that a property within 100m of the riverbank costs approximately 21.4% more than those situated a few streets away.
Developers are recognising this potential and envisioning iconic projects to rejuvenate the sites surrounding the Thames. Back in the 1990s, Galliard Homes did exactly this with Papermill Wharf - a former riverside warehouse in a fantastic conservation area, just 10 minutes from the buzz of Canary Wharf. Buyers who invested in the development over 22 years ago have seen their investment increase tenfold from £50,000 to £500,000.
The Lifestyle
Many believe that it was the Thames which determined where the Romans would choose to build London, and today the attraction of the Thames still runs strong.
Once you have experienced waterside living, you will never want to live anywhere else. Riverside properties offer a truly eclectic lifestyle; one moment you could be relaxing and absorbing the views on a river boat ride or taking a walk down the picturesque River Thames Path Walk; the next you could be sipping champagne in one of the city's most affluent bars or browsing designer labels on one of London's favourite shopping streets. It is the perfect mix for a varied modern lifestyle.
A Slow-Paced Haven
In today's fast-paced culture, it is often hard to stop and take a moment to marvel at what is around us, but waterside living offers this in abundance. With scenic vistas of the sunset falling behind the city skyline and melting away into the river, viewed from your balcony, living room or bedroom window, you will have the opportunity to enjoy something special that those living in urban block towers simply cannot replicate.
For those working in the City or Canary Wharf, the Docklands is the ideal place to call home, allowing residents to return to a refreshing, mellow environment after a long, busy day.
Health Benefits
Marine biologist, J. Nichols, coined the term "blue mind" in his groundbreaking book 'The Surprising Science That Shows How Being Near, In, On, or Under Water Can Make You Happier, Healthier, More Connected and Better at What You Do'. His research found that proximity to water releases a number of stress-relieving hormones, increasing our well-being. With this in mind, it is no surprise that those who move to riverside locations very rarely move away.
Research from the University of Exeter has also found that living by water encourages physical activity with the outdoor environment being so appealing. Docklands' residents can savour the fresh air, scenic bankside paths and the unimposing, tranquil ambience to enjoy their long walks or morning runs. The Thames Path has been voted one of the world's favourite big city walks; an absolute must for those who love to experience city views and countryside charm simultaneously.
Thames Events
There is a smorgasbord of opportunities to enjoy waterside living in the Docklands, with a number of events held annually to celebrate the River Thames and London's history. From the spectacular fireworks display on New Year's Eve to the Totally Thames festival, held every September with events incorporating art, music, food, street theatre and an array of entertaining shows. Last year, more than 2.7 million people attended 170 events over the course of the month-long festival.
River bus services and cruises are also available all-year-round attracting tourists and even commuters travelling to work in Canary Wharf! Whether you are looking for a sightseeing ride, a fine dining experience or an alternative journey to head to your nine o'clock meeting, there is something for you.
Attractions Around Every Corner
Circling the Thames are some of the city's - and indeed the world's - most famed attractions. Enjoy Elizabethan drama at Shakespeare's Globe Theatre near London Bridge, or head across the road to the famed Tate Modern to take a look at unique, inspirational works of art. For an unforgettable experience, The London Eye is one of the capital's most frequented attractions, nestled between the Southbank Centre and the Sea Life London Aquarium, overlooking the Thames.
Riverside Restaurants
For luxury British cuisine complemented by outstanding views of the city and the River Thames, the Aqua Shard is London's elite bar and restaurant in Europe's tallest building.
Situated in yet another of London's iconic buildings, the OXO Tower Brasserie offers a fantastic al fresco dining experience, allowing guests to enjoy sensational panoramic views whilst they tuck in to a variety of delicious global meals.
Whatever you're looking for, the Thames is lined with a plethora of unusual eateries and lavish restaurants to suit every palate.
Property by the Water
Marine Wharf East
Situated in the gorgeous village-esque surroundings of Surrey Quays, Marine Wharf East is Galliard's Docklands development, offering an executive choice of one, two and three bedroom apartments, located just one minute away from the River Thames Path Walk.
Expertly designed and carefully crafted to maximise light, space and comfort, this development offers contemporary functionality and sleek designs to enhance the benefits of modern living. The majority of apartments feature access to a private balcony or terrace, and all residents can enjoy access to the development's beautiful landscaped communal gardens.
Wapping Riverside
Part of Galliard's distinguished Platinum Collection, Wapping Riverside brings the best of luxury waterside living to the thriving regenerated district of East London.
Including a fantastic selection of 37 highly-refined one, two and three bedroom apartments - each boasting magnificent views of the Thames from a private balcony or terrace - this chic warehouse conversion features loft-style interiors and superb finishes, perfectly complemented by sleek high-tech appliances to cater to a dynamic, modern lifestyle.
Marine Wharf East and Wapping Riverside have now successfully sold out, for more information on available property in London please click here.
Edited: 17th November 2022