Classy Decoration Ideas for the Festive Season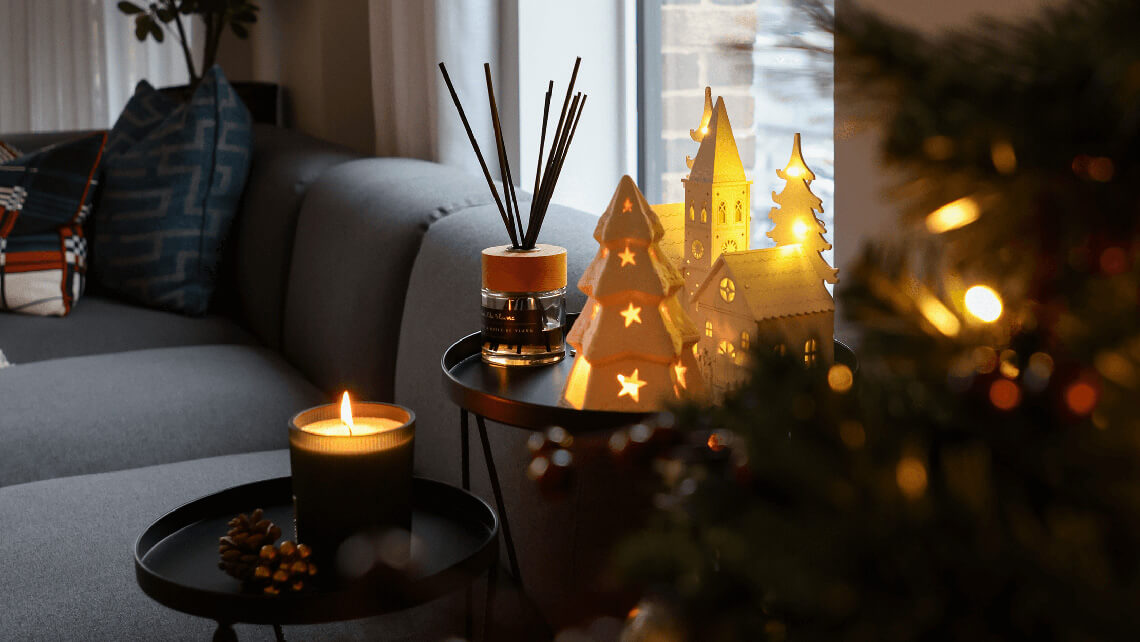 It's the most wonderful time of the year. December is a special month for most around the world, but after the events that have taken place over the last couple of years, being able to celebrate winter festivals and prepare for the new year at home with the ones we love is even more important now than ever before. Here, we explore how to make your home feel as cosy and festive as can be this season, whilst retaining class and style.
Decorating for the festivities is, of course, a very personal thing for most of us; we surround ourselves with seasonal souvenirs that bring us comfort, hang up ornaments that have been passed down through generations and get the 'special occasion' dinnerware out for the big family meal.
But sometimes, the idea of transforming your humble abode into a winter grotto full of nostalgic, sentimental items can also result in the home losing balance and feeling too cluttered. While dressing your space with kitschy Christmas decorations can be fun, if you feel like this year it's time to scrap the garish tinsel and blue-hued fairy lights and replace them with classier, more tasteful decorations, the following ideas may help you to keep your home minimalistic and classy, without losing the spirit and sentiment of Christmas.
Turn up the temperature
Dreaming of a white Christmas? Filling your home with white ornaments and decorations is de rigueur at this magical time of year. But while it's good to follow tradition, why not shake things up a bit and opt for a darker palette? If done right, darker colours can give your home a cosy feel and really arouse a sense of nostalgia and warmth. To play it safe, use gold tree decorations and warm-toned lighting, but if you plan to throw some more colour into the mix, go for deep greens or warm reds. Think less is more — in this instance, stick to no more than two colours but work with a variety of shades.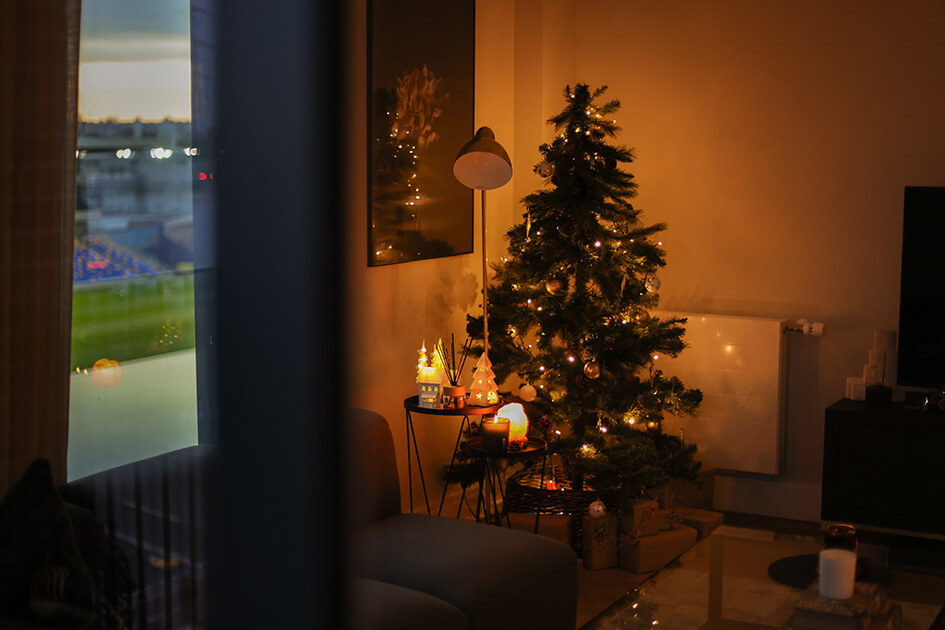 Natural vs synthetic
Plastic and artificial holiday decorations — if done right — can work. For example, items like this nordic garland from Nordic House are a nice alternative to the obvious tinsel. However, our in-house team of experts suggests only using synthetic materials in moderation if you want to avoid things turning tacky. If you're after some easy ways to keep it classy, start incorporating natural materials into the mix.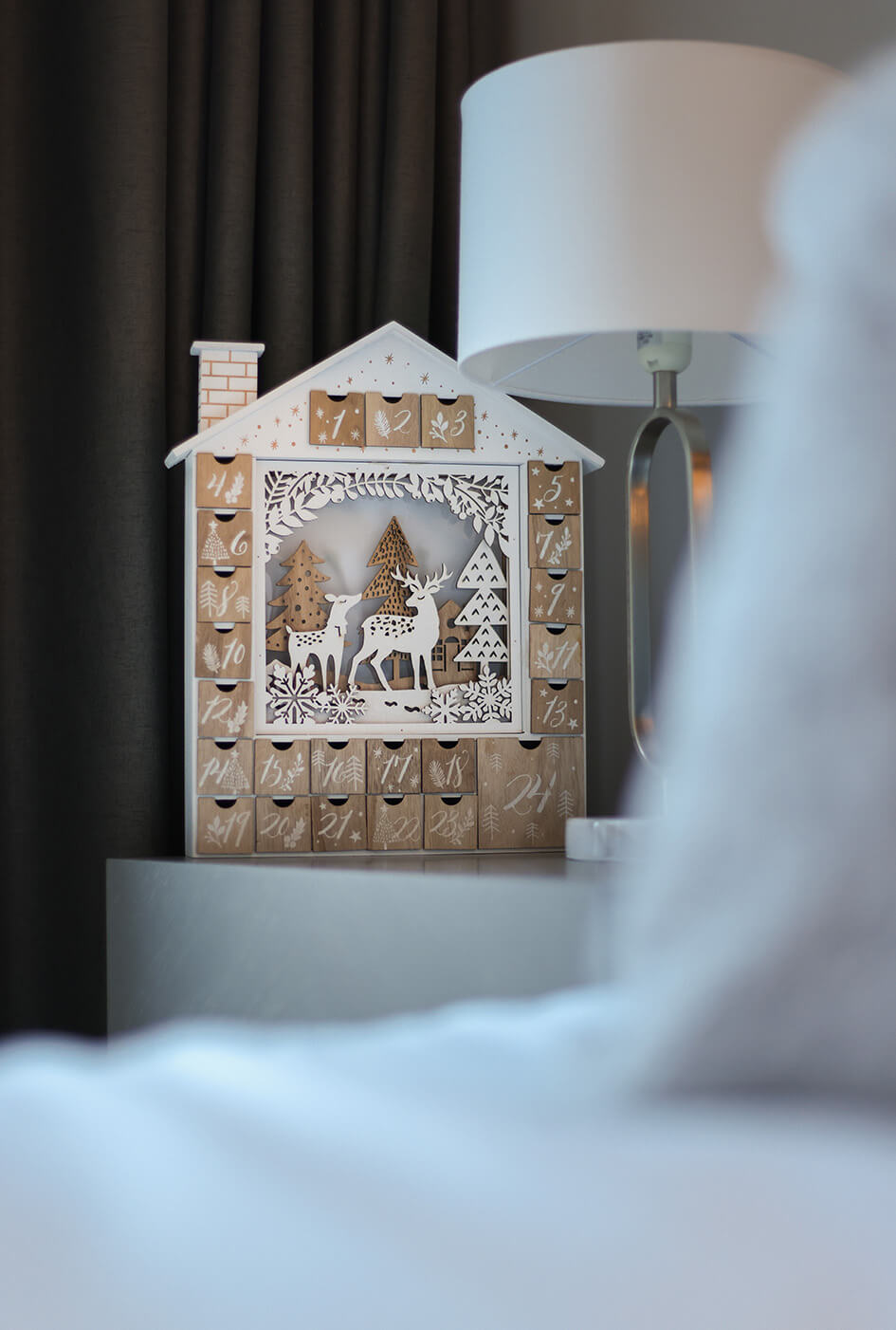 The case for choosing natural materials over plastic or other synthetic materials is a strong one. For example, a wooden Advent calendar is the perfect alternative to a traditional chocolate one or a plastic one. These decorations last a long time and will bring an Alpine feel to the home!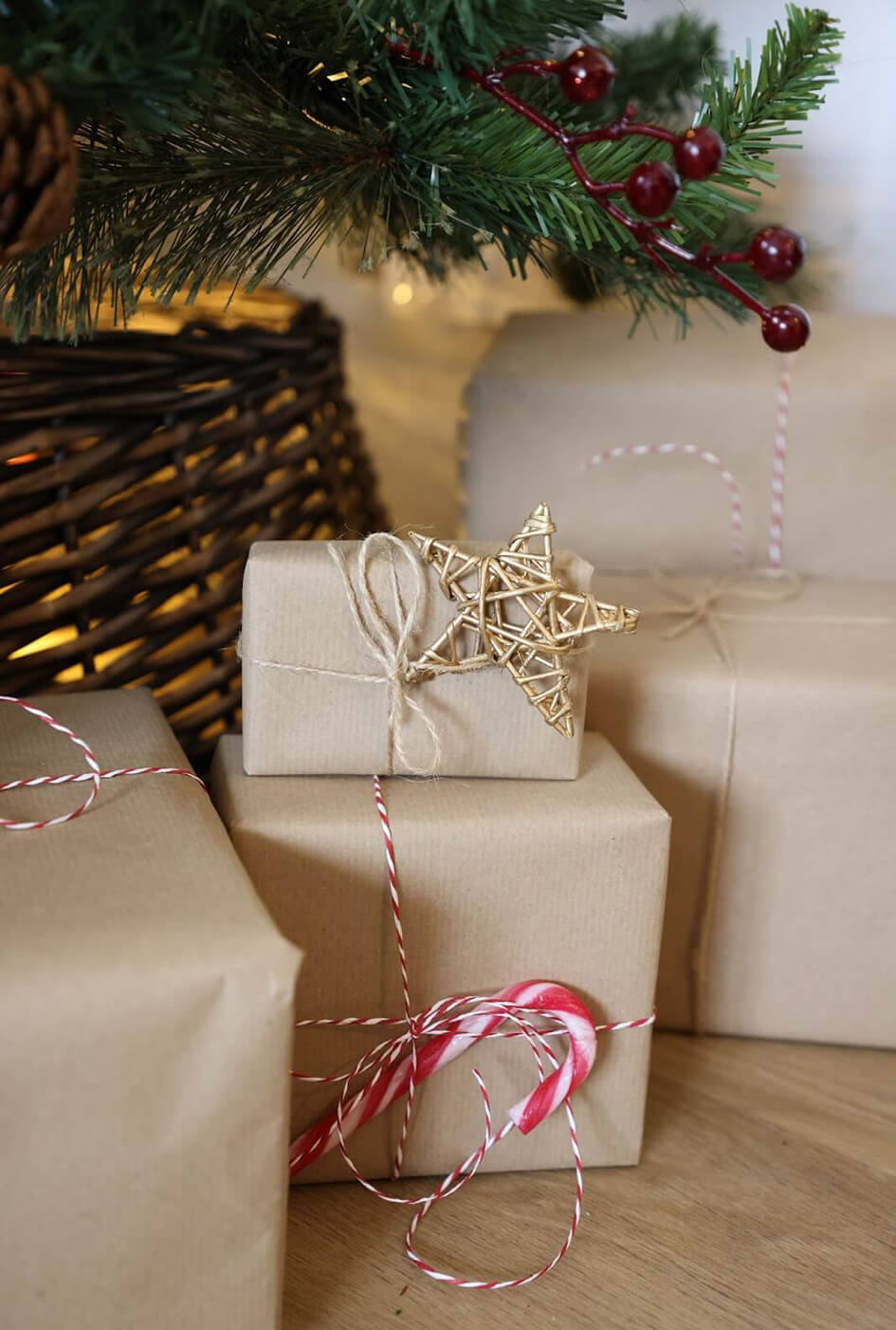 Take things one step further and apply this rule to present-wrapping too. Basic is not always a bad thing. For Fraulein Maria in The Sound of Music, simple brown paper packaging tied up with strings was one of her favourite things and there's a reason for that: it makes a gift look even more appealing. It's also eco-friendly, looks tidy under the tree and can be more cost-effective!
Handmade items
With the days getting colder and darker, this time of year is best for trying your hand at some DIY. Remember, 'DIY' doesn't have to refer to messy papier maché crafts and paper chains — although these can be fun activities to do with the children.
Bloom & Wild has a great guide on how to make a beautiful hand-made wreath using fresh foliage with dried festive embellishments. Not got the time? Why not buy some sentimental one-of-a-kind handmade homewares that will stay in your Christmas decor box for decades from online retailers and marketplaces like Etsy or Not On The High Street.
Let there be light
As the days get darker and darker, it's important to fill your space with more light. Not only is good lighting crucial for creating a mood in the home and enhancing visibility in the darker evenings, but it's also an important theme for those who follow festivals like Chanukah and Diwali. These two major festivals take place around the end of the year and both are about spreading warmth and love, and bringing lots of light into the home. Make sure you choose warm-toned lighting if you want your space to feel snug.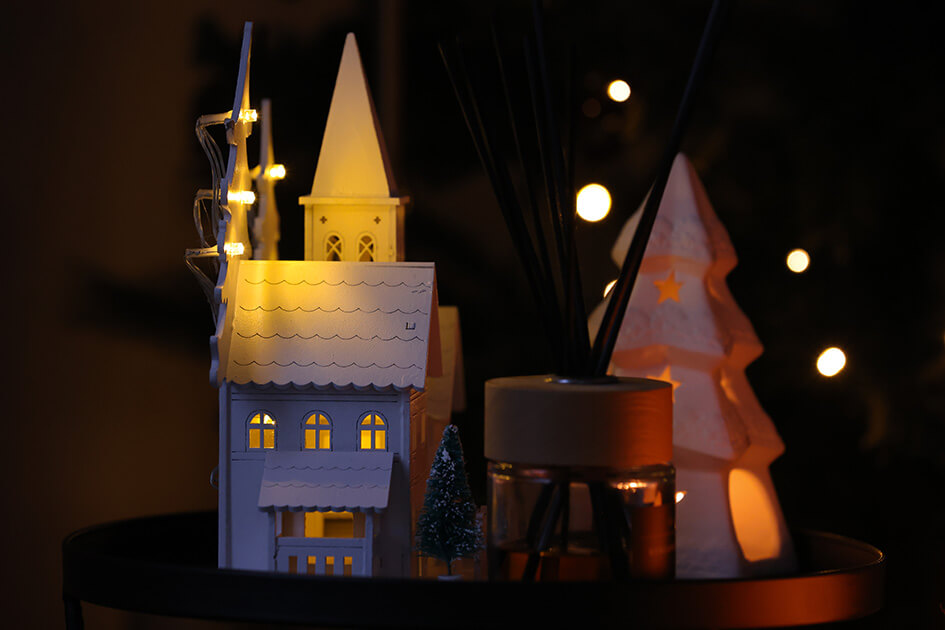 Bring your space to life
Is a home truly a home without plants and living objects? Despite the colder climes, Christmastime is certainly no exception — plants are a must all year round if you want to make your home feel homely! Dried flowers will last throughout the season if you want to bring some subtle colour into the home without the task of trying to keep flowers alive.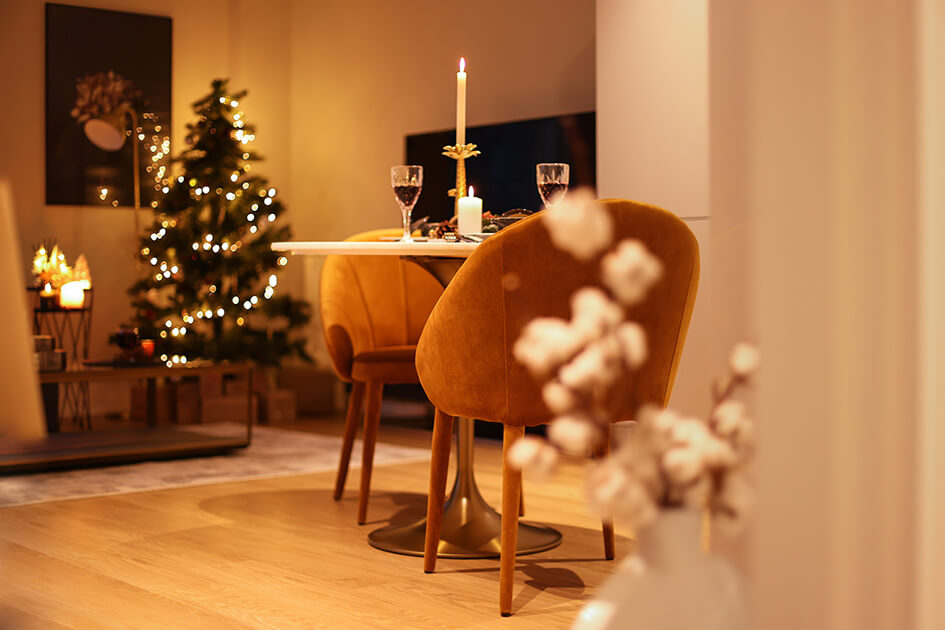 You can't beat that smell of a fresh pine tree. If you are worried about needles dropping and creating a mess, you can get a tree skirt or fill the space under the tree with wrapped presents. Pines and Needles have a great selection of trees for any living space, big or small, and can be found all over London, from Ealing and Wimbledon to Shoreditch and Victoria Park.
Stimulate all the senses
Decorating is not just solely an aesthetic activity. We have five senses, so make sure you're engaging all of them when decorating your home, whatever the season. To enhance the unforgettable smell of 'Christmas' — the combination of cinnamon, roasted chestnuts, cloves and oranges — use incense or candles. These scents are not for everybody. If it's too intense, you can always opt for items that smell like figs or pine.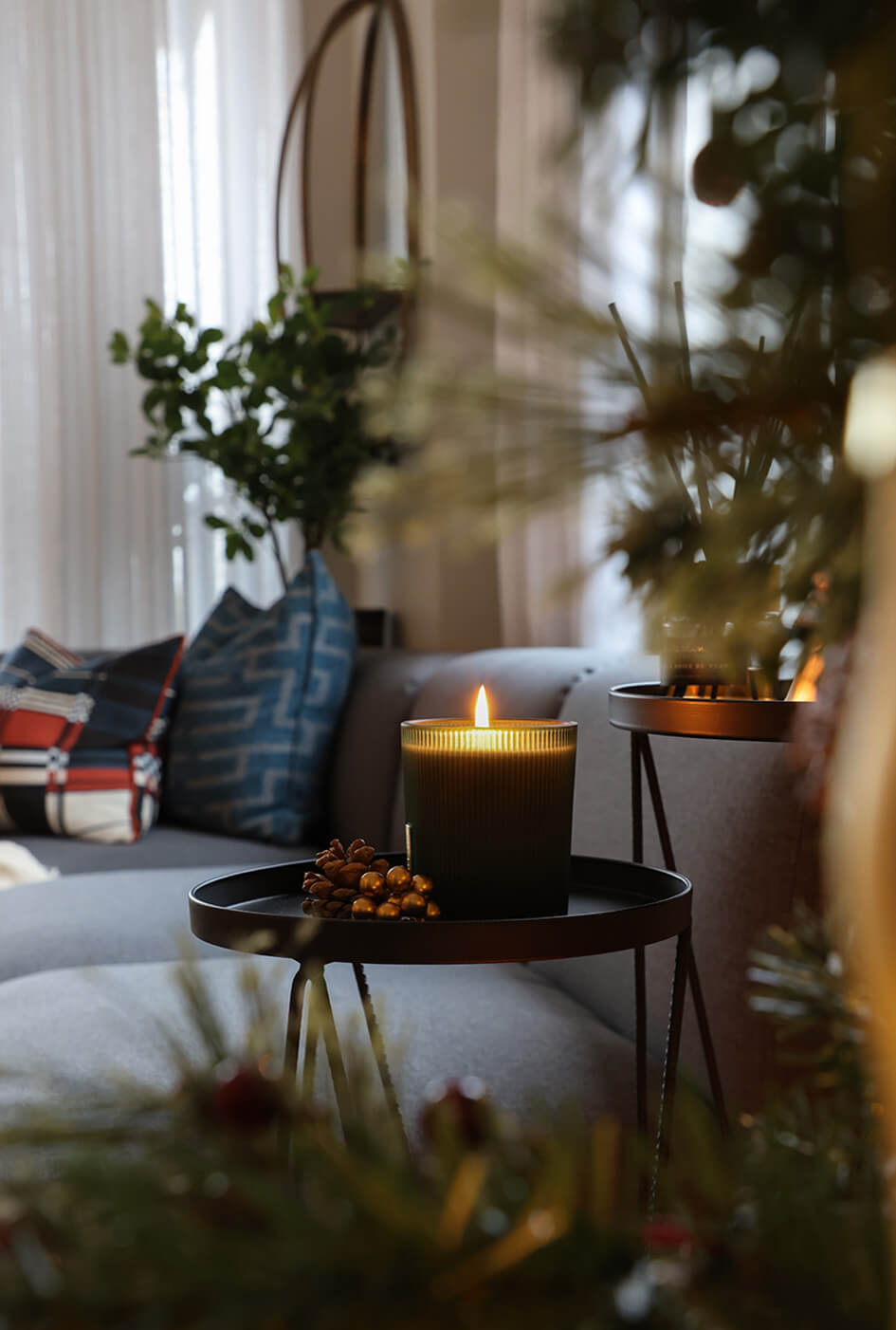 One of the most joyful ways to get into the spirit of Christmas is through festive music. With thousands upon thousands of songs, it is often overwhelming choosing the perfect ones to set the tone. But fear not, we've put together the ultimate 'Christmas at Home' playlist for those cosy winter evenings when you just want to grab a glass of mulled wine, put your feet up, and enjoy relaxing to some jazzy Xmas tunes.
Want some tips on seasonal tablescaping? Check out our guide.
Edited: 17th November 2022