6 Top Tips on Autumn Tablescaping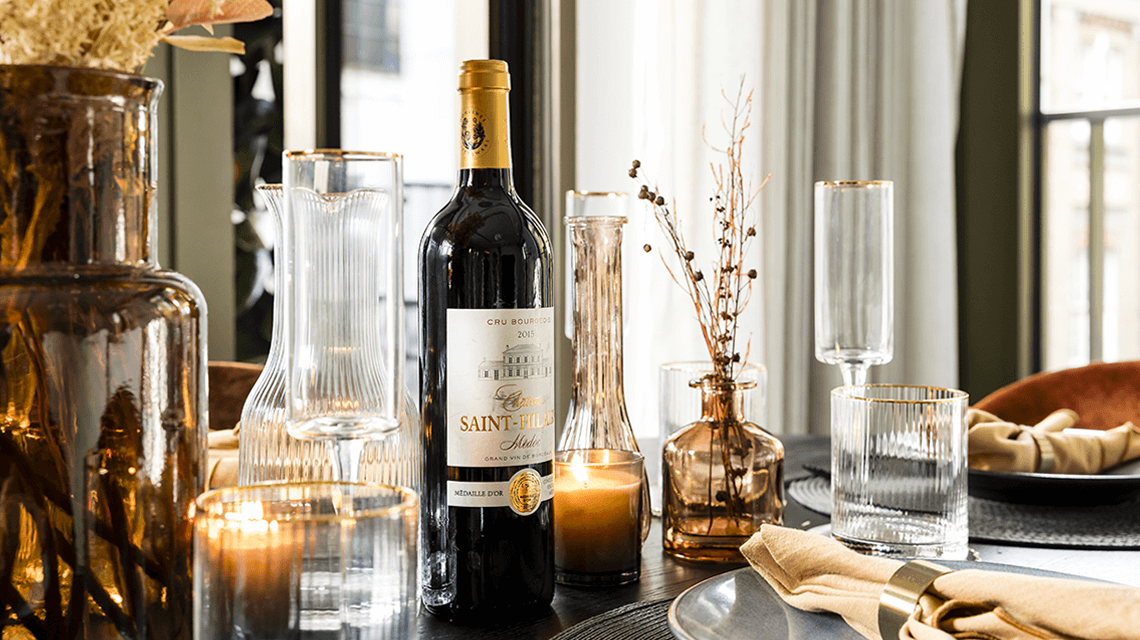 There's no better feeling than finally moving into your own home and inviting your friends and family over for a lovely home-cooked meal and being the 'hostess with the mostess', but where do you start?
Here at Galliard Homes, we caught up with our expert interior design team who have recently been to our TCRW SOHO apartments to demonstrate autumnal tablescaping for us so we can gather some tips on how to decorate your table ready for the perfect autumnal feast.
1. Theme
The most important thing to consider before splashing the cash on every decoration you can find; is if you have a theme. Knowing the theme will instantly reduce unnecessary spending and help you create a colour palette. Since it is October, our interior designers came up with some fantastic ways you can celebrate this autumn at your table before all the Christmas decorations sneak in!
"Avoid any pinks, blues, and silver," Tahmina advises, continuing from Emily's tip to "use warm tones; pairing burnt orange with neutral colours will bring sophistication to your design." At TCRW, our team opted for burnt orange, greys, and blacks for their tablescape design.
Once you know your theme and colour palette, putting together the rest of your table becomes a piece of cake (or pumpkin pie)!
2. Centrepiece
Secondly, it's time to choose your centerpiece. This will be the most eye-catching part of your design and will reflect your overall theme.
Our designers recommend using flowers for your centerpiece, as they are not only big, bold, and colourful, but can really set the tone of the evening. Date night? Big red roses. Halloween? Dried dahlias bouquet. Summer picnic vibe? Sunflowers and Gypsophila. There really is a flower for every occasion.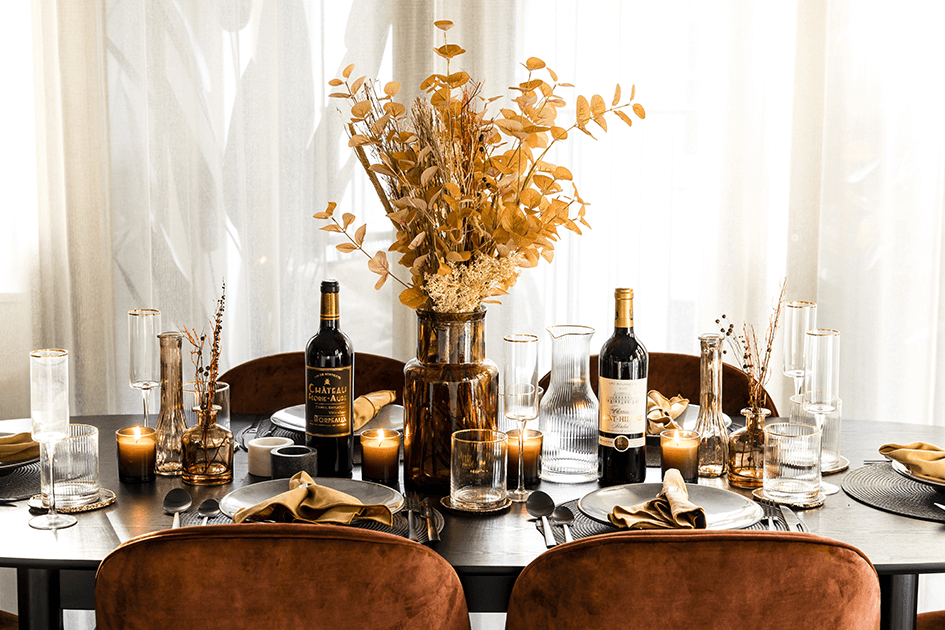 Just remember, "don't overdo the foliage; less is always more!" Tahmina warns; it can be easy to get carried away when trying to create perfection.
Don't forget, the centerpiece doesn't always have to be floral; you could choose anything from small ornaments to large candles, so, get creative!
3. Bring the Light
We all love a candle, and when dining, it's nice to have a creamy, vanilla-like smell that compliments your food, so keep your candles simple, but don't forget them – candles are the perfect way to set the ambience for the room.
In-house interior designer, Katie, recommends to "avoid adding too much candle height along the table, as this will obstruct your view making it difficult to converse with your guests." A way to avoid this from happening is to take a step back while decorating and observe the table from a seated perspective.
If in doubt, stick to small candleholders across the table and limit how many you use.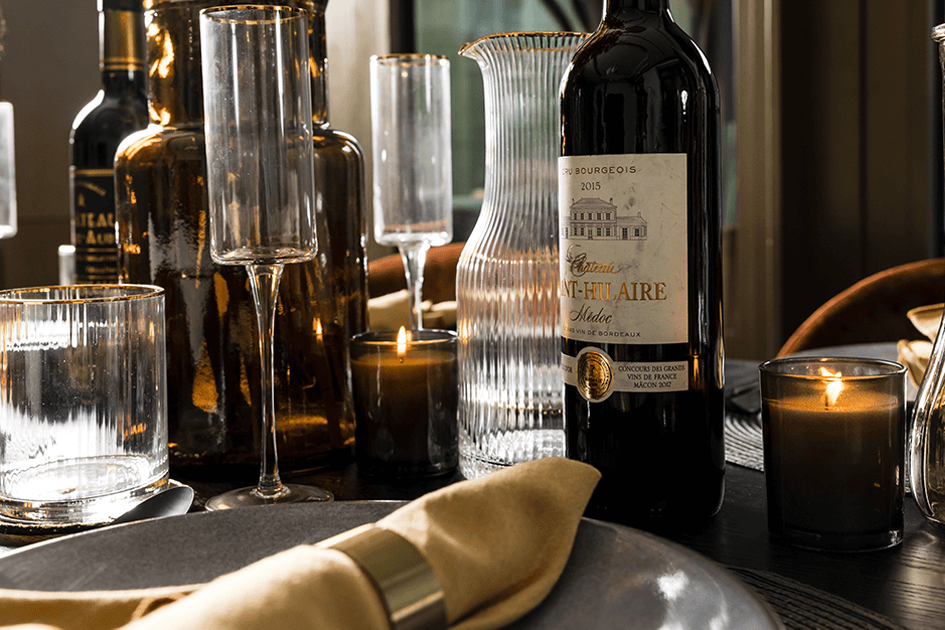 Check out our top tips on making your home cosy this winter.
4. Don't Forget the Essentials!
Table essentials can consist of anything and everything, from cutlery, bowls and plates, and napkins to table runners, accessories, and place settings. While rule of thumb tells us less is more, Katie says: "sometimes a table runner jam-packed with accessories can look just as luxurious"; so long as you plan carefully and in advance. Emily also adds, "a table runner will add to the design as they are great to tie in colours, and they are great for minimalist décor."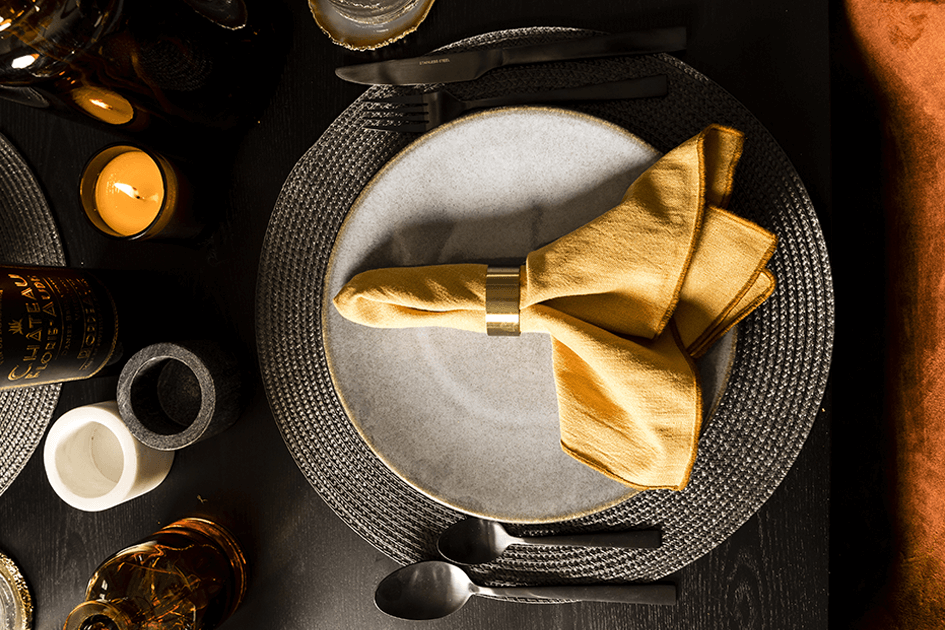 For extra class and luxurious touch, have a go at placing your napkins in napkin holders – this not only emphasises sophisticated dining (and looks less of a mess on the table) but it also keeps accessories looking compact and neat.
5. The Easily Forgotten Extras
Sometimes it is so easy to get carried away with one area of decorating that we forget about everything else. The important thing to check when designing your autumn table, is whether the rest of the room fits the same theme. Have a look at your surroundings and see if you could improve anything. For example, if your home has an open-plan living space, do the cushions on the sofa match your chosen aesthetic? Simple details can really make a difference in how your table can be perceived.
When serving drinks, make sure each guest has a full set of drinking glasses to match the available beverages, and always leave room for food! Unless you are planning on serving the food directly onto plates, then consider how you would like your dishes to be presented on the table. This will help to indicate how much room you have left for decorations.
If you are ever stuck for ideas, check out our article on the do's and don'ts of decorating, to understand the general rule of thumb when it comes to matching colours, patterns and objects for more inspiration.
6. Where to Shop
If like our interior design team, you enjoy a bargain, then you have no need to worry when it comes to decorating for a special occasion. Our team are big fans of shops such as T.K.MAXX, H&M, Home Bargains and even Primark.
If you don't have quite have as much time to browse the home section of these stores without getting distracted by all the other wonderful items on offer, then have a look in shops such as Homesense, B&M and The Range for more home-based accessories.
Don't be afraid to dip your head into charity shops and vintage stores, you can find some real treats. Finding accessories doesn't have to be expensive, nor does it have to be a chore. You can easily repurpose things you already have.
So, if like most of us, you also have hundreds of Pinterest boards for home decor inspiration, we hope this tablescaping article will help you to realise just how easy and affordable it can be to create a magical dining experience of your own!
If you've been inspired by our tips and tricks for the perfect autumn table, share this article on social media and don't forget to tag #MyGalliardHome. We'd love to see how you decorate your own!
Edited: 21st October 2022