Upcoming Interior Design Trends in 2021 That Will Last a Decade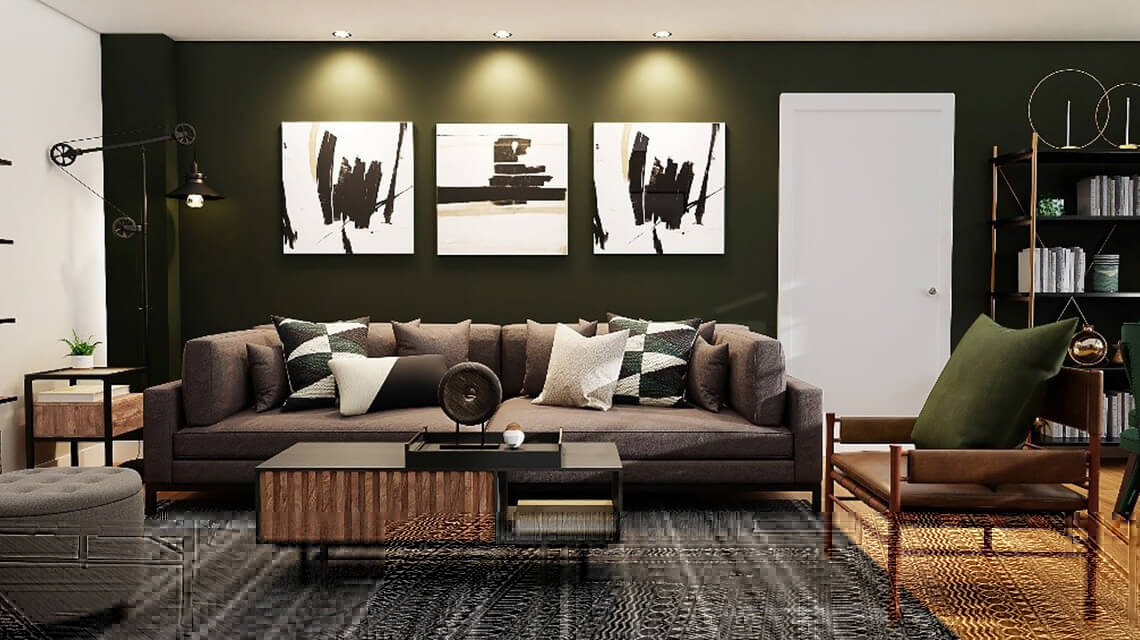 The world of interiors has changed drastically over the decades, from Art Deco in the Roaring Twenties, to the '80s where maximalism and the use of unexpected colours and shapes evolved. In recent decades, we have been inspired by Mid-century style and have mirrored the past eras of design with a modern twist in our homes. But interior design continues to evolve, with last year's events encouraging people to place even higher importance on making their space more empowering and comfortable.
We have explored upcoming trends with modernity at their core that are set to surge in the next few years. Some of us lean more towards fine lines, minimalism, and clean-cut designs whereas others prefer more texture, maximalism, patterns, and bold colours. There is a trend to suit everyone no matter what your home aesthetic may be. These trends are easily accessible whether you are on a budget and want to keep things minimal, or you want to create bold statement interiors.
Statement Wallpaper
Statement wallpaper has made a huge comeback in 2021. Many designers have used bold and contemporary wall coverings to create feature walls to give spaces character and depth. This trend echoes sophistication and can become a prominent feature in your home. Wallpaper can emphasise simple pieces of furniture, as well as create an illusion of a larger space by selecting a wall covering that is bright. We have also seen a rise in graphic and textured wallpaper which is popular amongst interior designers wanting to create memorable patterns and stories within a space. Explore these key wallpaper trends and see which design fits your style.
Here are a few recommended online wallpaper stores that have a range of designs to choose from. Tektura have a phenomenal range of wallpaper and coverings with uncompromising quality, and you can also get sent free samples so you are sure to pick the right one. For textured wallpaper, check out Vescom.
Warm Colours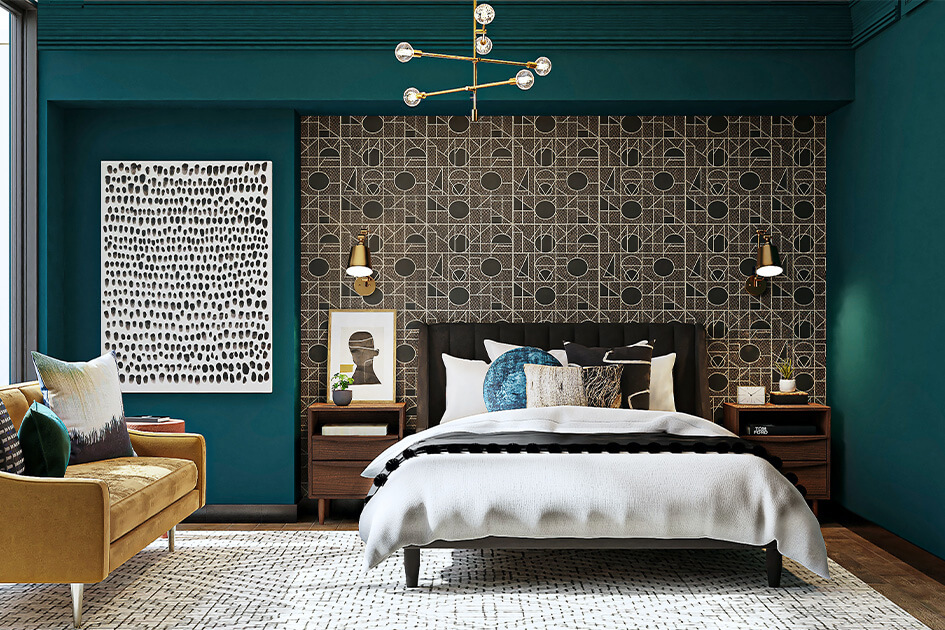 Embracing warm colours has become an increasingly popular method of introducing drama and elegance both at the same time. Sticking to a theme or colour palette throughout your home should enhance other features and add warmth and style. We have seen people ditch the mainstream all-white painted walls and shake things up with rich colours which instantly fills a room with mood and creates a sense of comfort.
Select dark neutrals, warm navies and subtle greens from this paint trends guide and uplift your home with the right shades whichever season it may be. These colours echo and compliment mainstream designer paint colours.
Check out our guide to autumn tablescaping for some inspiration on dressing your dining room this season.
Refined Curves
Since last year's pandemic, people have become more conscious of how important their well-being is, both physically and mentally. We want our homes to be sanctuaries where we can retreat from the fast pace of everyday life. Refined curves can offer endless hours of comfort without feeling too overwhelmed no matter how busy life gets.
It is important to take extra consideration when investing in large scale furniture as you want to make sure it suits your lifestyle and interior scheme. From curved sofas to simply an armchair, you can transform an empty space into an unforgettable living space. Not only could you use curves in big pieces of furniture but small decorative items too; circular coffee tables, for example, add definition to a space and give your eyes something easy to rest on (as well as your glass or mug).
Have a look at Maisons du Monde's 'Bold' collection, which features a great deal of curved furniture, lighting and furnishings.
Marble and Terrazzo
Materials help to create ambience. Marble is a classic, smart choice that suits most interior styles and can subtly add drama. This trend manages to be both contemporary and timeless. Commonly used in bathrooms and kitchens, marble never fails to catch the eye and can instantly become the highlight of a space.
We've made sure to incorporate this popular trend into the design at Papermill House in Romford, Westgate House in Ealing, Stadia in Wimbledon, and Timber Yard in Birmingham, where all properties boast beautiful marbled floor and wall tiling in their bathrooms and shower rooms.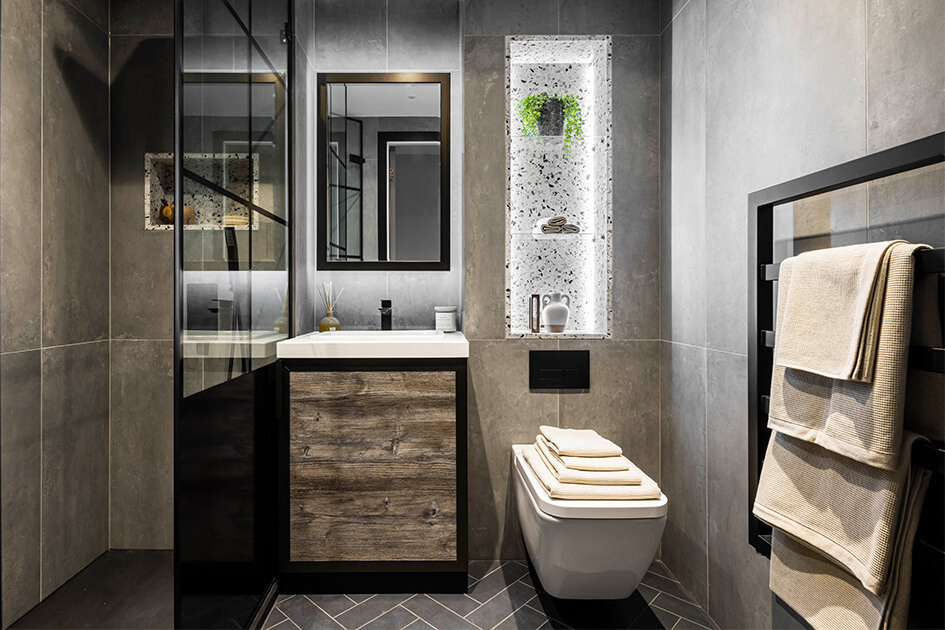 Terrazzo is a mixture of marble, glass, quartz, granite and other materials. The possibilities are practically infinite when it comes to colour and style combinations, and it is often used to enhance certain features. Inject fun into your home with a wide range of designs showcasing the craftmanship of this material; whether it be your surfaces, tiling or furniture pieces. This trend will remain at the top of designers' lists because of its elegance and timeless design.
Textured Furniture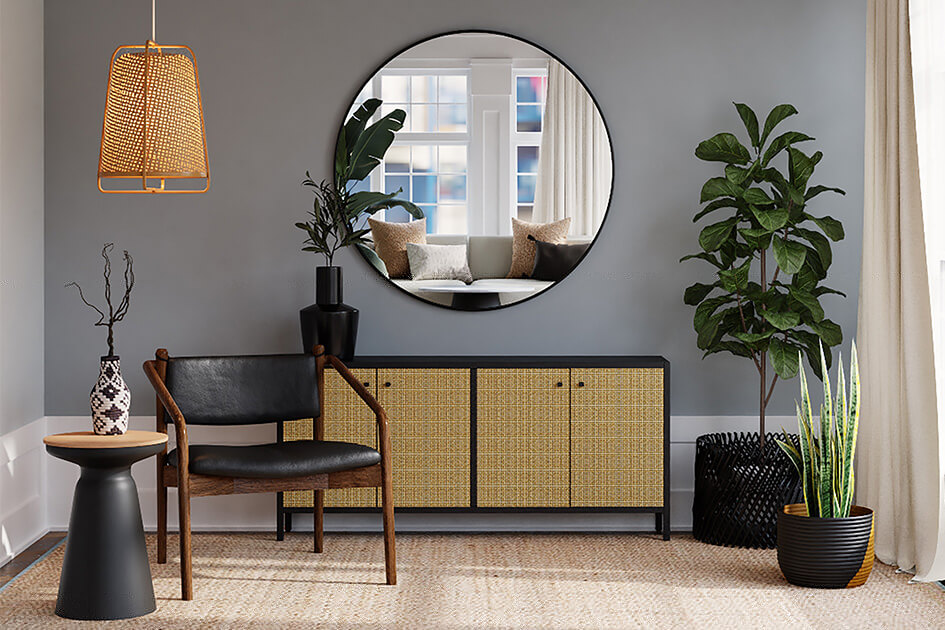 A trend that will significantly rise in popularity is the use of texture in a space. Different textures instantly bring life and character into your room. It can also be satisfying to bring delicate textures into your home; you can do this by introducing texture in cushions, vases and sideboards.
Textured fabrics and materials such as velvet, linen and rattan can add class and contemporary panache. Velvet furniture can become a statement piece and create vibrancy within the space; rattan furniture has become very popular in the past year and will continue to be used in interior design projects around the world. Combine these textures to create joy and playfulness in your home. The mix of natural elements and colours bring an eclectic, luxurious feel to the room.
Get inspired with the rattan furniture in Maisons du Monde's 'Craft' collection.
Feature Lighting
Using the right amount of lighting can really illuminate your space and highlight certain features in your home. A good lighting design combines both ambience and functionality seamlessly. You should start off by introducing as much natural light as possible — this should always be the first step before adding any artificial lighting. Different forms of lighting can complement interior styling. Use floor lamps and other lighting fixtures around your living area to make it look attractive and create ambience.
Big, bold, statement ceiling lights have been in trend for a while and are a very popular way to style your home and create focal points. Do not be afraid to pick bold lighting fixtures and place them in unexpected areas, as every space in your home will have a different atmosphere. LED lighting around shelving units and kitchen units also enhances features and evokes a sense of occasion.
Incorporate terrazzo and lighting into your space with this small-yet-stylish lamp from John Lewis.
Bold Accessories Artwork, vases, lamps and ornaments can help to make a huge difference and bring a space to life. Revamp your home by using contemporary statement accessories. Bring in more of everything and double up on accessories to create symmetry and demonstrate a sense of scale.
Use the wall space to create a feature gallery and tell a story. The great thing about this is you can pick artwork to suit your style; whether it is fine lines or a bold abstract piece, you are sure to find something that elevates your space. A subtle way to show off your photographs and artwork without making the space feel too busy and crowded is to present them in grayscale. Dried flowers or artificial flowers could be the simple finishing touches that really transform the space and create layers.
Desenio is a great website to find inexpensive-yet-statement making artwork and accessories.
Are you an owner of Galliard homes property? Tag @GalliardHomes on Instagram to be featured and use the hashtag #MyGalliardHome.
Edited: 24th October 2023