Timeless Designs by Nicola Fontanella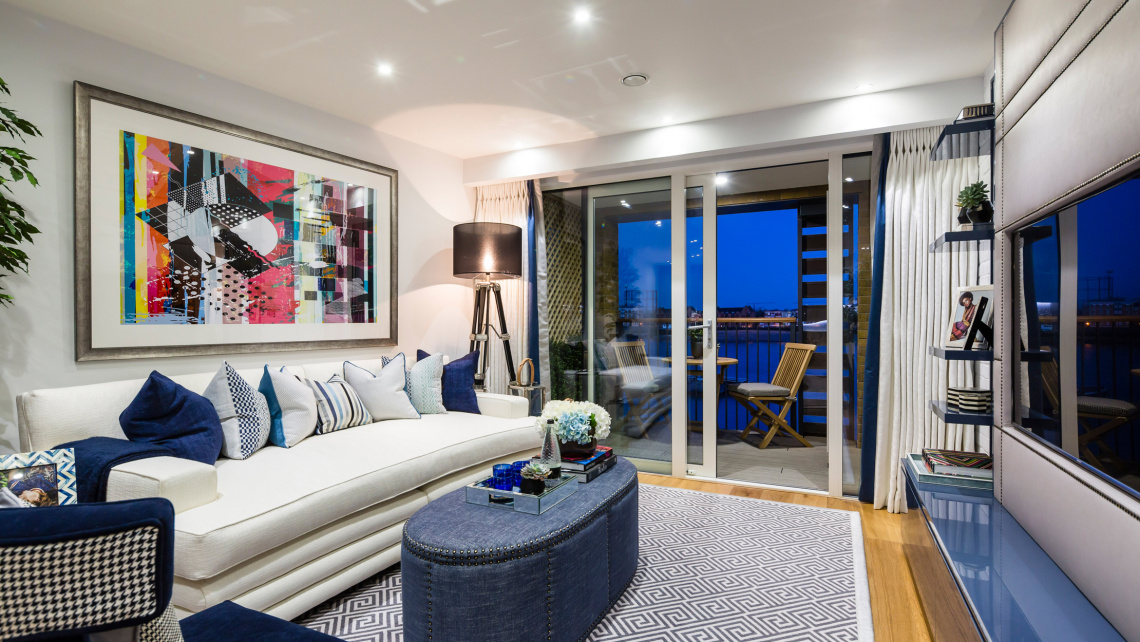 When it comes to interior design, Galliard Homes commandeers only the most accomplished of hands and revered of names to demonstrate five-star luxury.
With A-listers such as Madonna, Guy Ritchie and Naomi Campbell among the names of Nicola Fontanella's broad client list, there is no denying the interior designer's unshakeable status in the fashion-meets-property world. Having started out as a one-woman show at her London-based company, Argent Design, Fontanella now has an extensive staff and runs a plethora of international projects for both individual homes and large developments, with offices now also in Miami and Monaco.
Fontanella's innovation and keen eye for detail is exactly what caught Galliard Homes' attention, and why she is still one of the first names on the list to call when a new premier development creeps up on the horizon.
Commissioning almost every piece bespoke and taking her inspiration more from vintage jewellery and catwalks rather than the conventional must-haves, Fontanella is described as a 'visionary in her field' with a reputation that precedes her. Despite stating that each of her projects vary in style and character, the designer does confess that her signature look is something that can be described as 'old-school glamour with a twist of rock 'n' roll'.
Delivering the 'Wow' Factor at The Stage
Exclusive to the Platinum Collection, The Stage in Shoreditch will be a manifestation of both past and present, nodding to its past as a site dedicated to Elizabethan theatre where Shakespeare himself performed, whilst also channelling the very best in contemporary, cutting-edge design. Who better to capture the essence of this extraordinary development than Nicola Fontanella?
Fontanella spoke of her work at The Stage as a 'unique opportunity' to demonstrate a 'fusion of British eras in its truest sense'. The development's magnificent, double-height entrance foyer, guests' lounge and concierge reception will feature Fontanella's immaculate designs, conveying 'urban unpolished charm' with accents such as sleek, glass panelling, a large format, coffered ceiling with sculptural inserts, hand-picked artwork resonating with Shoreditch's vibrant, bohemian vibe, and a spiral staircase with skewwhiff angles and sharp edges for a chic and highly-contemporary finish.
Fontanella also designed The Stage's spectacular show apartment (pictured), which made its debut at the development's launch back in March 2016. Visitors taking a tour of the apartment will no doubt leave with a taste of what this hotel-style development will look like once completed in 2021. Fontanella's flavour for loud colours paired with strikingly-shaped lighting fixtures and daring artwork is noticeable throughout the apartment, from the sensational open-plan kitchen and living area, to the glamorous bedroom and luxuriously-finished bathroom.
Take a tour of The Stage's show apartment at The Viaduct, Fairchild Place, Shoreditch, EC2A 3EN.
Wapping Riverside's 'Aqua-Inspired' Show Home
Expressing true waterside refinement, Wapping Riverside will be a residential haven, boasting smart designs and flawless finishes on par with Prime property status. This show apartment also bears the fine touches of Fontanella, who aimed for an 'aqua-inspired look' with loft-style detailing as a tribute to the site's industrial past. Converted from a riverside warehouse, this development will comprise 37 exemplary homes ranging from one to three bedroom apartments, duplexes and penthouses.
Bold blues and refreshing whites are featured throughout the Wapping Riverside show apartment, projecting its affiliation with marine life, whilst leather-studded panels and silver trims demonstrate a bit of rough-around-the-edges luxury. There's even a jean-coated coffee table - certainly something to impress admirers of original and edgy design.
The show apartment can be viewed on-site at 136-140 Wapping High Street, E1W 1BH. The development is now also complete with its apartments ready-to-move-in.
Bringing 'Miami Glamour' to Canary Wharf
Launched in the summer of 2015, Harbour Central's principal residential tower, Maine Tower, set the tone for deluxe Docklands living with a sneak peek at the development's expected interior design - yet another accolade to add to Fontanella's diverse portfolio.
Maine Tower will house 297 contemporary apartments across 41 storeys - dubbed a 'vertical village' - promising magnificent, panoramic views of Canary Wharf and the London Docklands. To celebrate this marvel of a development and in an attempt to set a new precedent of first-class living, Fontanella reigned in her passion for Art Deco, fusing the Manhattan charm of the Great Gatsby with 'a touch of Miami glamour'.
The development will contain its own leisure complex for exclusive residents' access to a proposed library, concierge, gym and spa, as well as business suites and a private cinema - all bearing the Fontanella hallmark, in addition to the development's grand reception foyer. Residents can expect to see statement panelling with metallic trim, swathes of glass and furniture resembling dramatic works of art.
Take a tour of Harbour Central with our mini-film or browse the properties now selling off-plan on our dedicated microsite.
Edited: 17th November 2022