10 Celebrities Who Have Lived in Islington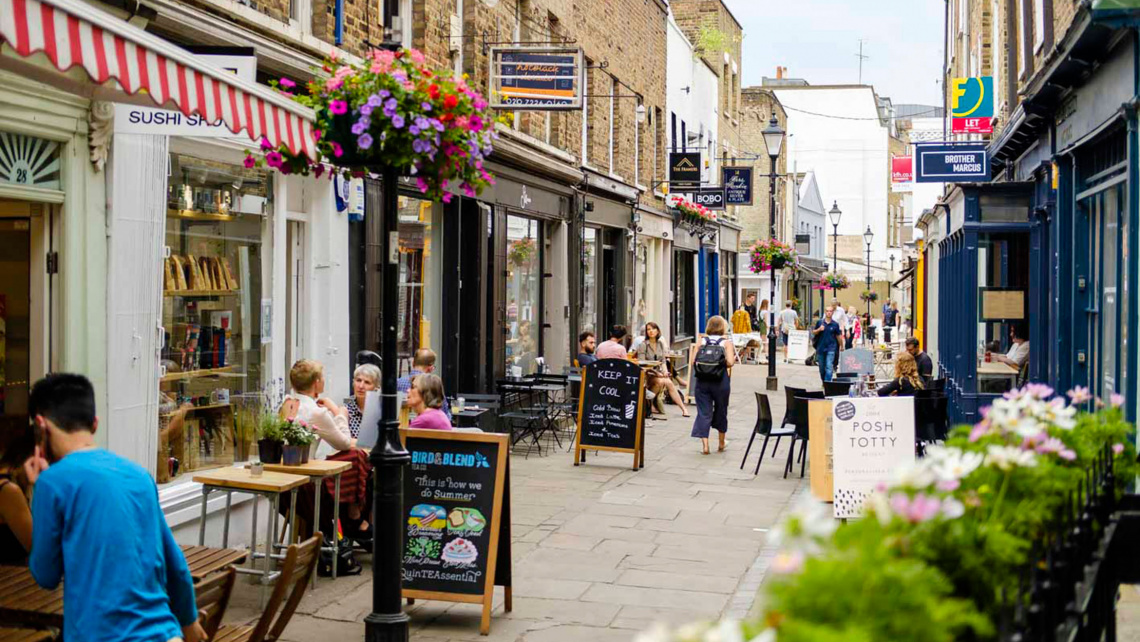 Islington has always been a prime location for those desiring to live in a thriving London borough. Over the years, the area has been an exceptionally popular spot for various individuals in the public eye due to its creative and laidback culture; from musicians, artists, actors and writers, to politicians and revolutionaries. Blue and green plaques can be found throughout Islington to commemorate the lives of the celebrities who once lived and worked there.
Below is a list of some of the well-known individuals who have called this star-studded North London region their home or have graced the borough with their presence at some point in their life.
Walter Richard Sickert (1860 - 1942), Impressionist Painter
Walter Sickert was one of Britain's first prominent impressionist artists and a founding member of the renowned Camden Town Group. Despite being born in Munich in 1860, the painter lived and worked at several Islington addresses in the 1920s and 30s. From 1927 to 1931, Sickert lived on Quadrant Road before moving to 14 Barnsbury Park. At 26 Noel Street - now 54 Noel Road - Sickert rented a studio where he would spend his time painting and etching scenes of Islington, including "The Hanging Gardens" which depicts a view of the back garden of this property. However, 1 Highbury Place where Sickert held art workshops was perhaps the most well-known of his studios, and today a green heritage plaque that commemorates his life and work can be found here. The artist's work is featured in a number of locations around the area, including Islington Local History Centre where The Sickert Family Collection is housed.
George Orwell (1903 - 1950), Author and Journalist
Although he was born in India, George Orwell - real name Eric Arthur Blair - resided in Islington for a period of his life. From 1944 to 1947, the author of "Animal Farm" lived at 27B Canonbury Square after his home in Kilburn was hit by a bomb during the Second World War. Today, a heritage plaque can be seen at the building to commemorate the time he spent there. It is said that this residence inspired the idea for the protagonist's home in his most famous novel, "Nineteen Eighty-Four", which he wrote part of in the garden of The Canonbury Tavern.
Kate Winslet (1975 - ), Actress
It is common knowledge that Kate Winslet - who was born in Reading - lived in Islington with her children for over a decade. The actress is best known for her leading roles in "Eternal Sunshine of the Spotless Mind", "The Reader" and, most famously, for her portrayal of Rose DeWitt Bukater in the highest grossing movie of the 1990s - "Titanic".
Thomas Paine (1737 - 1809), Writer, Revolutionary, Radical Political Activist and Founding Father of the USA
Thomas Paine may not have resided in Islington, but he stayed at the Angel Inn for a short period of time. It was here, in the late 18th century, that Paine began writing "Rights of Man", his most famous work; the book - which defended and acknowledged the importance of the French Revolution - contributed a great deal to the basis of modern day democracy. An obelisk commemorating Thomas Paine was erected 200 years after the document was published and stands today in Angel Square, by Angel station.
Douglas Adams (1952 - 2001), Author
Douglas Adams, creator of the popular "The Hitchhiker's Guide to the Galaxy" series, called Islington his home for many years and even gave the location a special place in his books. The late author and his family lived in a Grade II listed Georgian property on Duncan Terrace in the 1980s for over 20 years, and later rented it out to his good friend, comedian Angus Deayton, in 1999. Prior to this, the author lived in Arlington Avenue; the first book in the series is dedicated to the four other people Adams shared the house with who he collectively referred to as the 'Arlingtonians'. Adams moved to 19 Kingsdown Road in 1978 with Jon Canter, one of his fellow 'Arlingtonians', and it was here that his famous sci-fi series was written.
Jimmy Carr (1972 - ), Comedian
Famous for telling jokes about controversial topics, his witty one-liners and heckler interaction, the comedian and "Eight out of Ten Cats" host Jimmy Carr dwells in Islington with his girlfriend, Karoline Copping.
Alexander McQueen (1969 - 2010), Fashion Designer
Award-winning fashion designer Lee Alexander McQueen CBE rose to fame in the 1990s and was one of the most influential figures in the British fashion industry. In 1992, prior to taking over as chief designer at Givenchy in 1996, Alexander McQueen established his eponymous fashion label which is famous for its signature razor-sharp tailoring, and is responsible for designing Kate Middleton's bridal gown, and popularising skull print and low-slung jeans. Notorious for his eccentric boundary-pushing design, McQueen's expertise in British tailoring and achievements in fashion won him multiple awards. McQueen lived at 11 Aberdeen Road in Highbury from 2001-2005, and today the fashion house's headquarters are located on Clerkenwell Road.
Oscar Wilde (1854 - 1900), Novelist, Playwright and Poet
In 1895, Anglo-Irish novelist Oscar Wilde spent two months in Islington, but his abode was not a house…in fact, he was incarcerated in the infamous Pentonville Prison; after taking his lover's father to court for libel, the author of "The Picture of Dorian Gray" and "The Importance of Being Earnest" was, himself, convicted of "gross indecency with men" and was sentenced to two years of hard labour. Wilde only spent two months in the Islington prison before being moved to Wandsworth Prison.
Lily Allen (1985 - ), Musician
Pop singer Lily Allen was born in Hammersmith in 1985 to actor, comedian and musician Keith Allen, but spent her childhood growing up in Islington. The musician's hits include number one single "Smile", "22" and "Somewhere Only We Know", to name but a few.
Boris Johnson (1964 - ), Member of Parliament and Former Mayor of London
Boris Johnson was born in New York City but lived in Islington with his wife and their children in Colebrooke Row in Islington from 2009 to 2016. Whilst living at 1 Carlton Gardens during his appointment as Health Secretary, Johnson rented out his home in Islington to Wayne McGregor, a royal ballet choreographer. Boris Johnson joins a number of politicians who have lived in Islington over the years; these include Tony Blair and Jeremy Corbyn. Tony Blair lived in Richmond Crescent in the 1990s and was rumoured to have closed the famous "Blair-Brown Deal" (also known as the "Granita Pact") with Gordon Brown in 1994 at Granita restaurant in Islington; Jeremy Corbyn, the leader of the Labour Party, has been Islington North's MP for over 30 years.
Edited: 17th November 2022