5 Reasons to Live in Marylebone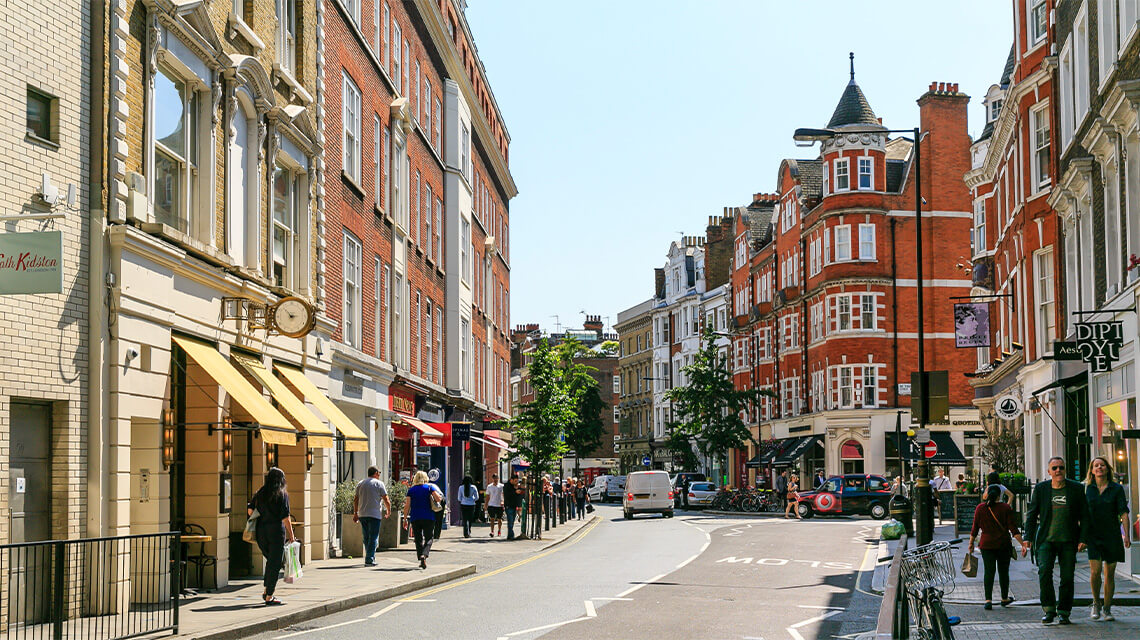 Do the words charming, welcoming and stylish with a sense of strong community describe the area you dream of living in?
Marylebone in London provides all of this to residents and more from the intimate ambience of its quaint cafés and picturesque parks, to its proximity to the affluent shopping areas of Oxford Street and Bond Street. Living in Marylebone allows residents to experience the best of both worlds and enjoy everything that the London Borough of Westminster has to offer.
1. Continental-Style Café Culture
Marylebone is special because it is tucked away from the craze of Oxford Street and is home to plenty of pleasant tree-lined pavements, unique boutiques and an assortment of individual cafés. Marco Polo's is a café that adds to the welcoming environment and is the perfect place to have your well deserved fried breakfast at the weekend. Regent's Park is a wonderful asset just minutes' away, providing a tranquil place for relaxation and fresh air, away from the hubbub of the city streets. The Hub Café is the perfect place to enjoy a spot of lunch whilst overlooking the park and taking in this natural side of London.
2. Celebrity Hotspot
An asset to the area has to be Chiltern Firehouse, if you are not sure whether or not this glamorous and affluent restaurant and hotel is worth the fuss, then why not ask the likes of Kate Moss and Cara Delevingne as they happen to frequent here. This is a stylish, yet timeless location, offering an exceptional menu and a welcoming and exciting ambiance.
3. Impressive History
Charles Dickens was once a resident in the district of Marylebone, so why not take a stroll along the pavements and admire the classic Victorian buildings whilst pretending that you are stepping into a page of Great Expectations. The great thing about Marylebone is that even though it is so close to the renowned Oxford Street, it still manages to maintain its own sense of individuality because of the balance between the old and new, giving it a unique flair.
Adjacent to The Chilterns sits Paddington Street gardens and was built in the 18th century as additional burial grounds for St Marylebone Parish Church. In 1885, they were formally landscaped and officially opened to the public on 6th July 1886 by Princess Louise, Duchess of Argyll and daughter of Queen Victoria.
4. Traditional Summer Fayres
In addition to the remarkable sense of culture and history the buildings offer, Marylebone is a place that also caters to a family lifestyle, especially with the summer fayre that has been taking place there for the past ten years. The popularity of this street party grows every year and there is no wonder because this event brings English tradition, music, food and even craft stools and farmers' markets, the perfect place for endless hours of family fun!
5. Central Location
The Chilterns is located on the corner of Marylebone's iconic Chiltern Street in the London district of Westminster. With a W1 postcode, the West End is conveniently accessible and the rest of London is easily reached via nearby excellent transport connections. Baker Street station (Bakerloo line) is only a five minute walk away from The Chilterns. Journey times from Baker Street include four minutes to Kings Cross, 13 minutes to Liverpool Street and 7 minutes to Waterloo. Marylebone station is a five minute walk from The Chilterns and provides Chiltern Railways services between London, Birmingham, High Wycombe and Aylesbury.
Property
After learning more about the district of Marylebone and why it is so exclusive yet warm and charming, it is not difficult to understand why Galliard Homes has chosen to invest in and develop The Chilterns, a property of complete and utter luxury that exudes classic and sophisticated style and is a simply breath taking development that will be yet another statement to add to the area.
For further information about the availability of The Chilterns in Marylebone, please click here to have a look at the property on the dedicated microsite.
Edited: 8th August 2023